The first goal-producing play of Paul Stastny's Winnipeg Jets career serves as an almost perfect snapshot of his time with the team so far.
The only thing off in the picture is the triggerman.
Facing the Nashville Predators in a heavyweight Western Conference tilt, Stastny stationed himself to the left of goalie Pekka Rinne on a second-period Jets power play. When longtime buddy Blake Wheeler slid him a pass from the half-wall, Stastny one-touched it to Mark Scheifele, who whipped it into the net from his perch at the bottom of the circle.
The sequence showcased Stastny's deadly ability to find the open man fast. And had it ended with Patrik Laine, not Scheifele, slamming the puck home, it would have forged the exact template for how a number of Winnipeg goals have been scored in the past two weeks.
"It just feels like it's easy to play with him," Laine says of his new linemate.
Unfortunately for the Jets, nobody got to skate with Stastny during their latest game, a 3-1 loss in Nashville that concluded a 3-2-1 road trip for Winnipeg. Stastny took the warm up, but "tightened up" according to coach Paul Maurice. Though he was kept out of the contest with a lower-body injury, it seems likely Stastny won't miss much — or maybe even any — of the six-game homestand the Jets begin on Thursday by hosting Chicago Blackhawks.
Whenever Stastny returns, expect more of the savvy, cerebral game that's allowed him to bond so well with right-winger Laine and fighter-jet fast left-winger Nikolaj Ehlers. It's a trio many people around Winnipeg seemed to think would click from the moment Stastny arrived on trade deadline day and Stastny himself noted the attributes of his current wingers align with guys he's toiled beside in the past.
"When I was in Colorado, my last year there, I played with [Nathan] MacKinnon and [Gabriel] Landeskog," he says.
[snippet id=3918715]
Like MacKinnon, Ehlers can put anybody in the league on the back foot with his blazing speed. And while Landeskog is not on Laine's level in terms of sniping — and, really, how many are? — he did score a career-high 26 goals during that 2013-14 season beside Stastny.
"My job is to get the puck in their hands as quick as I can," Stastny says.
So far, so good. Laine's recent explosion — you may have heard something about the 16 goals he has in his past 13 outings — is largely about a freakishly good shooter going through one of those can't-miss stretches. Stastny's presence, however, hasn't hurt. The centre has two goals, six assists and eight points in seven outings with the Jets. And after that first apple came on a Scheifele score, the next five helpers were part of plays that ended with Laine burying the biscuit.
"I've always said, good players, they know how to play with each other," Laine says.
While the red-light plays will always get noticed, Stastny's acquisition was about more than offence. Since joining the Jets, the 32-year-old has started 51.3 per cent of his plays in the defensive zone compared to 48.7 per cent in the O-zone. As always, he's winning more faceoffs than he loses and will probably only win more once the Jets start this string of home games.
More than a decade after he started his NHL career as runner-up to Evgeni Malkin for rookie of the year in 2006-07, Stastny's game still smacks of deep-down quality.
"I don't think he wows you with his speed, he doesn't make a lot of highlight-reel plays, but he makes a lot of those really smart, intelligent plays; little plays that go a long way," says New Jersey Devils goalie Cory Schneider, who was beaten 3-2 by the Jets last week. "He provides them a ton of depth and makes them just that much more dangerous. They're three, four lines deep [with] offensive power and he only adds to that. You can't really key on any one line or player with these guys, you just have to hope you can survive some of the scoring chances."
That assessment, of course, speaks to Winnipeg's strengths when both Scheifele — currently sidelined by an upper-body injury — and Stastny are in the lineup. By all accounts, that should be the case soon.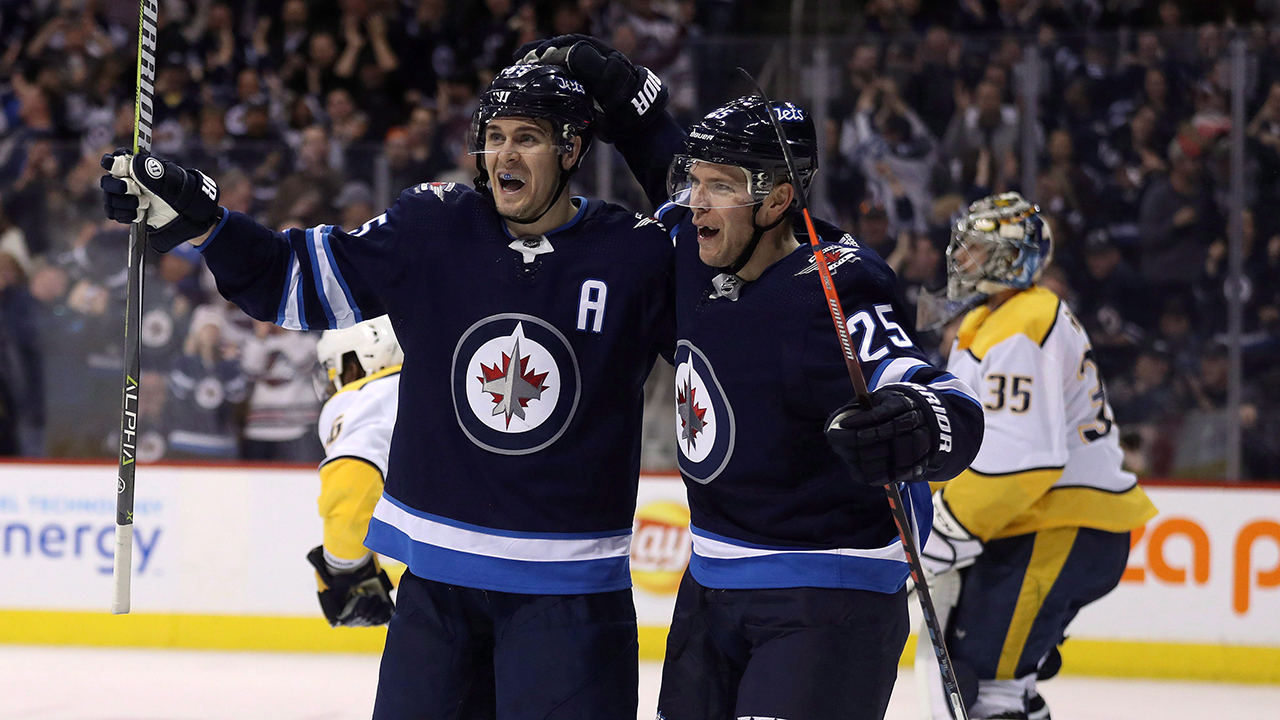 The idea of a Jets club at full strength and brimming with starch is what prompted Stastny to waive his no-trade protection in the final year of his contract when the St. Louis Blues approached him about the deal. He believed something good was brewing in Winnipeg and, over the years, he's learned to trust his instincts.
"I haven't had a regret," says Stastny, noting he also places strong faith in God. "I've done different things that might be uncomfortable, but in the end, they've always worked out."
Thus far, Stastny has played for two franchises — Colorado and St. Louis — that his famous father, Peter Stastny, previously starred for and one, in the Jets, that might possess the most passionate fan base on earth. Stastny said that's the kind of thing he'll likely appreciate more from the perspective-filled position of retirement, though he's in no danger of overlooking his good fortune now.
"My dad says, 'Pinch yourself all the time,'" he says.
Give it a couple months, and the whole of Manitoba might be doing the same thing.
[relatedlinks]