Steven Stamkos insisted all along that he wanted to stay put in Tampa Bay to win the Stanley Cup.
The two-time Maurice Richard Trophy winner as the NHL's leading goal scorer gave himself that opportunity Wednesday, re-signing with the Lightning for eight years and foregoing a chance to test free agency.
The team confirmed the agreement, which is worth $68 million, meaning the 26-year-old captain will earn an average of $8.5 million per season.
The deal was reached two days before Stamkos had the opportunity to gauge his worth on the open market, where the four-time All-Star star with 312 goals was expected to command far more lucrative offers from numerous bidders, including his hometown Toronto Maple Leafs, the Buffalo Sabres and Detroit Red Wings.
Instead, he chose to stay with the team that made him the No. 1 pick in the 2008 draft.
"I am excited to move forward with the Lightning … for the next eight years," Stamkos said in a statement released by the team.
"It's not often that a player gets the chance to spend his career in one organization, and I am hopeful that this agreement sets me on that path. … Most importantly, I look forward to working with my teammates, coaches and our management in our goal of winning a Stanley Cup."
The 26-year-old centre is third on Lightning's all-time scoring list for goals and points. He was the NHL's leading scorer in 2012 and shared the title with Sidney Crosby in 2010.
"The contract that we agreed to is a number that (the Lightning presented) a while back. … Ultimately Steven was willing to accept," general manager Steve Yzerman said.
The GM added that when resumed talks with agent Don Meehan on Wednesday: "I hadn't given up hope, but I certainly wasn't necessarily expecting it to get it done."
Lightning teammate Ryan Callahan welcomed the news, writing on Twitter: "Could not be more happy to have El Capitan Back!!!" Callahan then joked that Stamkos will be picking up the tab at a fast-food restaurant.
The agreement comes as something of a surprise after Stamkos and the Lightning were unable to negotiate a contract extension during the season. The uncertainty led to Stamkos potentially becoming the highest-profile player to hit the free agent market in several years.
His status even loomed over the NHL draft in Buffalo last weekend, where several team executives expressed their interest in making a bid to sign Stamkos. Sabres general manager Tim Murray was among them, and referred to Stamkos as "the big fish."
Yzerman remained hopeful that a deal could be reached, saying as recently as last weekend that he had not closed the door on re-signing the team's star.
The Lightning at least had a slight edge over other teams. Under NHL rules, they were allowed to sign Stamkos to an eight-year contract, while other teams were limited to making seven-year offers.
"We are very appreciative of the effort and commitment that Steven and his representatives have exhibited in getting a deal done," Yzerman said in the club announcement.
"We are excited to have him as a cornerstone part of the team for the next eight years as we continue in the franchise's ultimate pursuit of winning another Stanley Cup."
Stamkos has topped 40 goals four times. He won the NHL's regular-season scoring title twice, including 2011-12, when he had a career-best 60 goals.
The captain is coming off a season in which he had 36 goals and 64 points in 77 games, before being sidelined after having surgery on April 4 to treat a blood clot near his right collarbone. He did not return until he saw limited ice time in Tampa Bay's 2-1 loss to Pittsburgh in Game 7 of the Eastern Conference final.
The blood clot condition, called vascular thoracic outlet syndrome, is not expected to affect Stamkos' career going forward.
The Maple Leafs and Sabres were seeking to sign Stamkos in a bid to hasten their rebuilding plans. The Red Wings were believed to be interested after star Pavel Datsyuk chose to play in Russia's Kontinental Hockey League.
The Lightning have a deep and talented roster, which Stamkos helped lead to the 2015 Stanley Cup Final, where Tampa Bay lost to the Blackhawks in six games.
June 29, 2016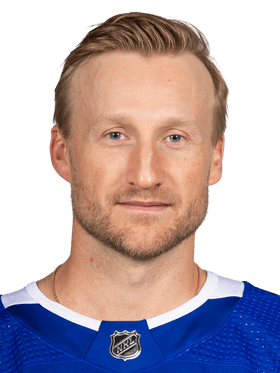 ---
SIGNED BY
Tampa Bay Lightning
SALARY CAP HIT
$8.5 million