The team representing Canada at the 2016 World Cup of Hockey does not consist entirely of the very best hockey players currently available to the country.
And that's a deliberate choice made by the management team.
To be sure, there is a lot of overlap between our hypothetical most talented roster and the one that will compete in Toronto. For instance, players like Sidney Crosby, Jonathan Toews, Drew Doughty and Carey Price belong to both groups.
Others don't.
Jay Bouwmeester, for example, is a fine NHL defenceman, but he's not a Norris Trophy winner. Yet he'll be playing for Canada while P.K. Subban sits at home. We might also cite the omission of Taylor Hall, who finished 23rd in NHL scoring last year, ahead of players such as Steven Stamkos and Ryan Getzlaf – and well ahead of recent injury replacement Ryan O'Reilly.
The important thing to remember is that Canada doesn't look at these selections the way an NHL team would. Scoring is a hard thing to find in a 30-team league and NHL clubs act accordingly. For an NHL team, Subban's ability to run a power play is a major plus. For Team Canada, which has Shea Weber and Drew Doughty and Brent Burns and Alex Pietrangelo on the roster already, it's effectively irrelevant.
Since Mike Babcock's ascension to the head coaching position in 2010, Canada's approach has been to emphasize defensive ability. The underlying assumption seems to be that the Canadian team should outscore the opposition in almost any situation, and that the important thing is not to mess up on defence. That means bringing a safe, button-down style to every game and counting on the talent disparity to automatically compensate for any sacrifice on the offensive side of the puck.
Crosby certainly gets it. After an overtime win against the Russians this week, he talked about the things Canada did well in the game and what he identified was telling.
"I thought we kept it pretty simple," he said. "I mean we didn't try to make a lot of plays that weren't there. We back-checked hard. They're really skilled – any time or space they get, it doesn't take much for them to create a chance – I thought we respected that and kind of made our plays accordingly."
Keep it simple. Don't make plays that aren't there. Respect the opposition's ability to make you pay. That approach to the game is instinctive to Bouwmeester and O'Reilly in ways it isn't to Subban and Hall.
Bouwmeester's buttoned-down style isn't the only thing that makes him a more logical fit than Subban. He has averaged more than three minutes per night on the penalty kill over the last three years, roughly double Subban's time in that role. Unlike Subban, Bouwmeester takes on more than his share of his team's defensive zone starts and plays far more when leading than when trailing.
Additionally, Bouwmeester being a left shot means he'll be playing on his strong side, which makes every routine play of the puck easier. He also may play with Pietrangelo, his NHL partner, which reduces errors due to unfamiliarity.
The argument for Subban is that he's a better player who does more to help his team's fortunes when he's on the ice. But the way Subban does that is by attacking aggressively, creating plays that wouldn't otherwise be there and taking some chances on offence.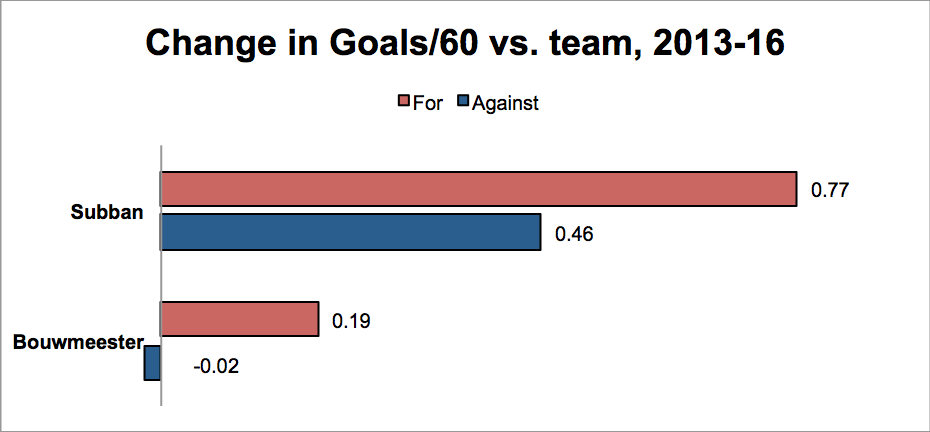 Over the past three years, Subban's Canadiens have seen their goals for and against increase when he's on the ice, with a net improvement of just over 0.3 goals per hour. Bouwmeester's Blues have improved by just 0.2 goals per hour when he's on the ice over the same span, but with no increase in goals against.
For an NHL team, Subban's willingness to push is an asset and it makes him the more impactful player. Canada, though, is willing to sacrifice that impact in exchange for a reduction in risk.
It's a similar situation for Hall and O'Reilly.
O'Reilly is a centre, with all the extra defensive responsibility that position demands. Canada routinely bumps centres to the wing and one advantage of such an approach is that every one of those converted pivots has spent his whole career with more responsibility than the typical winger.
While competent, Hall isn't leaned on defensively. He doesn't kill penalties and at evens he's primarily deployed in the offensive zone, where his value to his NHL team is greatest. O'Reilly, however, takes on a disproportionate share of his team's defensive zone starts and plays a leading role when shorthanded.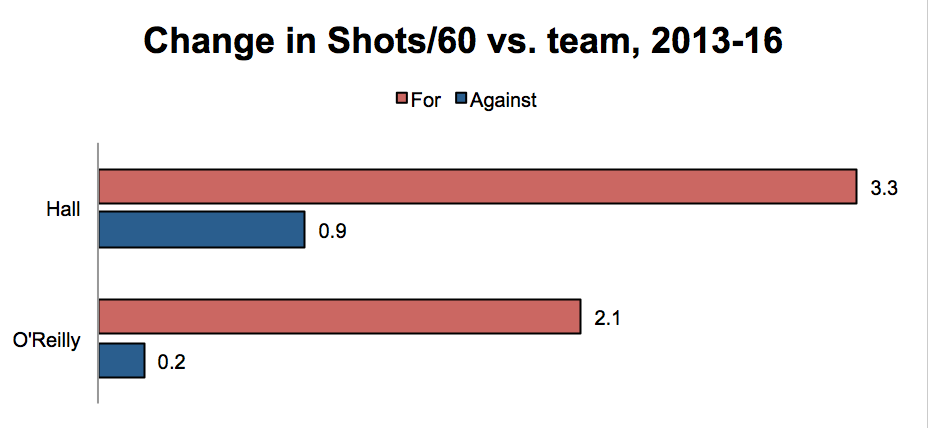 Over the last three years, Hall's Oilers were 2.4 shots and a full goal per hour better when he was on the ice. All of that comes at the offensive end of the rink. Defensively, the Oilers allowed slightly more shots and the same number of goals against with him. O'Reilly hasn't had nearly the same offensive impact with his teams, but despite tough defensive minutes there has been no rise in shots against when he is on the ice.
Whether Bouwmeester and O'Reilly are the best fits for an elite international tournament is debatable, but there's no question about what Team Canada is trying to do here. The club's management surely knows that Subban and Hall are better players than some of the skaters it has chosen. It also knows they're both high event players who don't necessarily fit into a tournament approach where Canada wants to choke the life out of its opponents.
For most teams, this kind of risk aversion would be a dreadful mistake. Few clubs in either the NHL or internationally can sacrifice that kind of game-breaking offensive talent in the name of defence. Canada is in the rare position where it actually makes a deal of sense.