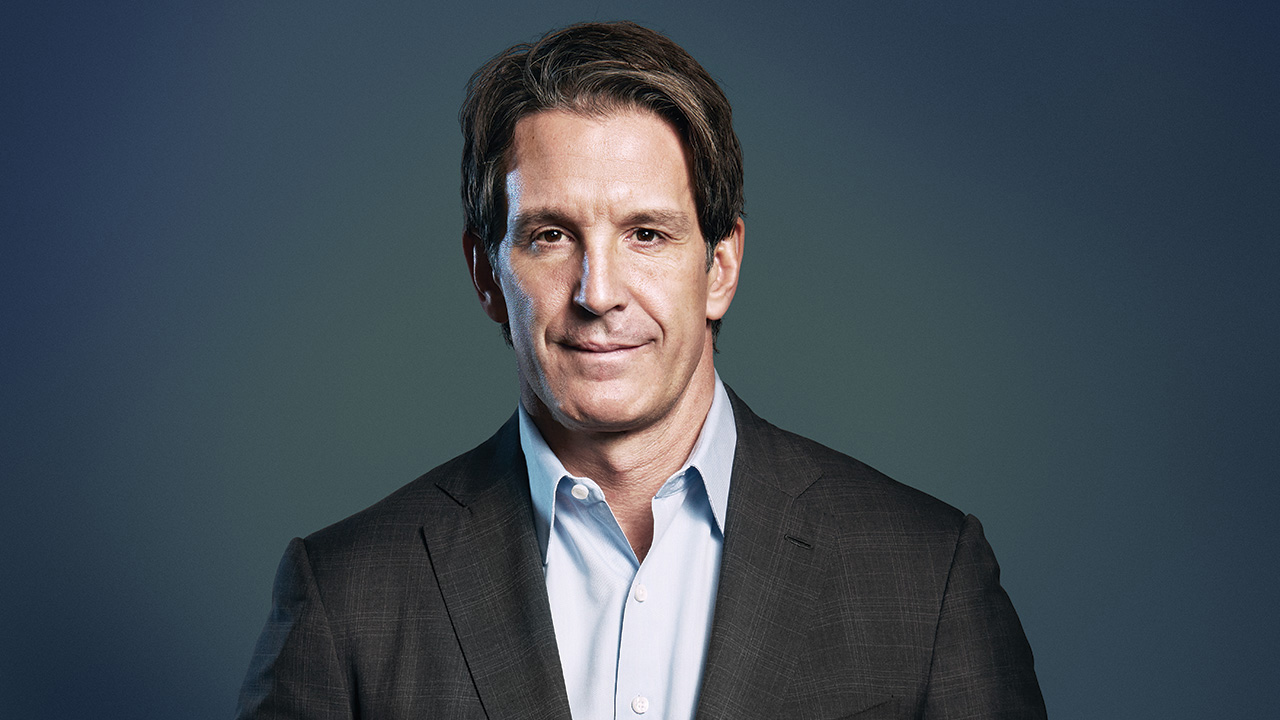 The Self-Education of Brendan Shanahan
The rise of the Maple Leafs' new president
has been anything but conventional
BY GARE JOYCE IN TORONTO | PHOTOGRAPH BY FINN O'HARA
In honour of the 2017 NHL Centennial Classic, we're looking back at stories we've done over the years on key figures in the histories of the Toronto Maple Leafs and Detroit Red Wings. This piece was originally published in December 2014.
Just minutes into the siege that was the press conference introducing him as the new chief executive of the Maple Leafs last April, Brendan Shanahan was dialing back expectations of a quick fix. "The first thing I'm going to do is head up to the offices and start going through our entire roster, our entire staff and bring myself up to speed," he said, alongside and in stark contrast to the exemplar of radiant optimism who hired him, MLSE president Tim Leiweke.
I wondered about Shanahan at that moment. He looked so different than the all-star I met 20 years before. Granted, we age, and none of us as gracefully as we hope, and the 45-year-old he better than the 50-whatever me. That said, the changes in Shanahan were striking. As a player he was a man-child, nicknamed "Big" after the movie about a boy in an adult body, albeit standing six-foot-three with a curb weight of 220 lb., substantially more adult than a young Tom Hanks.
At the press conference he was, as ever, in good shape, but hitting the gym to stay fit is different than training to play in the league. And his countenance wasn't an exact match for the one on his rookie card or the one buried under a thick black playoff beard. Yet it was neither the flecks of grey due north of his forehead nor the accumulation of scar tissue. No, it was his manner that stood out. He had always been a social animal, a born talker. But removed from his post as the head of player safety in the league office and under the klieg lights at the Air Canada Centre he was as professionally grim as a funeral director. He wasn't going to use "truculence," "belligerence," or any other five-dollar words pulled from Brian Burke's well-thumbed Roget's Thesaurus, nor would he impulsively let slip any impromptu coinages that might haunt him like "draft, schmaft" did Cliff Fletcher. "There are 29 other teams filled with smart people looking for the best players and that want to win," he said. "It is a very difficult job."
Shanahan had to know that a front-office purge loomed. That he was about to show the door to assistant GMs Dave Poulin and Claude Loiselle, two holdovers from Burke's regime, as well as gas coach Randy Carlyle's assistants. Carlyle and GM Dave Nonis might also have been targets at that point—certainly the local media thought as much—but only Shanahan, and maybe Leiweke, might ever know. Whatever stress Shanahan betrayed, it ran deeper than first-day-on-the-very-difficult-job jitters.
About the time the leaves were turning but before the first snow fell, I sat with Shanahan in his office at the Leafs' practice facility, just blocks from the bungalow where his mother, Rosaleen, still lives. The Leafs president seemed closer to his former self, telling familiar coming-of-age yarns: how he battled with his three older brothers; how he played in a house league when other hotshot kids were playing in AAA; how his Irish immigrant father, Donal, a fireman, passed up a shot at a promotion to chief so that he could spend time driving him to bantam games.
One story he told with a flourish: Before he headed off to London to play for the Knights, he attended Michael Power, a Catholic high school and track-and-field powerhouse in Toronto's west end. Shanahan threw the javelin and finished second as a bantam in the Ontario championship. Years later he bumped into the kid who came away with gold. The kid had gone on to a few provincial titles and seemed pretty proud of himself. "It's great, got a scholarship to a U.S. school and they're paying my way," the kid said. "What are you doing these days?"
Shanahan didn't go into great detail. "I'm playing in the National Hockey League," he replied.
I had heard the story before, but this time he tacked on a punchline that rang true. "You know, there was a bit of me that was jealous of him getting that scholarship and going to university like guys I knew growing up."
Those who went the well-travelled route came away with degrees and white-collar jobs and owned resumés that would, years later, be red meat for executive headhunters. Shanahan's education has never been a conventional one. Some lessons deferred are, and will continue to be, uniquely his. "You might learn more from your disappointments and defeats than victories," he says.
A few months into his job with MLSE, Shanahan was plain about the stakes in play for him on his continued learning curve in Toronto. "Success here would be more important than anything I did as a player," he said. "That's not to diminish any experience in any of the cities I played in but this is very personal and important to me."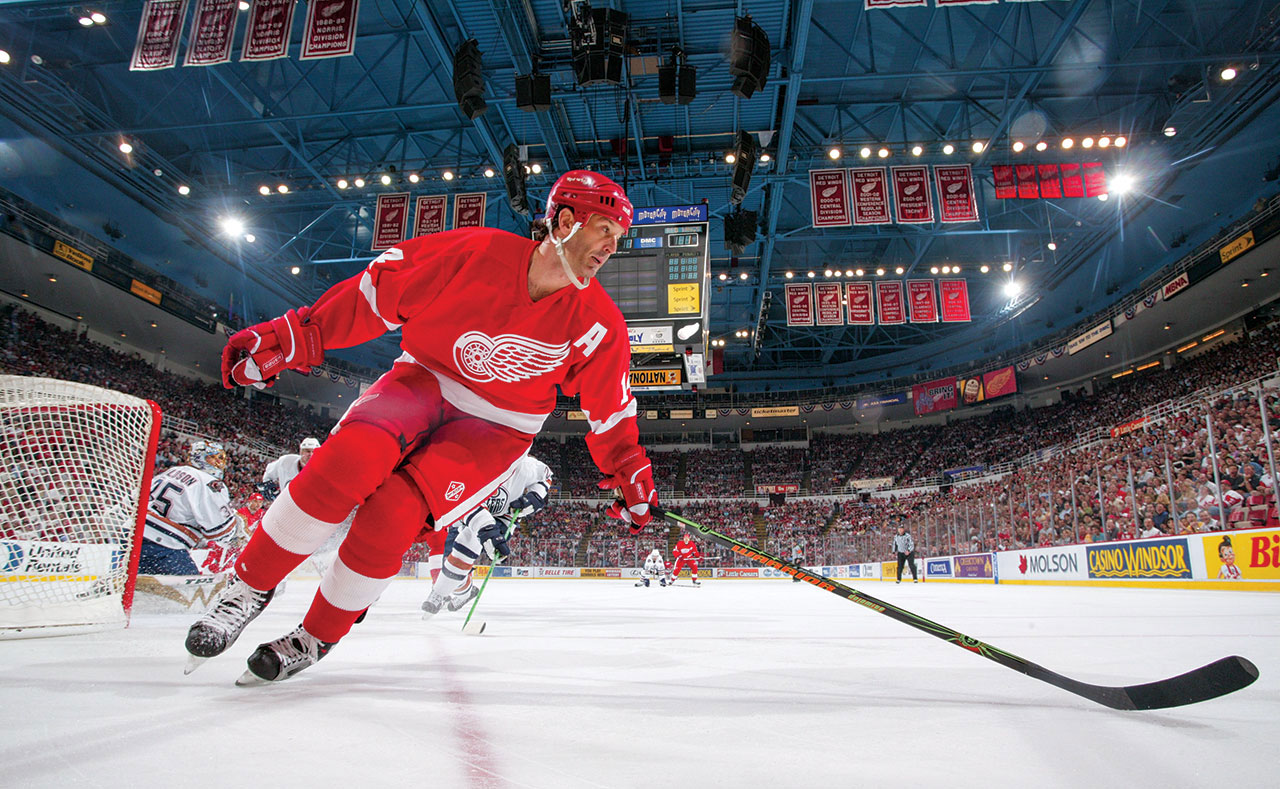 For all of his accomplishments, Shanahan pointed to a forgettable stage of his career as key to shaping his view of the game: his stint in Hartford. Shanahan was then in his prime and anointed captain when the Whalers acquired him in a trade with the Blues. Before his second season there, he realized that the team was slated to relocate to Carolina but otherwise was going nowhere. Two versions of what happened next are out there. Shanahan's: GM Jim Rutherford told him that he planned to strip the roster to the bones for a rebuild and asked him if he wanted to be traded.
Rutherford's: Shanahan initiated it and resigned the captaincy. Either way, Shanahan packed his bags. "If the team was going to stay, I might have felt differently," he says. "What I took away from Hartford was [I wanted to be] playing in a passionate hockey market. Some people want to play in the quieter markets. There was a list of teams presented to me and one of them was an Original Six team in a hockey market with hockey weather, Detroit—the others were good teams but not Original Sixes. I wanted to be somewhere where hockey was important."
Shanahan acknowledges that these days more than a few players don't think of Toronto as a preferred destination. Defenceman Josh Gorges hammered home the point this summer when he told the Canadiens that he'd sooner go to lottery-bound Buffalo than land with the Leafs. Promise anonymity, and a majority of elite veterans will tell you the same: If all things were equal, they'd prefer not to come to Toronto. They want to be able to leave the game at the arena, to go to dinner without autograph seekers lining up at their tables. Many just aren't up to facing a horde of reporters daily and nightly. "Some players don't want the scrutiny, and that's fine," Shanahan says. "They're not for here."
Those who accept the pressure and thrive under it, those who realize the rewards can be that much greater, are the players Shanahan wants in the Leafs' fold. Shanahan was one of those players. He knows something about pressure.
The scene will still be fresh to all who got up at or stayed up until an ungodly hour to watch the '98 Olympic semifinal in Nagano. Canada, ostensibly the greatest team ever assembled, faced the Czech Republic, essentially Jaromir Jagr, Dominik Hasek and a bunch of guys named Jiri. At the end of overtime, the game remained tied at a goal apiece and the teams headed to a five-round shootout. Canadian coach Marc Crawford took heat for naming Ray Bourque as one of his five shooters and omitting Wayne Gretzky. But no one was second-guessing his choice for shooter No. 5: Shanahan. Told he was up last, Shanahan envisioned scoring the goal that would clinch a berth in the final.
Not how it turned out.
The outcome known to all: Patrick Roy conceded a goal; Hasek stoned the first four Canadians; needing a goal just to keep hope alive, Shanahan decided to go to his backhand; Hasek had him dead to rights; the Czechs went on to the gold; Shanahan and the deflated legends lost in the bronze-medal game to Finland; and a nation wept.
A couple of months later, I asked Shanahan if he would meet to talk about Nagano and the aftermath. I thought it would be a non-starter. Scott Norwood has never granted an interview and Bill Buckner went into refuge. Surprisingly, Shanahan gave me the green light. In fact he showed up even though he'd had a cortisone shot in his back hours before. He wanted to refute any suggestion that he was wounded or shamed by Nagano. "Is it going to make me crawl under the covers and curl up in the fetal position?" he said. "People who think that don't know me. What happened makes me angry. I'd feel like a suck if I folded my tent and sulked."
Sixteen years later, he seemed even more sanguine. To him it was just a miss in the shootout, the failure of a shot but not a failure of nerve. "I made a decision to go with this backhand move I had been practising," he says. "But then watching [Hasek] stopping everything, I thought maybe I should just come down and blast it five-hole."
Before he skated up to the puck, Shanahan had to face down self-doubt and forego the safe option for a higher-risk move. "In the end, I wound up going with [the backhand], my first thought," he says. "Hasek didn't bite. Had me all the way. But still I didn't suck out."
The takeaway: Shanahan hasn't lost a night's sleep about Nagano or likely much else because he trusts intuition and instinct. It's one thing to be beaten in the crucible. It's another far more awful thing to beat yourself with indecision or inaction.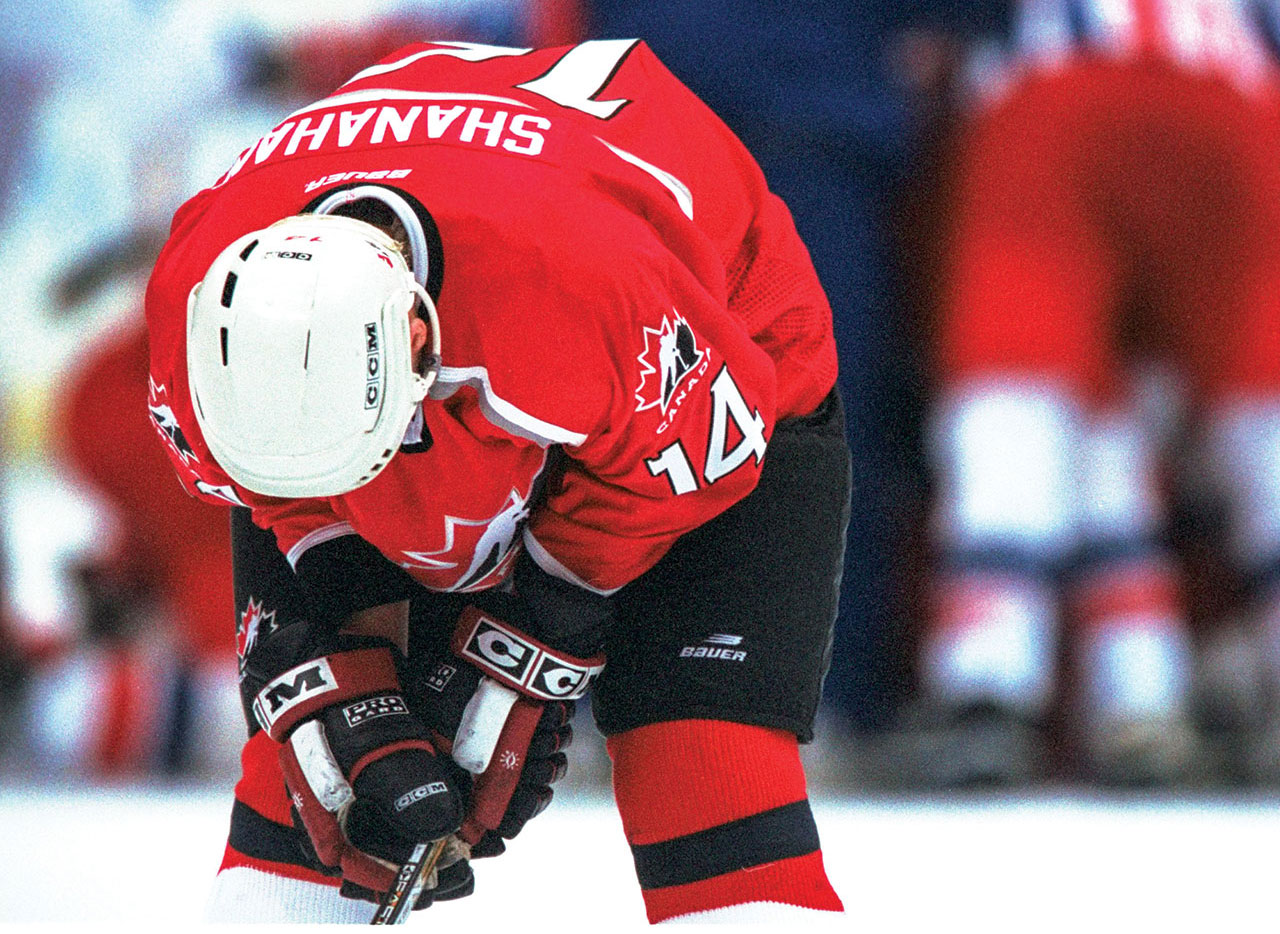 Success with the Leafs might be more important than anything he ever did as a player, but it's hard to imagine that it will be more important than Shanahan's greatest contribution to the game. Ten years back, the NHL perfectly suited Shanahan, a knock-kneed powerhouse who scored low on speed and grace. But he had a rare combination of hands and toughness, scoring 50 goals and racking up 200 PIM a couple of times early in his career. He was a little past his peak in 2002, a surprise to be named to the team that won Olympic gold in Salt Lake City, and part of the ensemble rather than a lead guy when he won his third Cup with the Wings. The game had been kind to him. In the four years leading up to the 2004–05 lockout, he averaged $6.5 million per. His was a charmed life and you'd presume that he wouldn't want to change a thing. Yet he did want change—not a single thing, but the entire paradigm. And in a way that no one could ever have foreseen, he was the catalyst. The circumstances were without parallel: World Wars never forced the cancellation of a season, but the war between management and the players association did. During the lockout a few stars went to Europe, raked in some spending money and made it a busman's holiday. Some sat at home. Shanahan did neither.
He hadn't just thought about the game—he had studied it. Always had to. If he wanted to keep up to his older brothers he had to find every strategic advantage. When he made the pros, his lack of speed left him little margin for error. He had to know exactly where to be and exactly when to get there. And far better than most, he recognized that the NHL game had become a reductio ad absurdum. When he had watched NHL hockey while a junior in London, an average game had an average of 7.93 goals. In his rookie season the number had dropped to under seven. By 2004, it was down to 5.13 in the regular season, 4.40 in the playoffs. Few were skilled enough to score, but almost all were good enough to hook and hold up stars and kill any pace in play.
Making it worse was the powerbrokers' intransigence. Nobody in the league office or ownership was so bold to declare that something was wrong with The Brand.
Occasionally a star would express his exasperation—Mario did walk away from the "garage league," as he called it. Otherwise, things were just accepted as the way the game must be.
Shanahan decided to do something about it. Or at least try to. One player. Not 99. Not 66. He was on course for the Hockey Hall of Fame but would never reach the statue-outside-the-arena threshold. Trying to change the sport looked like tilting at windmills. But he knew others who privately lamented the state of the game, and so he sent out RSVPs to elite players—to be expected—and to agents—again, par for the course. He also reached out across the collective-bargaining DMZ, inviting coaches, GMs and even owners, when management-labour relations were never more strained. "A cynic could say no one is going to listen to you," he says. "But you can't live that way."
Shanahan's name carried enough clout that almost all those invited wound up convening in Toronto to talk about what the game had been missing before the arenas went dark. The effect of the summit was felt long before the start of the next season. Rule changes were tested in R&D sessions with junior players and passed.
Nine years later, as a team exec, he fessed up to pride in the summit, both in the more entertaining game it produced and in the mechanism that emerged to ensure the game's ongoing evolution. "We did something that resulted in the competition committee that still exists," he said. "It gives players a say in how the game will be played and what rules are implemented."
Shanahan's impact was recognized in the summit's wake. The Globe and Mail named him the most powerful man in Canadian sport, a position usually reserved for a commissioner, network head or team owner. The media appreciated his contribution more than many of his peers, and even some of his teammates, did. Wings captain Steve Yzerman was among those who complained bitterly about the changes. Back in 2005, when I spoke to him in Detroit after the lockout, Shanahan deflected the darts thrown his way and offered up a throwaway prediction that has proven eerily prophetic. "Everyone's adjusting to the rules," he said. "It's going to take seasons. It'll get down to the grassroots. Eventually it will be the only game young players ever played, and the game will be better for it."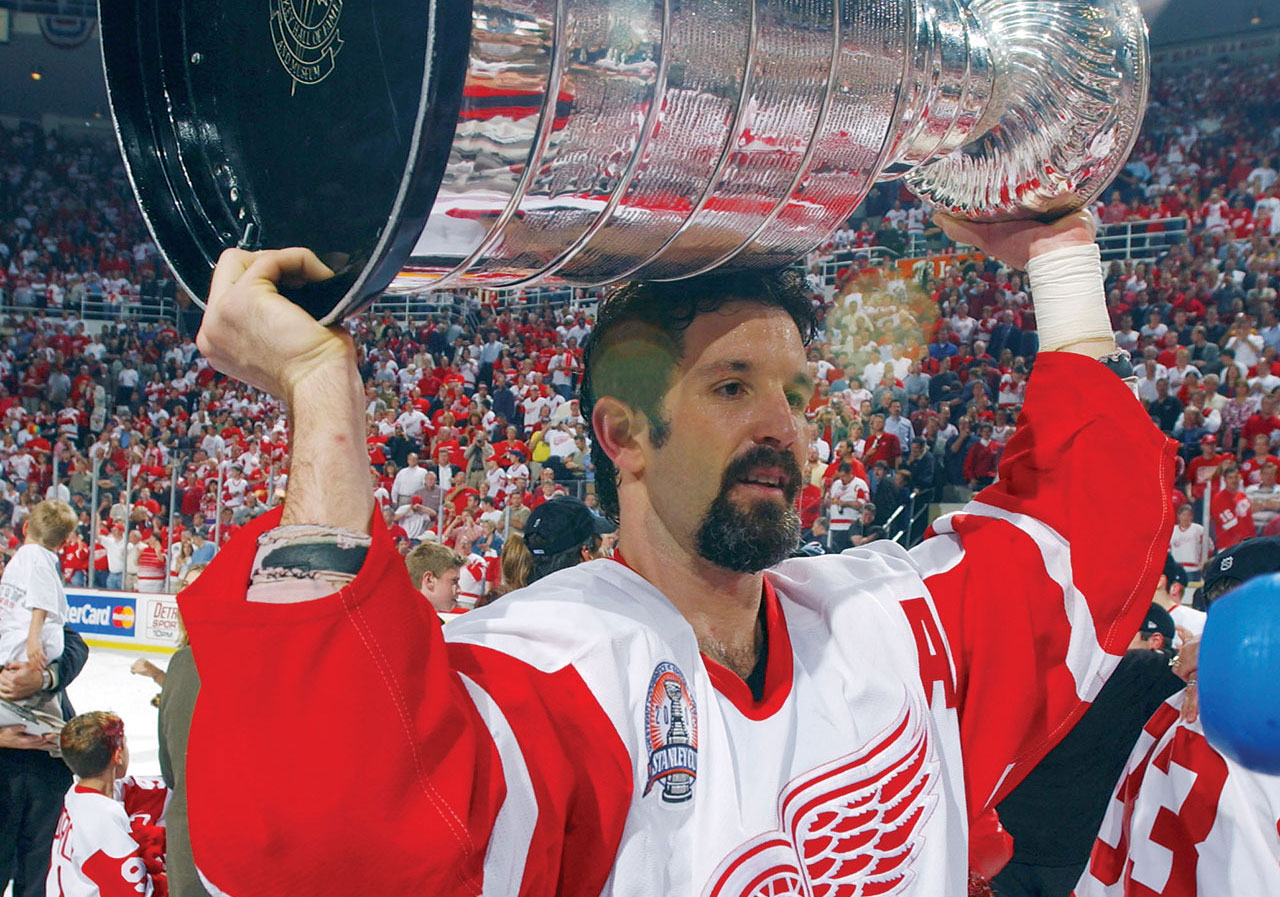 Some established executives would have been loath to occupy the president's office in Toronto, especially after the new ownership of MLSE, the Bell-Rogers consortium, tossed Brian Burke into the volcano. But Shanahan signed on, and not because of Tim Leiweke's powers of persuasion. The president's post exerted a powerful psychic draw beyond the public profile and Original Six cachet, beyond a salary that would rank in the league's elite and financial resources most others can only envy.
No, Shanahan came for Toronto as much as he came for the Leafs. From the age of 16, he never had a chance to play in his hometown as anything more than a visitor. Now the team he presides over practises out of an arena that his father would drive him to back in grade school, an arena that he would drive to himself as soon as he was licensed because Donal couldn't find his way, lost in his own neighbourhood in the fog of early-onset Alzheimer's. The youngest son wanted to come to Toronto because he viewed it as a chance to win where it matters—and where it matters most to him. He won't suck out, succumbing to doubt. He'll see the big picture. The team, yes, but, more than that, the league. And the game.
The north wall of Shanahan's spacious office overlooks the Lakeshore practice rink. The Leafs' depth chart is drawn up on an erasable board that takes up the entire east wall, along with the depth charts of the other 29 NHL teams right through to healthy scratches on their AHL affiliates. Shanahan was sitting at his desk with his back to the Leafs' morning skate, preferring to talk about the sum of his team and the others. Shanahan didn't look at the thousand-plus names. Didn't need to. After four years of whole winter days in the video war-room, he knows the league. Moreover, he knows that each of the 30 clusters of names is an executive's design—a few good and tested, others improvised, his largely inherited. All together they represent billions of dollars, just so much wallpaper that can be wiped off with a brush.
Shanahan owns three rings from his time in Detroit but he knows there's no replicating the old Wings' formula for success in the salary-cap era. "It's not realistic [to hope for] Larionov, Robitaille and Holmstrom on our fourth line," he says. "Those days are gone. Still, there are lessons you learn all along the way. I've taken a little bit from everything throughout my life. You value people who sacrifice, people who pull for others to succeed. The league can be a copycat league and everybody tries to copy winners [but] you run into problems if you're constantly trying to imitate others."
He has yet to articulate a grand vision, the ethos for the organization, and he won't claim personal ownership over every decision—Nonis still holds the GM's title. Even with this chain of command, though, any personnel moves the team has made were discussed in Shanahan's office and detailed in paperwork that crossed his desk. He will make it clear that the Leafs were charting their own course and not working from a borrowed playbook when they sent first-rounder William Nylander back to Sweden. And that parting ways with Colton Orr and Frazer McLaren wasn't a matter of falling in with a league-wide trend away from designated tough guys—though the irony isn't lost on a guy with 97 fighting majors on his career rap sheet, his first in his debut NHL game at age 18, his last at age 40.
He will claim some of the hirings: 28-year-old Kyle Dubas as an assistant; Mark Hunter, late of the London Knights, as player-personnel director; and a data-analytics staff that will transform the ACC into Los Alamos on the Lake.
Contemporaries landing NHL executive jobs—Steve Yzerman, Trevor Linden and Cam Neely among others—were regarded as team players, company men who bought into the program, no questions asked. Shanahan arrives in the executive suite with a track record of thinking outside the box. He told me that he couldn't go to school on the experiences of peers. "I talked to Steve Yzerman before taking the job," Shanahan says. "I didn't mention the team. Cam offered some advice, but I didn't reach out to a lot of people because it puts them in an awkward position. At the end of the day we have competing interests."
Ninety-nine percent of the time that's true, but the one percent was out on the ice behind him as he spoke. When he turned around, Shanahan could see three players lingering at the end of practice: Jake Gardiner, Stuart Percy and Morgan Rielly—24, 21 and 20 respectively. All three defencemen grew up playing the game that issued out of the summit in 2005. Like their generation of players in lineups across the league.
I asked Shanahan if it ever occurs to him that only two Leafs, Stéphane Robidas and Joffrey Lupul, played in the NHL before the Shanahan Summit. "Not really," he says. "And I never called it the 'Shanahan Summit.' I don't know who started that. I called a bunch of different stakeholders and constituents in the game. I offered them a free trip to Toronto and paid for the buffet and let them talk."
Though he declines credit, he played a lead role in changing the course of the game. Now he faces a task that, by scale, seems reasonably within reach: reversing the direction of a franchise with hockey weather but not much else in its favour lately. He will forever talk about "team" and "staff," but ultimately this will be a summit of one and lonelier than that moment on the ice in Nagano.
The self-education of Brendan Shanahan: to be continued.