In 48 years in the National Hockey League, characterized more than anything by their failure to win a Stanley Cup, the Vancouver Canucks had never played a three-game road trip without scoring until now.
Their 3-0 loss Wednesday to the Anaheim Ducks extended the Canucks' goalless streak to three hours, 32 minutes and nine seconds, and their losing skid to five games since leading scorer Brock Boeser suffered a season-ending back injury last Monday against the New York Islanders.
The Canucks suffered the ignominy of getting outscored 7-0 in Anaheim, Los Angeles and Phoenix. They went 0-for-99 with shots on goal. Ducks goalie John Gibson made 37 saves on Wednesday.
Intuitively, you'd think that things couldn't get much worse for the Canucks. But they can. After their three road games in four nights, the Canucks play only a single home game, Saturday against the San Jose Sharks, then embark on a four-game trip to Las Vegas, Chicago, St. Louis and Dallas. Vancouver is 2-11 in its last 13 road games.
With 11 games to go, it's hard to figure how the Canucks will win more than two or three of them – if they win any. They've got 59 points, the same total they had in the lockout-shortened 48-game season in 2013, and almost certainly will set a new low for points this century.
THE GOOD NEWS
The Canucks announced earlier Wednesday they're shutting down Erik Gudbranson so the defenceman can undergo shoulder surgery and have enough recovery time (six months) to be ready for next season. We don't wish injuries on anyone but pragmatists understand anything that further weakens the Canucks strengthens their slim odds of winning the draft lottery and getting potential franchise defenceman Rasmus Dahlin from Sweden.
Alas, Gudbranson should be more than capably replaced when Chris Tanev returns to the Canucks on Saturday after missing 17 games with a hairline leg fracture. The sensible – if cynical – thing would be to tell the often-injured Tanev to take the rest of the season off so he can be as healthy as possible next fall.
But, but… .
"He wants to play and I want him to play," Canucks coach Travis Green told reporters after the morning skate. "I want him to end this season playing some good hockey down the stretch and be ready to come back (next year). We miss him drastically."
Want to livestream all 82 Canucks games this season? See how you can stream this + over 300 regular season NHL games with Sportsnet NOW.
FUN FACT
Looking for forward depth, the Ducks were one of the few teams who called about Thomas Vanek ahead of the trade deadline two weeks ago but lost interest when they signed Chris Kelly from the Canadian Olympic team and acquired Jason Chimera from the New York Islanders for depth forward Chris Wagner. The Canucks, of course, eventually gave Vanek to the Columbus Blue Jackets for Tyler Motte.
Chimera scored his first goal for the Ducks on Wednesday. Naturally, Kelly set him up.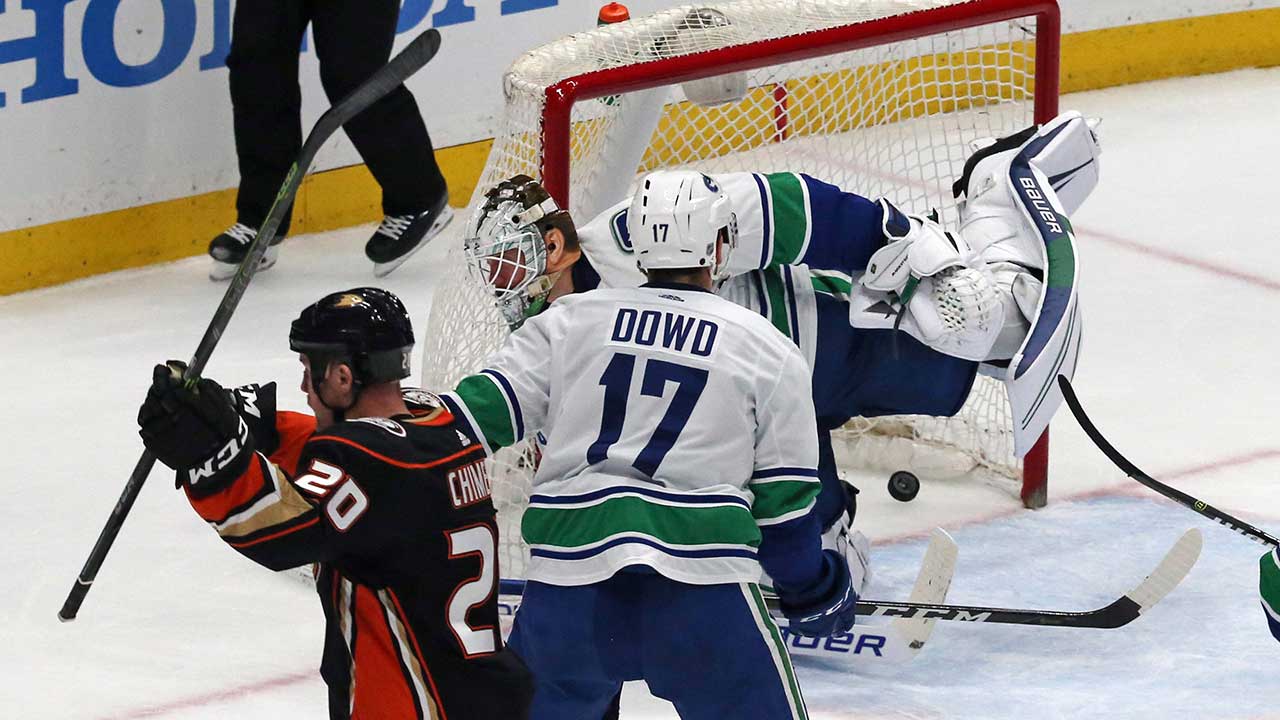 GAGNER GONE MISSING
With five of their top nine forwards done for the season, we understand that no one player left in the patchwork Canuck lineup is going to carry the team offensively, although it would be nice if someone scored once in a while.
But for a guy whose free-agent signing on July 1 was supposed to provide secondary scoring and a player who could move up the lineup when needed, Sam Gagner's season has gone from disappointing to disappeared.
The veteran forward made it 22 games without a goal on Wednesday and is stuck on just seven for the season after scoring 18 last year for Columbus.
Gagner's failure is representative of the large free-agent class that was supposed to keep the Canucks competitive this season as the organization waited for its handful of excellent offensive prospects to develop and advance towards the NHL.
Of general manager Jim Benning's July 1 haul, forward Alex Burmistrov bolted back to Russia after scoring twice in 24 games, defenceman Patrick Wiercioch didn't make the team and backup goalie Anders Nilsson has been as disappointing as Gagner since the first month of the season. Only defenceman Michael Del Zotto has delivered, which is to say, he has played regularly and continues to battle every night for Vancouver although he should no longer be a top-four defenceman. Vanek, signed at the end of the summer, over-delivered with 17 goals and 41 points but was still jettisoned at the deadline.
Hard as it is to believe, the Canucks would have been even worse without these players. But they proved again that free agency is no way to rebuild a team.
Livestream every single game of the 2018 Stanley Cup Playoffs—blackout free—plus the Toronto Blue Jays, key Raptors & NBA Playoffs matchups and the 100th Mastercard Memorial Cup, all in one subscription.
THANKS FOR THE MEMORIES
It is not only in the diminished figures of Daniel and Henrik Sedin that we are reminded that the most successful era in Canucks history faded long ago.
Former Vancouver defenceman Kevin Bieksa has become a semi-regular healthy scratch in Anaheim and did not play on Wednesday, while Ducks teammate Ryan Kesler limped into the contest (perhaps literally) with only an assist to show from his previous 13 games.
The checking centre's chronically-bad hip, which underwent surgery last June, doesn't allow him to practise these days and the Ducks are trying to nurse Kesler into the playoffs. Kesler has played just 33 games this season and has nine points, and the former Selke Trophy winner has a shocking shots-for percentage of 42.9.
Former Canucks Jannik Hansen and Alex Burrows have been disasters in San Jose and Ottawa since Benning somehow traded them for decent prospects 12½ months ago.
Among Canucks who were central to the team that won five straight division titles, a pair of Presidents' Trophies and went to the 2011 Stanley Cup final, only Vancouver defenceman Alex Edler and Florida goalie Roberto Luongo continue more or less as they were. And defenceman Dan Hamhuis still logs 20 minutes a night in Dallas.
The end of a successful era is always sad and painful. Or, to some, outrageous. For the Canucks, this harsh reality is just most obvious at home.