CALGARY – Matthew Tkachuk still remembers that night at the Savvis Center when his split-second decision led to bloodshed still discussed today.
"I saw his back turned and that he was in a vulnerable position and just buried him from behind," admitted the 21-year old Calgary Flames winger, happily reliving memories of a building and an opponent he knows so well.
"I hit him right into the couch and bloodied him up pretty good."
Stream over 500 NHL games blackout-free, including the Flames, Oilers, Leafs and Canucks. Plus Hockey Night in Canada, Rogers Hometown Hockey, Scotiabank Wednesday Night Hockey and more.
The scene had played out in the players' wives room over a decade ago as his father, Keith, did battle on the ice for the St. Louis Blues.
The victim was eight-year-old brother Brady who unwittingly allowed himself to be prone in a mini-stick battle postponed by the antics of a nine-year-old sibling.
"I'm sure my mom was just looking at these two idiots throwing each other around and saying, 'just let them be – I need a break,'" laughed Matthew, receiving confirmation from his mom, Chantal.
"There were a few people with some pretty wide eyes," she recalled. "It didn't really faze me all that much because it was one of many incidents like that."
As Matthew remembers it, his father was nonplussed to see his banged up son after the game either.
"It was after a win because if it was after a loss my dad would be pretty pissed off at us," he smiled.
"He said, 'come into the dressing room' and we continued to play mini hockey all bloodied up. My dad is like, 'go see Ray (Blues head trainer Ray Barile).' I don't know if he stitched him up or put a little glue on him, but fixed him up pretty good. Then we went home. It was just a normal night."
As Keith recalls, "not my problem. I was busy."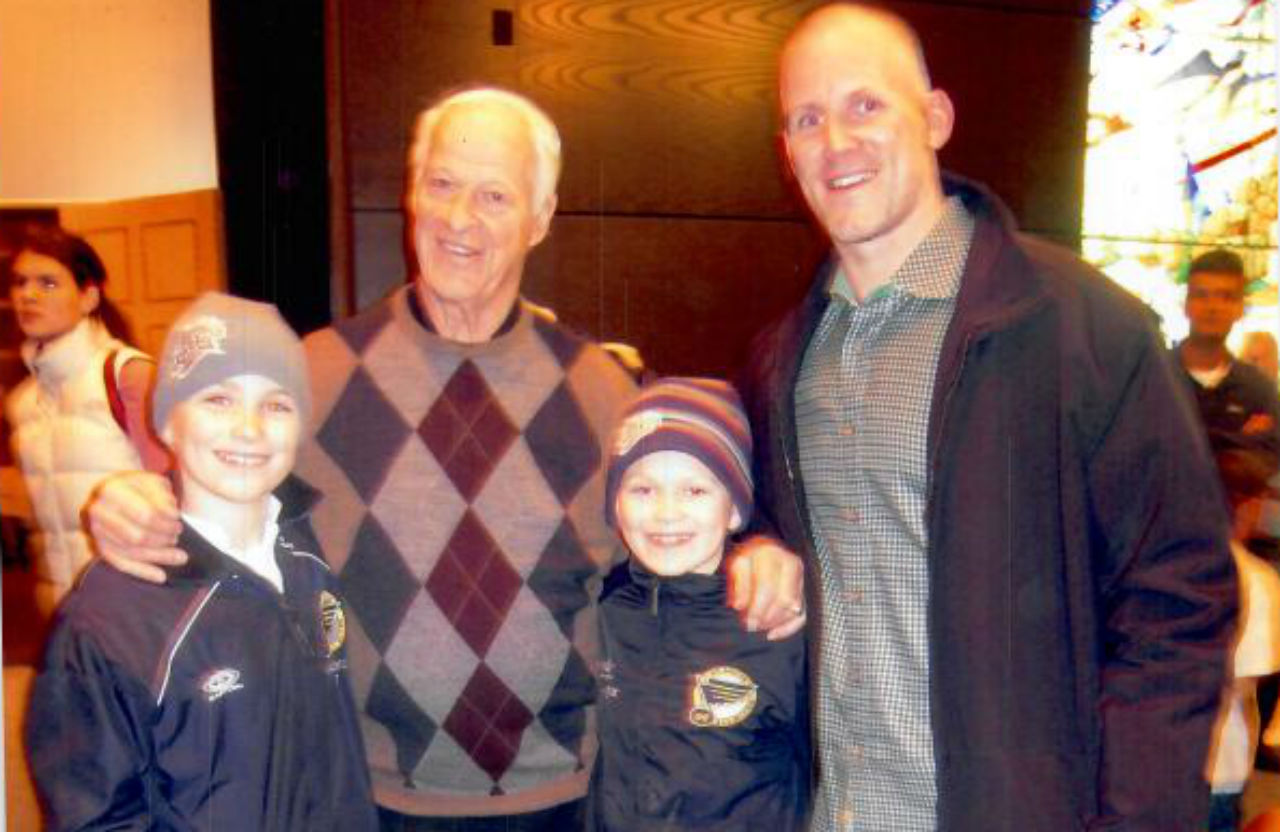 On Sunday the two combatants, er, brothers, will face off in an organized game for the very first time as Brady's Ottawa Senators will host Matthew's Calgary Flames. Chantal, Keith, daughter Taryn and 35 other friends and family members have been assembling in Ottawa over the last few days, turning the family affair into a family reunion.
The group has been giddy with excitement since Christmas when Grandpa Don – known as "Bada" thanks to young Matthew – had custom jerseys made up for the occasion.
Grandpa Don came up w these beauties, modelled by Brady, Taryn & Matthew Tkachuk, which will be worn by almost 40 family members and friends Sunday in Ottawa when the two brothers meet in a game for the first time in their lives. Mom has one rule: "No fighting!" pic.twitter.com/EF8loG8bd4

— Eric Francis (@EricFrancis) February 22, 2019
One side features Calgary colours and Matthew's name and number, the other represents Ottawa with its colours and 'Brady' down the sleeve. On the back, each player's number is on its respective side with 'TKACHUK BROTHERS' emblazoned across the top.
"Honestly, I still kind of find it surreal," said Chantal of the big league meeting both Scottsdale-born kids dreamed of.
"I obviously hoped for their sake their dreams would somehow come true, but now that it has, it's pretty cool and special. I'm nervous because I want them both to do well and I don't want either of them to do anything stupid."
Which brings us to the ground rules of their upcoming play date.
"They know me enough to know what the rules are: just don't fight," said mom of words she's echoed for years. "Please don't fight."
THIS SUNDAY: Home to the "Big Rock", @RonMacLeanHTH & @TaraSlone go LIVE from the @townofokotoks for stop #20 of the @Rogers #HometownHockey Tour!

#CGYvsOTT | 6:30pmET/3:30pmPT on @Sportsnet pic.twitter.com/vLxKN22MQn

— Rogers Hometown Hockey (@hometownhockey_) February 23, 2019
Both first round picks – Matthew sixth overall in 2016, and Brady fourth last summer – inherited their father's penchant for perturbing.
Both unafraid to get in anyone's face and occasionally drop the mitts. Chantal can attest to the fact they come by it honestly.
"They would fight all the time," she sighed. "They were typical brothers. They were, and still are, each other's best friend. They're 21-months apart and they're a bit of a package deal.
"We would laugh when they'd be playing outside and say, 'it'll be 10 minutes before one of them comes in griping about the other.' Sure enough, something started and in they'd come. They weren't easy on one another. Matthew pushed Brady and had a size advantage. He was never going to let up on him just because he was younger."
The Flames fly in to the nation's capital Saturday, allowing for both brothers to join the fully catered family festivities at a Kanata hotel that night where plenty of stories will be swapped, including the aforementioned bloodbath.
One thing the boys likely won't be fighting over is this weekend's tab.
"Who do you think is paying for it?" asked Chantal, rhetorically, when asked which one of the boys who are currently making base salaries of $925,000 US is paying for the hotel rooms, flights, tickets and food.
"We're paying for it."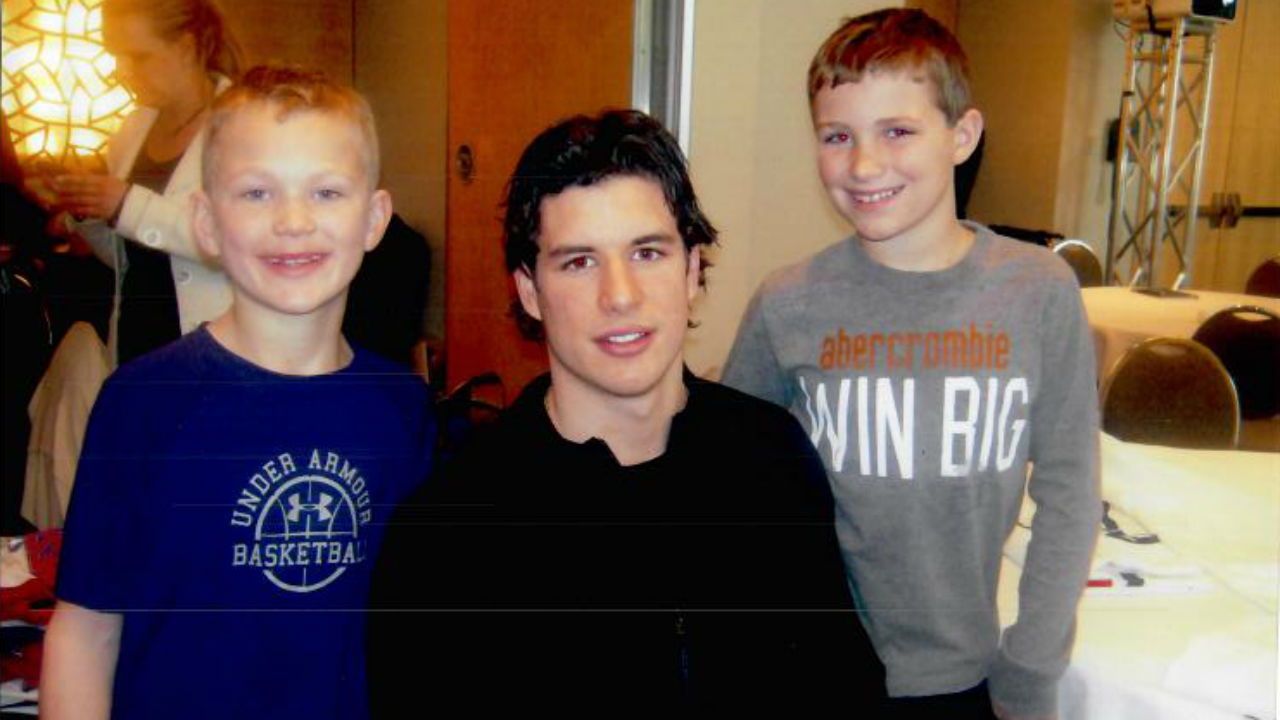 The game, which will be featured on Rogers Hometown Hockey, will provide a fascinating dynamic between two cornerstones of their teams. Brady has made tremendous inroads as one of the NHL's top rookies with 13 goals and 30 points in 49 games. Matthew's 24 goals and 59 points in 60 games has him amongst league leaders and in line for a new contract this summer that will undoubtedly make him the highest paid Flame of all time, at over $7 million.
Brady, 19, is slightly taller and skinnier than the 6-foot-2, 202-pound Matthew and has also compiled 61 penalty minutes compared to big brother's 50.
Dad is forever proud of how the two gritty left wingers are both known as consummate team players who will forever stick up for teammates. Chantal says the ideal outcome would be a close game in which neither of those PIM totals increase.
"The perfect scenario is overtime so each team gets a point," she said on behalf of moms around the world in support of fairness. Both are super competitive and both will want to win."
And both will have a close eye on one another, as always.