Most of the best ones, as per league-wide trend, were crossed off the list well before puck drop.
The unrestricted free agent class of 2018 was set to include Carey Price, Cam Fowler, Brian Little, Martin Jones, Craig Anderson, Marc Edouard-Vlasic, and Mikko Koivu. But that group all inked long-term extensions with their current clubs in the off-season.
Message reinforced: If you have a good goalie, defenceman or centreman, you keep him.
The remaining impending UFAs of 2018 — a group headlined by Islanders face John Tavares — still have much to offer, and considering the cap situations or playoff chances of some of their current teams, fans should still hope for some movement.
It pains us to leave active legends such as the Sedin twins and Jaromir Jagr off our top 12, but we can't ignore that a step has been lost.
Summer 2018 will also provide a measure of fiscal relief for a few front offices, as hefty contracts belonging to Joffrey Lupul, Mikhail Grabovski, Kari Lehtonen, Antti Niemi and Ryane Clowe will come off the books.
Here is an early look at the NHL's top 12 unrestricted free agents of 2018 and the rumours surrounding them.
[relatedlinks]
1. John Tavares

Age on July 1: 27
Position: Centre
2017-18 salary cap hit: $5.5 million
Bargaining chips: The best twenty-something impending unrestricted free-agent centre to come along since Steven Stamkos (and we know how calm everyone acted in 2016). Islanders' captain, best player and the reason they snapped their playoff series-victory drought in 2016. Gold medallist at the Olympics, World Cup and World Junior Championship (twice). Twice hit the 80-point mark. Improving on defensive end, too. Did we mention the Spengler Cup gold?
The latest: Tavares and the Islanders have always maintained that they'd like to extend their marriage when the time comes.
Newsday's Arthur Staple reported in May that GM Garth Snow is likely to offer Tavares an eight-year contract worth upward of $10 million per season, and he's certainly worth Jack Eichel money.
Tavares is likely encouraged by the club's signing of Doug Weight as head coach and trade for wingman Jordan Eberle. But Tavares is driven to win, and the Isles failed to make the playoffs in 2016-2017. He needs to believe the Islanders can win a Cup, and this franchise needs arena certainty. They're working on it.
The loyal superstar is willing to play the waiting game, which should unnerve management and fans.
"I just want to have fun, enjoy it and the guys know who I am as a person and as a player, so I just try to be myself. There'll be a time and place for all that and as we go along we'll see what happens," Tavares told Newsday on Oct. 3.
Teammate Johnny Boychuk fires friendly chips at Tavares on his contract suspense and predicts a media firestorm this season.
"Oh, they're going to be bombarding him," Boychuk told Newsday. "They'll be hovering over him. When we go to Toronto, it'll be, 'Hey, John, how would you like to play here?' And he'll be like, 'I'm playing for the Islanders. I like it here.' It's going to be tough for him because everywhere he goes he'll get the same question. He's very professional in the way he goes about things."
2. John Carlson

Age on July 1: 28
Position: Defence
2017-18 salary cap hit: $3.97 million
Bargaining chips: World junior gold medallist. Member of Team USA. Washington Capitals' ice-time leader at 22:42 per game. Power-play threat. Put up between 32 and 55 points in six straight full seasons.
The latest: A skilled and experienced puck-moving, right-shot defenceman under the age of 30? "Yes, please," says the entire NHL.
While Carlson has been an important fixture in Washington since getting drafted in 2008's first round, GM Brian MacLellan's long list of contractual decisions in the summer pushed an extension to the back burner.
Even as the season gets underway, Carlson's playing partner on the Capitals' second D unit remains in flux.
"We talked about possibilities for him in the summer and we'll play it out," coach Barry Trotz told reporters. "But he understands the situation…. I think he understood where we are as a team, organization, the cap situation this summer."
With the Ducks locking up Fowler and the Sharks committing to Vlasic, does Carlson pass up a chance to become the undisputed No. 1 UFA defenceman of 2018 and create a lucrative bidding war?
Carlson has said he's not thinking too much about his next contract yet.
3. James van Riemsdyk

Age on July 1: 29
Position: Left wing
2017-18 salary cap hit: $4.25 million
Bargaining chips: Second-overall pick in 2007. Member of Team USA. Four-time 20-goal scorer, one-time 30-goal man. Coming off his most productive NHL season (62 points). Big body, sick mitts. Belief he can still improve.
The latest: Conjecture and rumours, as always.
The Maple Leafs' most dangerous left wing holds a 10-team no-trade list and says he wants to remain with the team long-term, but with JVR's next contract expected to be a biggie, Toronto may be hesitant to shell out knowing it will soon have to pony up big bucks for younger forwards Auston Matthews, Mitch Marner and William Nylander.
"I've loved playing here ever since I came here. How I've been treated is great. It's a place I want to play for as long as I can," van Riemsdyk told us. "Where that takes things, we'll see what happens. I love playing here. I want to be here."
The Leafs offered van Riemsdyk as part of a failed trade package for then-Islanders defenceman Travis Hamonic at the draft.
Do the Leafs deal the underpaid JVR at some point to bolster their blue line, or do they take one more run with him as a dependable contributor in their top six and sort things out in the summer?
"I don't know what more we could've asked of them," said GM Lou Lamoriello, when we asked about impending UFAs JVR, Tyler Bozak and Leo Komarov in the off-season. "They bought into what was being asked of them. They bought into a culture, and they embraced it.
"The veterans are here for a reason. We went through 45-some players last season, and the players who are here belong in that locker room and are part of the future."
4. Kyle Turris

Age on July 1: 28
Position: Centre
2017-18 salary cap hit: $3.5 million
Bargaining chips: Hit 20 goals and 55 points in every season as a Senator with a minimum 60 games played. No. 1 centre for the Eastern Conference finalists. His 27 goals topped all Sens in 2016-17. Showing maturity and improvement with age. Beloved in community.
The latest: In a perfect world, the underpaid Turris would see his salary reach the heights of teammate Bobby Ryan's $7.25 million average annual value.
But Ottawa is known to shy away from the cap ceiling, and raises are on the horizon for a number of core players in the next three summers. Between 2017 and 2019, Mark Stone, Cody Ceci, Derick Brassard, and Erik Karlsson should all make cases for a pay bump.
We see Turris as a great fit for a long-term extension here, but the negotiations could be tricky and the Matt Duchene trade rumours give us pause. Interesting that the Senators were able to lock up goaltender Craig Anderson this fall before sorting out Turris.
Turris is looking for a seven- or eight-year deal, according to the Ottawa Sun's Bruce Garrioch. The player's tough-negotiating agent, Kurt Overhardt, reportedly wants the deal to be in the $6 million AAV range. The sides are talking but progress appears slow.
Dorion is working with Turris camp on contract talks. "No panic," says Dorion. Confident he can get something done. #Sens

— Bruce Garrioch (@SunGarrioch) October 11, 2017
5. Cam Atkinson

Age on July 1: 29
Position: Right wing
2017-18 salary cap hit: $3.5 million
Bargaining chips: Production has increased every season. Scored a career-high 35 goals and 62 points in 2016-17. Selected to 2017 All-Star Game.
The latest: Atkinson has delivered excellent bang for the Blue Jackets' buck since he inked his three-year, $10.5-million contract extension in 2015. Columbus has started Atkinson on a stacked front line that features Alexander Wennberg and Artemi Panarin.
The expiration of Atkinson's contract coincides with that of teammates Boone Jenner, Matt Calvert, William Karlsson, Jack Johnson and Ryan Murray. As Jarmo Kekalainen proved with October's Josh Anderson extension, the GM can be unbending. Atkinson will have real leverage, though. Something will have to give.
Atkinson told The Athletic's Aaron Portzline during training camp there would be no in-season negotiations.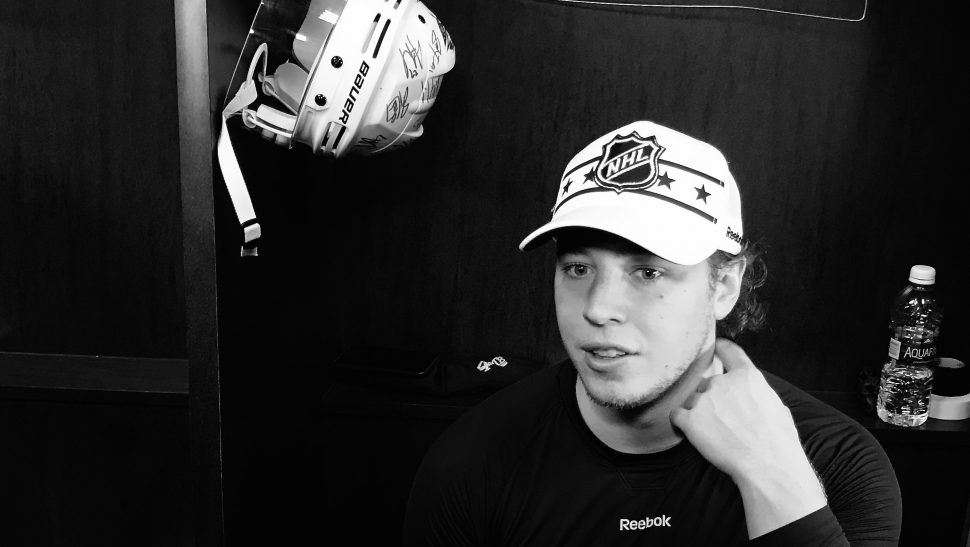 6. Mikael Backlund

Age on July 1: 29
Position: Centre
2017-18 salary cap hit: $3.58 million
Bargaining chips: Coming off a career season in which he posted 22 goals, 53 points, a team-high seven game-winners, and entered the Selke conversation. A force on both special teams. Rivals Sean Monahan as the Flames' best centre.
The latest: All due respect to Matt Stajan, Eddie Lack and Kris Versteeg, but the timing of Backlund's free agency in 2018 shouldn't conflict with too many other big-ticket extensions. Barring a desire on the player's part to test the market and seek the most dollars available, Calgary is a fantastic fit in terms of being able to play a prominent role on a promising young team.
GM Brad Treliving revealed that initial conversations with Backlund's agent, J.P. Barry, began in July. "I think on both sides right now both sides have got work to do in terms of just really scheduling the different types of businesses going on right now.
"People that follow our team saw the type of year that Mikael had last year and the importance he has on our team. And I say it with any contract – they're simply done. Term and money are the only two obstacles that we have to agree on," Treliving told Sportsnet's Calgary station.
"We think Mikael is a really good player, an important player here, and we'd like to see if there's a way to get something done and we'll explore that."
We bet 2007 first-rounder Backlund re-ups with the team that drafted him and receives a nice raise well before the rumour mill gets churning.
7. Paul Stastny

Age on July 1: 32
Position: Centre
2017-18 salary cap hit: $7 million
Bargaining chips: No. 1 centre on perennial playoff team. Alternate captain. The Blues' best faceoff man at 55.7 per cent in 2016-17. Defensively responsible. A lock for 50 points if healthy.
The latest: Stastny hit pay dirt as one of the best UFA forwards in 2014, but there's no way he commands another $7-million-per-year deal with a no-trade clause. That said, the Quebec native is still the best pivot on a strong team, and Stastny's importance has been underscored will the litany of injuries St. Louis is dealing with.
The Blues should be able to keep the playmaker in the fold if both sides want to make a deal. Doug Armstrong, however, has recently begun to let his veterans go — Kevin Shattenkirk, Troy Brouwer, David Backes — in favour of youth when payday comes knocking.
A point of concern here: Stastny hasn't played 75 games in a season since 2011-12 with Colorado.
8. Evander Kane

Age on July 1: 26
Position: Left wing
2017-18 salary cap hit: $5.25 million
Bargaining chips: The youngest UFA forward in 2018, period. In 2016-17, enjoyed his most productive season — 28 goals, 43 points — since 2011-12. Deadly shot. Common belief that he still hasn't reached his ceiling.
The latest: Speculation in the spring ran rampant that Kane, whose trade value hasn't been this high in years, had fallen out of favour with Buffalo Sabres ownership and could be moved before his contract expires. The Los Angeles Kings, Elliotte Friedman reported, were one team interested, and they could use the scoring.
Kane's next contract (and next team?) is a compelling subject because his off-ice track record isn't the most positive and he's already battled through several injuries, yet his skills and athleticism are top notch. We've seen many an NHLer mature with age, so there is potential for a steal of a deal here.
That the Sabres have a new GM and a new head coach, Phil Housley, has given Kane a clean slate and placed him on Jack Eichel's wing.
"I always have goals," Kane told the Buffalo News. "I just want to score as many as I can. I try to score every game, every time I'm on the ice. Whatever those totals would be, it would be a lot. That's not going to happen, but I just want to be as consistent as I can."
Congrats to the guy on my right @Jack_Eichel11 on the HUGE new deal! Can't wait to set up the team dinner for ya. pic.twitter.com/PhRPCAtY6s

— Evander Kane (@evanderkane_9) October 4, 2017
9. Rick Nash

Age on July 1: 34
Position: Left wing / Right wing
2017-18 salary cap hit: $7.8 million
Bargaining chips: 2002 first-overall pick. Two-time Olympic gold medallist. Eleven 20-goal seasons. Hit 40 goals as recently as 2014-15. Effective power forward.
The latest: Nash is already the 16th-highest-paid NHLer and enjoying an $8.2-million base salary this season. Unlike most on this list, he's in for a pay cut.
Nash, who has never hit unrestricted free agency, told NHL.com he feels young and inspired.
"I don't have a contract for next season, so that's what I'm playing for," the winger said. "It's a huge season for me personally.
"I've got to be better. I shoot for 50 [goals] every year, but 30 is a great number."
10. Mike Green

Age on July 1: 32
Position: Defence
2017-18 salary cap hit: $6 million
Bargaining chips: Experienced, durable top-four right shot who can log 24 minutes a night. In his prime, he had a 30-goal season and two 70-point seasons from the blue line. Coming off a 14-goal, 36-point campaign as the best defenceman on a bad Red Wings team.
The latest: Only the bravest prognosticator has the Red Wings pegged as a playoff team this season. So with the draft lottery most likely in their future and cap problems firmly in their present, Detroit's best trade chip is Green.
It's easy to picture a contender offering up futures to land a reliable right shot before the deadline.
11. Jonathan Marchessault

Age on July 1: 27
Position: Centre
2017-18 salary cap hit: $750,000
Bargaining chips: One of the NHL's best bargains. Hot off a breakout 30-goal, 51-point campaign. Set to see first-line minutes in Vegas. Can play centre or wing.
The latest: Surprisingly unprotected by Florida in the expansion draft, Marchessault has been reunited with former coach Gerard Gallant in Vegas.
"I want to have a bigger role, and I think they're ready to give me that kind of role, but I just have to respond," Marchessault says.
Florida's value pickup becomes Vegas's, and Marchessault will enter another contract year assured of top-six opportunity.
The lottery-bound Knights can either enjoy his low-cost scoring punch or rent him at the trade deadline to a banged-up contender already tight to the salary cap.
12. Zdeno Chara

Age on July 1: 41
Position: Defence
2017-18 salary cap hit: $3.58 million
Bargaining chips: Captain. Norris winner. Stanley Cup winner. Has 600-plus points over 1,300-plus games played. Licensed to sell real estate in Massachusetts. Logged the Bruins' most minutes in the 2017 post-season. That shot. That reach.
The latest: Interestingly, Chara's salary this season will be the cheapest of his seven-year deal. He's "only" making $4 million in real money, so if the Bruins struggle, we could see the gentle Slovakian giant become a compelling rental target.
Chara is on record saying he wants to keep playing for Boston beyond this season, and GM Don Sweeney sees value in the tall man.
"Maybe he'll play forever," says 19-year-old Bruins rookie Charlie McAvoy. "He's going to be the next Jagr. He's in tremendous shape. He takes care of his body like nothing I've ever seen."
"I think Chara has earned the right to keep playing." — Sweeney on Chara's wanting to extend his contract with #NHLBruins

— The Pink Puck (@ThePinkPuck) October 3, 2017
More notable UFAs of 2018: Henrik Sedin, Daniel Sedin, James Neal, Erik Gudbranson, Toby Enstrom, Jack Johnson, Patric Hornqvist, Jaroslav Halak, Tyler Bozak, Calvin De Haan, Dan Hamhuis, Leo Komarov, Andrew Cogliano, Jannik Hansen, Patrick Maroon, Antti Raanta, Michael Grabner, Tomas Plekanec, Kari Lehtonen, Antti Niemi, Joffrey Lupul, Mikhail Grabovski, Ryane Clowe, Joe Thornton, Jaromir Jagr