NORTHVILLE, Mich. _ Every few years, gets asked about Nov. 26, 1991, the night she made hockey history.
Playing in goal for the Trois-Rivieres Draveurs, the then-19-year-old Rheaume became the first woman ever to appear in a regular-season game in the Quebec Major Junior Hockey League.
And one season later, on Sept. 23, 1992, she took it a step further by becoming the first woman to play in a National Hockey League pre-season game for the Tampa Bay Lightning.
Through guts and perseverance, Rheaume became a pioneer.
It all started when Gaston Drapeau, head coach and general manager of the Draveurs, invited the Lac-Beauport, Que., native to training camp.
"People had said no to me so many times because I was a girl that when someone gave me a chance I said 'Yes, I'll take it,'" Rheaume, 44, said in an interview at her home near Detroit. "It was a chance to experience hockey at a higher level."
It helped that the Draveurs' roster included her younger brother Pascal Rheaume, who had been drafted in the eighth round by the New Jersey Devils only a few weeks before. He was not surprised to see his sister on his team, even in junior hockey.
"It was normal for me," said Pascal Rheaume, now an assistant coach with the Sherbrooke Phoenix in the QMJHL. "I grew up with Manon.
"She had been playing with boys since novice hockey."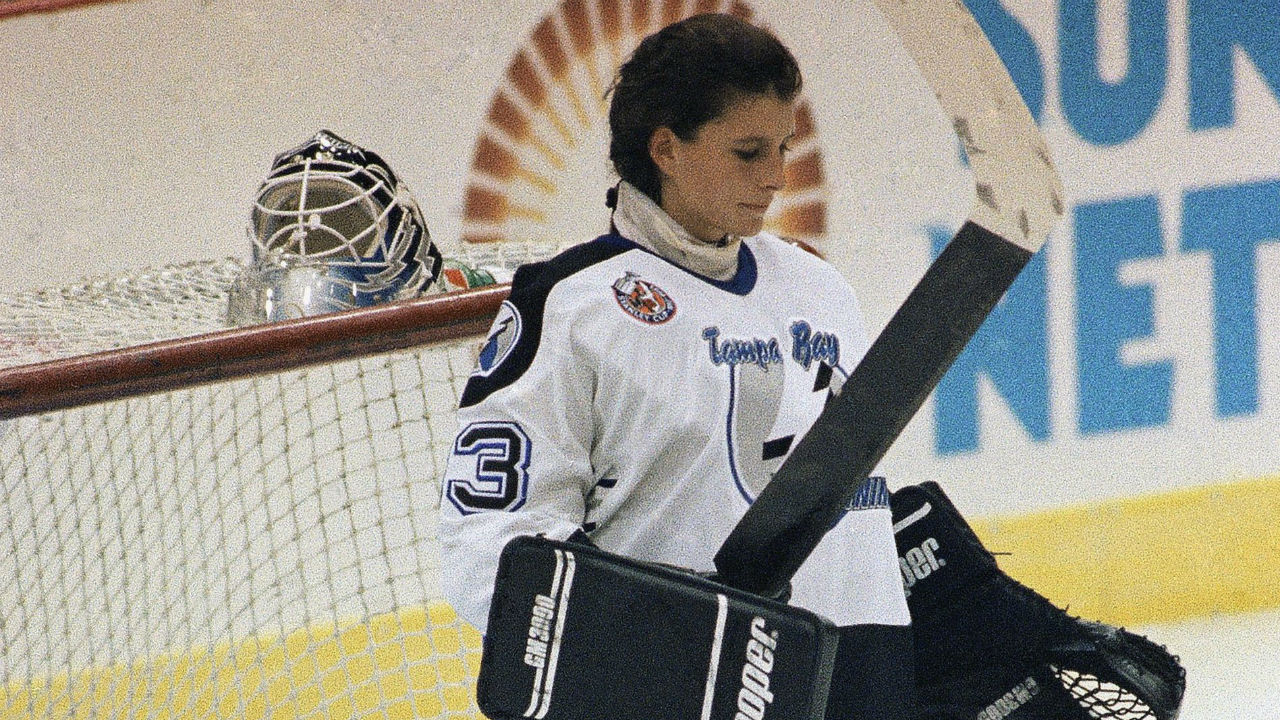 Tampa Bay Lightning goaltender Manon Rheaume gets ready to make her professional debut against the St. Louis Blues on Wednesday, Sept. 24, 1992 at the Tampa Fairgrounds in Tampa. Rheaume, 20, is the first woman to play in one of the four major pro sports leagues. (Chris O'Meara/AP)
---
Manon held her own, posting the third best goals-against average among the six goalies in camp. That earned a chance to play in a pre-season game against the St. Jean Lynx.
"The guys were pretty excited in the dressing room," recalled Norman Flynn, the Lynx coach at the time. "They couldn't wait to fire shots at her to see how she would do.
"A dressing room can be a macho place and the guys were saying there was no way she was going to shut us out."
She was sent down to the Tier-2 Louiseville Jaguars after the game, but not without drawing praise from Drapeau. And when starting goalie Jean-Francois Labbe was injured in mid-September, she was recalled to act as back up to the No. 1 goalie _ future NHLer Jocelyn Thibault.
After warming the bench for two games, her big moment came in the middle of the second period of a game against the Granby Bisons, before a crowd of 2,025.
"We had a really good team but the Bisons, not so much," said Thibault, now general manager in Sherbrooke. "The plan was to get a comfortable lead and then send Manon in."
It didn't quite work out that way as the Draveurs wasted leads of 3-0, 4-1 and 5-3. After Granby tied it 5-5, Drapeau sent her in anyway.
Draveurs governor Andre Gabias said he wanted Rheaume to play in that game because that the ownership group wanted to try something new.
"It was a risky bet," said Gabias. "I was nervous.
"It ended up OK, but each time she stopped a puck we were on the edge of our seats. We didn't want her to get blown out."

Tampa Bay Lightning goaltender Manon Rheaume, in goal, watches as the puck goes into the corner during the professional debut against the St. Louis Blues on Wednesday, Sept. 23, 1992 at the Tampa Fairgrounds in Tampa, Florida. Rheaume is the first woman to play in one of the four major pro sports. She allowed two goals during the first period. (Peter Cosgrove/AP)
---
The first test came against Philippe Boucher, a defenceman with a booming shot who later played in the NHL.
"I came across the red line and took a shot and the puck hit her pads and stopped on the goal line," said Boucher, now head coach of the Quebec Remparts. "We all wanted to be the first to score on Manon.
"We were 17 or 18 years old. Manon was the star that night, but we wanted to have our part in it."
Rheaume allowed three goals on 17 shots before leaving the game with a cut over an eye when her mask was shattered by a shot from Patrick Tessier. She was chosen as third star of the game despite her team's 10-6 defeat.
"I was just very grateful to Mr. Drapeau for inviting me to camp," said Rheaume. "The night he let me play, he put aside the fact that I was a girl and looked at me as a goaltender."
In September 1992, Hall of Famer Phil Esposito opened an even bigger door.
At first, the general manager of the expansion Tampa Bay Lightning wasn't even aware that the goalie named Manon Rheaume he had seen playing in a junior A game was a woman until he asked to talk to her after the game.
"I said I wanted to meet the goalie because I liked the way 'he' played," Esposito recalled. "When they brought her out I said 'Are you kidding me?'
"This beautiful young woman comes out and I said 'How would you like to come to training camp for the Tampa Bay Lightning?'"
When she got to Tampa, Esposito had to put his foot down to make coach Terry Crisp go along with it. And despite Rheaume's insistence that she be treated like any other player, they got her a separate dressing room, although once she was in her equipment she would join the rest of the team in the main room.
But he said she held up well in camp. And they asked the team's leaders to make sure everybody behaved and there were no incidents.
"She's smart and she knows how to handle herself," said Esposito.
He also knew he had a novel way to make people notice the new team in a non-tradition hockey market, and it worked.
Rheaume played one period, allowing two goals on nine shots against the St. Louis Blues, but that was enough not only to make her the talk of the hockey world, but to earn appearances on several national television shows, including "Late Night with David Letterman" and NBC's morning show "Today."
Esposito said more women attended the game than usual and that Rheaume was the inspiration for girls hockey programs to start up in the region. It also helped the Lightning get established in a market ruled by football.
Crisp said he was impressed by her ability.
"She earned everything," said Crisp. "She earned the right to be there through her hockey.
"Her first shot, Brendan Shanahan came over the blue line and blasted one and she gloved it. The crowd went wild."
Rheaume was assigned to the Atlanta Knights of the IHL, but played only two games before being demoted to an ECHL club. She ended up playing 24 men's pro games in a variety of leagues over the years.
She also made her mark in women's hockey, winning gold medals with the Canadian team at the 1992 and 1994 world championships and taking silver at the 1998 Winter Olympics in Nagano, Japan.
And her hockey life didn't end there.
Today, she helps run the girls hockey program for Little Caesars, an organization associated with the Detroit Red Wings, and coaches the under-12 girls team. She had a foundation that provides funds to girls under 19 in sports. She is also on the organizing committee for the 2017 women's world championship in Plymouth, Mich.
"I've always been passionate about hockey," she said. "I spent my life in arenas and I've played at the professional level.
"To have a chance to earn a living in the sport I love, I couldn't ask for more."