In this week's column, we focus first on Ben Bishop's underappreciated great season, why he's Dallas' MVP — and why, if he's out for a while following Thursday's injury, it could spell trouble for the Stars.
Plus, we look at Jared McCann who is on a great run in Pittsburgh: is he doing something differently in Mike Sullivan's system, or just a beneficiary of playing with Sidney Crosby?
Those points and more in this week's Truth By Numbers.
SPOTLIGHT PERFORMANCE
The Dallas Stars haven't exactly played inspiring hockey this season. They're one of the lowest event teams in the NHL and don't generate much outside of their vaunted top line — and even one of their top players, Jamie Benn, has been having a horrible season by his own standards with only 47 points in 67 games.
The saving grace for the Stars has been their goaltending, specifically Ben Bishop, who has posted the league's best save percentage. He's a hair ahead of Tampa Bay's Andrei Vasilevskiy at .932, and yet we don't hear his name much when pundits talk about the Vezina.
The reason for that might be the aforementioned low-event, defensive style the Stars play, but how far does that go to explaining Bishop's numbers? Let's dig into it.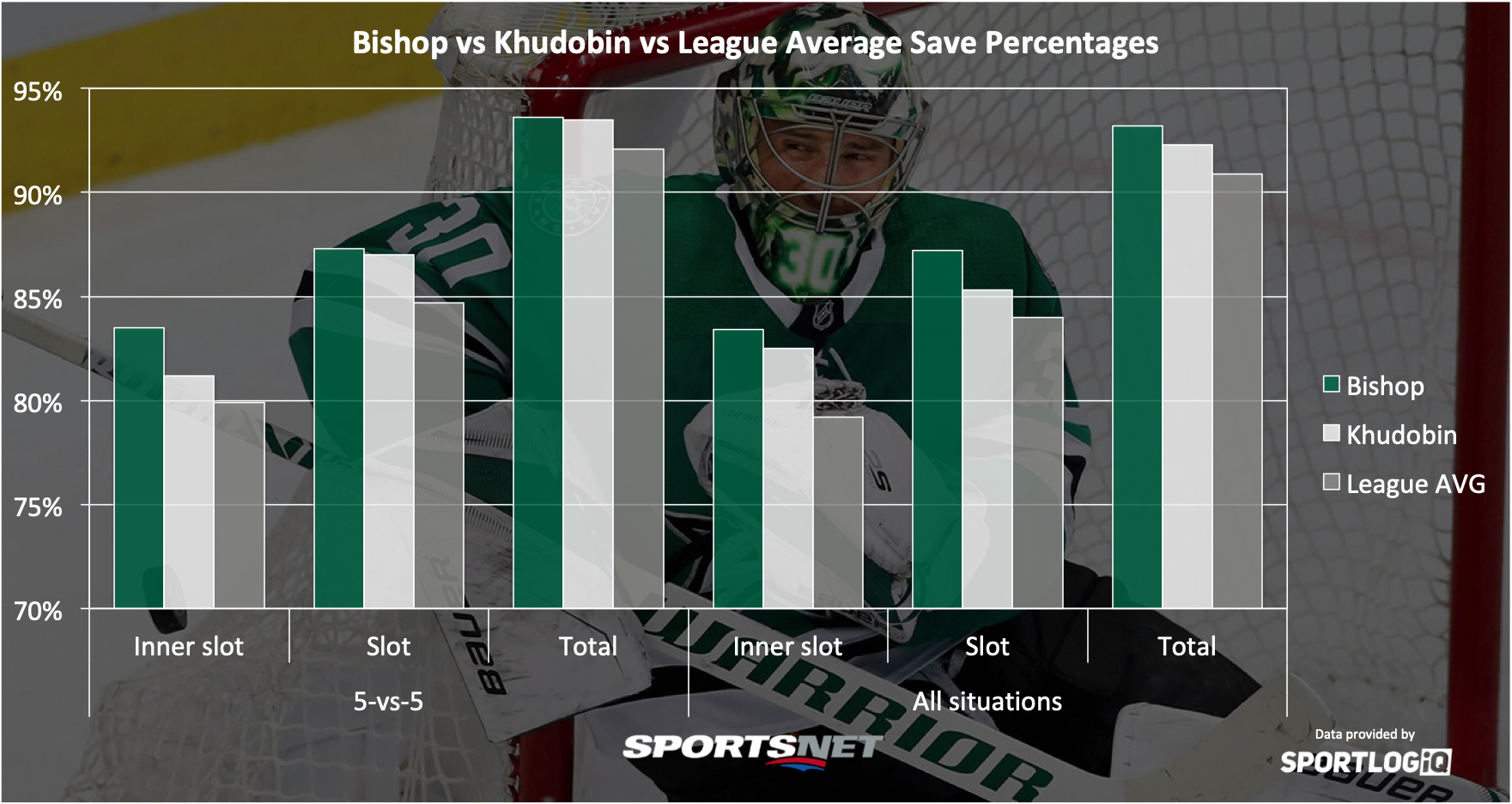 Just to compare him on a level playing field, we included Bishop's backup Anton Khudobin, which gives us an idea of how much of Bishop's performance is due to team effects.
At even strength, Bishop and Khudobin have nearly identical save percentages, but Bishop is outperforming him significantly from the inner slot or high danger area, and slightly from the slot overall.
A main reason for that is, as good as the Stars are defensively, they're not as tight with Bishop in net as they are with Khudobin. Part of that could be they trust Bishop and take more risks while he's in net, but my guess is that the more logical explanation is simply that Bishop plays against tougher teams on average than Khudobin.
When you include special teams, the gap between the two goaltenders widens, and Bishop's strong play stands out over league average even more. He's been the Stars' MVP this season, and a lower-body injury he suffered Thursday evening could be devastating if he's out for long.
THE QUESTION
With the playoff races heating up, Steve Dangle is wondering if the Penguins can stay hot, but more specifically…
"What's up with Jared McCann? Has he changed something in his game to justify this heater he's on?"
Well, I can think of one thing for sure: he's getting to share the ice with Sidney Crosby at the moment, but I won't write off his own contributions out of hand. Let's compare McCann's numbers from Florida to what he's been able to accomplish in Pittsburgh. The main difference has been goal scoring, so let's focus on his shooting.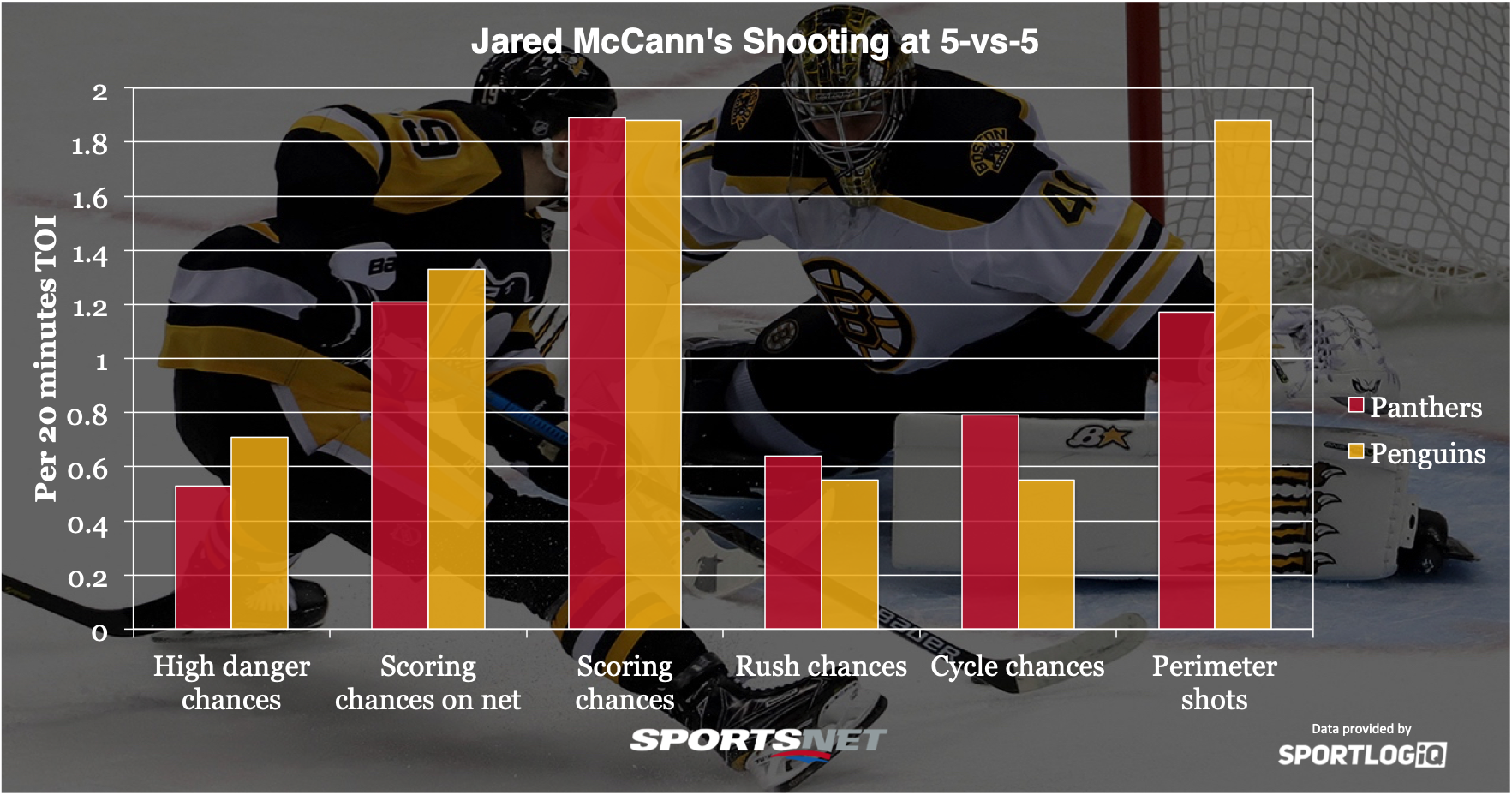 McCann has moved slightly closer to the net on his scoring chances, but he's getting an almost identical number compared to his time in Florida. He's also taking more shots from the perimeter.
This kind of change in shot quality isn't enough to explain why his shooting percentage has doubled in Pittsburgh. So I think the only thing we can conclude is that the Crosby effect is in full force, and on top of that, luck has helped drive this hot streak as well.
Senior Writer Ryan Dixon and NHL Editor Rory Boylen always give it 110%, but never rely on clichés when it comes to podcasting. Instead, they use a mix of facts, fun and a varied group of hockey voices to cover Canada's most beloved game.
BUY OR SELL
• Nikita Kucherov's 115 points are the most by any player since the 2006-07 NHL season and he has 11 games left to add to the total. He has 32 points in his past 20 games and if he keeps up this pace, he'll hit 132 points. Joe Thornton currently has the highest point total in the salary cap era with 125 in 2005-06. We have to go all the way back to Mario Lemieux and Jaromir Jagr in 1995-96 to find a point total higher than 125, with the two Penguins hitting 161 and 149 respectively. This is just to put into context how absolutely absurd Kucherov has been this year. We could be witnessing the best offensive production for a single player in 22 seasons.
• Also with 32 points in his past 20 games, Sidney Crosby is dragging the Pittsburgh Penguins kicking and screaming into the playoffs. You just can't count out the Penguins while Sid is still playing like this.
• With the Canadiens struggling and Jonathan Drouin putting up just four assists in his past 15 outings, all in one game, criticism of the young forward is mounting. The problem with Drouin is that when he's not producing his defensive struggles are front and centre. Over the past two years, no forward in the NHL has been on the ice for more high quality chances against with pre-shot movement per 20 minutes at 5-on-5 than Drouin. If he can't produce points, and the power play isn't going to get better, that's a major problem.
• Playing with Connor McDavid has crazy advantages, but I've long been in the camp that Leon Draisaitl is an elite or at least near elite player in his own right. This season he's second in the NHL in completed passes to the slot at 5-on-5, between Kucherov and Crosby, and 13th in passes off the rush. I don't know if he's a play-driving centre, but he's a playmaking force to be reckoned with.