Not wasting any time in shaking up his roster after three straight first round exits, Kyle Dubas traded Nazem Kadri, Calle Rosen, and a third round draft pick in 2020 to the Colorado Avalanche for Tyson Barrie, Alex Kerfoot, and a sixth round draft pick in 2020.
Somehow the Maple Leafs convinced the Avalanche to retain 50 per cent of Barrie's salary cap hit in the deal, meaning he will cost the Leafs just $2.75 million next season before he becomes an unrestricted free agent the following year.
Kerfoot is a restricted free agent, so at this time we don't know for sure what the cap savings will be, but it's unlikely that Kerfoot will make the same as Kadri's $4.5 million. What the Leafs have accomplished with this trade is sub in Kerfoot for Kadri at a likely savings, and Barrie for Jake Gardiner's spot last season for a guaranteed savings. Barrie is also a right-handed shot, so Jake Muzzin and Morgan Rielly can both stick on their natural sides.
Kadri is one of the league's more underrated players and was a luxury for Toronto behind Auston Matthews and John Tavares. Colorado will likely be very happy to add a strong second line centre to their forward group for an expiring contract and a good, but not great, young player in Kerfoot. The Leafs are in such a cap crunch that even a contract with as great value as Kadri's can present a challenge — but the Avalanche have loads of room to make things happen, and can easily absorb Kadri's salary along with half of Barrie's.
On its surface, the trade looks like a win for both sides, but let's get into the details and look at how the incoming Leafs compare to the outgoing Leafs they're replacing.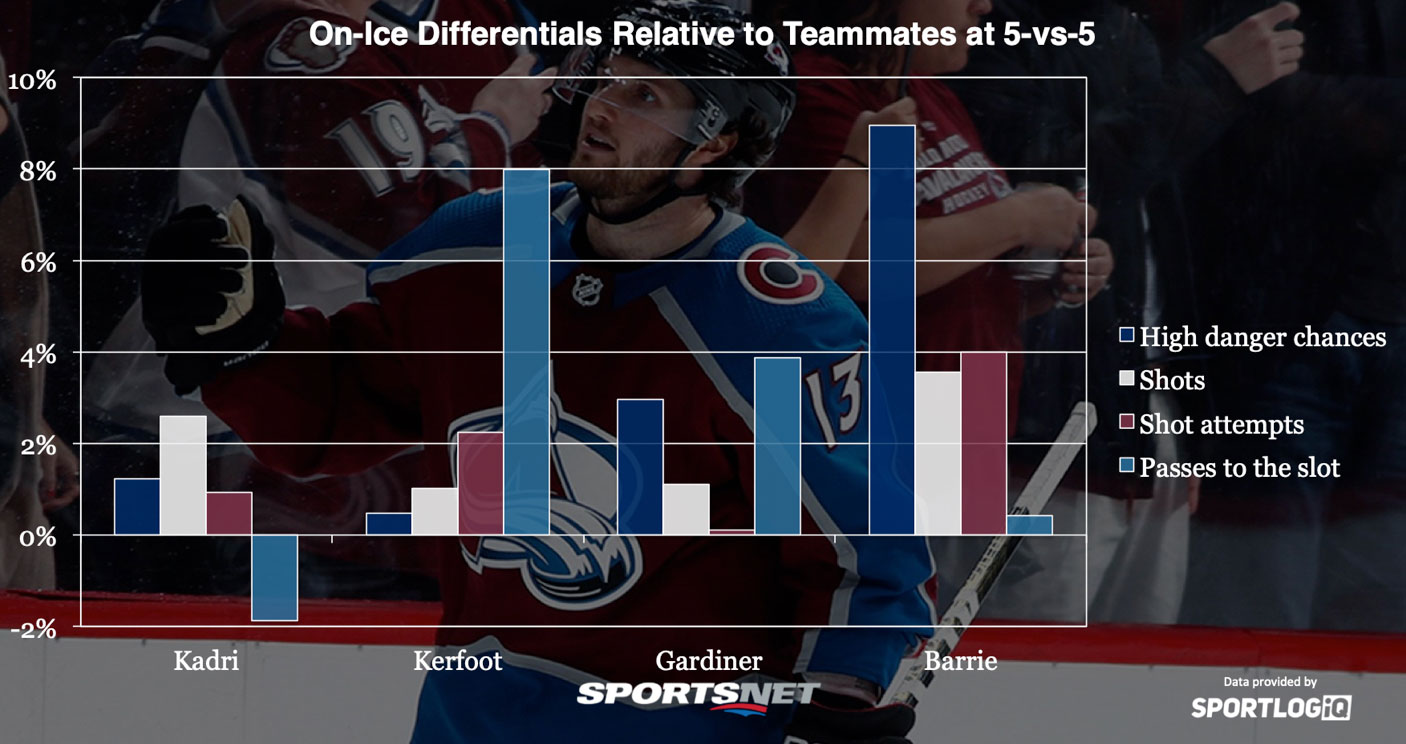 What's immediately apparent here is that all four of these players are good. Kadri, despite not playing with any of Auston Matthews, John Tavares, or Mitch Marner, maintained positive differentials last year in all categories except for passes to the slot. But Kadri's line was nearly identical defensively to the top two lines, though it just struggled to produce dangerous passes.
Considering Kadri is more of a shoot-first centre, he needed some help from his wingers in this area, but of his most common linemates last season only William Nylander is a playmaker, and he had a bit of an off year offensively. Clearly Kadri is still a very strong player on his own, but none of the depth forwards around him fit his style in Toronto last season.
Kerfoot, meanwhile, is also positive across the board, but specifically stands out in pass to the slot differential, largely due to his defensive impact, which is extremely strong guarding against the pass. There's no question that Kerfoot's performance last season was excellent, but the question for him is can he play centre on the third line? He took 489 faceoffs for the Avalanche last year and won a startling 57.7 per cent of them, but that was only the fifth-most faceoffs on the roster, whereas Kadri took 730 in Toronto. Kerfoot primarily played on the wing, so can he maintain that strong play when more is asked of him?
Gardiner and Barrie's relative numbers were very different last season, but the two players play a similar style and a relatively similar role. Neither are matchup defenders — both lean more on their transition game and work in the offensive zone to make a difference.
July 2: Extra! Extra! Maple Leafs deal Nazem Kadri to Avalanche
July 02 2019
Between the two of them, Barrie is a much more effective transition player and brings even more offensive prowess than Gardiner. But for those fans who grew frustrated with Gardiner's decision making in the defensive zone and risky play with the puck, buckle in because Barrie is about to take you on a wild ride. Gardiner's defensive impact has been much stronger than Barrie's over the past few seasons, and in fact Barrie's defensive impact is around the 44th percentile in the NHL, while Gardiner's is 56th, so that part is a downgrade.
Overall though, and especially when you consider handedness and salary, Barrie looks like an upgrade for the Maple Leafs. If you slot him beside a defensive stalwart like Jake Muzzin, that's an ideal second pairing on a very good team.
Going back to the forwards, Kerfoot is primarily a defensive player, and while Kadri is no scrub in that regard, based on the results Kerfoot should be a bit of an upgrade in that area. But what about offence?
The Maple Leafs don't struggle to score, but Kadri was a part of their excellent power play, and provided very valuable depth scoring. How much of that can Kerfoot be relied on to make up? Let's look at the individual numbers.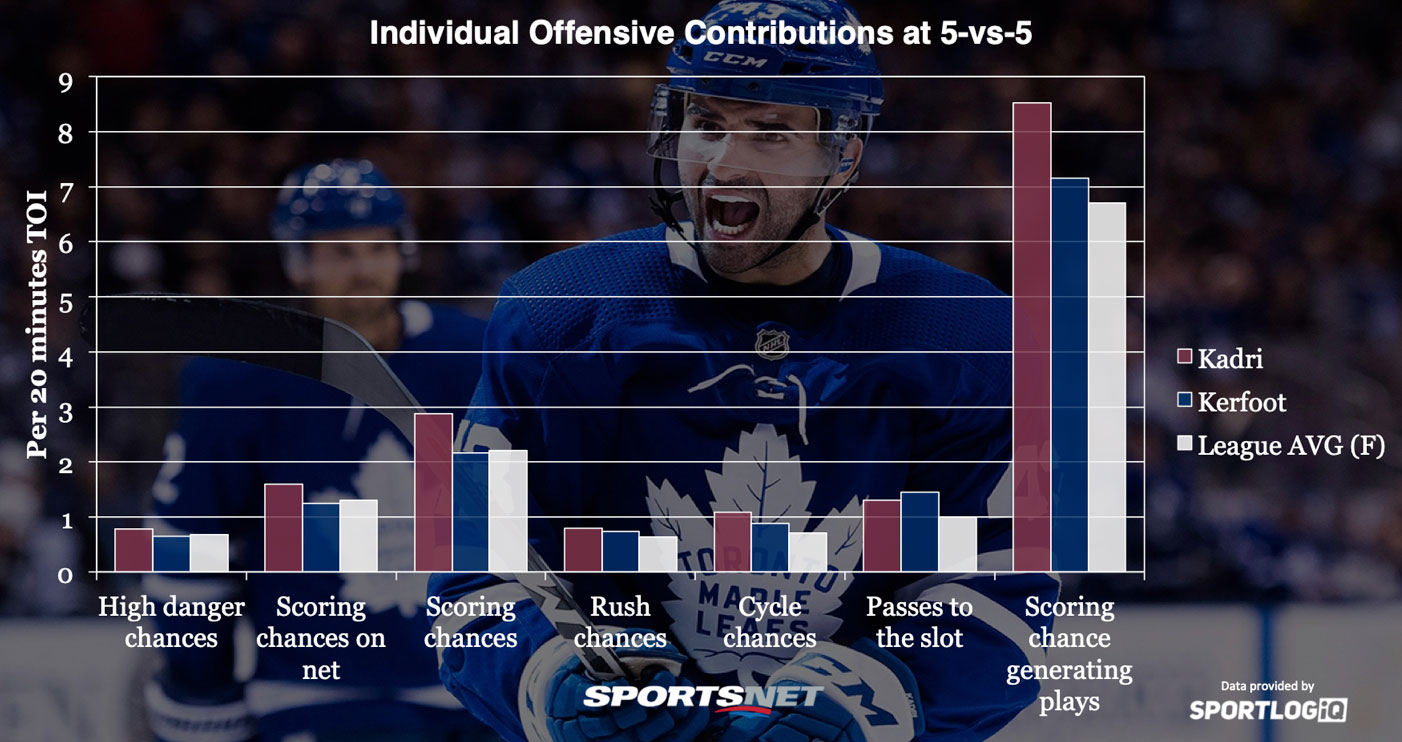 Kadri is above average across the board. A well-rounded offensive threat at even strength who produces a plethora of chances every year despite usually getting tougher matchups than average and weaker linemates than team average, not to mention that those linemates were constantly rotating so he had little time to create chemistry. Kadri is just straight up, extremely good.
Kerfoot, on the other hand, is a slightly below league average shooter, but a much better than league average playmaker, which fits pretty well with his career production so far.
What might be most important to the Leafs offensively is that Kerfoot's profile fits nicely with a lot of their depth forwards. If the plan is to keep Nylander with Matthews, they'll need a playmaker on the third line, and Kerfoot fits that bill, especially if he can end up playing with shoot-first players like Kasperi Kapanen and Andreas Johnsson.
The defensive prowess Kerfoot brings to the table can also help insulate those two who got railroaded by the Bruins in the first round of the playoffs.
The Leafs are losing some offence from forwards with this trade, but not as much as it may appear.