With the "Uber incident" in the rear view mirror, how has Matt Duchene responded? Meanwhile, the powerhouse Pittsburgh Penguins don't look like a power house at all so far this season, but since they still have all the big stars who have led them to success in the past, what exactly is going wrong this season?
That, and more, in this week's column.
SPOTLIGHT PERFORMANCE
Acquired for a king's ransom last year and expected to be a leader for the Senators, Matt Duchene was cast in a bad light when an Uber driver decided to release dashcam footage of the veteran and several of his teammates trashing their assistant coach, despite the entirely true rational statements from other players around the league that both players and coaches vent in private like this all the time.
But, considering the fact Duchene is going to become an unrestricted free agent this summer, you would expect two things were accomplished when that video was released:
1) His relationship with the Senators organization was damaged in some way, even if just slightly.
2) His trade value took a hit.
Any perceived blow to his value from the incident has probably disappeared, though, as Duchene responded with 15 points in eight games since.
My question about Duchene's incredible scoring pace is how much of it is good fortune in a small sample size that luckily hit at the right time, and how much is he just crushing it? The easiest thing to do is to compare those eight games since the Uber video was released to his play before it, and we'll include team and league averages for context.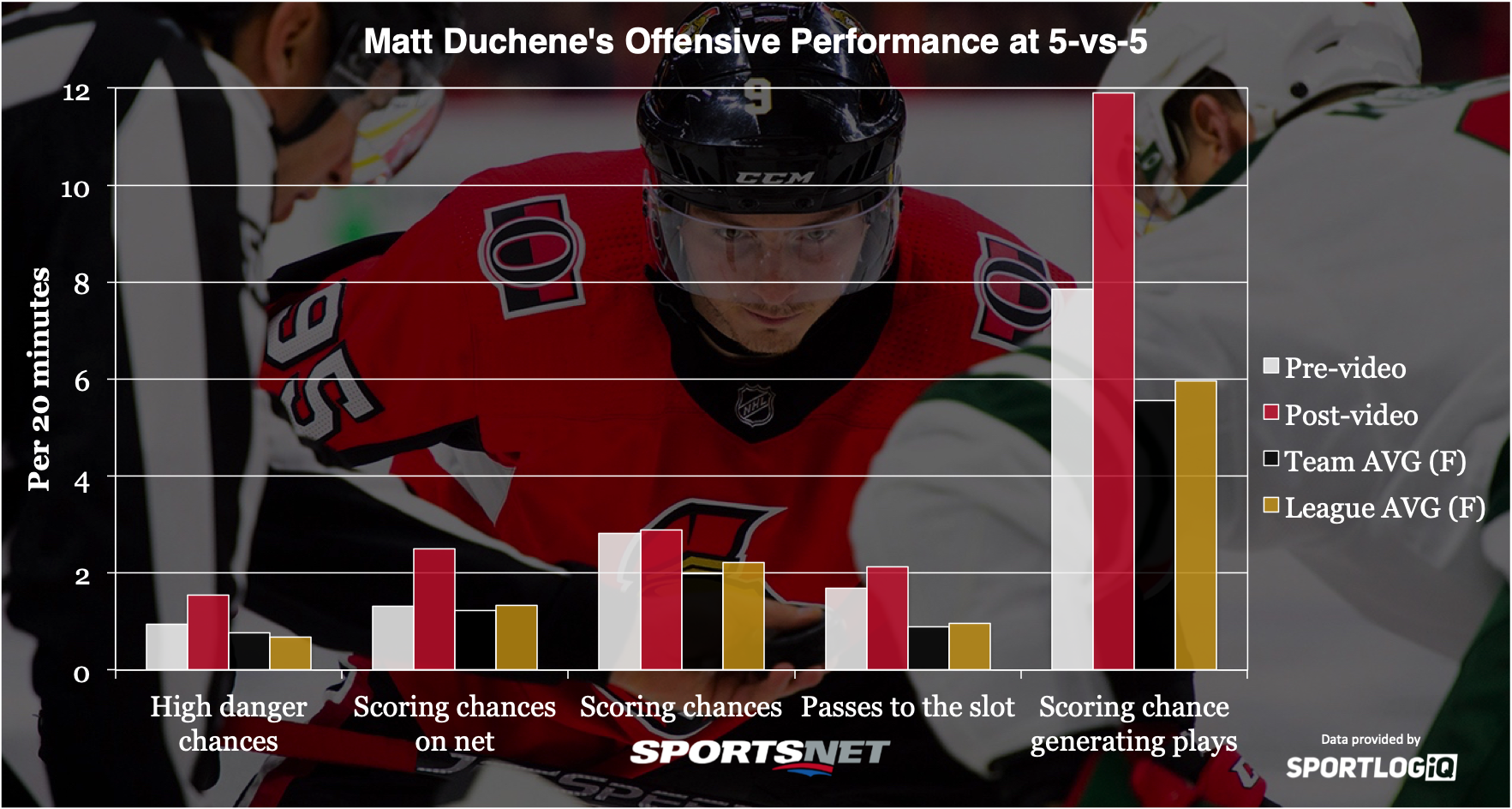 Duchene has been playing excellent hockey all year long, but since that video surfaced he's turned the dial up to 11, hitting the net on almost all of his scoring chances, and shooting from way closer to the net, meaning more than 60 per cent of his scoring chances on net are high danger.
His playmaking has been on a steep incline as well. Duchene has improved on his already-excellent slot pass numbers and has gone from being involved in 7.86 scoring chances per 20 minutes at 5-on-5, to 11.9, which is the kind of production you expect from Connor McDavid and pretty much no one else.
Long term, there's no way Duchene can maintain offensive numbers like this, but it goes to show that he's not just getting lucky at an opportune time — he's stepped up his game. It's an impressive response for a player under the microscope, on a team that isn't expected to get close to the playoffs. It wouldn't have been surprising if Duchene sulked his way through the rest of the season then sign somewhere else in the summer, but it's not playing out that way. I think that earns him some respect around the league.
THE QUESTION
This week Steve Dangle had the Pittsburgh Penguins on his mind, and he's asking the question everyone is thinking about:
What's happened to the Penguins? What changed from last year to make them look so bad?
We know nothing's wrong with their big three forwards. Sidney Crosby, Evgeni Malkin, and Phil Kessel have all been strong, but there are clearly some issues right now team-wide. So what exactly has brought the first back-to-back Stanley Cup winners of this era all the way down to 26th in the league after losing eight of their past 10 games?
For the most part, it's bad defensive play.
It's worth noting that scoring chances have gone up each of the past three seasons around the league, but since their first year with the Stanley Cup, the Penguins have been progressively getting worse defensively at a greater rate than the league has seen offence grow.
In 2015-16, they were a top-five defensive team in the league, dropped to average the next season and just scored their way out of trouble all the time. Last season they fell a bit more, and this season they've fallen off a cliff.
The players who've been most guilty of allowing high danger chances and pre-shot movement while they're on the ice so far are Jamie Oleksiak, Justin Schultz, Phil Kessel, Riley Sheahan and Derick Brassard, so those are the guys who need to step up, though I wouldn't blame Kessel as much since he's a winger, and Schultz has barely played. The crazy thing is, outside of Patric Hornqvist, Kris Letang, Crosby and, oddly, Chad Ruhwedel, no one on the Penguins has good defensive numbers.
Considering Tanner Pearson's reputation as a two-way player, clearly the Penguins hope he can add a stabilizing presence. But taking constant risks probably isn't the smart choice for a team whose defensive core is made up of Kris Letang, Brian Dumoulin, and a who's who of third-pairing players, or worse.
Senior Writer Ryan Dixon and NHL Editor Rory Boylen always give it 110%, but never rely on clichés when it comes to podcasting. Instead, they use a mix of facts, fun and a varied group of hockey voices to cover Canada's most beloved game.
BUY OR SELL
• More than a quarter of the way into the season Jack Eichel is on pace for 93 points, but less than 20 goals. He's had fewer scoring chances this year than usual, preferring instead to make more slot passes than ever before, and Jeff Skinner is loving it. However, Eichel's still shooting just 5.6 per cent, so expect him to start getting more goals soon. He's still a strong shooter.
• Kyle Connor is facing a real challenge in Winnipeg, stripped of the support structure of having Mark Scheifele and Blake Wheeler on his line, though Bryan Little and Patrik Laine aren't exactly no-namers. That combination hasn't clicked yet though, with a Corsi of just 39.45 per cent, and an expected goals for percentage of just 39.43, according to Corsica.Hockey's model.
• After missing a good chunk of time early in the season, Seth Jones has wasted no time in racking up the points, but the Norris contender and his partner Zach Werenski have struggled defensively this season. They lead the Blue Jackets in high danger chances against per 20 minutes — Columbus will need better than that from both of them.
• Filip Chytil has broken through for the Rangers with goals in five straight games. It's about time for the 19-year-old, because he leads the Rangers in scoring chances, both overall and high danger.
• With a tendency around the league for teams to build up a loaded power line like Boston has done the past couple years, you have to wonder if amidst the Penguins' struggles they might try Crosby with Kessel and Malkin at 5-on-5 for a couple games. It might not be the best strategy, but tell me that's not fun and I'll tell you you're lying.