Free agency opens July 1 and, like every year, there are bound to be some mistakes made as teams overspend on players in decline. But not every signing is a bad move — there is plenty of value to be found around the league.
So, Sportsnet assigned our four analytics writers to identify one under the radar player each and break down why they would be a good pick up for a team on what will, most likely, be a value contract.
Here are four players to watch as July 1 hits. If your teams picks up any of them, chances are they got a steal.
Jonathan Marchessault – Jonathan Willis
The problem with Marchessault is that he's small, listed at just 5-foot-9 and 174 pounds. Virtually everything else is positive. That gives some lucky team a chance to imitate the Stanley Cup champion Pittsburgh Penguins, who snuck around the salary cap in part by employing small forwards (Conor Sheary and Bryan Rust) with small paychecks in top-nine roles.
NHL teams like versatile free agents and Marchessault can play centre or wing; in the former role he won 48 per cent of his faceoffs this past year. He's a right shot in a league where left shots are more common so there's value there, especially on the power play. He's only 25 years old, uncommonly young for a free agent and nowhere near a decline.
Most important of all, Marchessault can play. Despite his reputation as an offensive forward, he was used in a defensive role by the Lightning, starting more shifts in his own end of the rink. He posted a 54 per cent Corsi rating, well above the team average. Regular linemates Brian Boyle and Vlad Namestnikov both did better when he was on the ice with them than they did apart.

The funny thing is that even in a defensive role and with those linemates, Marchessault scored. If we use scoring rates to take ice-time out of the equation, he averaged just over 1.6 points/hour. That total ranked him 139th among NHL forwards who played at least 400 minutes (a second line scoring clip), just ahead of fellow free agents Thomas Vanek, Kris Versteeg and also in front of Minnesota Wild cornerstone Zach Parise. Marchessault also outscored both Sheary and Rust.
Normally, we'd need to be suspicious of a player with such a small sample size. Rate stats are all well and good, but we're talking about a half-season in a third-/fourth-line role. The reason we can be confident is that Marchessault has a long AHL record, and he's performed on par at the same age as former teammates such as Mats Zuccarello and Cam Atkinson, who have similar size issues.
Ignore size and Marchessault is a dream free agent: a 25-year-old right-handed shot who can play centre or wing with great possession numbers and the potential to score like a second-liner. But when you consider his size, he'll probably be available for less than $1 million. In a salary cap world, that kind of value can't be missed.
P.A. Parenteau – Andrew Berkshire
After a 2014-15 season battling concussions and a coaching staff that didn't seem to know how to use him, or want to learn how, P.A. Parenteau signed a bargain deal last summer to play with the Toronto Maple Leafs and repair his reputation as an NHLer.
Playing for the third-lowest scoring team in the NHL, Parenteau led the Leafs in goals with 20, and finished second in points with 41, behind only Nazem Kadri. That mark placed Parenteau 31st in the NHL among right wingers in point production, and he was 28th in goals.
What this means is that while Parenteau may no longer be at the height of his career at 33 years old, last season he was the equivalent of an elite level second line scorer. And in case you're thinking that Parenteau was given tons of ice time on a weak team to boost his scoring numbers, that's not true. He played 16:15 per game, good for fifth among regular Leafs forwards.
Parenteau also finished third among Leafs forwards in terms of Corsi, boasting a stellar 53.7 per cent shot attempt differential at five-on-five, +3.1 per cent relative to his teammates.
Breaking things down further, we can see where Parenteau can help an acquiring team.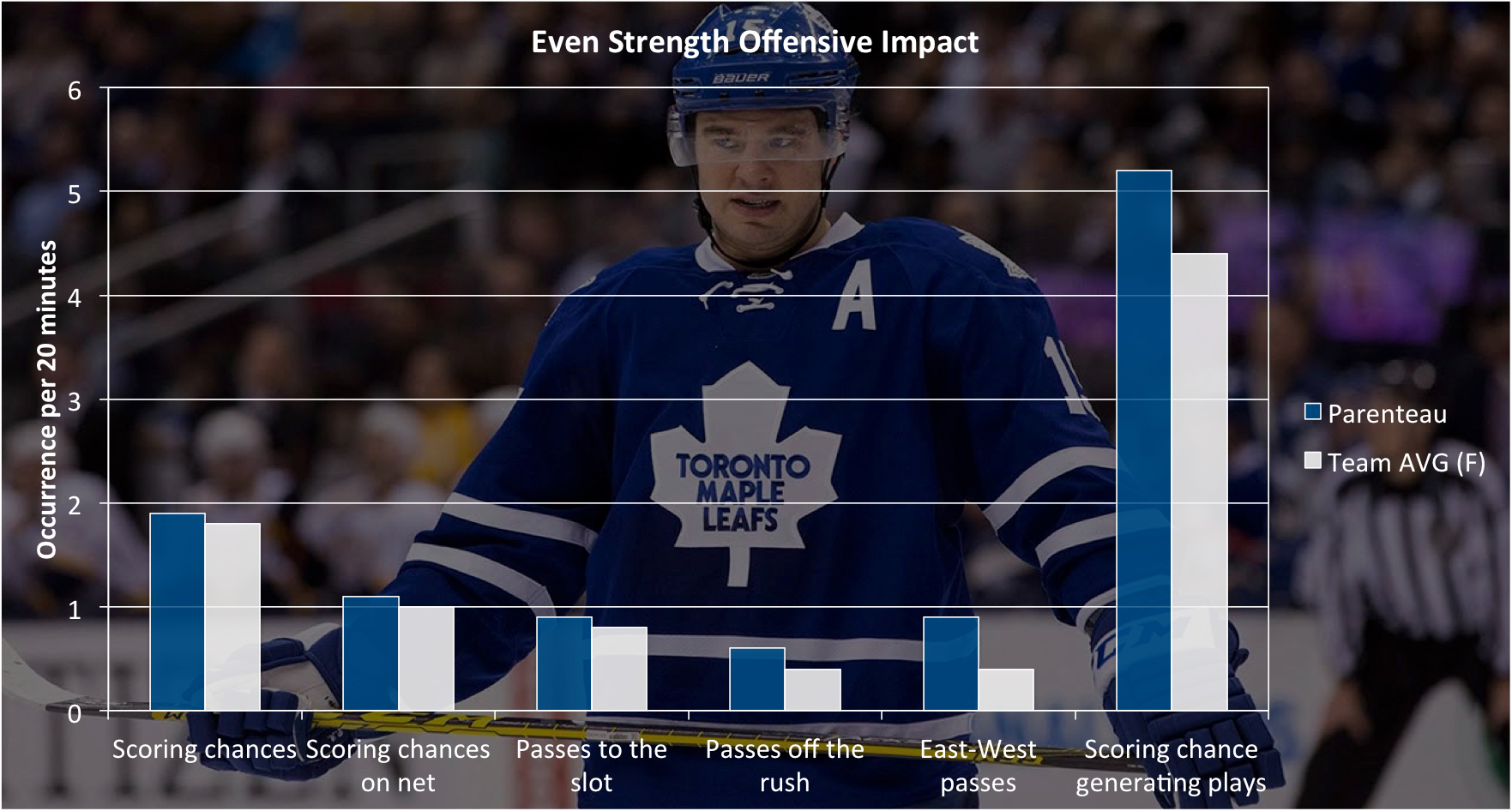 Among Leafs regulars, only Kadri and James van Riemsdyk were more involved in creating scoring chances at even strength than Parenteau, and while he is only marginally ahead of team average in a few measures, the bigger takeaway is that he's above team average everywhere.
Parenteau's standout skill is his ability to move the puck East-West and create better scoring opportunities by forcing goaltenders and defenders to move, but he's also adept at attacking off the rush, and can pick a top corner when he has a chance.
What makes Parenteau a good buy for teams looking to add scoring is that he can attack in a variety of ways. He prefers to be a playmaker, but he can become a scorer too. He can attack off the rush, or on the cycle.
There are many players who will get more money than P.A. Parenteau this summer who won't have nearly the offensive ability. Someone is going to look smart by signing him.
Patrick Wiercioch – Dimitri Filipovic
One of the biggest themes surrounding this summer's free agent class is how few quality defencemen are available. Technically there are plenty of blueliners looking for new contracts, but there aren't many who will make a legitimate positive impact.
I suspect we'll see plenty of bad money thrown around to fringe-y defencemen, as teams try to talk themselves into questionable deals. There will be teams that fall all over themselves trying to overpay for Kris Russell or Roman Polak, but I suspect Patrick Wiercioch could somewhat be lost in the shuffle.
While Wiercioch is one of the more intriguing defencemen options available, it's not at all surprising the Senators let him go without a qualifying offer. The writing had been on the wall for some time now, but this is the latest in a series of highly questionable moves in how the Senators handled Wiercioch.
The organization's disdain for the player is one I can't quite wrap my head around, considering he had a knack for making those around him better during his four years in Ottawa (minimum of 200 minutes played together between 2012 and 2016):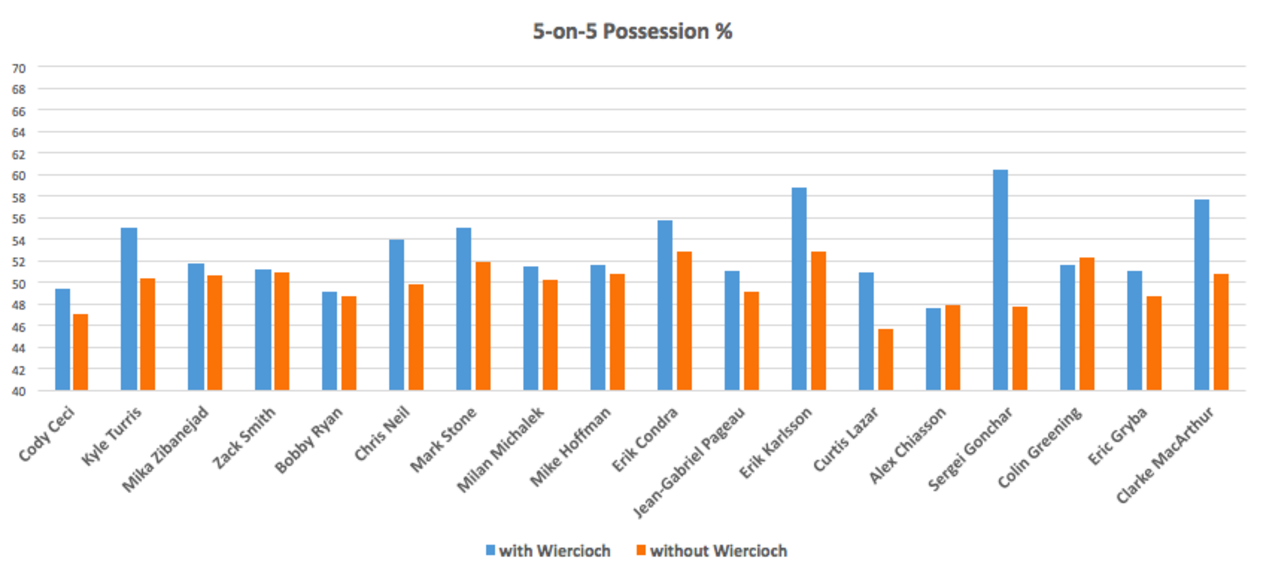 You wouldn't know it based on a quick scan of his boxcar counting stats, but it's telling that essentially every player who shared the ice with Wiercioch saw their numbers rise in comparison to when they were without him. Between 2012 and 2016, only Erik Karlsson and Mark Stone had a better relative possession rate, and only Clarke MacArthur, Stone, and Mike Hoffman had a better relative goal differential amongst all Senators skaters. Some of that likely has to do with the fact the Senators weren't exactly flush with other great options on the blue line beyond Karlsson, but that just makes you wonder more about why the Senators let Wiercioch go at all.
Wiercioch isn't an overtly obvious impact player who will come into a new team and blow everyone away, because his contributions show up in more subtle ways. But considering the other options available and the types of dollar figures they'll be fetching on July 1, whichever team winds up walking away with Wiercioch as a cheaper alternative will be awfully happy with the haul.
Brandon Pirri – Stephen Burtch
Brandon Pirri has bounced around the NHL a lot for a 25-year-old NHL player who costs less than $1 million in cap space and produces a goal every three games played over the past three seasons. Frankly, it is insane he hasn't found a regular home given his goal scoring rate, and even more bizarre that the Ducks didn't qualify him after spending a sixth-round draft pick to acquire him from the Florida Panthers at the deadline. He was even productive in Anaheim, scoring three goals and five points in nine games.
Pirri isn't some recent flash in the pan sniper. Over the past three seasons combined he ranks 13th amongst the 415 NHL forwards who have played 1000+ minutes in goals scored per 60 minutes with 1.31. The players who rank immediately behind Pirri in this regard are – in order – Evgeni Malkin (1.30), Brad Marchand (1.28), John Tavares (1.27), Zach Parise (1.27) and James Neal (1.26).
Over time we can assess a player's shot production rates and what they accomplish with those shots in terms of expected goal results based on location and shot type and actual results we observe. If we look at the difference between a shooter's expected goals based on location and type and their actual goal totals, we can obtain a rough measure of shooter quality. Below are the top 20 NHL forwards via this measure in all situations over the past three seasons. Pirri is firmly within the top 10 of this group of elite shooters.
When one compares him to other UFAs this off-season, it becomes rapidly apparent that he should be able to provide substantial offensive production for the relatively long term in a team's top-six. Steven Stamkos was the only potential UFA who exceeded Pirri's elite combination of shot quality and frequency over the past three seasons — and now he's no longer available. No other UFA really comes close.
Pirri did not receive a qualifying offer and only cost $925,000 in cap hit this past season. If a team can get him to sign for significantly less than $4 million a year and find a way to both keep him healthy and regularly play him in a top-six role, they'll have one of the most cost effective contracts in the NHL.