Brendan Shanahan and Dave Nonis are in an uncomfortable spot. Together.
Both men know that while Shanahan isn't going anywhere as team president, the future of Nonis is unclear despite the fact he has a contract beyond this season. The ugly losing streak ended Saturday night, one that began after the firing of Randy Carlyle, has put Nonis and his decisions as general manager of the Toronto Maple Leafs squarely in the line of fire.
He's surely aware of his status, and Shanahan hasn't issued any guarantees. As of now, one can guess the only Leaf personnel guaranteed work after this season would be Mark Hunter, Kyle Dubas and Brandon Pridham, all brought in by Shanahan to work under Nonis.
So how to proceed, both with the final weeks before the March 2 trade deadline and beyond, including the draft?
In terms of the latter, this is not the time to start tearing up a scouting staff. That's at least partially why Hunter, currently scouting in Europe, was brought in to oversee chief scout Dave Morrison heading towards the June draft, one in which the Leafs may end up with a very high pick. What happens with the scouting staff will be determined after July 1.
With respect to the trade deadline, it's basically business as usual for Nonis, which is the way it should be.
Last year at this time, he would've had to report to CEO Tim Leiweke and the MLSE board with any major trades he wanted to make before the deadline. Now he reports directly to Shanahan, and clearly the two men have agreed upon a general philosophy, which includes offloading as many veterans as possible, including free-agents-to-be Cody Franson, Daniel Winnik and Mike Santorelli, and maybe even more prominent names like Tyler Bozak if good offers come.
The Leafs want picks and prospects in return while moving out excess bodies, a process that began on Friday when David Broll and Carter Ashton were peddled to Tampa for essentially nothing in return.
Many will argue that if Nonis may not be the GM beyond June, why let him do the trading?
Well, cutting him off at the knees would serve no purpose now beyond taking away a experienced hockey person, and his trading record with the Leafs is actually quite good.
While some want to sum up the entire Nonis era with the two words "David Clarkson," a more thoughtful analysis of what he inherited from Brian Burke, what he's done with it and overall patience with which the team has proceeded in all areas under his watch suggests Shanahan would do well to seriously consider retaining his services beyond this season.
The public, or some of it, may want a scalp. That doesn't mean the smartest thing is to give it to them.
---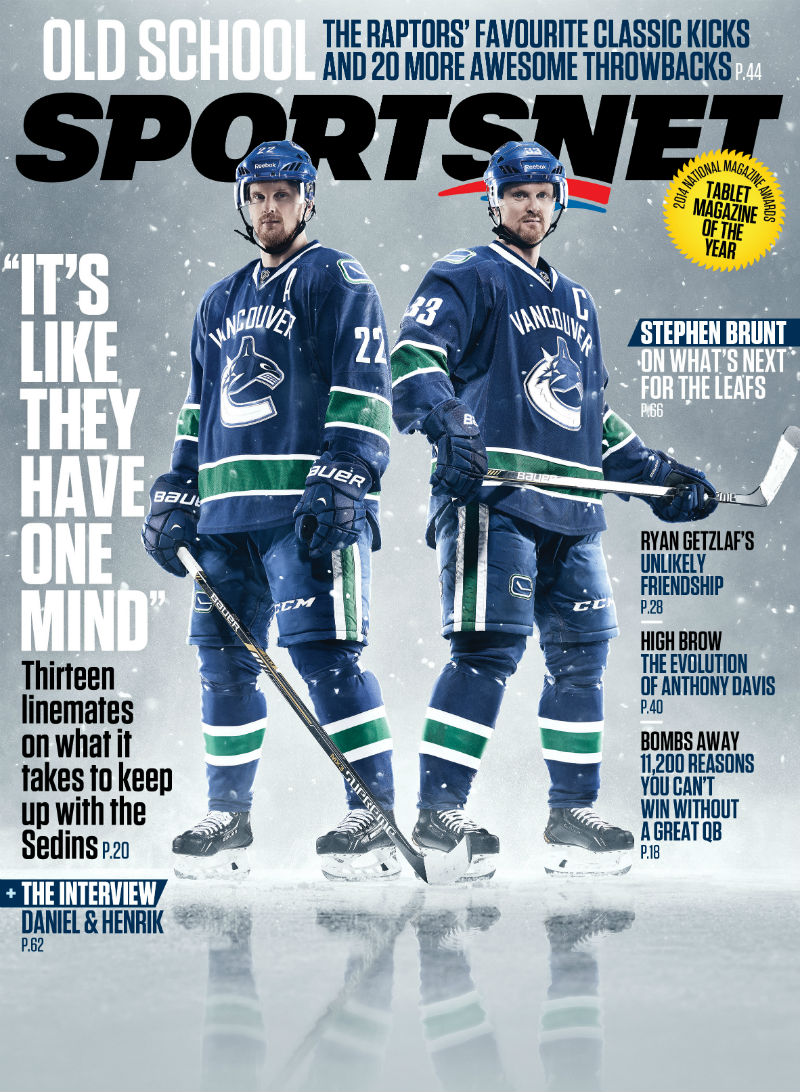 ATTENTION Rogers and Shaw customers. Already enjoying Sportsnet ONE? Now get access to digital editions of Sportsnet magazine at no extra cost.
---
Deja vu all over again: Nonis and Nashville GM David Poile have clearly discussed a deal that would see Franson return to the Predators, the team that drafted him. Interestingly, it was those two men who did the original deal that made Franson a Leaf, even though Burke was still Leaf GM. He assigned a lot of work to Nonis and trusted him, and the Franson deal in July 2011 was a good example of that.
Nashville needed to dump Matthew Lombardi's contract, and the price Nonis extracted from the cash-strapped Poile was Franson, then 23. Now, just under four years later, the Preds are riding high at the top of the NHL standings and the Leafs are looking to move Franson before he hits unrestricted free agency in July. The Leafs have more leverage than did Nashville back in 2011, however, with multiple teams (Detroit, Vancouver, others) interested in the big right-hand-shooting defenceman.
Surprise player of the year: Dale Wiese of the Canadiens has to be a candidate with his nine goals. Who saw him as the perfect fit alongside Max Pacioretty and David Desharnais?
Surprise player of the year II: Mathieu Perreault has 18 goals for the Jets, a terrific free agent addition last summer. Affordable, too, at $3 million per season for three years.
Okay, here's your winner: Minny GM Chuck Fletcher is looking like a genius for acquiring goalie Devan Dubnyk from Arizona. Going into tonight's game against the Canucks, Dubnyk has two shutouts in a row and three in his last four starts. He is 7-1 with a .948 save percentage. A surprise? Certainly to the folks in Edmonton, Montreal, Nashville and Phoenix.
Yes, teams are more careful, but. . . You hear every day how wary teams are of moving young players, and then you see that neither Filip Forsberg nor Jakub Voracek are with the teams that drafted them and are now becoming stars. Those deals will haunt Washington and Columbus, respectively, for a long, long time.
Lots of interest in Kane: One NHL general manager on Evander Kane says, "Why wouldn't I want him? He's 23 years old and has already scored 30 goals once." And all the talk about off-ice and personal issues? "Says who?" says the GM.
Lupul of the blueline: Columbus defenceman Ryan Murray is out a month with a sprained ankle after only returning to the lineup on Jan. 31. He's played just seven games this season, another season complicated by health issues after shoulder surgery ruined his rookie season and other problems limited him to 66 games last year.
For Edmonton fans, Murray's frequent absences have taken some of the sting out of the argument that the Oilers should have taken Murray instead of Nail Yakupov first overall in 2012. That said, Yakupov still has only five goals in 53 games this season. Between them, Yakupov and Murray have so far been an ineffective one-two punch out of the 2012 draft.
World juniors in the desert: The Coyotes are pushing to have both the IIHF world juniors and the NCAA Frozen Four held in the Phoenix area in 2018, ambitious plans for a franchise that is life-and-death to get people to come to its own games.
With Arizona State's hockey program moving from club status to Division I for 2016-17, the Frozen Four seems a better bet, and that event has already been held in southern locales like Anaheim and Tampa. The world juniors, on the other hand, has never gone that far south and has really only had success in the U.S. near the Canadian border. Team CEO Anthony Leblanc calls it a "long shot," which seems reasonable, particularly since Detroit is expected to be in the bidding for the 2018 WJC and will have a new arena to use by then.
U.S.A. Hockey will take bids on the tournament this summer and announce a winner in the fall.
Leaky in Big D: Dallas goaltending has become a major issue, although Kari Lehtonen got the OT win in New York Sunday night. That came after the Stars lost 3-2 to Buffalo Saturday despite out-shooting the Sabres 35-20 with Anders Lindback in net. This has been Lehtonen's worst season in Dallas since he arrived in 2009, and with three more years on his deal at $6 million per, he's likely not going anywhere. That said, the Stars are five points out of a wild card berth and may need to find additional goaltending before the trade deadline.
Big body, big questions: The Canucks had to be happy with Zack Kassian's return to the lineup on Saturday in a romp over Pittsburgh. The big winger had a fight in the first, important to those who believe that stuff is important, and potted his third goal of the season later.
Before that, however, Kassian had been scratched four times in eight games. At this point, with the Canucks needing a right-handed shot on the blueline, Kassian is a name being circulated. Right now he's not worth much on the market, but that could change if he can put 10 games together like Saturday night.
Available or perhaps not: Two players, Chris Neil of the Ottawa Senators and Washington defenceman Mike Green, are possible candidates to be moved by the trade deadline. Or, depending on who you talk to, they're not going anywhere.
Neil, 35, would interest many teams, and he's affordable at a $1.9-million cap hit for one more season. What's unclear is whether he wants to stay with his ice time fluctuating under new head coach Dave Cameron.
Green, meanwhile, makes $6.1 million per season but is unrestricted this summer. That's a lot of money for a D-man who's filling more of a fifth defenceman role, at least in terms of ice time (19:11 per game) for the Caps these days. It's certainly doubtful the club will want to continue to pay him in that stratosphere beyond this season.
Being outside losing steam? It seems likely that the gimmick of playing hockey games in football and baseball stadiums will ultimately run its course, and maybe we're starting to see that.
This year's NHL Winter Classic between Washington and Chicago played to record-low TV ratings for an NHL outdoor game, although it was a hit locally. This past weekend, the Hockey City Classic at Soldier Field in Chicago featuring four NCAA Division I teams was a near disaster, with horrible ice conditions and sparse crowds. Wildly fluctuating temperatures in the Windy City over the days leading up to the game turned out to be a huge challenge for ice makers.
Both games — one between Miami of Ohio and Western Michigan, the other between Michigan and Michigan State — had to be delayed several hours because of ice problems.