With no points yet on the season and a -5.96 Corsi relative to his teammates, it's fair to say that the Calgary Flames expected to get more out of Sam Bennett this season. The 21-year-old fourth-overall draft pick in 2014 has struggled to find a consistent role in the NHL, and has seen his point production drop for the second straight season (so far) after a decent rookie campaign where he pushed the 20-goal mark despite missing five games.
Bennett has typically played a bit better on the wing than at centre, but no matter what position he's playing on the third line, you expect a bit more success from a player with his kind of pedigree, especially when you've seen him score at about a half-point per game before.
I doubt Bennett has been bad enough to deserve not having a point through the first month of the season, but we can look at his career by season to see if anything has changed.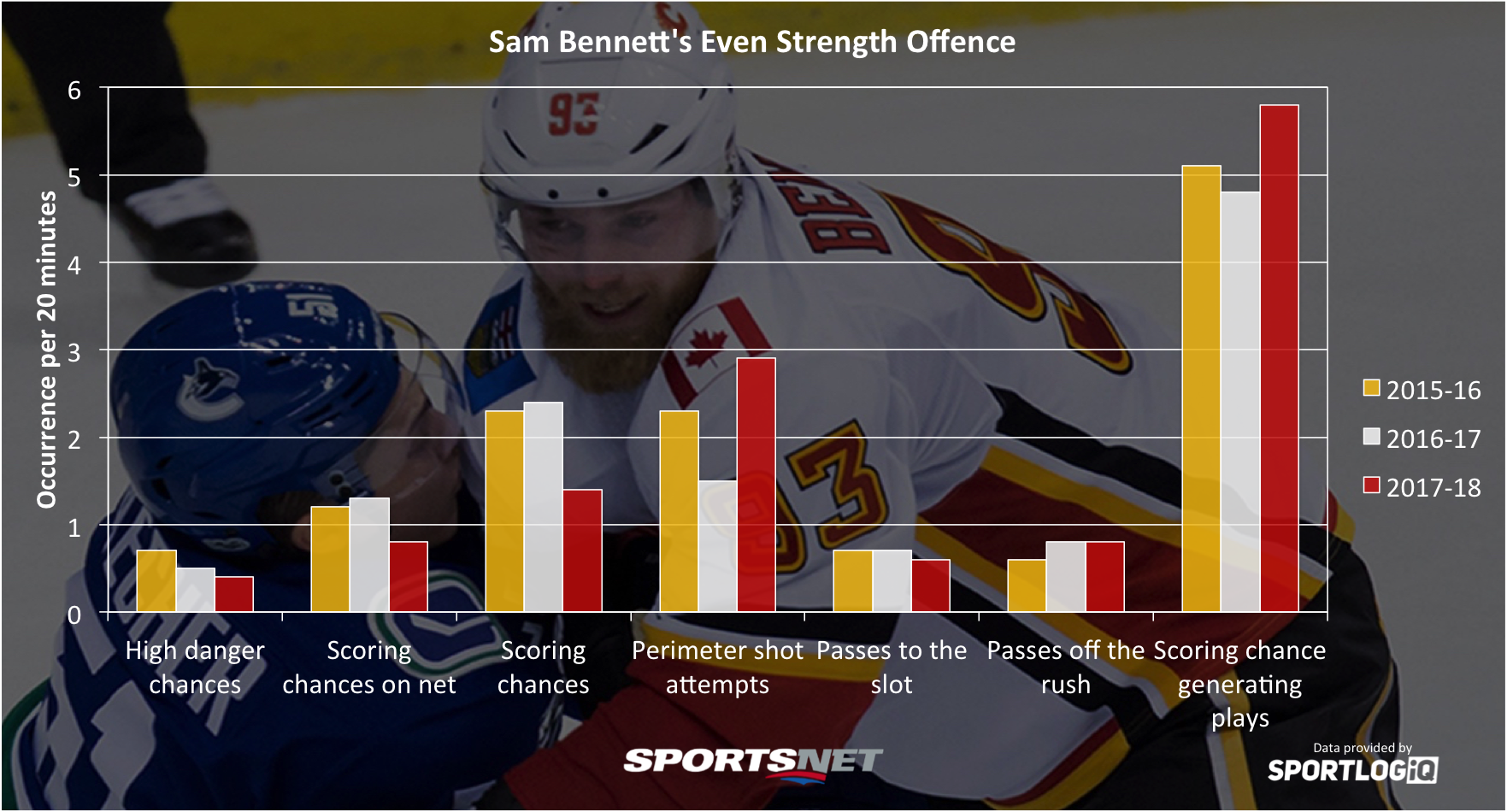 Right away what should jump out at you from separating Bennett's career by season is that he has been progressively shooting further and further away from the net. For the first two seasons of his career, over half of his shot attempts were from the slot area, whereas this year only 32.6 per cent of his shot attempts are scoring chances.
His high-danger chances have followed a similar trajectory; with 15.2 per cent of his shot attempts being qualified has high danger as a rookie, down to 12.8 per cent last season, and 9.3 per cent this season.
To make things more difficult, Bennett's passing game hasn't improved to compensate for his drop in shot quality, making it very difficult for him to recoup those potential goals he's losing by shooting from further out.
When it comes to his involvement in scoring chances for his team, it looks like Bennett has improved this year, despite the lack of improvement in the finer details, but part of the reason for that is scoring chances overall are increasing in the NHL. In 2015-16, teams produced an average of 6.0 scoring chances per 20 minutes of ice time at 5-on-5, last season that number rose to 6.5, and this season so far it's up to 7.0.
[snippet id=3636339]
The Flames have also improved, with their average forward being involved in only 4.6 scoring chances per 20 minutes in 2015-16, to 5.1 last season, to 6.4 this season. When you look at the context, this makes Bennett an above-team-average offensive forward as a rookie, but below average the last two seasons.
Getting in tighter to the net isn't the only area Bennett needs to work on though, he's also not aggressive enough without the puck, as only Matt Stajan and Johnny Gaudreau on the Flames remove the puck from opponents less per minute than he does, and he has the highest offensive-turnover rate on the Flames, with 33.8 per cent of his plays in the offensive zone leading to puck possession for his opponents.
Bennett is also tied for the lowest success rate for his offensive-zone plays at just 50 per cent, meaning half of what he's trying to do with the puck fails.
When playing centre, you're forced to play with the puck on your stick a bit more, and I would wager that this has only made Bennett's struggles worse. Now that the Flames have moved him to the wing, and he can focus on getting to scoring areas without the puck until someone finds him with a pass, or he can recover a loose puck, he might be able to get back to what made him a good player.
[relatedlinks]