The Calgary Flames are expected to hire Glen Gulutzan, but how much do you know about the man?
Here's the 411 on 44-year-old Glen Gulutzan, a hockey lifer and second-chance head coach.
Gulutzan was not the only candidate considered — far from it.
Randy Carlyle, who scored the Anaheim Ducks gig, Washington assistant Todd Reirden, Chicago assistant Kevin Dineen, and St. Louis incumbent Mike Yeo are just a few of the names that were linked to the Flames during their calculated search for a new bench boss. The hunt lasted for over a month after the firing of 2015 Jack Adams Trophy winner Bob Hartley in early May.
He starred in the Western Hockey League

Raised in the tiny town of Hudson Bay in east-central Saskatchewan (population: 1,600), Gulutzan moved to Moose Jaw at age 15 to wet his feet with the WHL's Warriors in 1986.
"That was a huge experience for me. I was moving to a huge city in my mind," Gulutzan told Canucks TV.
He would move around the province during his WHL run, playing with Kelly McCrimmon in Brandon before enjoying his greatest success in his final junior season, with the Saskatoon Blades.
Gulutzan was better than a point-per-game centre over the course of his final two junior campaigns and came painfully close to reaching the 1992 Memorial Cup with the Blades.
"We lost to Kamloops in the final to go to the Memorial Cup," he told Canucks TV. "[Scott] Niedermayer and [Darryl] Sydor were two big names on that Kamloops team. That was a real fond memory for me."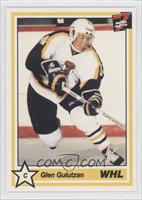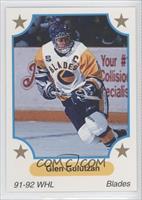 The University of Saskatchewan has scored another one.
Of the seven NHL head coaches based in Canada, four will have attended the University of Saskatchewan, if Gulutzan is indeed the Flames' next coach.
Gulutzan earned a degree in education there and joins Toronto's Mike Babcock, Edmonton's Todd McLellan, and Vancouver's Willie Desjardins as Huskies who are now active NHL head coaches.
He made a smooth transition from player to coach.
After his junior and university days, Gulutzan bounced around the pro minor ranks, playing for teams in Salt Lake City, Las Vegas and Finland. Despite regularly putting up point-per-game seasons as a pro, he never did reach the NHL as a forward but was smart enough to transition to player/assistant coach with the WCHL's Fresno Falcons in the early part of the century, setting the stage for his second career.
Gulutzan's connections to the Flames go way back.
A little-known Flames player named Theo Fleury skated with Moose Jaw at the same time as a rookie Gulutzan. Calgary GM Brad Treliving, a defenceman, had just left Brandon the summer before Gulutzan joined the Wheat Kings in 1989, so certainly their paths would have crossed as players. Later, when Gulutzan was coaching and managing Las Vegas, the Wranglers became an affiliate of the Flames, allowing the up-and-coming hockey man to establish NHL connections.
Another iconic Flames player, Joe Nieuwendyk, would give Gulutzan entree to the National Hockey League when, as GM of the Dallas Stars, he hired him as head coach of Dallas in 2011.
Gulutzan expanded to Las Vegas 14 years before the NHL would.
In 2003, Gulutzan was named general manager and head coach of the Las Vegas Wranglers of the ECHL. The busy dual role, which he balanced for six seasons, helped him establish connections in the American and National leagues that would accelerate his rise up the ranks.
"It teaches you how to work," he told Canucks TV. "Anything from arranging flights and hotels and buses to the ice times, you do it all. It was long, long hours in the East Coast Hockey League. I give my wife a lot of credit."
Gulutzan won the John Brophy Trophy as the league's best coach and in 2008, and the Wranglers became the first team in ECHL history to post three-consecutive 100 point seasons. Gulutzan was thrice named the head coach of the National Conference all-star team, from 2006–08, tying a league record.
"Not one person I know has spoken one bad word about Glen Gulutzan, the person or the coach," Brent Krahn — a former Wrangler, Texas Star and Flames draft pick — told the Calgary Herald.
"He's awesome. A phenomenal guy. A standup guy. A players' coach. The line of communication was always open, no matter how crappy you were playing or how well you were playing.
"He was there to listen to you, to talk to you. Very open-minded. But he did command the room. He had the respect of the players — always had the pulse of his guys — but he was always in charge."
He messed with Texas next.
In 2009-10, Gulutzan took over the Austin-based Texas Stars, leading the Dallas affiliate to the Calder Cup final in his first year. He pushed the team back to the playoffs again the following season but lost in Round 1 of the playoffs.
Gulutzan would leave the pro minors with an impressive coaching record of 341-180-70 and a .634 points percentage. His teams would make the post-season in seven out of eight seasons.
His first NHL shot came in Dallas.
Gulutzan said he was never focused on becoming an NHL bench boss. In fact, when his contract in Austin was winding down, he was hoping it would be renewed. But Nieuwendyk hired the NHL rookie to take over Dallas for the fired Marc Crawford in the summer of 2011.
Young Stars Jamie Benn, Cody Eakin and Brenden Dillon have all gone on record praising Gulutzan for improving their development as players.
"He just gets it. He understands players. He understands how to mesh players and how to get the most from their ability," Nieuwendyk told reporters upon the hiring. "We were highly impressed with the structure and the style of play."
After two seasons of missed playoffs, the Stars' new GM, Jim Nill, replaced Gulutzan with the more established Lindy Ruff.
Gulutzan left Dallas with a record of 64-57-9 (.527 points percentage) and an interview with Vancouver.
"It was a great experience for me," Gulutzan told the Vancouver Province. "What I didn't have — and I think what most coaches should have, especially if you haven't played in the league — is experience in the league. There were more things that I did well, but some things that I would have changed."
John Tortorella wanted Gulutzan for his Canucks staff.
"I think he has a unique way of looking at the game. Fresh ideas," said Tortorella, who picked up Gulutzan for his staff in 2013, less than three weeks after Dallas let him go.
In a cool role reversal, Gulutzan has worked under Willie Desjardins for the past two seasons; Dejardins once served as Gulutzan's associate coach in Dallas.
Charged with devising Vancouver's penalty kill, Gulutzan's PK group has finished ninth, second and 17th in his three seasons with the Canucks before Calgary — and his second shot at an NHL head coaching job — came knocking this spring.
The Flames' 2015-16 penalty kill ranked dead last at 75.6 per cent.