The Columbus Blue Jackets and Nashville Predators shocked the hockey world on Wednesday when they connected for an old-school hockey trade — the almost unheard of one-for-one exchange of great players.
Ryan Johansen was sent to Nashville, with Seth Jones coming the other other way for Columbus.
Not only is this kind of trade extremely rare, it also appears that both teams immediately addressed their most pressing weakness. From the outside looking in, neither team seems to have lost the trade, but we still need to look a little bit deeper.
Jones is two years younger than Johansen, and that's a wrinkle in the trade that needs to be accounted for in any analysis. Johansen is at an age where he is expected to be at his peak, whereas Jones hasn't quite hit that stride yet.
Because they play different positions, the two are also difficult to compare. So as a general comparison, we'll weigh them against their former teammates and their future ones.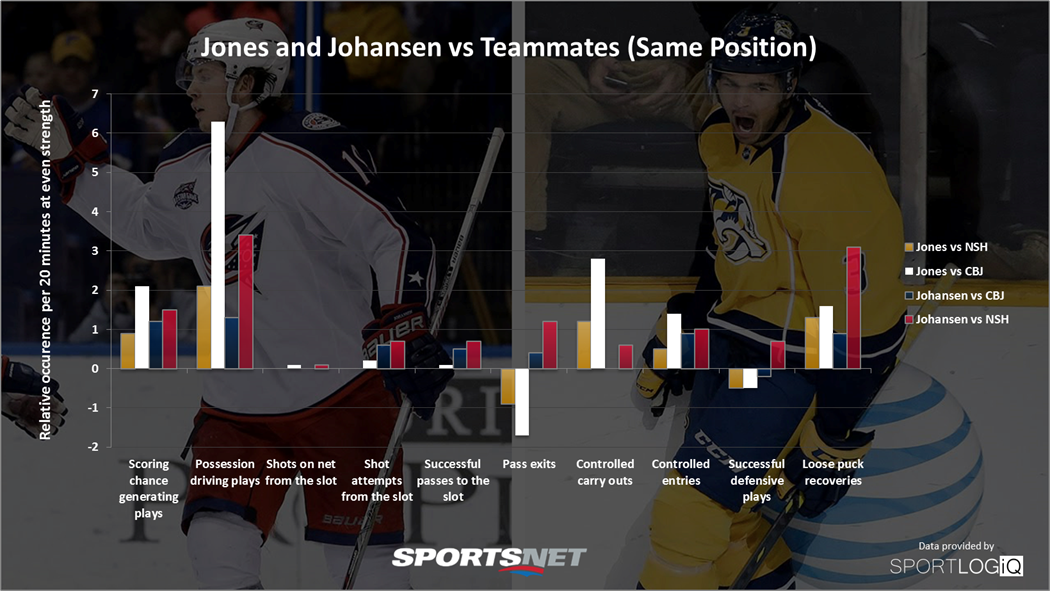 What is immediately apparent with both of these players is that they should be bigger assets to their new teams than they were to their old ones.
Jones still has some weaknesses on the defensive side of the game — namely removing possession from opponents and passing the puck out of the zone — but he's so much better than the defencemen Columbus already has at carrying the puck out of danger and driving possession that it may not matter.
On the Predators, Jones was the second best driver of possession on the blue-line after Roman Josi, and that may be a loss that's deeply felt, but it's undeniable that the Blue Jackets needed that kind of presence much more.
On the flip side, Johansen is an upgrade for Nashville in every area — most significantly in possession-driving plays and loose puck recoveries, two areas that help generate shot attempts. Johansen is also an upgrade in scoring chance generating plays, individual scoring chances (shot attempts from the slot), and successful passes to the slot.
Most people who delve into deep hockey analysis believe that Jones will end up being the superior player in the trade overall, but one problem for Columbus in this trade is that they didn't deal from a position of strength like Nashville did.
The Predators, after losing Jones, still have Roman Josi, Shea Weber, Ryan Ellis, and Mattias Ekholm — a very solid top-four group that can compete with any team in the league.
The Blue Jackets traded away last season's second line centre in Artem Anisimov in the off-season, and have now traded their first line centre in Johansen.
Young players Alexander Wennberg and William Karlsson have joined the fold, but but their top center is now Brandon Dubinsky, who is a second line guy on his better days.
Another option for the Blue Jackets may be to shift Boone Jenner to centre, but he hasn't displayed the ability to take over the first line role as of yet.
Both teams acquired players they needed for the future, but in evaluating the trade, even though Columbus very well may have gotten the better player, what they have left at the centre position leaves too much to be desired.