If you've ever played NHL video games, there's always a player or two that happens to be tiny, ridiculously fast, impossible to hit, and can dangle like crazy. They're like built-in cheat codes the in-game physics can't handle. Back in the '90s Cliff Ronning was the go-to guy, and in the mid-2000s Marek Svatos was equally great in those games.
Somehow, Johnny Gaudreau of the Calgary Flames has become a real-life version of those video game arch-types, a glitch in the system that doesn't make sense. Listed at a generous 5-foot-9 and 157 pounds, Gaudreau is off to a sensational start with 17 points in 17 games, after a 64-point rookie campaign last season.
In terms of pure ability to evade checkers with the puck on his stick, Gaudreau is second to none, and when you have as much offensive skill as he does, that translates into being one of the most dangerous players at even strength in the entire league.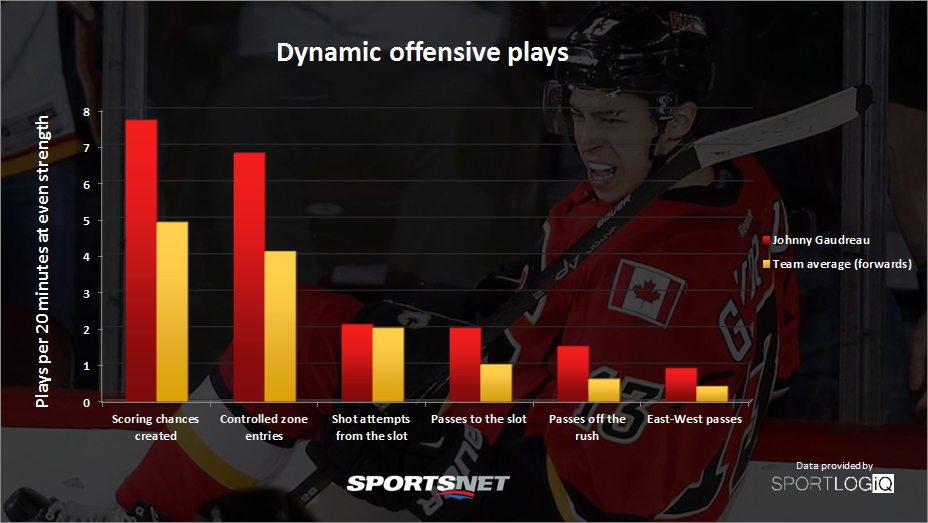 No matter where you look when it comes to creating offense, Gaudreau is amazing at it. He's a playmaker first and foremost, but he's still above team average in personal scoring chances, producing at an equivalent rate to Sidney Crosby and Jamie Benn, and that's where he's relatively weakest offensively.
In terms of scoring chance creation, which includes all successful plays leading up to scoring chance, Gaudreau's 7.7 per 20 minutes at even strength ranks him 10th in the entire NHL, in between Patrick Kane and Taylor Hall.
A major reason why Gaudreau is able to create so many scoring chances for the Flames is how often he completes high leverage passes. Only five forwards in the NHL complete passes to the slot at even strength more often than he does, and he's tied for fifth in successful passes off the rush with Evgeni Malkin and Patrick Kane.
Gaudreau is also adept at creating chaos in the offensive zone with East-West passes, forcing goaltender movement across the net and creating better scoring chances for his teammates.
Not only is Gaudreau making these high leverage passes more often than almost everyone in the league – he and Henrik Sedin are the only players in the top-10 for both passes to the slot and passes off the rush – Gaudreau also has the second-highest pass completion rate in the offensive zone among Flames forwards at 65.6 per cent.
The combination of being able to get himself open to make passes, and find open teammates, puts Gaudreau in an elite playmaking category at the tender age of 22 and among players like Henrik Sedin, Joe Thornton and Sidney Crosby.
Obviously it's too early in both the season and his career to say that Gaudreau will be in the same category as those players in terms of playmaking. However, the signs we have available to us suggest the Flames have a cornerstone player in Gaudreau, not just a good player.