With points in just two of his first 10 games played, many are wondering what exactly is going on with Sidney Crosby.
The most efficient point producer in hockey over the last decade just can't seem to get it done so far. Some of Crosby's struggles are undoubtedly due to a bit of puck luck going against him, but there's more to it than that.
Last season, the lowest scoring even strength season of Crosby's career, he was still an offensive dynamo when it came to creating scoring chances. Crosby created more scoring chances at even strength than anyone else in the league, and the gap between him and the next best player (Rick Nash) was equivalent to the gap between second place and 10th.
This season though, Crosby has had difficulty breaking into scoring areas, with two specific areas taking steep dives compared to last year.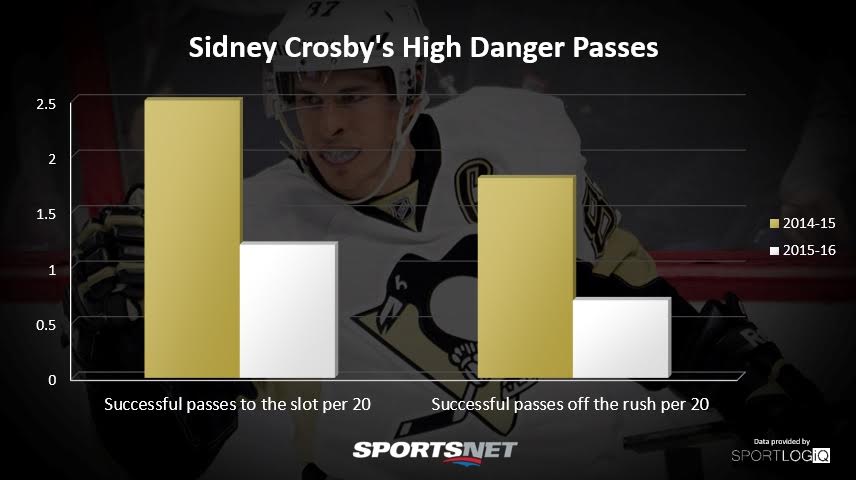 Last season no player in the league made as many successful passes to the slot as Crosby, nor did anyone make as many successful passes off the rush. These two types of passes are the most likely to create scoring chances, and in turn, goals. They're Crosby's bread and butter, but this year he's gone from ranking first in both, to 85th and 171st respectively.
Part of the problem is definitely success rates for pass attempts to the slot, as Crosby is only connecting 28 per cent of his passes there.
The Penguins in general have struggled to connect on passes to the slot, ranking 29th in the league with a 33.6 per cent success rate. Whether that's a systemic issue or small sample issue is hard to know this early on, but it's a big reason why Crosby is struggling to produce chances.
In terms of making passes off the rush, Crosby is actually attempting fewer passes than he was successful with last year, a huge change. Part of the reason for that may be that his linemates aren't in a position to accept passes, and aren't feeding him off the rush either.
Crosby likes to enter the offensive zone with control, dumping the puck in just 27.9 per cent of the time, but the trio of linemates he has played with of late all prefer to dump the puck in. Chris Kunitz dumps the puck in 70 per cent of the time, Pascal Dupuis 60 per cent of the time, and Patric Hornqvist 61.3 per cent of the time. All this forces Crosby to spend more time competing in board battles to get the puck back, and less time making plays with the puck.
It's worth noting that Crosby's even strength point production has tanked under coach Mike Johnston, dropping from 3.44 even strength points per 60 minutes under Dan Bylsma to just 2.22, according to war-on-ice.com.
Whether it's system-based struggles or perhaps an injury, Crosby just isn't making the plays that create scoring chances at the same rate as last season. In all likelihood he will work his way out of this funk, but this poor early start isn't just bad luck.