At this point last season, the Tampa Bay Lightning had already put 81 pucks into opponents' nets, which ranked them first in the entire NHL. This season, however, they've only managed to beat goaltenders 54 times, just 20th in the NHL. It's a confusing start for a team so deep they can afford to play Alex Killorn on the third line.
So what exactly has gone wrong for such a talented team?
The first thing to look at would be shot generation, but the Lightning were not a high-end shot generation team last season, finishing 20th in all-situation shot attempts per minute played, and they're actually up slightly from last year, ranking 16th. How the Lightning were able to score so much was more an overload of high end talent than it was smothering teams with wave after wave of offence.
So if there are more shot attempts, but fewer goals, it makes sense to then look at shot locations. Using Sportlogiq tracking technology, we have accurate shot attempt locations for the entire league, and we can use that to see if the Lightning compare poorly. Let's start with the league totals, using all situations.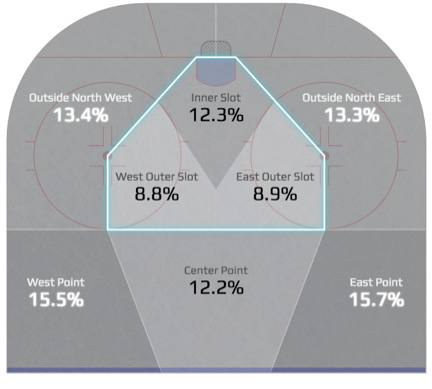 Overall, 30 per cent of all shot attempts in the NHL come from the slot, with 12.3 per cent coming from the high danger scoring chance area, the inner slot. The inner slot is especially important, as the expectation of a shot attempt turning into a goal more than triples from the outer slot to the inner slot.
Now let's look at where the Lightning's shot attempts are coming from this season.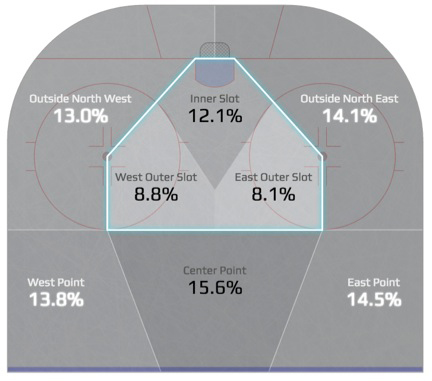 The Lightning do get fewer shot attempts from the slot than average, with only 29 per cent of their shot attempts coming from within the so-called 'Home Plate' area. However a one per cent gap isn't enough to explain such a precipitous drop, especially when the Lightning are also shooting more from the centre point than most by a significant margin, which should increase their conversion rate marginally.
So there has to be more to the story for the Lightning so far, and we have to refine a bit more. We know where their shot attempts are coming from, but how successful are they?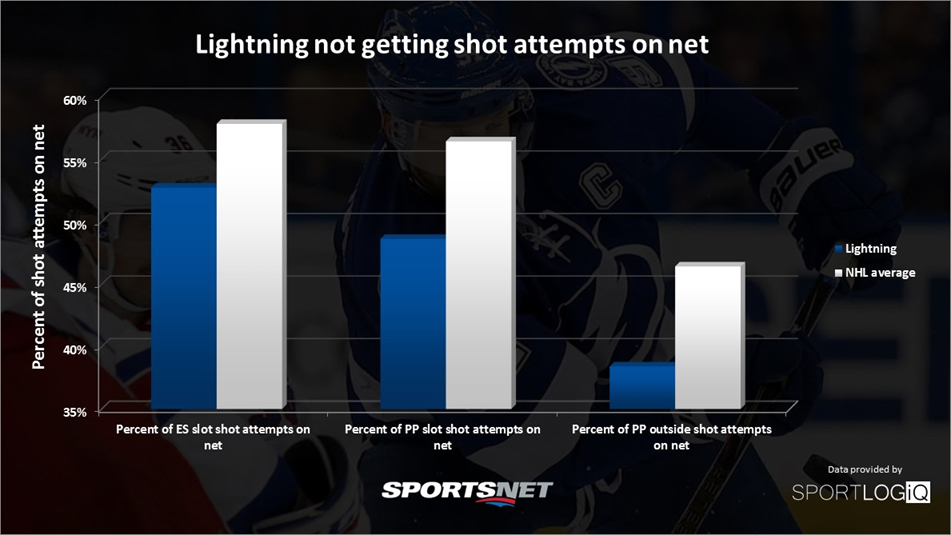 As it turns out, the Lightning have been downright terrible at getting their shot attempts through to the net, among the worst in the NHL so far. They rank 29th in percentage of their shot attempts from the slot hitting the net both at even strength and on the power play, and 28th in the league for getting their shots from the outside on the net on the power play, which limits their second chance opportunities.
The Lightning are doing an OK job at getting shot attempts off in scoring areas, even if they're shooting a bit less from the slot than league average, but a huge number of their attempts are wasted due to blocks and misses, which likely means they're being a bit too predictable.
Anyone in hockey will tell you that it's better to get opportunities and miss than to not get opportunities at all, but the Lightning have to find a way to get those shot attempts to count for something.
Another wrinkle to the situation is Steven Stamkos' linemates. As a career 17.3 per cent shooter, any time you can find Stamkos in a scoring position, you have a better chance of creating a goal than almost any player in the NHL over the last decade. But Stamkos' linemates haven't really been getting it done.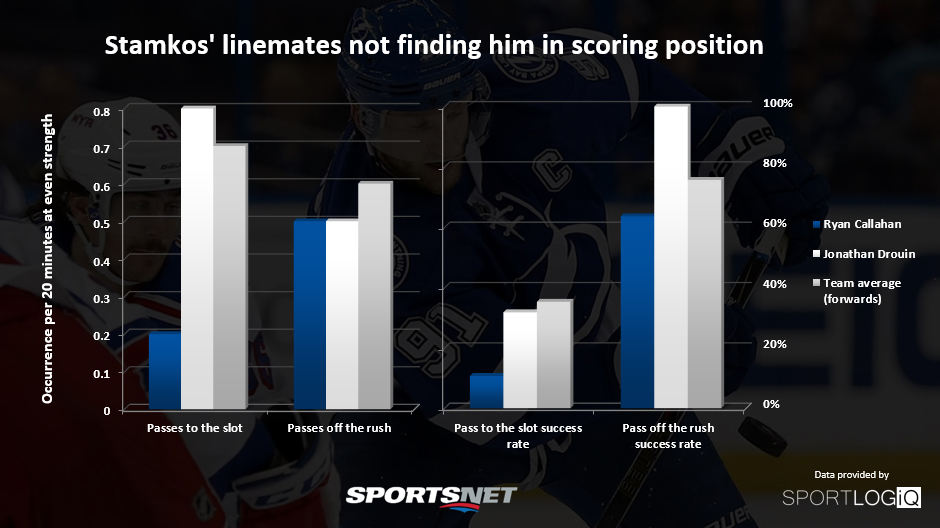 Jonathan Drouin is completing passes to the slot at a higher than team average rate per 20 minutes, but he hasn't been great either. Neither player is completing passes off the rush at a team average rate either. Ryan Callahan specifically has been abysmal at finding Stamkos in the slot, completing passes at a rate below replacement level in the NHL.
Drouin has promise, there's no doubt about that, but Callahan just doesn't make sense as a linemate for Stamkos, yet he's been his most common one by far this season. This is something that should be easily correctable with the plethora of talented wingers the Lightning have.
No matter what kind of struggles the Lightning have getting shots on net, getting the puck to Stamkos in scoring position should always be priority number one. So far, they haven't found a way to do that enough this season, even though he's one of the only Lightning players who is scoring at an expected level.