In a season of surprises, from success in Vegas to disasters in Ottawa and Edmonton, we bring you the Winnipeg Jets — Canada's best National Hockey League team.
That's right. The patient, draft-and-develop, trade-averse Jets have finally arrived. They're big, deep, and fast with goaltending, an excellent defence, and talent up front that for the most part is only going to mature and improve.
The Jets are in first place in the Central, despite the fact Mark Scheifele — their best player, though Blake Wheeler fans may argue — has been on injured reserve since Dec. 27. He could be out another month.
So it's up to the captain Wheeler, having a career year at age 31, a fast-maturing Patrik Laine, and a focused Jacob Trouba to get this club to the finish line. Along with the rest of a lineup that is way deeper than most of us gave the Jets credit for when we were making our pre-season predictions.
What is suddenly making head coach Paul Maurice so smart, after many folks questioned why he got a new three-year deal heading into the season? The talent at his disposal, that's what.
He's never had horses like this — plus a goalie. Here are a few thoughts on what's going right in Manitoba this winter, and why we'll be there this spring for only the second time since the Jets' return.
[snippet id=3816507]
• It starts in goal with goaltender Connor Hellebuyck's coming of age.
After a 2016-17 season in which a less consistent Hellebuyck gave Winnipeg a .907 save percentage, Jets management went out and signed Steve Mason. Do you think it was GM Kevin Cheveldayoff's plan to have a $4.1 million backup this year and next? Yeah, me neither. Mason started the first two games of the season. Then Hellebuyck went in for Game 3 and hasn't given the net back.
Hellebuyck has 35 starts this season and just six regulation losses. Six! Goaltending like that does a Stanley Cup contender make.
[snippet id=3803149]
• Like almost every bottom-dwelling team that finds success, the Jets' climb is based more on keeping pucks put of their own net as much shooting it into opponents' goals.
Last season Winnipeg raked 27th in goals allowed. This season it sits 12th in goals-against per game (2.74) and is on pace to cut 30 goals-against off its total. It's simple math: better team defence, a better defensive corps, better goaltending and a better penalty kill — from 26th to 17th — makes for a better team.
• Offence doesn't hurt, however, and Winnipeg's power play has improved from 16th last year to second-best in the NHL today. The Jets are one of just five teams that have six players with 10 or more goals (the Lightning, Penguins, Blackhawks and Hurricanes were the others at the time of this writing). Laine looks like he's good for another 35-goal season, and lightning-fast Nikolaj Ehlers is headed for another 60-plus point season.
More goals scored and less goals against makes for a path to success that is pretty easy to figure out.
[snippet ID=3322139]
• The blue line: Trouba and Josh Morrissey have settled into the Jets shutdown pairing all year — two young players developed in-house. Big Tyler Myers has been healthy this season — the Jets only played one period of hockey with their Top 6 D-men last season — and Dmitry Kulikov may finally have found a home on Myers' flank, turning in a solid, plus-4 season in Winnipeg after going minus-26 in only 47 games with Buffalo last season. Which brings us to Dustin Byfuglien…
• Big Buff has always been a risk-and-reward player, and in the past the Jets had to roll the dice and play him a ton. Sure, he still leads the Jets in average ice time at 23:21 this season, but that's a full four minutes less than the 27:26 he averaged in '16-17.
The point is, the Jets are a deeper, better team that doesn't have to run Byfuglien out for nearly half the hockey game. And he's likely a better player at 23 minutes than 27, asked to take a few less risks and concentrate on being a sound defender.
One senses a passing of the torch here. That this isn't Byfuglien's team anymore. It's more like Wheeler's team now, soon to be Scheifele's.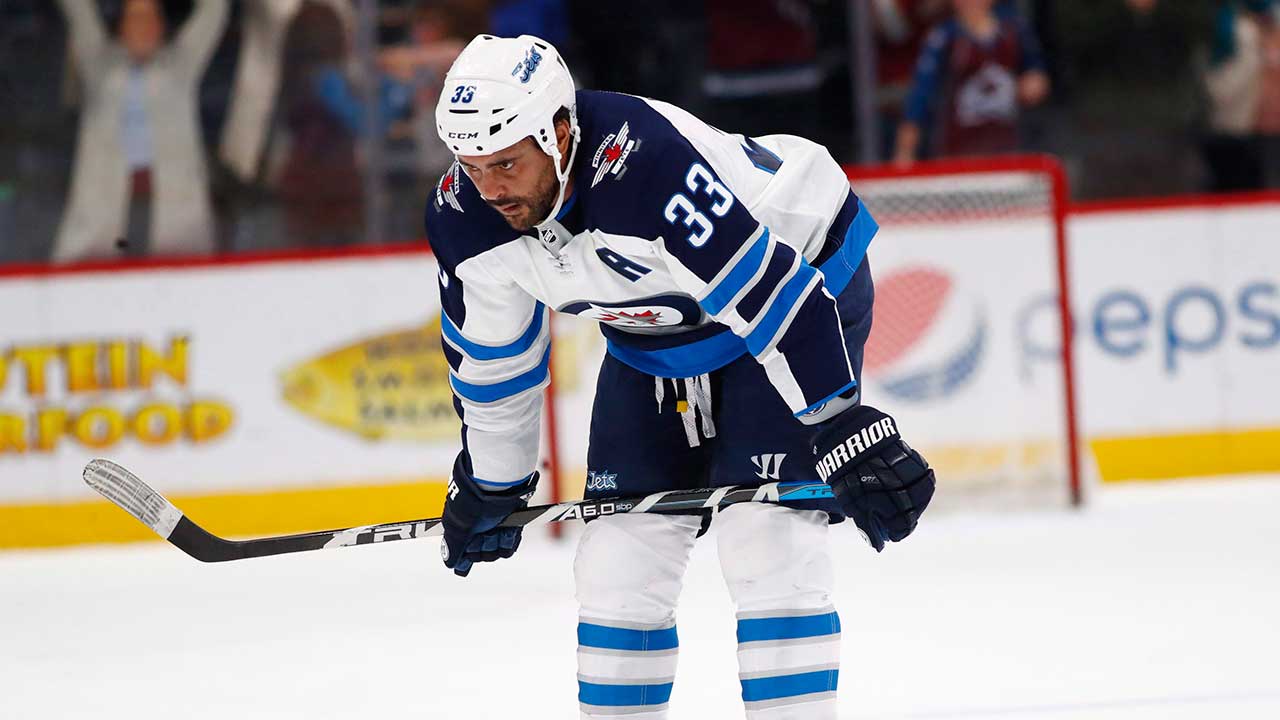 • Matt Hendricks. As a Minnesota guy, we're betting that if there any waters to be smoothed over in the "reshaping Byfuglien" department, Hendricks is quietly brokering that transition. He is one of the solid leaders coming off the fourth line in the game today, and with Wheeler and Byfuglien both Minnesota natives, Hendricks speaks their language.
Meanwhile, with Hendricks in town the Jets penalty kill has moved from 26th last season to 17th this year. And it's not like they are taking any less penalties. A Winnipeg team that was fourth in the NHL in minor penalties last season sits in sixth place this season, on pace for almost an identical number of minor penalties called against them.
[relatedlinks]