Last year Mark Scheifele had his true breakout season in the NHL, becoming the Jets' top centre and putting up 61 points in 71 games. His first three seasons were strong enough that he made the top-20 centres ranking in the NHL based on analytics, and this year I wondered what exactly his ceiling might be.
With the regular season about a month away from ending, Scheifele is over a point per game with 67 in 64 games and ranks third in the NHL in 5-vs-5 points with 42, and tied with Connor McDavid for first in even strength points with 54.
Those are lofty totals and though they are probably not sustainable, it's a sign of the strong work Scheifele has done and the chemistry he has with Patrik Laine, Nikolaj Ehlers, and Blake Wheeler.
The question though is how much of that production can the Jets expect to continue? Have Scheifele's underlying offensive numbers kept up with his torrid early-season pace?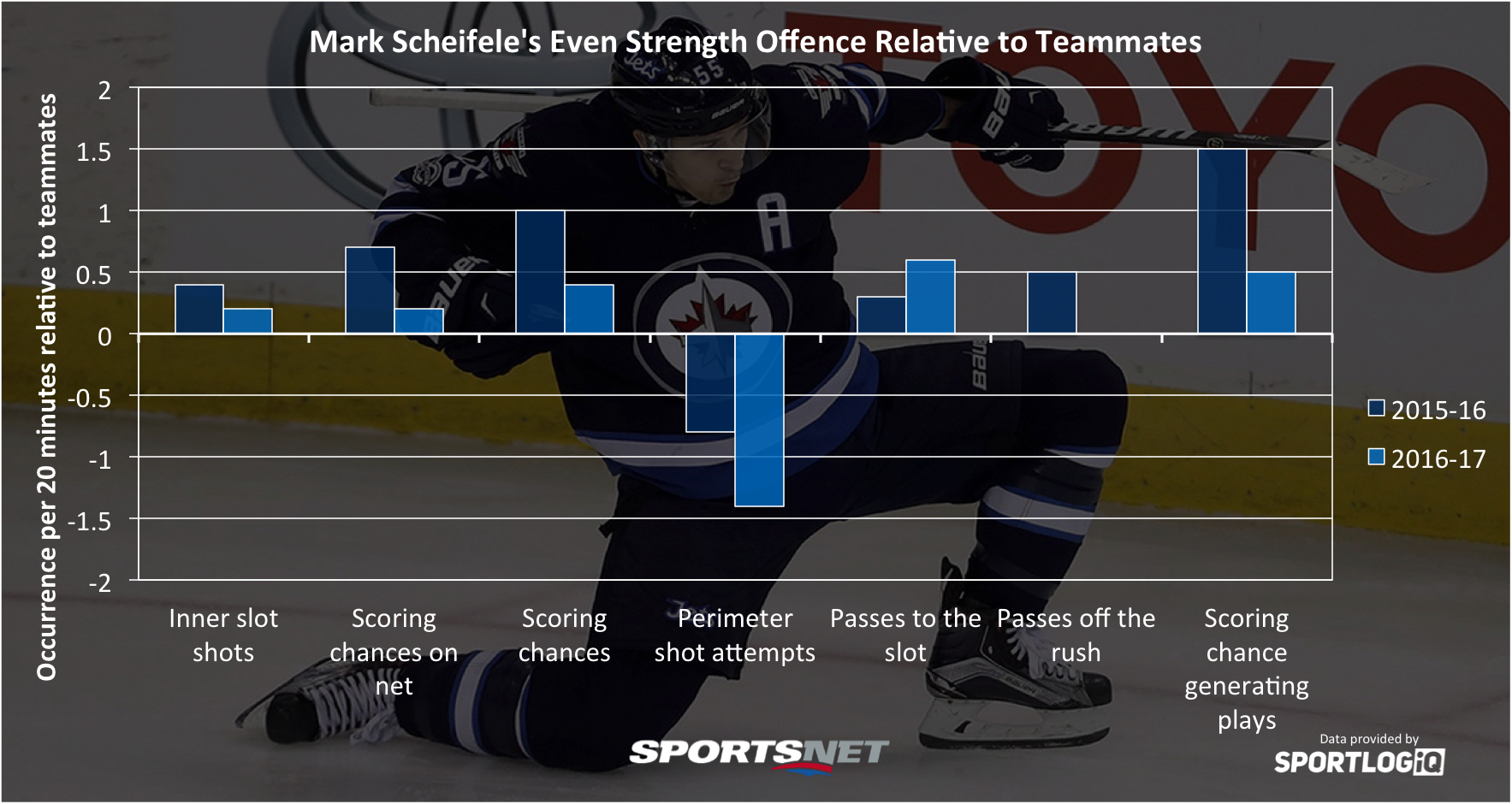 As it turns out, Scheifele's underlying play hasn't been as strong as you would expect down the stretch. There are a few mitigating factors here, as the Jets are a strong offensive team in their forward group, leading to high team averages, so being above average is a bigger deal than on some other teams.
Another factor is that Patrik Laine has consistently played stronger beside Scheifele as the season has gone on, and while that will inevitably improve Scheifele's offensive totals, it raises the team average for the underlying numbers even higher.
Scheifele is still above average in almost every category, though he doesn't like to shoot from the perimeter at all, which goes a long way to explaining his high goal numbers with low shot volume.
While Scheifele's underlying offensive numbers have dropped slightly, his defensive numbers have gone the other way as he rounds out his two-way game.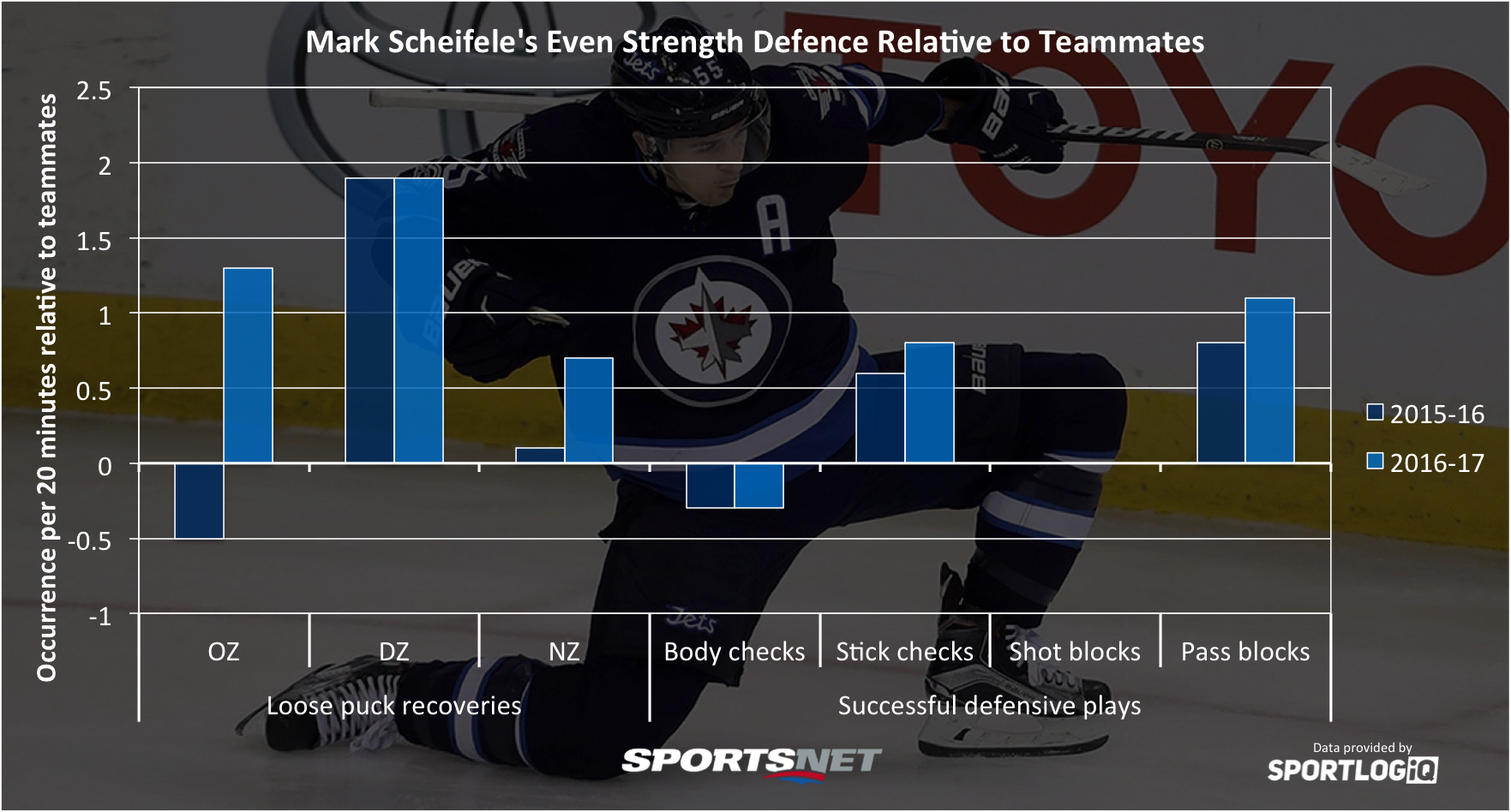 Compared to last season, Scheifele has taken a huge step forward in his forechecking and neutral zone battle level, making it much more difficult for opponents to get the puck from their defensive zone to Scheifele's.
While he isn't very physical on puck carriers, and doesn't love blocking shots, Scheifele has also seen improvement in removing the puck from opponents through stick checks and pass blocks, where he is one of the most disruptive players on the Jets' roster.
When you take all of this into consideration, it's tough to imagine a scenario where Scheifele isn't knocking at the door of the top-10 centres in the NHL soon, if he isn't already there.
Scheifele has seen a hit in his shot attempt differential this season, as Laine was a pretty serious drag on those numbers for the first half of the season, and his chemistry with Mathieu Perreault last season was incredible. But as Laine has improved, the shot differentials are climbing, and so far that hit in Corsi hasn't bled through into goals yet.
The way this core of forwards the Jets have are developing, you have to wonder how close they are to being a truly dangerous team. All they really need is someone to make saves.
[relatedlinks]