On the second day of the 2018 NHL Entry Draft, the Calgary Flames and Carolina Hurricanes finally broke the monotony of pick-only trades and moved some players around, and it was an absolute blockbuster of a deal.
To Calgary go Noah Hanifin and Elias Lindholm, two players who were both taken fifth overall in their respective draft years not too long ago, while Carolina gets Dougie Hamilton, Micheal Ferland, and highly touted prospect Adam Fox.
Hamilton, Ferland and Hanifin are all coming off of the best seasons of their careers, and you could argue that Lindholm is too, though his season sticks out less from the three previous than the other three players. There are always deals with organizations trying to take advantage of heightened values of players for trades, but you usually don't see four players in similar situations get dealt in a single trade.
Which team wins out in terms of cap hits is a little up in the air with both Lindholm and Hanifin being restricted free agents, but it's likely that Calgary, at least for this upcoming year, will be stuck with a significantly larger cap hit from the players they acquired.
Outside of salary, there are three main components to this trade; Micheal Ferland for Elias Lindholm at forward, Dougie Hamilton for Noah Hanifin at defence, and a sweetener for Carolina in Adam Fox, likely to cover the gap in age between the players and any perceived talent gap.
In order to break down this trade then, we can compare like with like.
Micheal Ferland vs Elias Lindholm
In terms of on-ice results, neither player was wholly positive last season, as both ended up in the negatives in Corsica's expected goals metric and in shot attempt differentials relative to their teammates, but Ferland had a phenomenal year in actual on-ice goals, and both players were above team average in high danger scoring chance differential.
As a centre, Lindholm has more impact on high danger scoring chance differentials than wingers do due to where they play defensively, and it's worth noting that Ferland spent last season riding shotgun with Johnny Gaudreau and Sean Monahan, a duo that has had repeated offensive success for years now. It's undeniable that Ferland fit well there, but he was very clearly the tertiary player on the line, so all of his statistics have to be viewed through that lens to an extent.
Ferland spent over 700 minutes with Monahan and Gaudreau last season at 5-vs-5, while Lindholm's most common linemates were Jordan Staal and Sebastian Aho at just 150 minutes, as he was shuffled around the lineup continually.
On an individual level, while considering the vast difference in deployment, Ferland looks like the superior offensive player to Lindholm, especially in terms of quality. Ferland gets to the net like few players in the NHL; only 21 players in the NHL ( with 800+ minutes played) had more high danger scoring chances than Ferland per 20 minutes at 5-vs-5, and with over a full successful pass to the slot per 20 minutes, he also asserted himself as a far better than average playmaker.
Lindholm prefers to shoot from a bit further out, but also puts up a decent number of scoring chances for a centre who isn't exactly known for offensive potency. The high slot is where he likes to hang out in the offensive zone — and while Ferland completed more passes to the slot at 5-vs-5 than Lindholm last year — Lindholm has a long history of being a strong playmaker, and completed more passes last season at 1.11 per 20. Also worth noting is that while Lindolm falls behind in offensive quality, he actually generates slightly more scoring chances for his teamamtes than Ferland does, and he did it on a team that struggled to create offence.
That's something that might tip the scales in Calgary's favour on this part of the trade, especially when you consider that Lindholm isn't an offence-first player. Based on my positional ranking project for Sportsnet, he ranked as the 47th most impactful centre in the NHL from 2014-15 to 2016-17, and most of that was due to his transition play, where he was in the 69th percentile, and his defensive play, where he was in the 68th percentile, as opposed to offence, where he was just in the 53rd percentile. His closest comparable in terms of playing style and impact in each area of the game was Ryan Nugent-Hopkins, who is two years older.

Dougie Hamilton v Noah Hanifin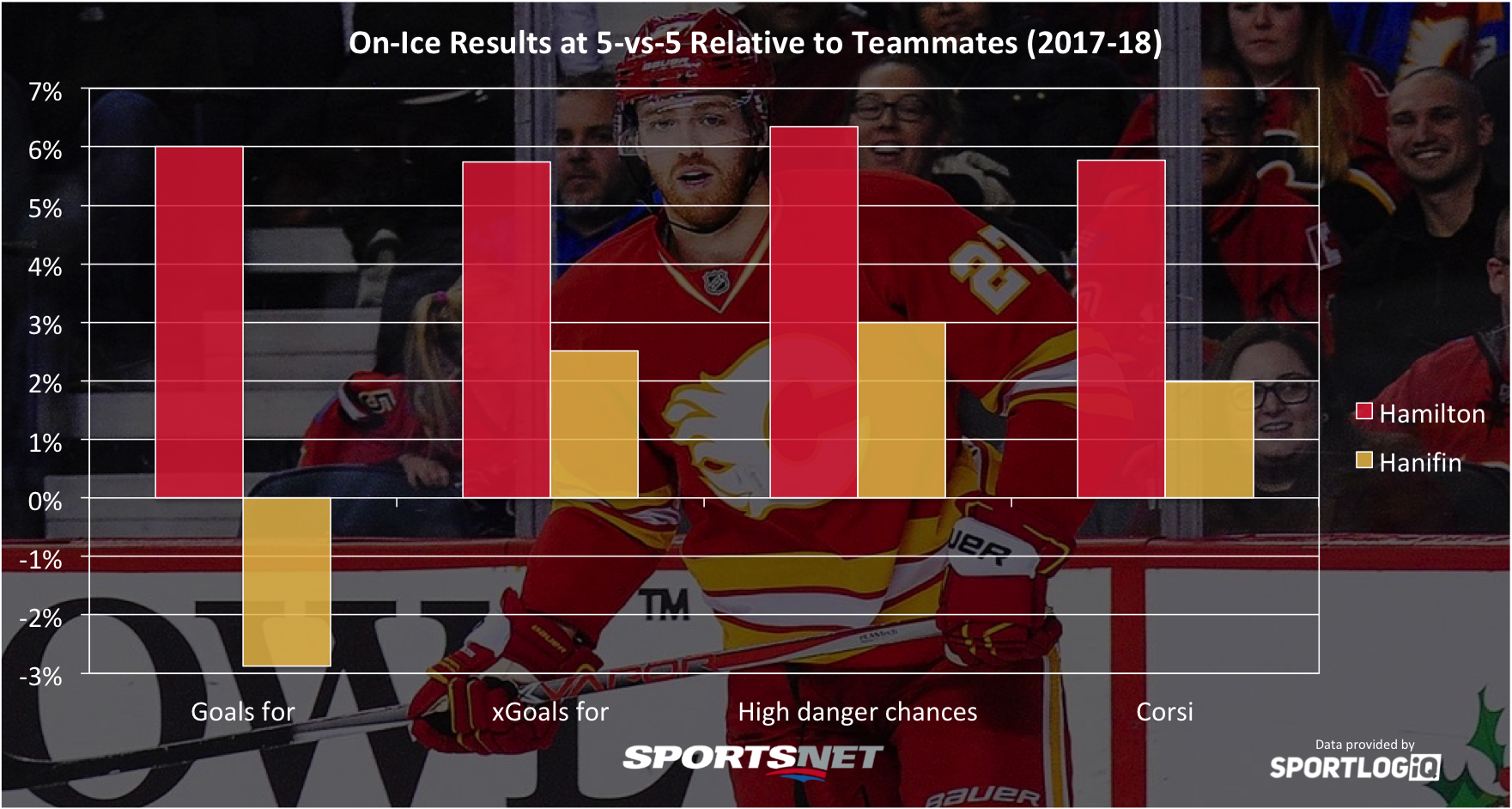 Hanifin was a little unlucky in terms of on-ice goals last season considering his on-ice performance in both quantity and quality of chances given up were solid. He had a breakout year and was actually even better than he looked on the surface, but the downside for the Flames is that Dougie Hamilton last year was just bonkers.
The Flames were at least 5.7% better when Hamilton was on the ice than off it in basically every measure, and his biggest impact was in high danger scoring chances, where the Flames recorded 59.3% of them when he was on the ice.
Playing with Mark Giordano clearly helps bolster Hamilton's numbers here, as he is one of the best defensive defencemen in the last five years of NHL hockey, but Hamilton wasn't playing easy minutes and riding a teammate, he and Giordano made each other better and the Flames were unbelievably good when that pair was on the ice, they were arguably the most effective pairing in the entire NHL last year, and their level of success wasn't some crazy shooting or save percentage bender, it was earned and sustainable.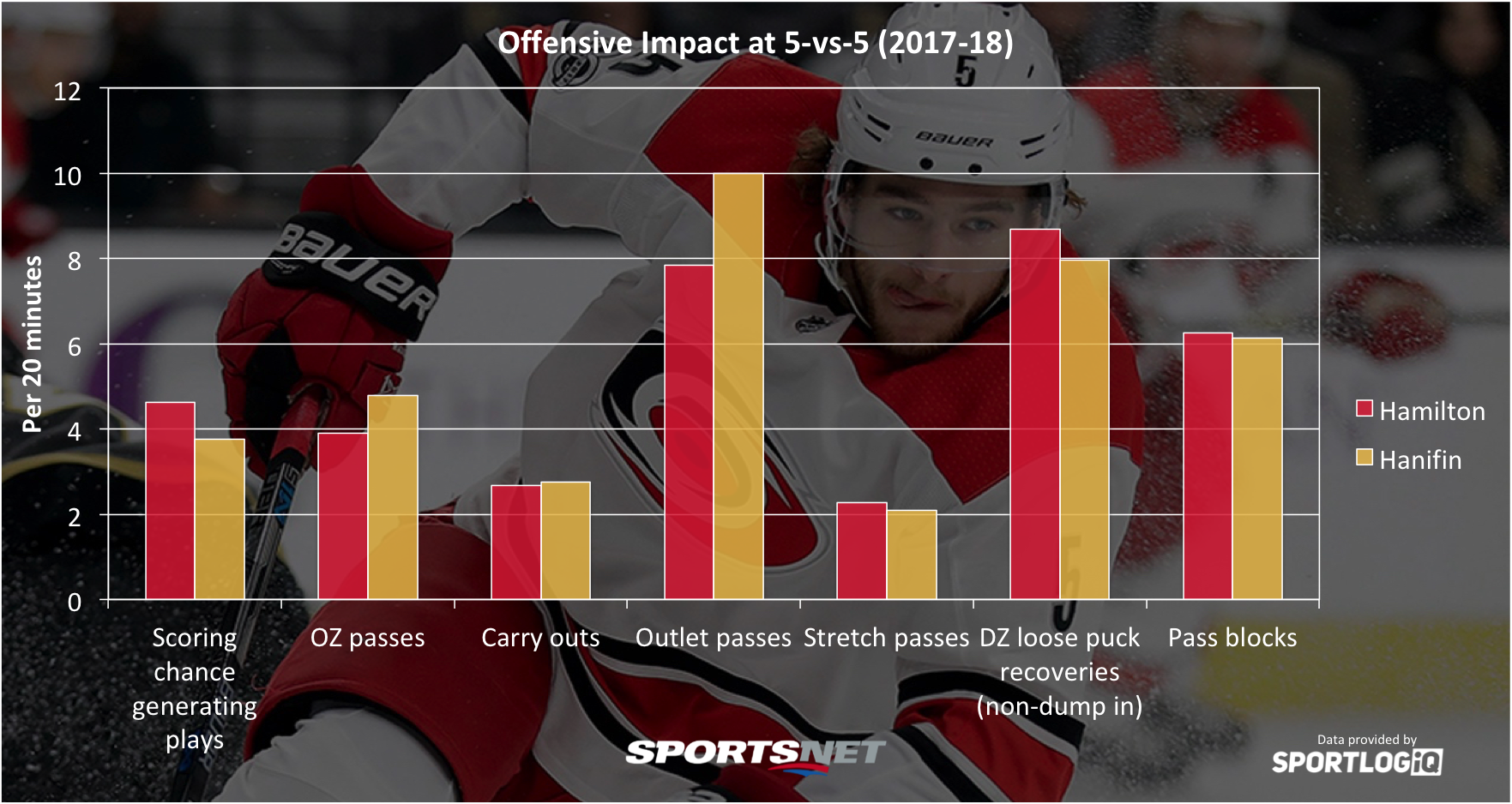 Moving into the individual actions, you can see where Calgary is buying high on the 21-year-old Hanifin; he created almost as many scoring chances as Hamilton did last year while playing a less offensive role, and his transition game was a bit stronger, while Hamilton is stronger defensively.
Hanifin is a more active player than Hamilton, making 45 plays with the puck per 20 minutes at 5-vs-5 to Hamilton's 40, although some of that difference may be due to how active Giordano is, as only Jaccob Slavin and Duncan Keith made more plays per minute than Giordano's 50.6.
One thing to keep in mind is that Hanifin was forced to spend very little of his time in the defensive zone last season, starting nearly 63% of his non-neutral zone shifts in the offensive zone, and a league low 35.5% of his ice time overall was in the defensive zone.
What that means is that in a different role his transition game may show up even stronger, and his defensive game might look a little weaker.
Ultimately, Hamilton seems to be far more cerebral and efficient than Hanifin is, which may change with age due to the four-year gap between them, while Hanifin uses his skating to be involved everywhere, but he doesn't quite have the skill level that Hamilton does; sometimes less is more.
Calgary got younger in this trade, and that's certainly an advantage, but they'll likely be paying more and I'm not sure on the balance that they're better. A lot depends on how they use these two new players and how Ferland pans out without Gaudreau and Monahan to float him, but they clearly lost the best player in the trade, at least for now.
Hanifin has the potential to grow into a player who is as good as Dougie Hamilton, but that's just potential, and Hamilton is that good right now, for a bargain contract. I don't think the deal is as bad as the initial reaction to it would have people believe, but as of right now Carolina looks like the winner here.
[relatedlinks]