Around this time last season, we did a statistical breakdown in an attempt to find out who in the NHL ultimately deserved to win the Selke Trophy as the league's best defensive forward.
The conclusion the data led us to was that Mikko Koivu was the forward who had the largest direct defensive impact on his team, but that his low point production would probably cause him to be ignored by the people who actually vote on these things.
Anze Kopitar ended up as the winner, which wasn't a poor choice. He ranked as the fifth-most impactful defensive centre in the league last season in the full analysis of all available metrics I did over the summer, and his 92-point season put an exclamation mark on his candidacy.
[snippet ID=3322139]
Point production shouldn't really factor into this award — after all it was essentially created to give Bob Gainey some recognition. So despite getting the result wrong in last year's article, we're still not bringing offence into the defensive award this season.
Looking at the same data this season as last, Koivu once again looks like the best defensive player — or at least top three — but he's missed almost half the season so there's no chance for him. Because of that we'll rule him out, and look at the players who are having the strongest defensive impact, along with some big names that are in the mix.
Since it's very easy to look up shot and shot attempt data on either Corsica or Natural Stat Trick, I'm leaving out those higher volume stats to focus on the details a bit more. We'll start with what happens when each of these players are on the ice.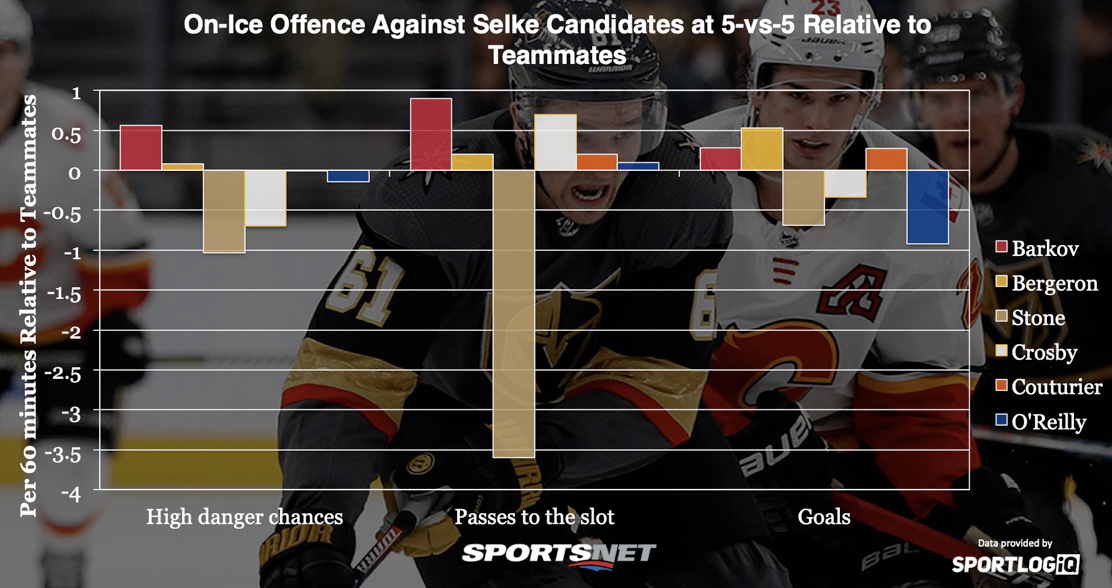 When you're looking at defensive stats relative to team, it's important to note that negative numbers are actually good, so those monstrous minuses Mark Stone has are a sign of how incredible he's been this season.
One thing that really surprised me about all these players, aside from Stone, is that all of them are giving up more passes to the slot when they're on the ice than their team gives up when they're not. But as I've mentioned before, part of this is a function of quality of competition.
Passes to the slot is one statistic where the tops of team lineups do most of the damage, and the drop off between lines can be severe. Forwards who play a majority of their ice time against top lines will usually face more pass to the slot attempts.
Regardless, usually you would like your Selke candidate to really shut those down, and last season both Koivu and Patrice Bergeron did exactly that. This year Stone is big difference maker and no one else is even close.[sidebar]
Wingers usually have less impact on slot passes than centres, but Stone is a special kind of winger. While in Ottawa he was facing top lines while dragging one of the worst lineups in the NHL over the past few seasons into respectability when he was on the ice.
In high danger chances, Sidney Crosby and Ryan O'Reilly join Stone as key players in cutting those down, while Couturier sticks at team average despite top line responsibilities.
The most shocking part of the on-ice portion of the data is that both Bergeron and Aleksander Barkov, two favourites for the Selke, are on the ice for more high danger chances against, more passes to the slot against, and more goals against than the rest of their team when they're off the ice.
You can't completely disqualify an individual for on-ice statistics that are partially reliant on teammates, but it's a steep uphill climb to get back into consideration, so let's look at the individual contributions to defence these guys all make.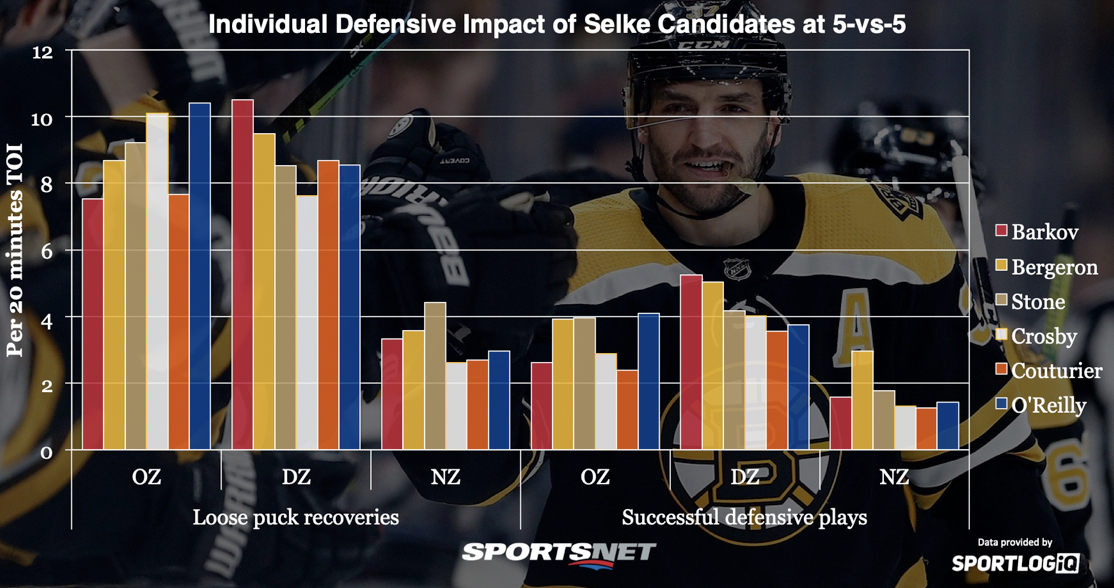 On an individual basis, you can see that Crosby and O'Reilly are the forechecking kings. In fact, no one in the NHL this season has as many total loose puck recoveries in the offensive zone at 5-on-5 as Crosby with 591, while O'Reilly is right behind him with 574.
In the defensive zone it's a two-horse race between Barkov and Bergeron for loose puck recoveries. Barkov leads the league among forwards in that area, dwarfing the competition with 618, nearly 50 more than the next-most impactful forward.
Barkov and Bergeron also lead the pack in plays that remove the puck from the opposition in the defensive zone, but outside of the defensive zone Barkov falls off compared to Bergeron's involvement.
Stone and O'Reilly actually create possession changes most often in the offensive zone, which cements O'Reilly as the best overall forechecker of the group, and perhaps even the most effective forechecker in the league.
The neutral zone is where Bergeron usually shines, and that holds true for how often he's engaging with puck carriers and removing possession. But it's Stone once again who shows up as the top puck retriever in the neutral zone.
Bergeron's lead in successfully forcing pucks free is significant, but I don't think it's enough to compensate for the severe gap in on-ice impact relative to teammates that Stone has provided this season.
It's extremely rare for wingers to be considered the top defensive forwards in the league, however I've been banging the drum that Stone is the Patrice Bergeron of wingers for at least three years now — and this might be his best season to date. He hangs with the best defensive centres in the league in individual contributions despite the fact centres get more opportunity to engage puck carriers. At the same time his on-ice impact blows everyone else out of the water.
It's high time a winger wins, and Stone is the guy.
[relatedlinks]