For all the reasons Auston Matthews has been in the spotlight at the World Cup of Hockey one of the big ones is what he hasn't done: suit up in a regular season NHL game.
That will come soon enough. What the 2016 No.1 overall pick has shown in a brief sampling while skating for Team North America is proof that it won't take him long to make his presence felt shortly after the puck drops on the Toronto Maple Leafs season opener on Oct. 12th.
He's a point-a-game player through two games of the World Cup, although going to the net hard to finish tap-ins on a line with Connor McDavid as he did for his goal against Russia Monday night will do that for a fella.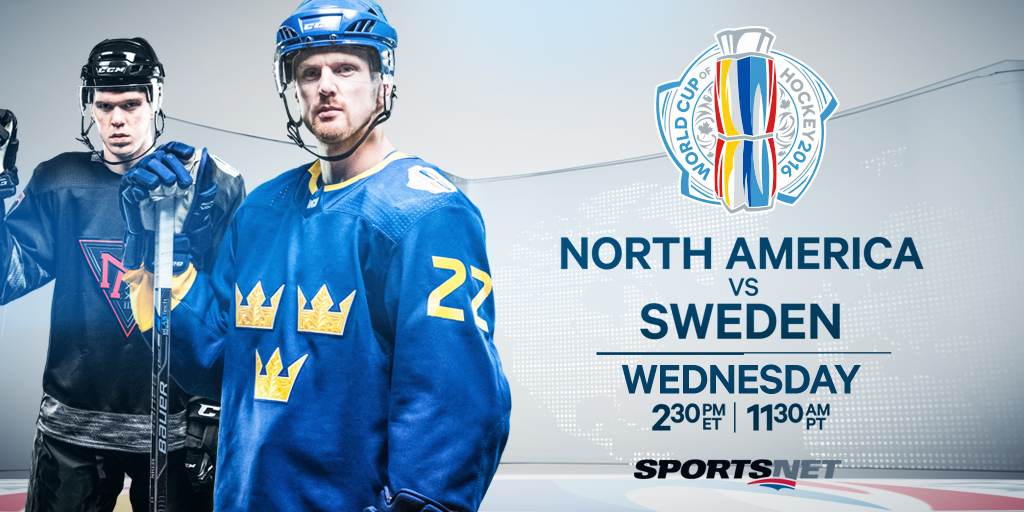 But Matthews isn't the first teenager to skate in a best-on-best tournament without a shred of NHL experience and look like a five-year veteran with a few all-star nods on his resume.
Granted it's been a while, but in 1991 Eric Lindros made an even bigger leap than Matthews. Hockey's original man-child scored eight points for Canada in 1991 at the Canada Cup, just a few months after he was the No.1 pick of the Quebec Nordiques on the heels of leading the Oshawa Generals to the Memorial Cup.
"It was a great honour representing your country on that stage," says Lindros, who will be honoured with his induction to the Hockey Hall of Fame in November. "I gained a great deal from being in that situation … there is so much to learn the more you hang around high-end guys the better."
There was no U23 category then. The Big E made the big team on merit, after head coach Mike Keenan whittled his team down from a 50-man training camp that required Canada's best players to skate in two separate groups in the early days.
"It was tryouts, that's what it felt like," recalls Leafs president Brendan Shanahan, one of the youngest invitees but still four years older than Lindros, who ended up being his centreman. "You knew Gretzky and Messier were going to make it, but for the rest of us we knew there were spots to win."
As unlikely as it might have seemed that an 18-year-old straight from junior could earn a spot on Team Canada, those doubts were erased early in the process.
"On the first day Eric was in a different group than me and when I arrived everyone was saying the young guy was impressive and dominant with his size and speed," says Shanahan.
Even 25 years later Lindros remains one of the most imposing packages of skill, size and toughness to ever step on the ice.
Matthews strength, speed and skill are a big reason why he's been an elite prospect for years and why he was able to excel playing professionally last year having just turned 18. He looked great in puck battles against Russia as a 19-year-old, but Lindros had three inches and 30 pounds on the Leafs' No.1 pick.
"You could almost feel him and hear him coming when he was on the ice," Shanahan says of Lindros. "There were big players like him, but his speed and his ability to turn a hit and a turnover into a goal? There weren't a lot of players like that."
Did he ever think his combination of bone rattling hits and safe-cracker hands would take a while to gain traction in a training camp featuring the biggest names in the NHL?
"Not really," Lindros says with a laugh. "After a couple of days I thought I had a chance to make the team. I was trying to do the best I could, I was just playing hockey. That's the bottom line. You're invited to be there because of how you play so go and don't be anybody different.
"I just played the way I normally play, there was [some trepidation] for sure, come on. But I'd skated with some pros in the summer when I was 14 and 15 and that helped give me an idea."
Lindros felt welcomed by the veteran stars, citing the likes of Chicago Blackhawks stars Steve Larmer and Dirk Graham for helping him understand what he was in for playing for Keenan.
A few veterans who didn't make the team made some comments about losing a spot to a kid who was in a contract dispute and could still be in high school. Those that made the team were glad to have him aboard.
"He was immediately accepted by all the players because when you're in a tournament to win and you have player who's 18 or 40 that can help you win, a dressing room will welcome you," says Shanahan. "that's how dressing rooms work."
Not that Lindros wasn't wowed at being invited into the game's most cherished sanctums.
"I remember walking into Maple Leaf Gardens for the initial camp and I was in the Leafs dressing room and I spent about an hour, walking around from stall to stall, just looking at the names," says Lindros, now a 43-year-old father of three. "You're just in shock. That was a big deal."
It didn't take long for him to get up to speed. After making the team he scored his first goal in his second game on a pretty power play set up from Luc Robitaille via Wayne Gretzky that helped spark a 6-3 win over the US.
It was an important result because Canada had been flat during a 2-2 tie to Finland in the tournament opener, a message Keenan got across by helicoptering his stick into the stands at the next practice, something that likely won't be in TNA coach Todd McLellan's repertoire this year.
"No one was spared," Lindros says, laughing again, at his memory of Keenan's famous wrath. "He was a good coach. We were extremely well prepared and in really good shape. It was fun all the way through."
The only downer for Lindros was that when it ended it was like the clock struck midnight; like an over-sized Cinderella the most exciting prospect in hockey was back to the OHL while he waited in vain for Quebec to trade his rights.
"Yeah," says Lindros about returning to Oshawa after playing on the power play with Gretzky. "It was an interesting year."
It won't be a problem Matthews will encounter. He'll transition from the World Cup, playing with and against the planet's best, to his first NHL camp where the franchise with the deepest resources in the sport will spare nothing to make sure he reaches his considerable potential.
For Lindros playing best-on-best before his first NHL game portended a Hart Trophy, 100-point seasons and the Hall-of-Fame. As star-crossed as his path ended up being, the Canada Cup was the moment for that anything seemed possible for one of the most dynamic talents hockey has ever seen, before or since.
It is in that respect Matthews teenaged turn at best-on-best hockey has everything in common with the trail Lindros first carved 25 years past.