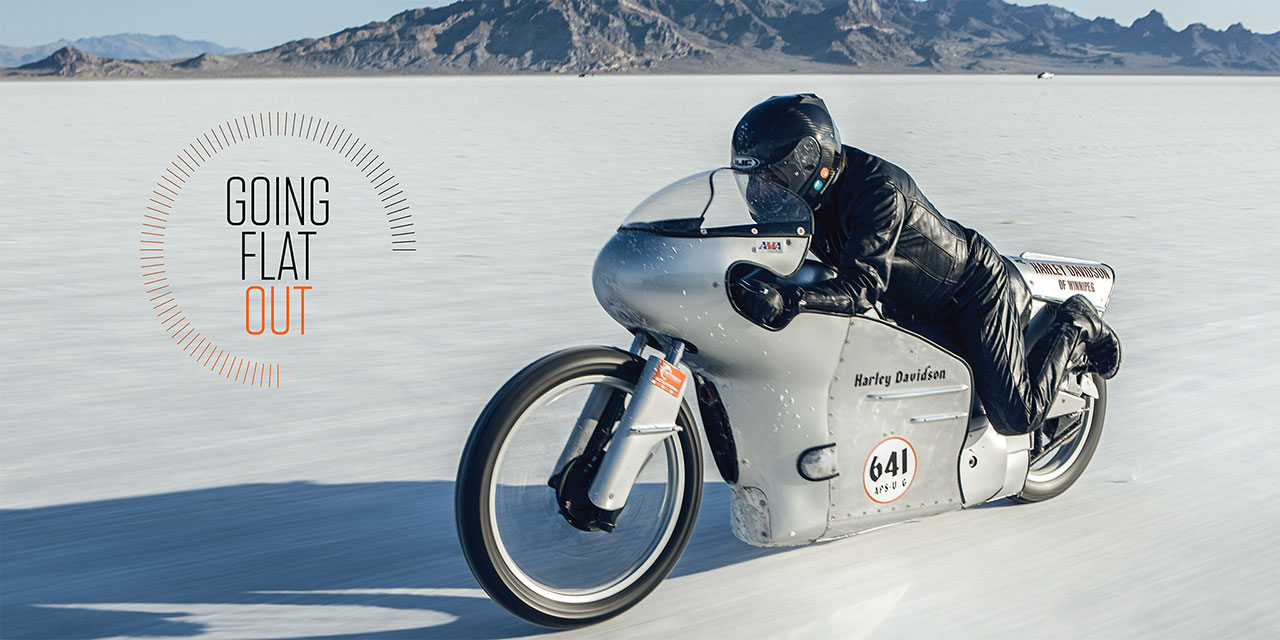 Inside the extraordinary world of land-speed record chasing
By Brett Popplewell in Wendover, Utah
Photography by KC Armstrong

ed Hector was 175 lb. of weathered flesh and aging bones squeezed into a black leather jumpsuit unzipped to his waist.
His hair was wet and tucked behind his ears. His eyes were squinted slits in the sun. He was standing with his arms crossed under the massive crucifix that dangled over his greying chest. He was nodding to himself, looking like an old ruffian in Elvis Presley's leathers—the ones Elvis wore for his comeback special in 1968. This was Hector's comeback, too. He said: "Gimme some water."
It was just before noon and the mercury was pushing 30. A gentle breeze rolled off the Utah desert and onto the Bonneville Salt Flats, which shimmered next to Hector's feet and all the way out to the horizon where men faded into a haze as they sped over the curvature of the Earth and dropped out of sight. Hector was soon to be one of those men. He was on the salt, like 200 other riders, because he wanted to set a land-speed record in the only place that mattered. He'd come, just as he had eight times before, to drape himself over an antiquated machine capable of unexpected speed, crack the throttle and disappear over that horizon.
A senior citizen from rural Manitoba, Hector was a few months shy of becoming a grandfather for the second time. He was also a road warrior, plenty tough, who quoted Steinbeck and his favourite poets when he pleased. He was pouring bottled water over his head and struggling to keep cool as he waited for his turn. "I hate this part," he said. Then he took a swig, wiped his chin and watched as some kid with Ray-Bans and a walkie-talkie shuffled over.
"Rider 641," the kid said. "You've got an eight-mile-an-hour crosswind. You're next up."
Hector rolled his head around his neck and stretched out his shoulders. He pulled a tan aerodynamic vest his wife had stitched together—he called it his "shark fin"—over his leathers. Then he took a few steps toward a silver 1948 Harley Davidson he'd nicknamed the Ancient Lady after a plane he once flew around Sudan. Hector and his Harley were the same age and had set four land-speed records together since 2005. They'd retired in 2011, Hector happy that he'd secured his place in the record books. But they were back because some Brits had recently taken Lawrence of Arabia's bike to Bonneville and had been nosing around one of those records. They hadn't beaten him, but it got Hector lined back up on the salt, preparing to push the Ancient Lady up to 120 mph and make sure he not only topped his old mark but set a new one that would still be standing long after he was dead.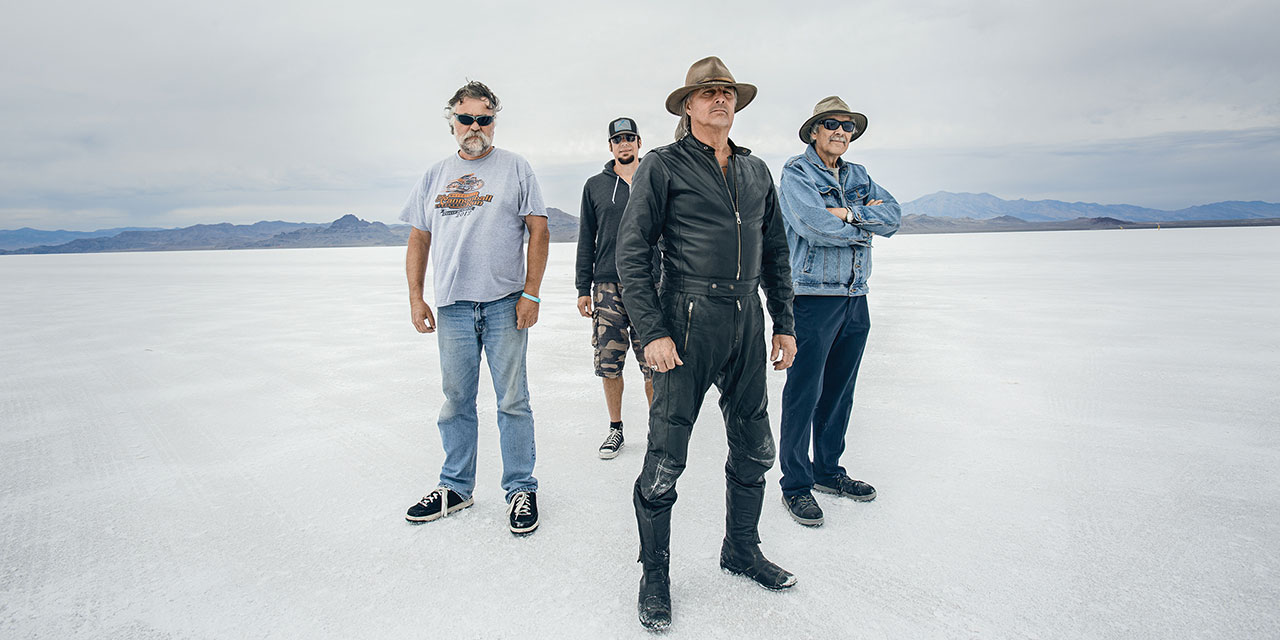 It took six kicks and some tinkering with the carburetors to get the Ancient Lady fired up. She snarled like an angry dog as she snorted 118 octane and spat exhaust over the desert. Hector did what he always did before a run: flicked the chain with his finger, pinched the tires and squeezed the brake. Then he put on his helmet, swung his leg over the Ancient Lady, lay down over her engine, revved her flathead for all it was worth and blasted out of sight without saying anything—not even goodbye—to his three-man pit crew.
Hector wasn't so different from any of the other motorcyclists who'd come to Bonneville for the Land Speed Grand Championship, dragging their home-modified rockets behind them. But he was one of a handful of pensioners looking for immortality in the weirdest place possible. He wasn't the only Canadian either. There were others out there tearing off into that Utah horizon, including an old man with old loafers and an old Rolls-Royce. He'd been coming here for as long as anyone could remember, unlike the guy from Comox, B.C., who'd just shown up with a rig of scrap and a couple of wheels. They were all memorable in their own way. As was the Nova Scotia grandfather with the gentle grin and the bright yellow bike who'd been to hell with cancer, then found a survivor's heaven out on the flats. They'd all spent long winters in their garages disassembling machines, chopping up frames and concocting aerodynamic designs based on visions they'd had in the night. They were all in their 60s, eccentric in a way men who refuse to grow old often are. And though Hector wasn't trying to set the fastest record among them, he was the only one who could honestly say he'd owned planes that were slower than his bike, which was shaking beneath his stomach and screaming so loud that he couldn't hear anything else.
Hector was speeding into the haze, chin vibrating off the top of the fuel tank, eyes fixed on the mountain floating on the horizon as salt flew up from the front tire and splattered on his visor, obstructing his already blurred vision. He himself was like an engine changing gears as he increased speed, shifting from mildly nerve-racked to completely frightened before kicking into survival mode. He wasn't sure if he was still breathing because he was too busy concentrating on going straight and staying upright. He had no accurate way of knowing how fast he was travelling. Speedometers are imprecise and more or less useless in a speed trial, but he did have a tachometer that confirmed what his ears were already telling him: that the Ancient Lady was dancing between setting a world record and exploding into a thousand pieces of 66-year-old shrapnel. He stared out into the distance, counting the flags that marked every passing mile until he reached three, then he let off the throttle, took a mile to slow to a wobble, put his feet down and waited five minutes for his pit crew to come barrelling down the salt in a grey Buick.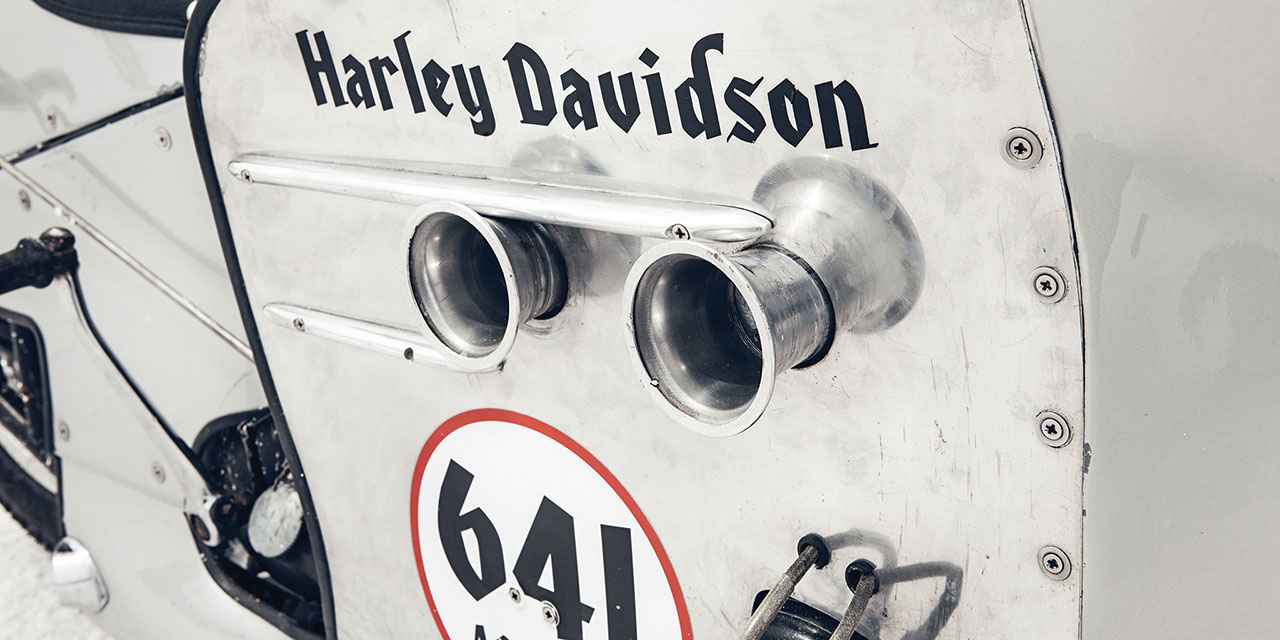 He was sitting with his arms crossed and his leathers half-unzipped again, looking pretty proud of himself by the time his crew arrived.
"Wha'd I do?" he shouted as they got out of the Buick.
"The radio tower said 108," replied Gary MacDonald, Hector's longtime friend and the Ancient Lady's chief mechanic.
"Son of a bitch!" Hector cried. "One-oh-eight?"
Hector shook his head as he climbed off the bike, brushing the salt from his sleeves and legs. "I can't believe that," he said. "She was screaming out there." He was more baffled than dejected. He pushed his hair back behind his ears and watched as MacDonald and the rest of his Winnipeg-based crew rolled the bike onto a trailer hitched to the Buick. Within minutes they were back in the pits, surrounded by a caravan of like-minded pilgrims under tents and tarps who were wrenching on anything from brand-new Ducatis and Hayabusas to vintage Nortons, Vincents and Indians. Some had spent months, others years, tinkering on their bikes just so they could bring them here, to a flat stretch of desert 4,200 feet above sea level where they could push their machines to the brink of destruction.
The remnants of a lake that dried up 15,000 years ago, the Bonneville Salt Flats are among the flattest places on Earth; 40 square miles of white desert, a wondrous place where men and women congregate to race free from risk of hitting a nearby car or tree. There were still risks, of course, and Hector knew them as well as any rider who'd been there in 2008 when Cliff Gullett, a 47-year-old Montana man, lost control of his streamliner at about 240 mph. Riders talked about how he'd ripped his arms from their sockets trying to regain control and bled to death before the paramedics arrived. He wasn't the first person to die chasing a record on the flats, and he wasn't the last either. The pilgrims had been coming for a century, arriving with anything from an old bike to a jet-propelled car, though it didn't make as much technical sense to race in this corner of the desert as it did in years past. There were easier places in which to set a record these days. Like on an airstrip at sea level. The altitude at Bonneville choked engines of 12 percent of their power, while the salt offered little traction and had a way of crusting over air intakes and eating at everything.
They all knew it made no sense, their being here. But this was their mecca. They were drawn to it by some sense that life was fleeting, but the salt was forever. There was a nostalgia to it all that made them feel young and capable of high callings. Like the blind Georgia man who wanted to be the first person to set a record without use of his eyes. Or the Oregon son racing in lieu of his father, who spent years building an old Norton but died before he could test it. This year, the Land Speed Grand Championship was meant to be more special than most because it was the 100th anniversary of Bonneville's first-ever record. But monsoon-like rains had turned a large portion of the flats back into a three-inch-deep lake that the wind pushed around the desert like a tumbleweed. It caused organizers to shorten up the speed tracks, which were really just straight stretches of dry salt marked off by flimsy flagpoles and a few lines of blue spray paint. Usually riders would get at least two miles of track to accelerate before entering the one-mile timing zone, but the rains had taken away half the run-up space, and now Hector was doubting if he was even getting up to speed before the stopwatches clicked on.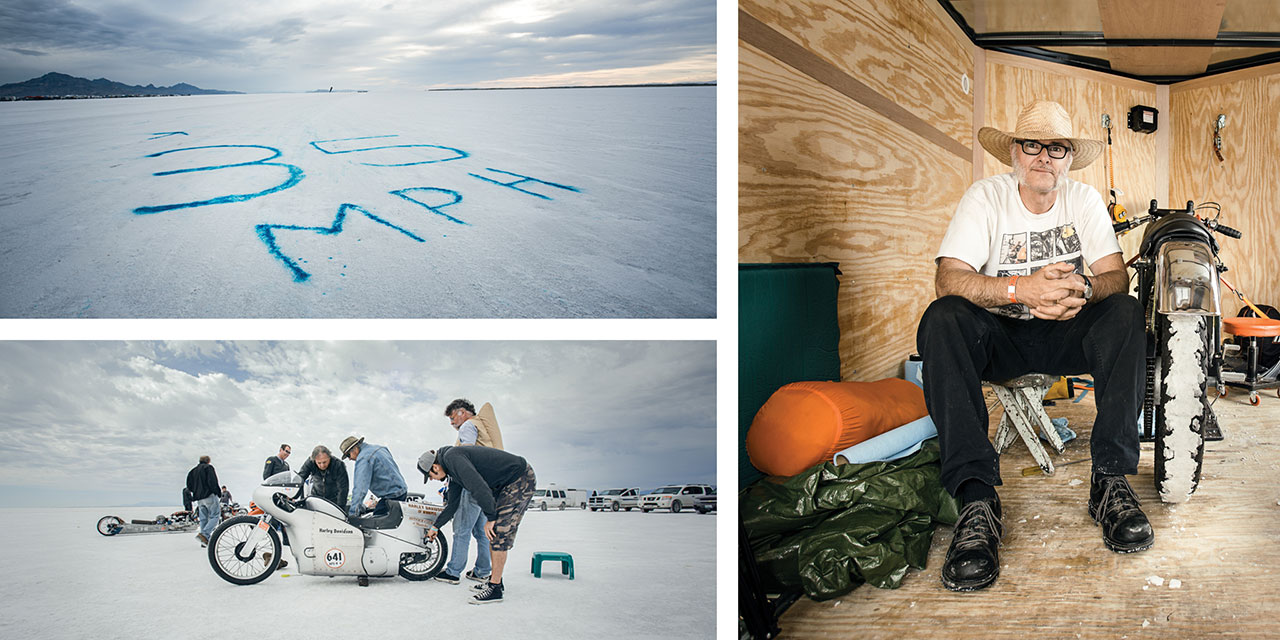 There was nothing that he or MacDonald could think to do except shorten up the gear ratios on the Ancient Lady and hope that Hector could punch her up to fourth quicker on his next run without sacrificing his top speed. They got to work. MacDonald, a 61-year-old factory worker known to many as "Gary MacFlathead" because of his love for the obsolete engine design of old-fashioned Harleys, pulled off the chain and changed the sprockets while Hector threw on his spectacles and put his head inside the engine bay.
"Let's switch up the plugs," said Hector, rising from his knees and heading for his tool box, where he kept a few spark plugs he'd pulled out of a twin-propeller airplane. At one time, his ride may have been a 1948 Harley that had no business going over 60 mph, but MacDonald and Hector had modified her so much that she was now one part Harley, two parts Piper Navajo and three parts their own creation. They'd modelled her nose and cowling off the streamlined design of an auxiliary fuel tank more commonly found under the wing of a Second World War–era Hawker Hurricane. And they'd replaced every nut and bolt with aviation-grade fasteners. The parts had been easy enough to come by because Hector had been both a pilot and an airplane mechanic. He prided himself on never having found an engine he couldn't fix. The son of an RCAF gunner, he'd learned to ride and fly while growing up a military brat in France. Back in Canada, he spent his early adulthood alone on the tundra with a tool box and a gun, fixing bush planes that broke down in the middle of nowhere. He'd get in, get them operational, then fly them back to civilization himself. When he tired of that gig, he found another, flying aid packages for the UN into African war zones. Then he opened up a motorcycle shop in Winnipeg. He called it Thunder Road Motorcycles after the Bruce Springsteen song. Hector was 56 when he and MacDonald decided to take an old Indian Scout down to Utah to see if they could set a record. They succeeded, then spent the next winter building the Ancient Lady. Their goal: to make history with one of the simplest, most inefficient and underpowered engine designs of all time. For seven summers they dragged the bike to Bonneville in an old ambulance, setting five records in four different classes before calling it quits three years ago.
They'd sold the Ancient Lady to the third member of their pit crew, a Winnipeg bike collector named Ross Metcalfe. Metcalfe put her in a museum at the end of his street, where he also kept her records—certificates issued by the American Motorcyclist Association (AMA) that arrived in the mail two months after a run. Then Hector sold his shop along with the old biplane he used to hop around the Prairies. He bought a ranch and settled down with his wife and a couple of horses. He was relaxed and reading one of his favourite motorcycle magazines when he came across an article about some Brits who'd taken an old Brough Superior—the model most famous for being Lawrence of Arabia's last ride—down to the salt. They hadn't beaten any of his records, but Hector was convinced that they'd be back to try.
There were more than 450 active motorcycle land-speed records recognised by the AMA, ranging from 9.9 mph on a 50-cc Honda to 367.4 mph on a 3,000-cc supercharged streamliner. Hector's records were somewhere in the middle. He'd set two in the vintage partially streamlined 750-cc class, then bored out his engine and set two more using different fuels at 1,000-cc. The lifespan of a record was about the same as that of a rabbit: Most were broken within a decade. A few, though, had stood for half a century. None were sacrosanct, not even the ones set by Burt Munro—whose exploits were chronicled in The World's Fastest Indian. Munro was Hector's idol, a legend who'd taken a 1920 Indian Scout, converted it into something that more resembled a bullet, then shipped it all the way from his native New Zealand to Bonneville in the 1960s. Hector and MacDonald had once contemplated tackling Munro's only remaining record—183.586 mph—but had opted not to bother, partly out of reverence and partly because MacDonald figured they'd need a modern engine to do it and didn't see much sport in beating something that was originally designed back when the Ford Model T was still state of the art.
MacDonald was quieter and more reserved than most people in the pits and never had much urge to jump on the bike himself. He knew that the most difficult part of land-speed racing was in perfecting the mechanics and the aerodynamics. Nailing the drag run to the finish line was comparatively easy, though it was only the names of the riders that lived on in the record books. But that didn't matter to MacDonald, who was happy just to watch as Hector and the other speed freaks chased after records, immortality and whatever else it was they were chasing.
That week in August, the riders were a mix of anything from Hells Angels to engineering professors. Among the other Canadians trying to set a record was Richard Jones, a retired IT manager who channelled his inner Neil Young through the silver mutton chops that framed his face. He came to Bonneville from Winnipeg towing a 40-year-old Honda that looked nice but blew a gasket when he fired it up. Jones had spent two days sitting in a trailer in the pits, trying to fix the problem with a piece of belt leather and cork from the underside of a fancy coaster. It didn't work, and he was feeling dejected as he watched others head out for their runs.
Then there was Andy Brown. A 60-year-old British-born ski patroller who lived in Comox, B.C., Brown was just a little guy with a little bike pieced together from junk he found online and in scrap yards. He considered himself less of a legitimate racer and more "an enthusiastic punter," though he knew that if he could get his hodgepodge little wreck of a bike to the end of the track they'd give him a certificate, because technically no one had ever taken anything like his bike onto the salt. "It sounds kind of sad," he said, "but it was my birthday gift to myself just to be here."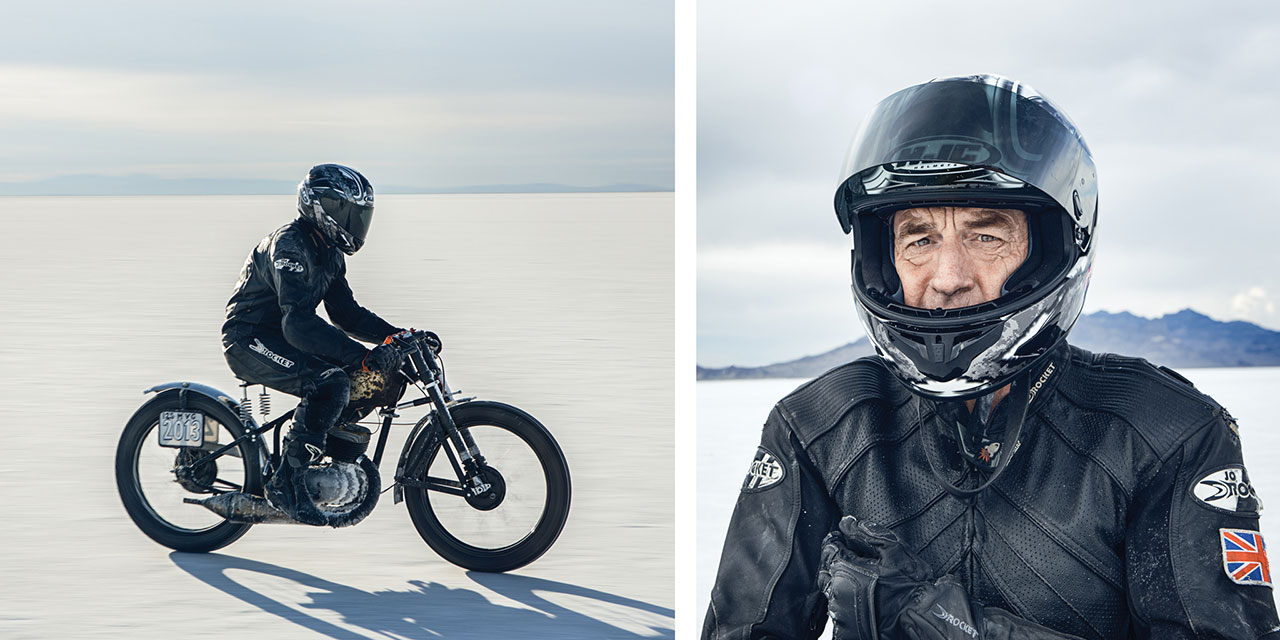 Jones and Brown were the runts of the Canadian litter. And though Hector was the most colourful of the bunch, he wasn't anywhere near as fast as Tom Mellor, a silver-haired gentleman from Vancouver who pulled his old Triumph on a trailer behind an even older Rolls-Royce.
Mellor kicked through the pits in loafers, a Hawaiian shirt and a wicker hat. He didn't like to talk about how much money or time he had invested in his big green bike. A former airplane mechanic, he'd retired at 55 after recovering from shattering his shoulder blade going over the handlebars on a racetrack in Mission, B.C. He slept sitting upright in a chair for two months, dreaming about getting back on his bike. He was now 65 with two grandkids, but still felt young enough to beat kids half his age on a ride he'd constructed in the garage behind his house. He'd built the frame himself, along with the partially streamlined fibreglass shell that allowed him to slip inside his bike where he hugged its three-cylinder engine. He hit 200.082 mph on that thing a year ago, but felt somewhat unsatisfied because "if you hit two-oh-one, they give you a commemorative hat." The 201 club was an elite bunch, and Mellor wanted in. "If we weren't racing up here at this elevation and with this damn salt, I'd have done it already." Mellor hated the salt. Hated the way it screwed up his carbs and got inside everything. He hated it even more right now because it was wet and sloppy and destroying his loafers.
Mellor stood out like a dandelion in a rock garden, but his feats were still admired by everyone, most of all Tom Borcherdt, a 67-year-old retired mechanical engineer from Nova Scotia. Borcherdt had modelled his ride after Mellor's, though he'd painted it bright yellow and thought it looked cooler and tougher. He reckoned he had about $15,000 in the bike, which he'd modified heavily, augmenting air flow into his engine using ducts from a clothes dryer and designing the aerodynamic shell with the help of a yacht maker. Diagnosed with stage IV lymphoma nine years earlier, Borcherdt considered himself lucky just to be alive. He walked around with a smile on his face and his brother's marrow in his bones. He hadn't come to Bonneville in search of immortality. "I come here because I still can," he said. He liked the salt; liked the feel of it, the sound of it under his feet, and the taste of it drying on his lips. He'd have lived here if he could. But he couldn't. So he settled for setting records instead. "I'd love to hit 150," he said. "I'd feel pretty good about that."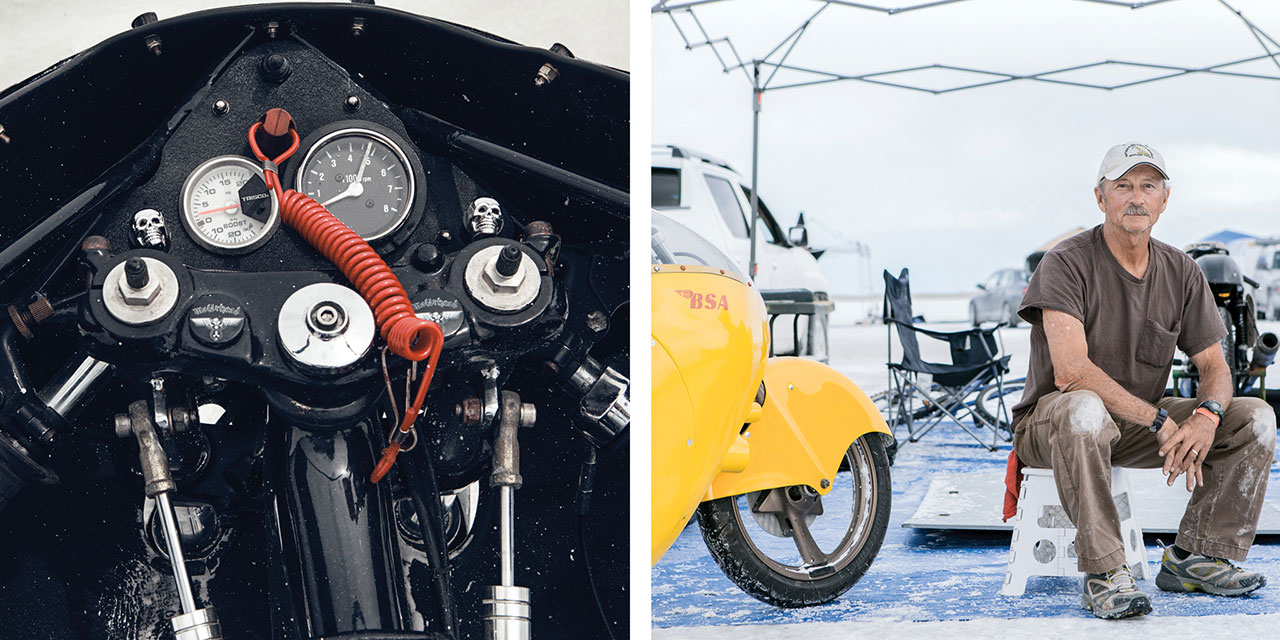 ector wiped the grease from his hands into a rag and called it a day. He and his team had spent the last three hours working on the Ancient Lady, chiselling chunks of salt from her engine and getting her ready for what he and MacDonald suspected might be the last run of her life. There wasn't much more they could do that they hadn't already tried and they were beginning to wonder if maybe they'd come back to Bonneville one too many times.
It was nearly evening and Hector, Mellor, Brown and others were tired and thirsty. Separately, they jumped into their cars, leaving while Borcherdt and Jones stuck around to keep tinkering on their bikes. They rolled off the flats, slowing to a five-mph crawl as they drove through the three-inch-deep lake resting between the speedway and the highway.
Then they dispersed into nearby Wendover, a small gambling town on the Utah-Nevada border that once played host to the crew of the Enola Gay, who'd used its airstrip for test runs before setting off to drop the big one on Hiroshima.
Mellor parked his Rolls next to a row of salt-encrusted pickup trucks outside the Red Garter, a monstrous casino hotel on Wendover's main drag where he'd been sleeping. Brown and Hector made their way to a more downtrodden neck of town. Brown had spent the previous week cuddling his bike in the back of his van at highway rest stops. Now he was splurging on a grungy motel, which sat next to the town's grungiest, where Hector and his crew were camped out in rooms normally reserved for strippers imported by the local peeler bar up the road.
That night, after about two dozen Budweisers, Hector and the rest of the Winnipeg crew dined on pork chops they'd grilled on an old Coleman stove outside their rooms. Hector quoted from The Grapes of Wrath as he cooked—"Prayer never brought in no side-meat." They were asleep by midnight, only to rise again two hours before dawn to head back to the speedway, hoping to race before the desert heat started screwing with their engines.
It was gusty on the flats, a 20-mph headwind making it too dangerous for anyone to launch. Hector stood by the Ancient Lady with his hair and leathers blowing in the breeze; Brown lay in the salt with a handful of zip ties, trying not to attract the attention of any officials as he desperately reattached a foot peg that had broken loose somewhere between the pits and the start line.
Officials considered any wind over 10 mph to be deadly. So for 11 hours, Hector, Brown and others stood around, watching the flags fly diagonally over the desert, admiring each others' rides like old men eyeing old flames who'd had some work done. Then word came down from the tower that the day was a bust. The riders headed back into Wendover to drink and eat and sleep until the next morning, which would likely be their last because Lake Bonneville had drifted east with the wind and was threatening to wash out the only dry stretch of track that was left.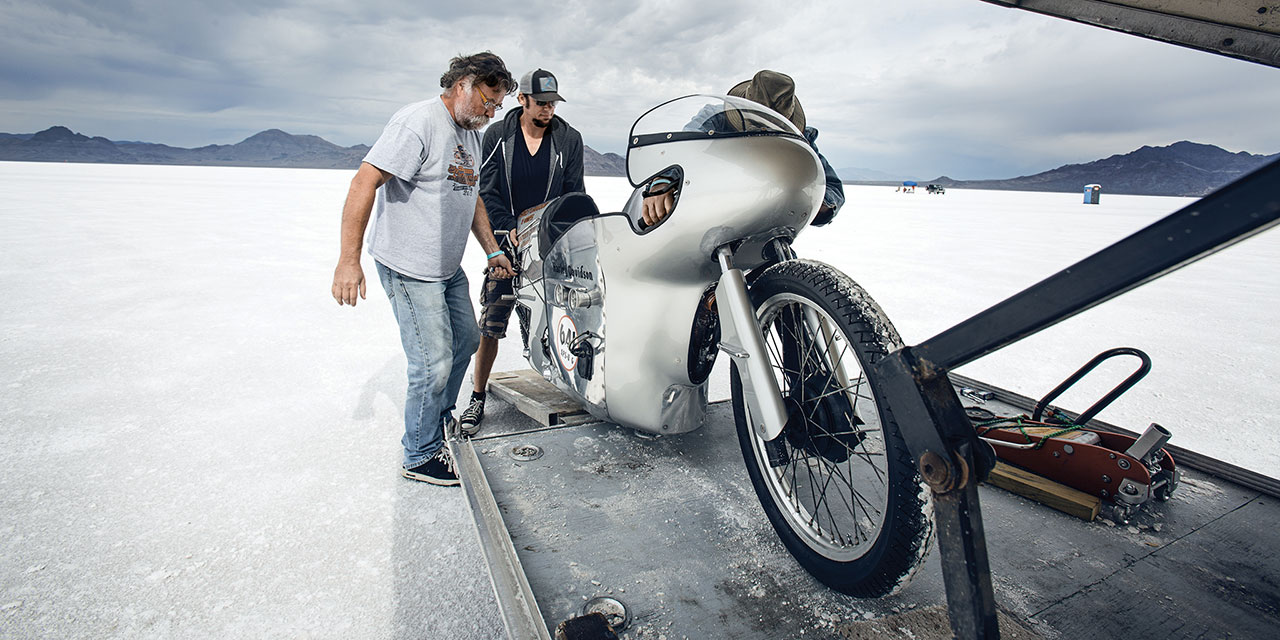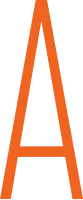 t dawn a crimson sky splattered over the desert as cars and trucks motored through the lake one last time, carrying riders to their bikes, which had spent the night marooned out on the salt beneath the moon and the stars.
Jones crawled back into his trailer to tinker again with his blown gasket while Borcherdt joined a lineup of bikes waiting for some 118 octane. Meanwhile, Hector and his crew dragged the Ancient Lady to their launch site while Brown followed in tow on his bike, careful not to rest too much weight on that foot peg.
Mellor was already at his launch site, waiting as a woman on an electric motorcycle screamed out of sight at 240 mph. He sat in his leathers, staring off in silence, looking like a man trying hard not to think about all the ways he might die in the next two minutes. "My nerves always get to me before a run," he said. Then he put on his helmet and blasted off, hitting 187 mph before struggling, and ultimately failing, to kick into top gear. Moments later, he was back in shorts and loafers sitting under an umbrella next to his bike, determined to head home to Vancouver and spend the next 12 months tinkering on his gear box, wrenching on his engine and remoulding his fairing so he could come back and do it all again.
Away in the distance, Hector and Brown stood side by side. Hector shook out his arms and psyched himself up for what he knew could be the last run of his life. His goal remained the same: to push his old record up from 116 mph to 120, putting a bit more distance between himself and anyone out to steal his spot in the record books. He pulled on his shark fin, swung his leg over the Ancient Lady and fired her up. She snarled, snorted, spat and shook while Hector went through his routine: pinch the tires, flick the chain, squeeze the brake lever.
"She's all good, Ted," said Metcalfe.
Hector closed his visor, put the Ancient Lady into gear, snapped his wrist and took off, accelerating as fast as he could toward that mountain floating in the distance.
"She's screaming now!" Metcalfe shouted as he climbed into the Buick and prepared to give chase. Two minutes later, the tower called out Hector's time.
His run complete, Hector steered the Ancient Lady off the track and shut her down. He sat there alone, the bike glistening in the sun. He was patting her cowling and whispering into her windscreen as the Buick pulled up with the rest of his team.
"What was our time?" he asked.
When he heard he'd done just 109 he shook his head and put his helmet down on the ground. Then he went quiet for a moment before pushing his hair back behind his ears. He'd come a long way just to realize he'd already peaked. He was suddenly sad, though he tried not to show it. "She felt good out there, man."
Then he brushed off his hands, took a look at the smoke billowing out of the tired old engine between his knees and announced his retirement. "I guess that's it," he said. "No sense in thrashing her. Might as well take her home and put her back in her museum."
He was still sitting on his bike when Brown came puttering by, hoisting his thumb up in the air on his way back to the pits. "How'd that guy do?" Hector asked.
Brown had clocked in at 46.653 mph on his rickety 125-cc pile of BSA and Harley scraps, setting a record simply by virtue of having made it to the finish line.
It wasn't long before Borcherdt lined up for his run. Soon a yellow flash streaked across the flats as the Nova Scotia man living on borrowed time tore off into the horizon, topping out at 149.8 mph before taking off his helmet and gloves, reaching for his phone and calling his wife.
"Just finished a record number," he told her. "Everything's fine."
Then he got back on his bike and went out to try for one more.
Back in the pits, Hector changed out of his leathers, tossed his tools and spare airplane parts into the trunk of the Buick and took his last few steps through the salt. Then he drove through the lake and headed north into the hills overlooking the desert, wondering as he went just how long he could live with the record he had and not the record he wanted.