Prep school standout Thon Maker is the most hyped prospect in the brand-obsessed world of U.S. high school hoops
By Gare Joyce in Paducah, Ky.
Photography by Hollis Bennett
lgevon Eichelberger catches a knee-high bounce pass down on the block and pointlessly tries to fake his defender off the floor. Between the rock and the hoop looms no flower for Algevon. Instead, the six-foot-seven teenager stares at a figure who would look back at you in a hall of mirrors. Thon Maker stands flat-footed, arms extended, the tips of his pencil-long fingers up around nine feet or so. Given Maker's 33-inch vertical, Eichelberger's shot would hit him in the underarm if he jumped. Not quite undaunted, Eichelberger launches himself elbow- and hip-first into Maker's lower torso in a craven attempt to draw a foul.
Maker doesn't block the shot. He catches it. Whistle.
Maker knows it's his third foul—undersized opponents have gotten the benefit of the doubt all season. He goes to the sidelines two minutes into the second quarter, his team from Orangeville, Ont., down 17 to Prolific Prep of California. His disappointment is matched by that of the local hoops fans in the stands: Maker is a top-ranked recruit of the University of Kentucky Wildcats, the powerhouse that advanced to the Sweet Sixteen the day before in Louisville, Ky. A videographer from Ballislife.com, the go-to site for hoops mixtapes, is just as let down: no chance to add to the expanding archive of clips from Maker's games.
Insiders, though, saw this coming. "Teams have had success against Maker and Orangeville by going physical with them like Prolific," an assistant coach with a Div. I team notes. "Now things will open up for the other guy everyone wants to see… a future first-overall pick."
The other guy is 16-year-old Josh Jackson, who's raining treys over Orangeville, slashing to the hoop on his way to a game of 21 and nine, hitting open teammates when he's double- or triple-teamed. Coming out of Detroit, the six-foot-seven Jackson is advertised as the second coming of Earvin Johnson. He lives up to the hype and even transcends it—his stroke from three-point range is purer than Magic's ever was.
In the second half, Maker re-enters the fray and leads a furious Orangeville rally with a couple of thunderous dunks. He swats a pair of Prolific shots into the laps of famous NCAA coaches in the stands. A player pulling down a rebound, putting the ball on the floor and going coast to coast is commonplace, but a lot less so when he's a seven-foot-one, 215-lb. 18-year-old like Maker. Impressive though he is, Maker and Orangeville lose to Prolific 66–62 and drop to the consolation round in their last tournament of the season.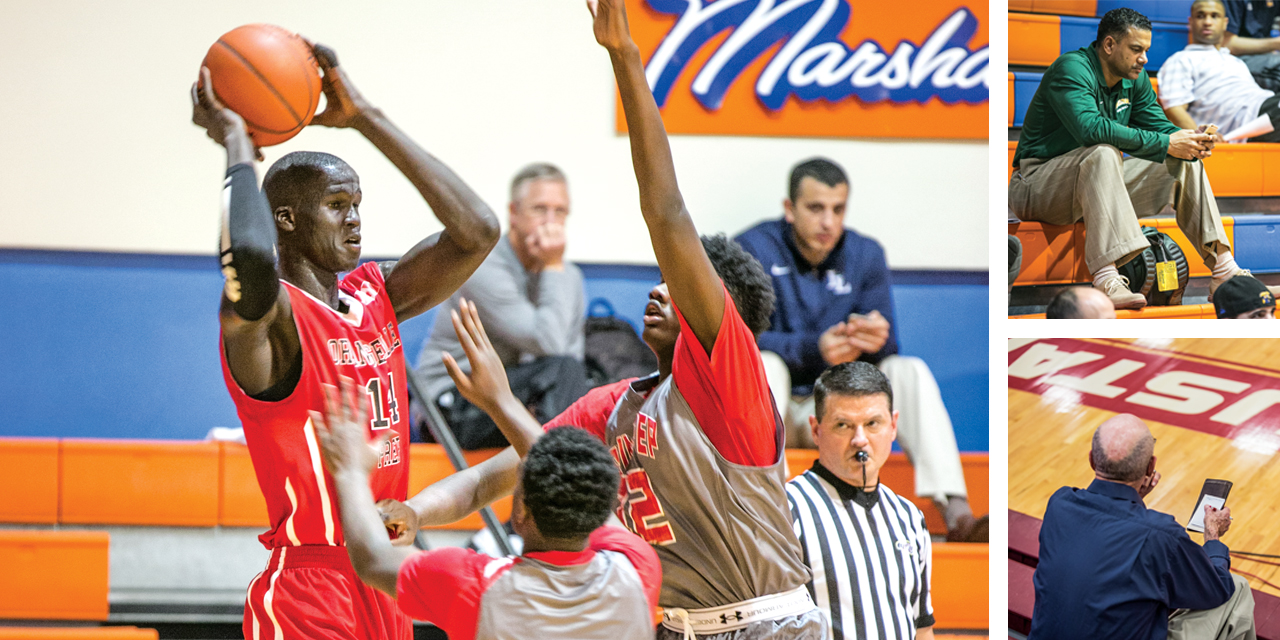 It seems Maker has spent the past eight months trending on Google. Media couldn't resist the story of a young man who left Sudan at age six and grew way up in Perth, Australia. ESPN helped drive the interest when, last summer, the Worldwide Leader ranked Maker No. 1 among all players eligible to start college in the fall of 2016. Grantland explored the semiotics of the phenom. ESPN Films produced a feature on Maker's work with Justin Zormelo, a mathematician specializing in basketball analytics. Millions, then, knew Maker's name, but only hundreds had seen him in the flesh.
To tell the story of Maker, you must pass through the looking glass that leads to the U.S. prep basketball circuit. In this hardwood wonderland, teenagers throw down dunks that generate hundreds of thousands of views on YouTube. They'll cross the continent or even an ocean in pursuit of the right opportunity. If they sneeze, an NCAA coach will say, "Bless you," and a shoe-company rep will hand them a Kleenex. They go from boys to brand names. In other words, this isn't your father's varsity team, nor that of any high school you ever attended. Prolific Prep is a case in point.
Prolific didn't exist nine months ago and wouldn't exist without Josh Jackson and his mother's love. Last summer, Jackson made a trip to California and liked the state so much he was inclined to stay. Enter Jeremy Russotti, the Thomas Edison of the playground, inventor of the J-Glove and J-Strap training accessories. Russotti envisioned a prep school as a spinoff of his equipment empire, what should have been a layup. As it turned out, the program hinged on the sign-off of Apple Jones, Jackson's mother. Once Russotti sold Jones on relocating, Prolific moved into the prep hoops elite and landed a shoe deal with Adidas before it graduated a student.
Orangeville and Prolific are one-quarter of the field in the Bluegrass Series National Championship held at McCracken County High School in Paducah, Ky., and Marshall County High School in Benton, Ky. Of the six other squads, two are from Texas and one each are from Florida, Indiana, Kansas and North Carolina. A team that plays out of a town an hour north of Toronto seems like an outlier in this "national" event, but Orangeville Prep is becoming a fixture on the U.S. circuit.
O-Prep's first group of players signed on in the fall of 2013. Its basketball personnel, both on and off the court, were drawn from the CIA Bounce program, a Brampton-based organization that sends out teams across the lower 48 on the summer AAU hoops circuit. CIA Bounce enjoyed huge boosts in profile when two alums, Anthony Bennett and Andrew Wiggins, went first overall in the past two NBA drafts; a magnet school seemed a logical next step. O-Prep organizers partnered with the Tipping family, owners and operators of the Athlete Institute in Orangeville, a state-of-the art training complex. They enrolled the players at Orangeville District Secondary School.
In year one, O-Prep landed invitations to select U.S. prep events but failed to make the A-list. "We just didn't have any size," coach Larry Blunt says. "We were going to have to get bigger to compete and raise our profile." This past fall, O-Prep landed Maker and his brother Matur, a six-foot-10 10th-grader, and RSVPs to the Bluegrass Series and other brand-building opportunities began to roll in.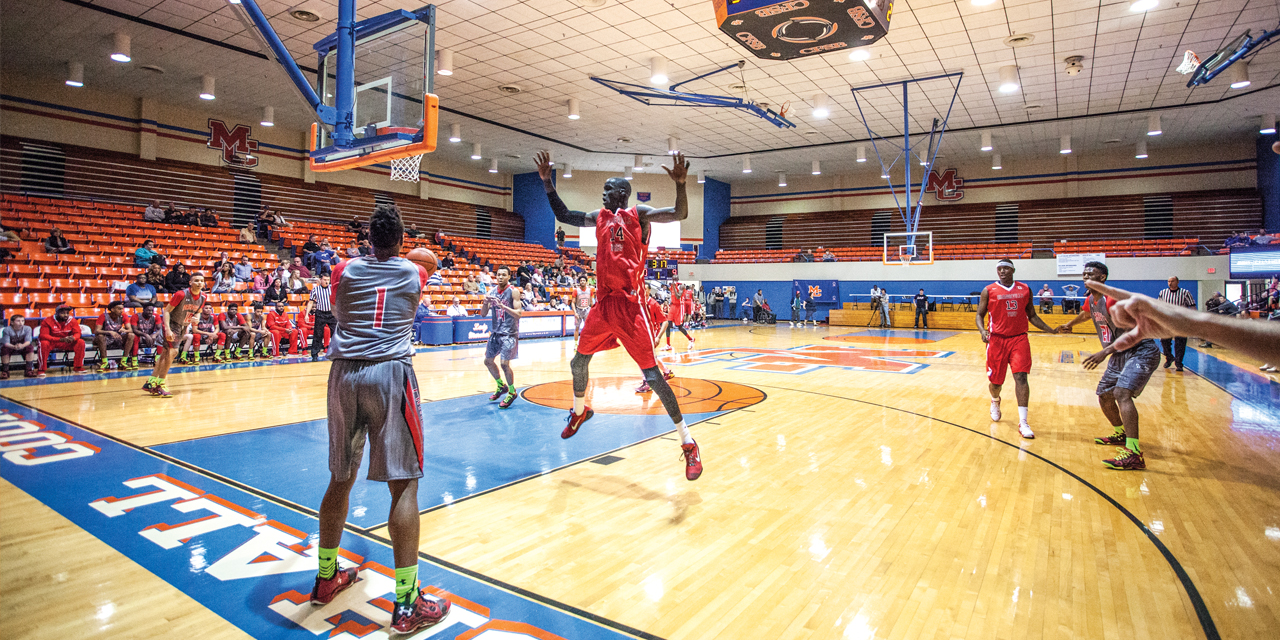 The morning after the loss to Prolific Prep, Maker is trying to blend in with the scenery—in this case the breakfast area in the lobby of the La Quinta Inn and Suites in Paducah. He has brought out his laptop to work on some homework from his data-management course and is digging into scrambled eggs and oatmeal, part of the 5,600-calorie-a-day diet designed to add bulk to his frame. He's wedged into a booth, surrounded by business travellers straight out of the hotel chain's commercials—outside-the-box thinkers, selling machines and game changers. Maker is all of those in one.
"I played soccer when I was growing up," says Maker, an Arsenal fan. "It was when I met coach [Ed] Smith at 12 or 13 in Perth that I realized that I had potential to play this other game and went with him to Sydney to work on my game. And when I went with coach Smith to the U.S. to train at John Lucas's camp, I realized that I wanted to play in America."
Smith helped make that happen. A native of Liberia and a former assistant coach at Chaminade University in Hawaii, Smith became Maker's legal guardian and moved from Australia to the U.S. with him, first to a private school in New Orleans, then to Carlisle School in Virginia. Smith landed Maker in AAU programs, camps and showcase games. Most of the business travellers at the La Quinta probably haven't seen as much of the U.S. as Maker has in the past four years, but for sure they've seen more of their families—the only face time Maker has had with his parents the past two years is on Skype. "This is what I have to do to follow my passion," Maker says. "I have the rest of my life to see my family in Australia. I only have this time now to pursue my ambition and grow. This was the plan."
Coming to Orangeville hadn't been in his plans until he had to make an immigration pit stop. Maker had to leave the U.S. in the summer of 2013 while the USCIS sorted out his U.S. visa. He landed in Toronto while his paperwork was being processed. Looking for a workout, he made his way out to the Athlete Institute and thought the facility outstripped Carlisle's. He returned to Virginia for his sophomore season, joined by Matur, but by the start of the school year, Maker was looking for new challenges. At that point, he remembered the workouts up at the Tippings' gym. "It is good for both of us," Maker says. "I knew that Orangeville Prep could help me grow in a way that I couldn't at Carlisle. And I knew that playing here could get people talking about the school."
It's fair to say that talk about Thon Maker drowns out chatter about O-Prep—to be expected given one of the phenom's mixtapes has been viewed 1.8 million times. With five-star talents, talk among recruiters boils down to one question: Where will he go? In Maker's case, a second unknown kept recruiters guessing: his timing. Though he entered his junior year this past fall, Maker took on an academic load that put him on track to become eligible for NCAA play a year early, a strategy that many top hoops recruits have opted for, Andrew Wiggins among them. His intentions seemed to become clear after this tweet from his Twitter account: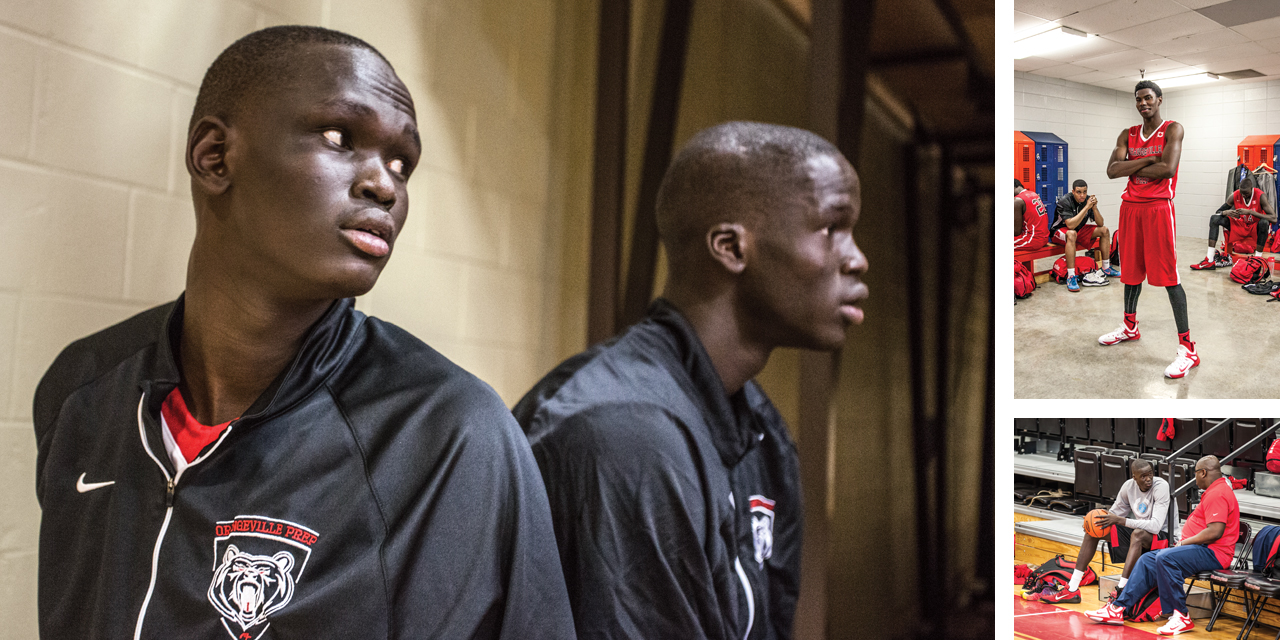 During the winter, Maker managed to balance homework, a hoops schedule of more than 40 games, daily practices (including Christmas Day) and visits to NCAA schools looking for his commitment. Most notable among the suitors were Kentucky's John Calipari and Indiana's Tom Crean, who offered scholarships to both Thon and Matur. The older of the Maker boys doesn't sound like anyone whose head would be turned by a coach's hard sell. "[With these trips] it's not just that the coaches are trying to get me to commit to them but they're showing their schools that they're out recruiting top players," he says. "So when [the five-star recruits] come, it's in the news."
Those coaches seem to be operating under the assumption that Maker will be playing as a freshman this fall, but Maker's legal guardian says it's, well, not a slam dunk. Even if Maker graduates this year, another season of prep might be in the cards. "It's about whether the young man is ready, and we'll be looking at that," Smith says. "We want to keep every possible option open."
Based on an informal survey at the Bluegrass Series, Maker might be motivated to go to the NCAA this year because he's more likely to be a top-three pick in the 2016 NBA draft than the following June. "Josh Jackson is a more finished player at 16, way out in front of Maker [in the 2017 draft class], and it looks like a deeper talent pool," one prep coach says. "And then you might be concerned that the NBA is going to make it a sophomore-eligible draft [instead of one-and-done], and that way Maker would lose two whole years [in the NBA]."
Whatever option Maker exercises, he will undoubtedly hear out Smith, who has been through this before. A father of five, Smith has mentored a legion of Australian basketball players. Some stayed in the U.S. only briefly, others earned degrees, and one, a Sudanese expat named Ater Majok, made it all the way to the second round of the NBA draft. During Majok's single, mostly uneventful season with UConn, program officials regarded Smith as a distraction or worse. That reputation follows him today, with many wondering if, in signing Thon Maker, a college program effectively signs Smith as well—a two-for-one-and-done.
Smith seems more bored than annoyed by any aspersions cast his way. "It's part of the social dynamics of the African-American experience," he says. "If Thon Maker is the No. 1 tennis player and I'm training him and I'm white, nobody would care. There would be none of this 'You're trying to live off this kid' talk. [With black athletes, sports are] seen as a way out. The assumption is that if you're doing something [for a young athlete], you shouldn't be paid for your work or paid later for your work."
Smith admits that he works for Maker's parents, who weren't in a position to relocate to the U.S. or Canada as, say, Apple Jones has to the valley of the grape. But Smith also seems to accept that his work will change at the next level, wherever and whenever Maker chooses to play college ball. "There comes a point when [another coach] can help Thon in a way that we can't, [someone] with a better system, and at that point I have to let go and allow him to go to work," Smith says.

In the consolation game of the Bluegrass Series, Orangeville Prep is in against a school that doesn't exist anymore. Prime Prep of Dallas won't give out yearbooks this spring or hold commencement, but it lives on with this hoops team and in reruns of a reality series starring its founder, Deion Sanders, the Pro Football Hall of Famer known as "Prime Time." The school was never able to shake questions about its legitimacy, its finances and its spokes-icon's alleged misconduct. Just a month after Billy Preston, a touted sophomore from Redondo Beach, Calif., transferred to Prime, the school folded. Nonetheless, the varsity continues to tour, now billed as Prime U, sustained by its deal with Under Armor.
In this game, the difference between Thon Maker the mixtape star and Thon Maker the player becomes clear: the former, the promise realized so far; the latter a teenager who, in the words of the mathematician who works with him, "still has no idea about the game."
The Ballislife.com shooter on the sidelines will capture Maker sprinting downcourt, leaving Prime Prep's big man in his wake, catching the ball in stride in traffic and emphatically throwing it down on his first touch of the second half, his waist up in the eyebrows of defenders. In that clip, he'll look like the franchise players that coach Blunt compares him to: Anthony Davis and the Kevin Garnett of old.
But the videographer will cull the highlights from the night's full body of work. He'll edit out the next trip down the court, when Billy Preston rumbles through the lane and, giving up five inches in height, slams the ball over Maker. Likewise, the tape won't feature the trips when Maker tries to push the ball up the court like a supersized point guard, his five-foot-high crossover easy pickings for Prime defenders. Too often, Maker looks like Ralph Sampson, a seven-foot-four enigma who back in the '80s styled himself as a four or three or anything other than a dominating pivot, as if slighted by anatomical profiling.
With the game tied at 77 and half a second left until the end of regulation, Maker has the ball under the basket and is hacked on the way up. The ball rolls off the rim, so with no time on the clock, Maker has two shots to put the game away. Maker has an impeccable stroke and has shot around 80 percent for the season, but both attempts rattle out. Overtime.
In the extra frame, Maker's struggles continue, but not for long. Two trips up the floor, a ref whistles him for his fifth foul. He watches on the sidelines as his brother, Matur, tips in a missed free throw in the last 20 seconds to seal a 90–83 victory.
As Maker walks off the court, fans line up to ask him to sign autographs and pose for photos. Said one 12-year-old with Maker's hand on his shoulder: "I saw you on YouTube. You're even bigger up close."
Bigger than you imagined when you're standing next to him, yet somehow smaller when watching him from the stands; an unfinished player but one who's just getting started; a junior but a senior, perhaps: The paradoxes in Thon Maker's life will sort themselves out by the time the young man becomes a brand.