Roy Nelson knocked out Antonio Rodrigo Nogueira with his patented right hand in the main event of Friday's UFC Fight Night event in Abu Dhabi.
Nelson dropped Nogueira early with an uppercut-right hand combo, but the legendary Brazilian showed resilience and got back to his feet where he pressed forward. Unfortunately for Nogueira, Nelson found his range and rocked him several more times before landing a massive overhand right that put out the lights.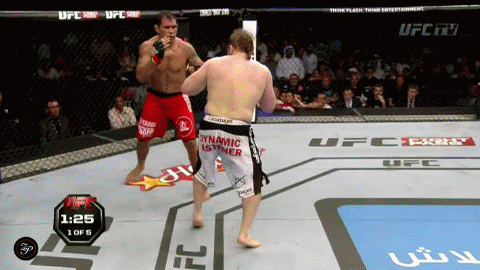 "Anytime you beat Big Nog — I mean, he's a legend," a humble Nelson said after his win. "My goal was to get a takedown once per round and go five rounds. It just happened that I landed my right hand first."
Nelson (20-9) snapped a two-fight losing streak; all seven of Nelson's UFC wins have been by knockout. Meanwhile, Nogueira (34-9-1, 1 NC) has lost five of his last eight UFC bouts, with all of the losses coming by way of knockout or submission.
---
UFC Fight Night: Nogueira vs Nelson prelims recap
---
In the co-main event, Clay Guida earned an impressive unanimous decision over Tatsuya Kawajiri in an exciting, 15-minute affair.
Early in the fight, Guida landed a huge overhand right that sent Kawajiri falling face first to the ground, but the Japanese star quickly recovered as Guida took his back. For the remainder of the opening frame the two featherweights displayed high-level grappling exchanges. The final two rounds saw several submission and takedown attempts, but it was Guida that maintained dominant positions throughout the bout en route to the victory.
Guida (31-14) is now 2-1 since dropping to the 145-pound division and said after the fight he would be willing to fight back up to lightweight for some "unfinished business." The popular, wild-haired wrestler also called out rising star Conor McGregor.
"After your injury, once you're healed up, you want to fight a real man, there ain't no gold at the end of that rainbow, man. Just a chest-hair sandwich from a mullet with a caveman at the end of it," Guida said.
Kawajiri (33-8-2) has his six-fight winning streak snapped.
In welterweight action, Ryan LaFlare won a unanimous decision over John Howard in a back-and-forth tilt. LaFlare was able to implement a strong wrestling game throughout the bout. Midway through the second round, LaFlare attempted to throw a knee to Howard's midsection but it made contact with Howard's cup. The Boston native was incapacitated for several minutes as the cageside physician examined him. He was able to continue and finish the fight only to come up short on the scorecards.
Also on the main card, TUF 13 finalist Ramsey Nijem picked up a dominant TKO win over Beneil Dariush. Nijem has now won two straight and handed Dariush the first loss of his career.