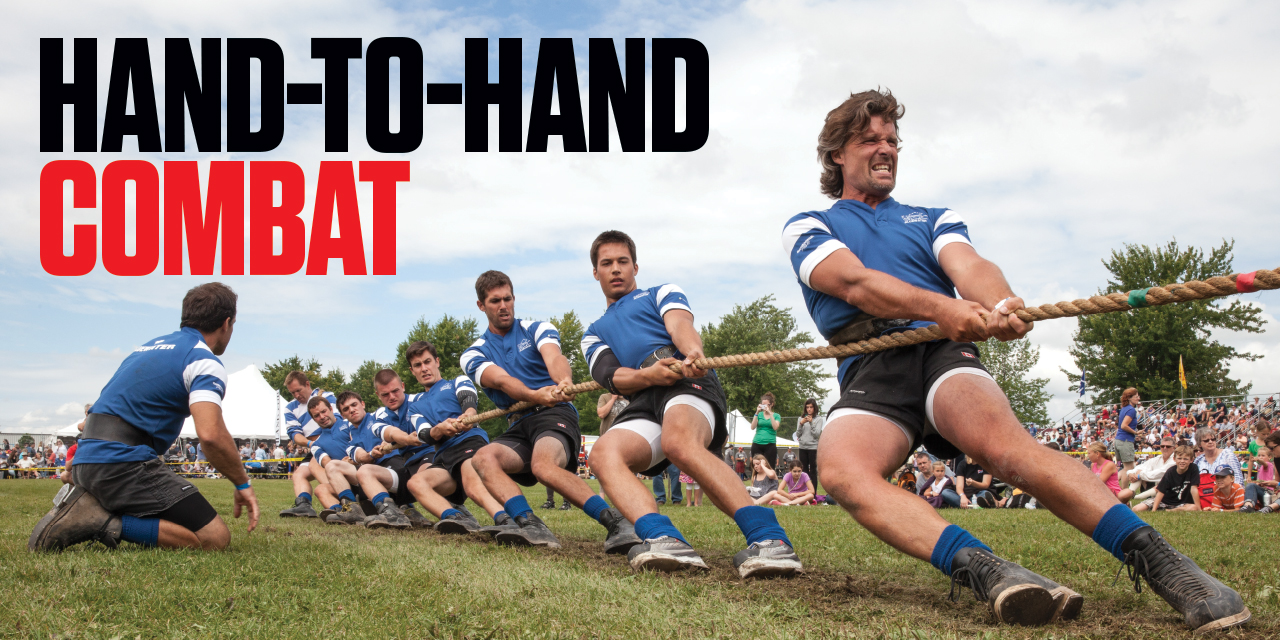 The members of the Bluewater Tug-of-War Club have devoted themselves to a gruelling, often misunderstood sport. Now they have a daunting goal: to be the best in the world.
By Shannon Proudfoot in Dashwood and Fergus, Ont.
Photography by Myles McCutcheon
heir home base, once a pig barn, looks like a fitness equipment museum and a medieval torture chamber set up shop inside a bucolic Ontario produce commercial. There's a stair stepper, weights and medicine balls, all of various vintages and covered in a greasy layer of dust. Then there's the giant metal wheel suspended from the ceiling and the ropes that pass through the walls to pulleys and weights out back. And beyond that, in the soft August twilight, the soybean fields roll in an undulating carpet to the horizon.
In the yard outside, a dozen or so men—they range from late teens to mid-40s, most of them the kind of tanned and toned that comes from working on farms or in trades, not from the gym—are readying themselves for battle. They yank on and lace up the specialized footwear their sport demands: hockey skates, figure skates or in-line skates with the blades hacked off, the soles made of thick plastic kitchen cutting boards trimmed into shape, with a steel plate screwed onto the heel.
"Let's go," someone barks. They stand tallest to shortest in a military-precise line, with an inch-and-a-half-thick hemp rope draped over each man's right boot. "Pick up the rope," their coach commands, and they flick up their feet to grab it. "Take the strain," he calls, and they kick out their left feet simultaneously, the jaunty angle at odds with the savagery with which they drive their heels into the earth. Then the coach sweeps his arms down and yells, "Pull!" The team members haul on the rope and lean back into identical 45-degree angles, their boots marking a staccato rhythm as they step in unison, eating up hard-fought territory an inch at a time. Their training partner tonight, as usual, is a giant plastic drum filled with cement and rigged into a pulley system—1,200 lb. of implacable enemy hovering in the air.
This is the Bluewater Tug-of-War Club. It is not a pack of refrigerator-sized men yanking on a rope with their ham-hock arms or some whimsical schoolyard contest where the winners get an extra scoop of ice cream. Competitive tug-of-war is a haiku of a sport: just a length of rope, a patch of turf and the matching of raw strength and endurance. To be among the best in the world—and Bluewater is edging toward that, despite hailing from a country where their sport is all but orphaned—tug-of-war requires total-body fitness and teamwork so intense its practitioners lapse into mystical language to explain it. "It's heavy-duty," says Rob Hoffman, a founding member of Bluewater and the current "point," or position closest to the centre of the rope. "I've seen some of those teams and had goosebumps because of the power. It's almost artistic—just to see those eight work together, it's like music."
Bluewater has endured for 21 years, fuelled by a handful of guys who fell in love with an oddball sport and just can't let go. They're now retiring one by one, the team they built so dominant in Canada that they effectively have no competition. But on the world stage—which is where they really dream of making their mark—they're underdogs scrapping with countries that are miles ahead. They cobble together their roster, year after year, out of networks of family and friends, hoping enough of them will stick around for the brutally hard work. On weekends, they roof houses to finance their travel to competitions. They do all this while being only too aware that outsiders don't think their sport counts as one at all. "It's over a f–kin' mud puddle, and you get great big guys, your anchor is like 700 pounds, we're not athletes, we don't train," Hoffman says, ticking the misconceptions off on his fingers.
How he ended up here starts out like a Springsteen song. In the early 1990s, he and his younger brothers, Tim and Ted, started pulling just for fun at a festival in their hometown of Dashwood, Ont. (located 100 km west of Waterloo, near Lake Huron). One of the other guys on the team mentioned there was a big tug-of-war competition in the U.S., so the next year, they road-tripped to Milwaukee. Rob was in his early 20s at the time, and Tim and Ted were teenagers. "We got our asses kicked, but we had a blast," Rob says, the scowl he wears permanently while on the rope giving way to a grin. "There were two days of tug-of-war, thousands of people. We drank our faces off, we all met girls and we absolutely fell in love with it." They got tired of getting destroyed at the various festivals where they competed, so they trained harder. In 1994, they formed the Bluewater club by amalgamating the members of a few teams who wanted to compete more seriously, then they started to travel internationally.
The current Bluewater team is bracketed by Hoffmans. Rob, 46, is on point, providing the game-faced intensity; Ted, 38, is a cerebral student of the game—albeit a brawny one—who pulls in the middle so he can communicate with everyone as the captain; and on anchor there's 41-year-old Tim—he's the quietest and most laid-back of the three, but he possesses the crucial quality for his position: donkey-like stubbornness. Tim figures there's no way he and his brothers would have stayed so close without tug-of-war, and Ted loves the brutal simplicity of it. "It's just the pure strength and endurance of your body," he says.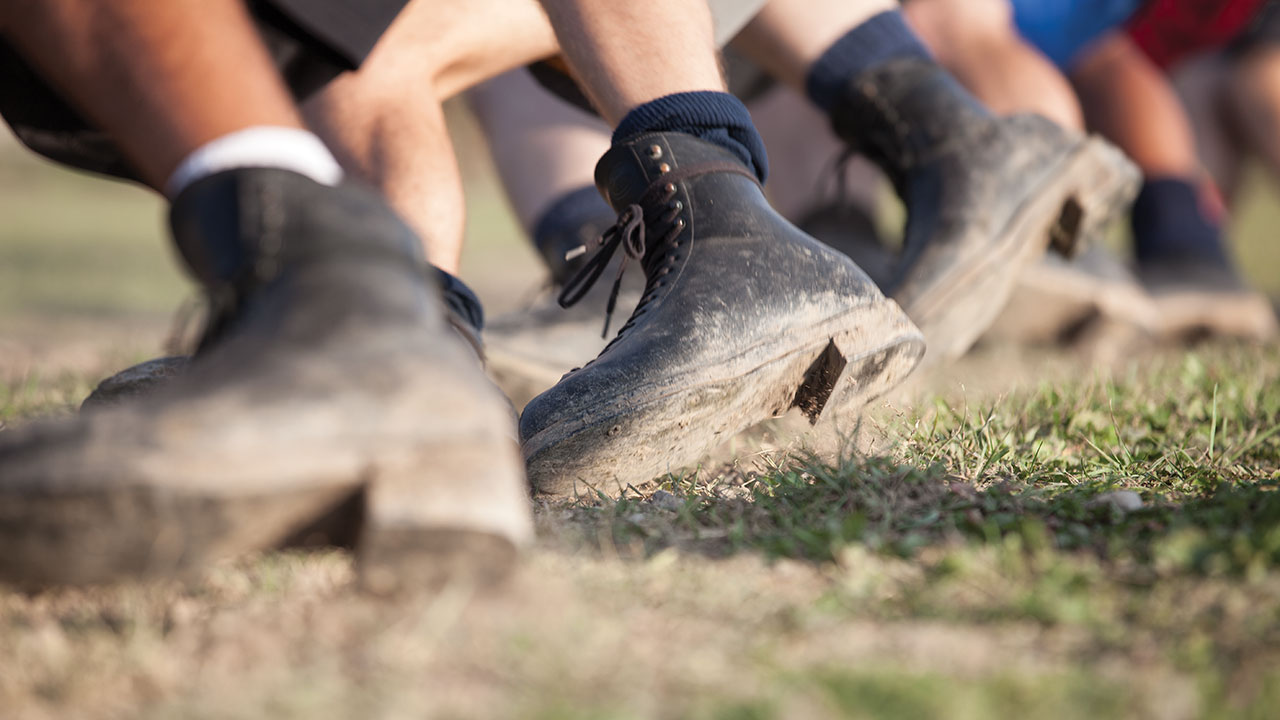 According to the Tug of War International Federation (TWIF), the sport was contested as far back as 500 BC in Greece. It was an Olympic sport between 1900 and 1920, and now, though they know they face an uphill battle, the international governing body is on a quest to get it back in. "That's one of our prime objectives," says Cathal McKeever, TWIF's Northern Ireland–based president. "I don't think anybody realized then what a blow it was going to be." He encourages a dress code for competitive teams because he wants to project a polished image for a sport that's often dismissed as "Mickey Mouse," with teams asked to do humiliating things like pull a tractor for a photo op with the local paper.
The best tug-of-war teams function like a rowing eight—their strength comes from working in instinctive unison. To cultivate this, Bluewater trains twice a week, ramping up to a more intensive schedule every second year for the world championships (the next are in September 2016 in Sweden). All their members live within 10 km or so of the old pig barn, which is located on a Dashwood farm owned by Matt Metzger, one of Bluewater's founding members. He retired last year after fulfilling his dream to pull with his 23-year-old son, Marc, at the worlds. The Hoffmans are the only original members still on the team, but Metzger and two others are still involved daily: Jim Connolly is the coach and Erich Freiter an assistant trainer.
On this August evening, the team is doing a final tune-up before the Fergus Scottish Festival and Highland Games, which will determine who represents Canada at the worlds. One side of the vast, corridor-shaped training space inside the barn has a wooden ladder structure laid down on the floor so pullers can brace their feet against the rungs for traction, and the other side has grooves dug into the cement for the same purpose. On each side, a rope runs through the wall to one of two "gantries" outside—rope-and-pulley systems that allow the team to simulate opponents by hauling drums of cement straight up into the air. The giant wheel hanging horizontally from the ceiling lowers so they can run a rope around it, divide into two squads and pull against each other.
The space is winterized so they can train year-round, but tonight, as they usually do in the summer, the team is working outdoors. A rope stretches from one gantry across the scrubby yard, and the cement barrel wobbles in mid-air, two rusty 90-lb. plates dangling from it. The team—most of them wearing leather weightlifting belts—strain on the rope, vibrating with effort as they fight the gravity clawing at the massive weight. They run drills again and again, varying the weight and reps. The tougher the pull, the quieter the team gets, except for the occasional explosive hiss of effort, a sound like a pot boiling over.
Connolly wants his team to have a style like a cat swatting a mouse around to tire it out before going in for the kill. He trains them to simply "hold" their opponents—controlling the pull, not giving an inch, until they can feel that the other team is spent and the time is right to drag them across the line. "You have to be confident that you can stay on there for 10 minutes," he tells them.
Next, he divides the team into two squads to pull against each other with the rope wrapped around a metal wheel out in the yard. Connolly scuttles around them, adjusting minute details of form and shouting encouragement at the losing team. "Hit 'em back. Now, tighter in that spot, tighter in that spot there. Now drive off it!" he yells, clapping his hands rhythmically. "Come on, drive!" The pullers grunt with effort, the rope creaks on the wheel like a door in a haunted house, and a chorus of cicadas kicks up in the fields.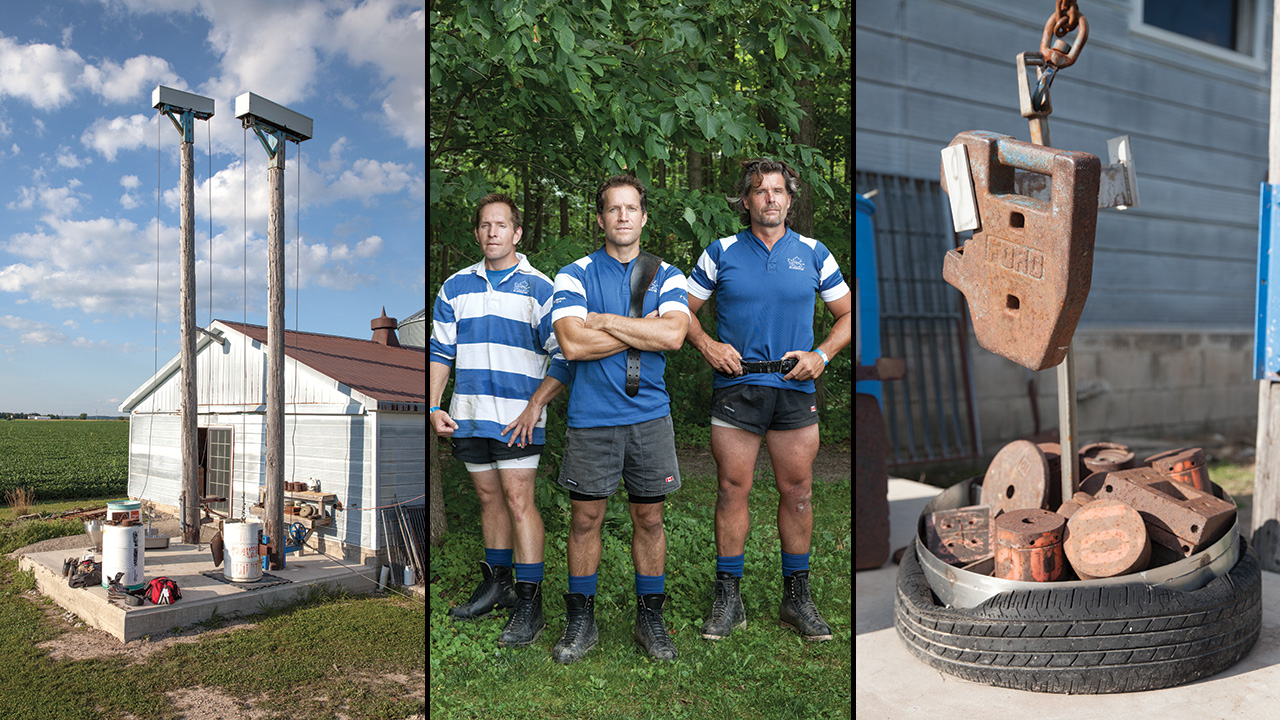 After a long stretching session, the team files into their clubhouse, a plywood-walled room inside the barn. The ceiling is festooned with crests from teams they've met at international competitions, and the walls are covered in local news articles, photos of the team in gritted-teeth competition and countless plaques and trophies. Connolly cracks open an old mustard-coloured refrigerator in one corner and passes out cans of Busch Light: "Here—have your one beer, guys." They sip and confirm plans for the two-hour drive to Fergus, Ont., the next morning, and just as the first of the guys walks out the door to head home, Rob Hoffman calls out, "We don't want to move forward tomorrow—not one step forward."
The next morning, weigh-ins take place in a dreary drizzle on the edge of a stand of trees behind the main field. Dozens of bagpipers and drummers warm up for their own competitions, creating a skull-battering cacophony that, oddly, becomes background noise after a while, a mere swarm of nuclear mosquitoes. One by one, Bluewater and their competitors strip down to their boxers and step on a bathroom scale set on a square of plywood in the dirt. Tug-of-war's obscurity in Canada is apparent in the fact that only four teams, all from southern Ontario, are here to face off in the national championships. In international rules, teams have eight pullers, with separate categories for men, women and mixed-gender teams (only men have come to compete in Fergus). To win an "end," or match, a team must pull their opponents four metres, and they must win two of three ends to take a round. There are different weight classes based on the cumulative heft of a team; at the moment, Bluewater has 16 active members from which to craft rosters for various classes.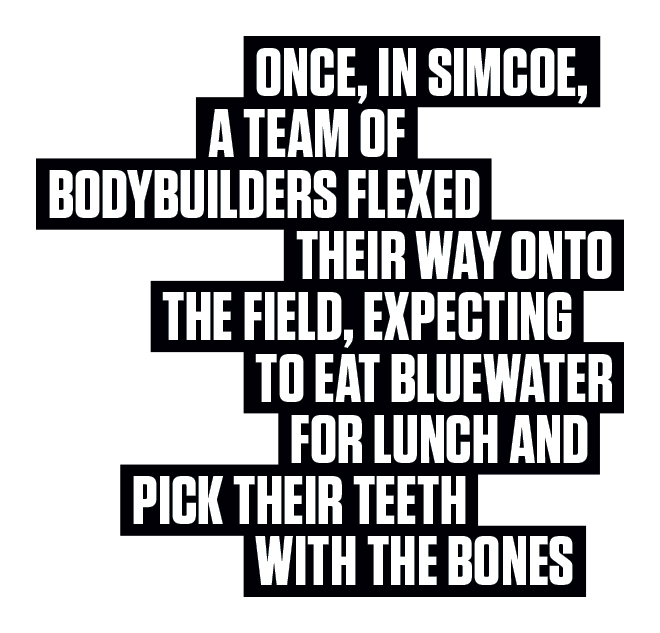 One of their smallest guys had to work today, so everyone else on the lightweight 580-kg team was told to "dry down" because they had to replace him with a larger body. Brandon LaPorte, a 25-year-old plumber, weighed 173 lb. on Tuesday, and spent the rest of the week running 5 km a day wearing a weight vest and drinking very little. He's now very thirsty and weighs in at 164 lb. Kenny Regier, A 26-year-old construction worker, weighed 200 lb. last Saturday, and managed to carve himself down to 178 lb. by eating little more than an apple, lettuce or a hard-boiled egg each day. Immediately after the weigh-in, the two of them and the others who have been trying to make weight start wolfing down sandwiches, Bits & Bites, pepperettes and Gatorade. But it turns out their deprivation was for nothing: The other teams don't have 580-kg squads ready, so Bluewater is the lightweight Canadian champion by default.
None of the Bluewater pullers is any bigger than a hockey forward, and about half of them are as wiry and slight as distance runners. This is typical among competitive teams, but they've been hilariously underestimated at local events. Once, in Simcoe, Ont., a team of bodybuilders flexed their way onto the field, expecting to eat Bluewater for lunch and pick their teeth with the bones. "We said, 'Screw these f–kers,'" Rob recalls. They simply held the huge dudes until they'd killed their stamina, and then the bodybuilders practically threw themselves over the line. "When you get out on a rope, nobody wants to be embarrassed," Rob says. "There's nowhere to hide."
Today, there will be no hiding Bluewater's dominance. For each match, they march onto the field in the order they'll take the rope, and after Rob takes up his position on point, he locks eyes with his teammates and offers a ferocious fist-bump as they file past. The team's sub carries a filthy thermos from which they slurp water, along with a little metal pot filled with "pucky," which they rub on their hands for grip. The pucky sometimes catches fire when they heat it, which is not so surprising given that it's made with pine resin and gasoline. In round after round, weight class after weight class, Bluewater drag their opponents across the line of victory with barely a struggle. Still, the more experienced guys aren't satisfied—they can tell the team wasn't completely unified, and there's plenty to dissect and fix. "We were trying too hard to move a team to win every time in 10 seconds," Ted tells the squad as they warm up for one round. "A couple of times, they were dug in good and we didn't really need to go."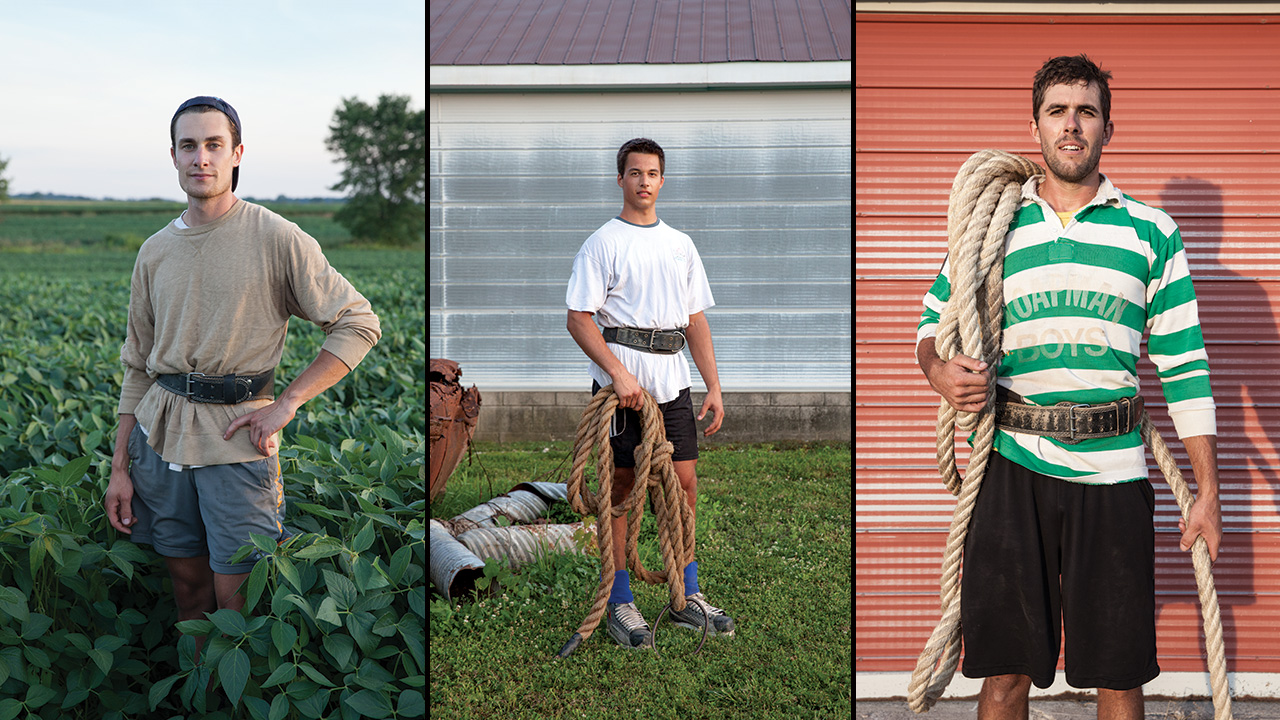 He makes changes to the lineup; they could lose a few rounds if they swap veterans for rookies, but Ted needs to give them a taste of competition and a reason to come back. The team is in perpetual rebuild; they figure about one in 10 people who come out stick with the gruelling training. It's tough to keep new guys motivated between world championships—but Bluewater has big plans.
Last year, at the worlds in Madison, Wis., they finished seventh among 18 teams in the 640-kg class—their specialty and the most competitive category. They punched above their weight, but there were some things they could have done better, so finishing fourth or fifth is within reach next year. Then, they want to bring home the hardware for Canada. "Four years from now, these young guys will have more man-muscle on them, and we should be knocking on the podium," says Rob. "My dream is to be world champions someday." They've heard rumours that the Swiss team that won gold last year basically lives together and trains full-time. That's never going to be realistic for Bluewater, but they still hope for the big time. "We've done a lot from little so far, so you never know," Ted says. "It's David and Goliath—we enjoy being the David." At Fergus, though, they are the undeniable Goliath, emerging undefeated and crowned Canadian champions in the three weight classes they'll contest at the worlds.
Forty-six-year-old Rob Hoffman hopes to keep pulling for another 10 years. Tug-of-war isn't exclusively a young man's game, but he'll know it's time to hang up his boots when he's not giving the other seven guys on the rope "bang for my buck." At first, it was the beer, the girls, the chance to travel with his brothers and stay in fantastic shape that drew him in, but now this obscure sport is simply who he is. "I don't know any different," he says. "I don't know what else I would do on all these weekends when we go to all these festivals."
Hoffman stands under the trees where they weighed in that morning—broiling sunshine has replaced the rain, but the bagpipers are still wailing away in the underbrush—and surveys his crew. He thinks of a tug-of-war team like a team of horses: You need explosive youthful energy balanced by veteran wisdom and "man-strength." He's a bit baffled about when and how he went from one to the other, but he can't walk away now.
This story originally appeared in Sportsnet magazine.