• Humphries chasing third straight gold
• Can Virtue, Moir avenge Sochi silver?
• Kingsbury looks to cap record World Cup run
The countdown to the Winter Olympics is on, and Canada has the potential to leave South Korea with a national-record medal haul.
Four years ago in Sochi, only the Russians (who later dropped to fourth due to an array of doping violations) and the Norwegians topped Canada on the medal table. One international analytics company has projected Canada will come third overall in Pyeonchang, this time earning 33 medals, behind Germany and Norway. That would top the country's current record of 26, achieved in Vancouver.
In other words, there are plenty of podium hopefuls. We've compiled a list of some of the Canadian individuals (or duos, in a couple cases) to keep an eye on as South Korea plays host to the XXIII Olympics, with the opening ceremony set for Feb. 9.
ALPINE SKIING
Manny Osborne-Paradis
Another four-time Olympian, the native of Invermere, B.C., earned a Super-G bronze at the world championships last year, sharing the podium with gold medallist Erik Guay, who will miss the Olympics due to back pain.
BOBSLEIGH
Kaillie Humphries
The pilot from Calgary is looking to win gold for the third straight Olympics. In Vancouver, she and brakeman Heather Moyse became the first Canadian women to win gold at the Games, and at Sochi in 2014, they became the first women to repeat as champions. In January, she clinched her fourth overall World Cup title.
Justin Kripps
The native of Summerland, B.C., heads into his third Olympics (second as a pilot) riding a wave of momentum after winning the overall World Cup title in both the two-man event, and the combined two- and four-man standings.
CROSS-COUNTRY SKIING
Alex Harvey
A five-time medallist at the world championships and a regular on the podium on the World Cup circuit, the native of Saint-Ferreol-les-Neiges, Que., is aiming to add some Olympic hardware to his resumé. He came agonizingly close at Vancouver with a fourth in the team sprint.
FIGURE SKATING
Kaetlyn Osmond
The defending world championships silver medallist heads into her second Olympics having claimed two Grand Prix silvers and a Grand Prix Final bronze in recent months. The native of Marystown, N.L., will be looking to cap an impressive comeback from a broken right fibula in 2014 with her first individual Olympic medal.
Gabrielle Daleman
In 2014 at Sochi, the native of Newmarket, Ont., was the youngest member of Canada's Olympic team at 16 years old, and finished 17th at the Games. Now 20, she arrives in Pyeongchang after edging out Osmond for the Canadian title and as the defending bronze medallist at the world championships.
Patrick Chan
A two-time Olympic silver medallist and three-time world champion, the Toronto native is coming off a 10th national title in January. That victory came not long after what he called his worst international performance ever at Skate Canada, which prompted him to move his training base to Vancouver.
Meagan Duhamel and Eric Radford
The two-time world championships changed coaches and programs in the leadup to Pyeongchang but still enter the Games as the world's third-ranked pair and favourites to claim a medal. Duhamel, from Lively, Ont., and Radford, from Balmerton, Ont., plan to retire after these Olympics.
ICE DANCING
Tessa Virtue and Scott Moir
Back for a third go at the Olympics after walking away following the Sochi Games, the dynamic duo are seeking a second gold medal to go with their silver from 2014. Virtue, from London, Ont., and Moir, from Ilderton, Ont., will be right in the podium mix again, seeking a storybook end to their Olympic careers.
FREESTYLE SKIING
HALFPIPE
Cassie Sharpe
The skier has been tearing up the halfpipe this season and her four podium finishes include a bronze at the recent X-Games in Aspen — despite breaking her thumb. Sharpe, 25, will make her Olympic debut in Pyeongchang.   
MOGULS
Justine Dufour-Lapointe and Chloe Dufour-Lapointe
The Montreal natives became the third set of sisters to finish 1-2 at the Olympics when Justine claimed gold and Chloe silver at Sochi. Elder sister Maxime also competed with them in 2014 but isn't on the team this time around. Justine has a gold and bronze on the World Cup circuit this season while Chloe has two bronze.
Mikael Kingsbury
The native of Deux-Montagnes, Que., has dominated the moguls scene since finishing second to teammate Alex Bilodeau at the 2014 Games. His 48 career World Cup wins are an all-time record and has won 18 of his last 25 events, finishing off the podium only twice.
SLOPESTYLE
Dara Howell
After she won Olympic gold four years ago, Howell felt so much pressure that she took nearly two years off and almost quit. The 23-year-old from Huntsville, Ont., enters these Games as an underdog since she hasn't stood atop many podiums since her Olympic debut in Sochi, but don't count her out.
SKI CROSS
Marielle Thompson
She's the reigning Olympic champion in women's ski cross — but she's also yet to compete this season. Thompson, the 25-year-old from Whistler, B.C., ruptured her ACL and her MCL in October during a crash in training, but she's hopeful she'll be ready to go by race day in Pyeongchang, which is Feb. 23.
Kelsey Serwa
She won Olympic silver four years ago and Serwa, the 2016 X-Games champion, performs well in big events. Expect the 28-year-old from Kelowna, B.C., to contend for the podium yet again.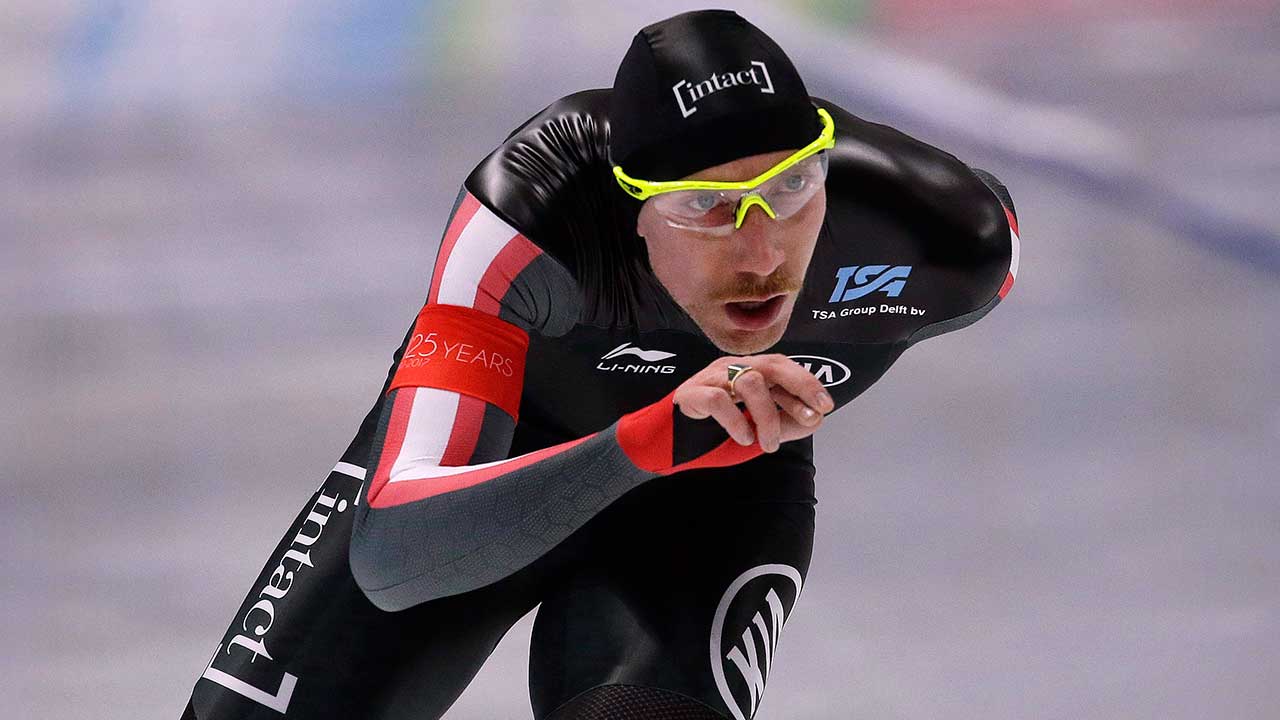 LONG-TRACK SPEED SKATING
Ivanie Blondin
She has taken home a medal in each of the last three world championships, and with the mass start making its debut on the Olympic program in long track speed skating, Blondin — the 2016 world champion — is one to watch. The Ottawa native is also fresh off her first World Cup victory of the season, at 3,000 metres.
Ted-Jan Bloemen
The Dutch-born skater holds the world record at 5,000m, which he set in December. This will be Bloemen's first Olympics competing as a Canadian after he made the switch ahead of the 2014-15 season, hopeful he'd get more opportunities to skate in the country his dad was born in.
Denny Morrison
A veteran on this Canadian team, Morrison is a four-time Olympic medallist. He suffered a stroke while mountain biking in 2016, but has since rebounded and returned to the international podium.
SHORT-TRACK SPEED SKATING
Marianne St-Gelais
This will be the third Olympic Games for the 27-year-old from Roberval, Que., the owner of three Olympic silver medals. St-Gelais will compete in all three individual events, and she's eyeing a gold medal to add to her collection.  
Charles Hamelin
The three-time Olympic gold medallist and 10-time world champion is the veteran on a Canadian short track speed skating team that's stacked with medal hopefuls. After falling twice in Sochi (he still won 1,500m gold), he's back for what's likely to be his final Olympic appearance, at age 33.
SKELETON
Elisabeth Vathje
The 23-year-old from Calgary was one of the most consistent sliders on the World Cup circuit this season, finishing third overall after winning three silver medals and one bronze. Vathje also won a bronze medal at the 2015 world championships.
SNOWBOARDING
Spencer O'Brien
A favourite four years ago as the reigning world champion in slopestyle, she was diagnosed with rheumatoid arthritis just months before the Sochi Winter Games and placed last in the final. Now with medication to control her symptoms, the 2016 X-Games champion is looking to stand on an Olympic podium for the first time.
Max Parrot
Big air is making its Olympic debut and the 23-year-old Parrot is the man to beat, after winning his third straight X-Games Aspen title in January. Parrot was also the top qualifier in slopestyle at the Olympics four years ago, but went on to finish fifth.
Mark McMorris
The Regina-born snowboarder is looking to add to the Olympic bronze medal he won in slopestyle four years ago. McMorris, 24, made a comeback last season—he ruptured his spleen and broke his jaw, arm, pelvis and ribs in a back country accident. Then he won his first event back, and added bronze in slopestyle at the X-Games in Aspen earlier this year.