Calgary's Pathway to the Podium Series highlights 10 local Canadian athletes on their backstories and hopes in Pyeongchang. Kaillie Humphries is one of them.
Am I good enough? Have I done enough?
Two Olympic golds. Four world titles. Twenty-two World Cup victories.
Do people like me? Do they accept me for more than just the medal?
2014 Team Canada closing ceremony flagbearer. Lou Marsh Award Winner. Pioneer in advocating for four-woman bobsleigh.
Are these my friends? Are they my fake friends?
It may seem hard to believe, but these are some of the questions that pop into the mind of one of the greatest athletes in Canadian history. But underneath all the medals, all the tattoos, all the power her body possesses, she can sometimes feel like the same girl who had lonely rides up the chair lift at the ski hill. Who had jello stuffed in her sleeping bag and was made fun of because she was 'different.'
Bullying hurt Kaillie Humphries. It also made her stronger, more focused, more tenacious, more dedicated. One thinks of the Bob Marley quote, "You never know how strong you are until being strong is the only choice you have."
At 32, Humphries admits the strength can sometimes give way to the strain of her youth.
"Those feelings 100 per cent come back," she said. "I pull away from people."
"I get in social situations still now when I'm like, this is a lot. And someone will say something or someone will do something, and I do I think definitely go into that place where I feel insecure."
How does someone with the confidence to barrel herself and others down a sled at over 135 km/hr pull herself out of the pit?
One refuge is and has always been the gym. She puts her headphones on and goes to work, focusing her energy away from the negativity, yet paradoxically dealing with it head on. The other is engaging with those she truly trusts, like family and close friends, including her rival from the United States, Elana Meyers Taylor.
"I know it's more than just a sport when I hang out with her," she said. "I make sure that I go find those people or those scenarios and do what I can to get through until I can get back to feeling myself again."
An irony from Humphries' past is how she's gone from being picked last for activities to being the one everybody wants to be with. After nearly a decade of sustained excellence, no one doubts Humphries' authority and leadership. One of the biggest questions throughout the World Cup season was who would be in her sled with the departure of Heather Moyse, who she won those two Olympic golds with, (Moyse has come back to the sport and will race with Alysia Rissling.) For much of the last few years, it was Melissa Lotholz, but this year, Humphries ended the year with two-time Olympic hurdler Phylicia George. On Monday, it was confirmed George got the spot.
It was a process Humphries made no qualms about.
"It's important for people to understand," she said. "I don't sacrifice as much as I do, these girls don't, the team, the coaches, our country doesn't sacrifice as much as it does for us to be complacent."
"There is a mutual respect within our team on that."
Speaking in November while still with Humphries, the 24-year-old Lotholz was as level-headed one could be given the circumstances. The former track athlete moved to Calgary full-time before even trying out for the team, knowing she could likely move right back up to Edmonton if she didn't make the cut. But not only did she make it, she ended up with the best pilot in the world.
"I think a lot of the beginning, I think I was a little star-struck by Kaillie," she said. "Went literally from watching her win gold in February 2014 at the Games to sliding with her in December of that year, my first World Cup race."
"But I've always been that kind of person, and it's one of those things to growing up, the values of growing up on a farm that's just taught me, if you're doing something, go all in."
She may not be in Kaillie's sled, but she's achieved her Olympic dream and will ride with Christine de Bruin.
"Whether I'm on top of the podium singing O Canada at the Games or if I'm not, if I'm in a different sled, if I'm in a support role of some sort, I do believe that the journey's worth it and there will be a harvest of some sort," she said.
While Melissa's Olympic journey is beginning, Kaillie's could become unprecedented. No bobsled pilot has ever won three gold medals in a row. Humphries insists the idea of going down as the greatest of all-time is not her motivation, but rather how far she can push herself and the ongoing advocacy to make four-woman bobsleigh a reality. She made history in 2015 as the first woman to pilot with three men in World Cup and world championship competition, but it's still just two-woman three years later at the Winter Games. The desire to win has evolved into changing the sport forever, along with others like Meyers Taylor.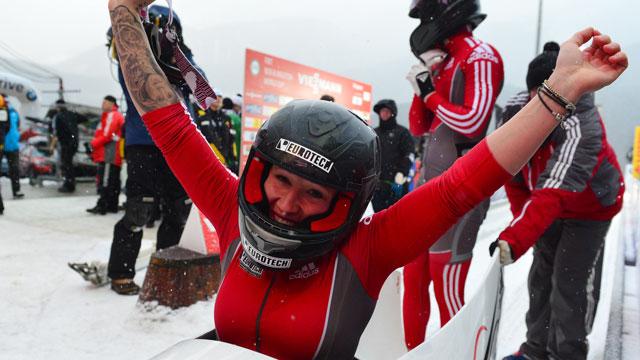 But all that being said, the thought of cementing her own legacy – in case it somehow hasn't been already – has crossed her mind. A few times.
"I'd be lying if I said I didn't think about it," she said. "There is a little bit of me that is like okay, yes I want to be the best and that means the best right across the board."
"But like I've said before, it's important to me to leave something and leave the sport in a greater place than when I came in."
As Humphries prepares for her next Olympic battle with all the high hopes, expectations and dreams for the future, there exists a compelling dichotomy of being an example between when her helmet is on and when it's off. On the track, she's trying to show she and other women can compete like everyone else. Off it, she wants people to celebrate their differences – and for their differences to be celebrated. Yet the two desires arrive at the same finish line.
Acceptance.
"I really want every person and every kid to understand that it's not okay to treat somebody badly or to put somebody down because they're not your version of what you deem to be acceptable," she said. "Every single person faces an inner battle within themselves on a daily basis and we need to spread more love."
Lucas Meyer is a reporter and producer for 660News in Calgary. He is also the play-by-play voice of the University of Calgary Dinos basketball teams. Follow him on Twitter @meyer_lucas.