GANGNEUNG, South Korea – The International Skating Union is increasingly urging its officials to penalize inactive skaters who get too close to the track during the organized confusion of short-track relay races, and the Canadian women's team lost an Olympic medal as a result.
Kim Boutin, already a double bronze medallist at Pyeongchang 2018, inadvertently glided near the South Korean and Chinese finishers at the end of Tuesday night's wild race, and while there was no contact, her presence was enough to trigger the call.
Nathalie Lambert, a three-time Olympic medallist from Montreal who now chairs the ISU's short-track technical committee, explained that the push is designed to prevent countries from using inactive skaters to strategically cut off potential passes, and to help prevent dangerous crashes.
In this case, there was no intent on the part of the Canadians, who rallied to finish third in the final after a South Korean skater slipper at the end of Lap 24 and caused Valerie Maltais to fall. That dropped Canada from first to last, and amid the ensuing chaos, Boutin ended up in the wrong place at the wrong time.
Man, that short-track.
"More and more we are calling that, I think it's the first time in an Olympic race this happened, unfortunately, and I think Kim had no idea," Lambert said in an interview with Sportsnet and the Toronto Star. "She was looking for her skater and not paying attention to the ones finishing, but she was in the way. There was a lot of confusion she was in the wrong place.
"This one is a disappointment because they were really competitive. We've seen relays where China and Korea are far ahead, and Canada is battling for bronze. This was a really good race."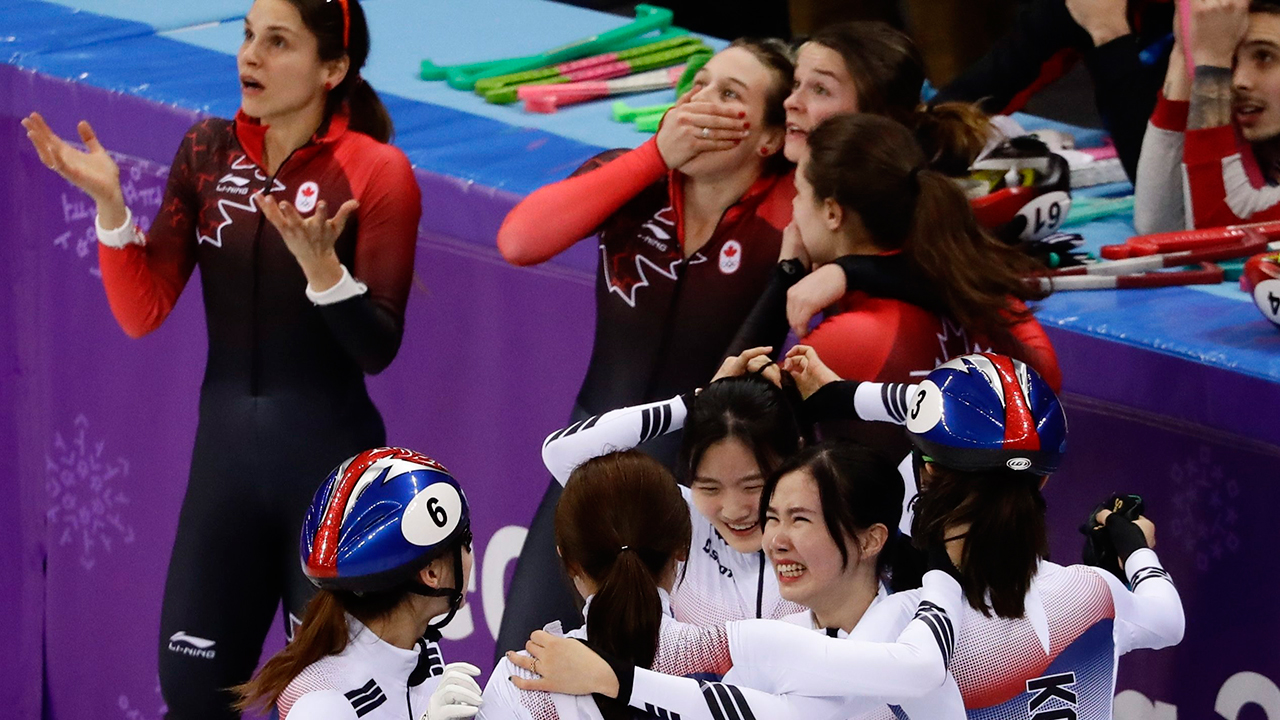 The explanation, which the Canadians had yet to receive when they passed through the media mixed zone, will do little to placate the team of Boutin, Maltais, Marianne St-Gelais, Kasandra Bradette and Jamie Macdonald, who stood off to the side, arm-in-arm, awaiting the decision.
They wondered if the South Korean team might be penalized for impeding them, bumping them up a spot on the podium, but Boutin and St-Gelais both cupped their mouths, aghast when their penalty was flashed up on the board.
South Korea won gold, China was also penalized, Italy went from fourth to silver and the Netherlands, who won the B final, were promoted to bronze.
"Even if we get the result, nothing is going to change – I don't think we deserved that penalty," said St-Gelais. "We were skating so well. Girls were sharp, girls were there, energy was on point, too. Yeah, I'm really disappointed because honestly, we worked so hard for that."
Later, she added: "I thought three teams were going to get disqualified before us."
and get penalized in 3000m short track relay, pushing the Netherlands up to bronze medal position from the B Final.

Drama on the icehttps://t.co/zpQbFvSkx3 pic.twitter.com/3zYwKd8H3C

— CBC Olympics (@CBCOlympics) February 20, 2018
On the World Cup circuit, officials send coaches a video clip of any offence that leads to a penalty, providing an instant explanation, but during the Olympics, the ISU hasn't been able to do that, said Lambert.
That only added to the confusion, and frustration.
In June, the ISU is expected to approve a motion in which either the referee or some other official will announce to the crowd not only that there was a penalty, but also offer a brief summation of what precisely the violation was. Think of an NHL referee explaining a goal review.
"We're going to say impeding at the finish line, non-competing skater, something like that, so everybody knows," said Lambert. "That's the next step."
That should help to clarify things down the road, but as the Canadian women struggled to come to terms with what happened, their coach Frederic Blackburn was left reviewing the team's own video, guessing that the penalty was called on Boutin.
St-Gelais was on the track at the time, getting after it to close things out, while Boutin "was looking and going there and she was there when the Koreans and Chinese finished," said Blackburn. "They almost had contact but they didn't touch. From my video I didn't see anything."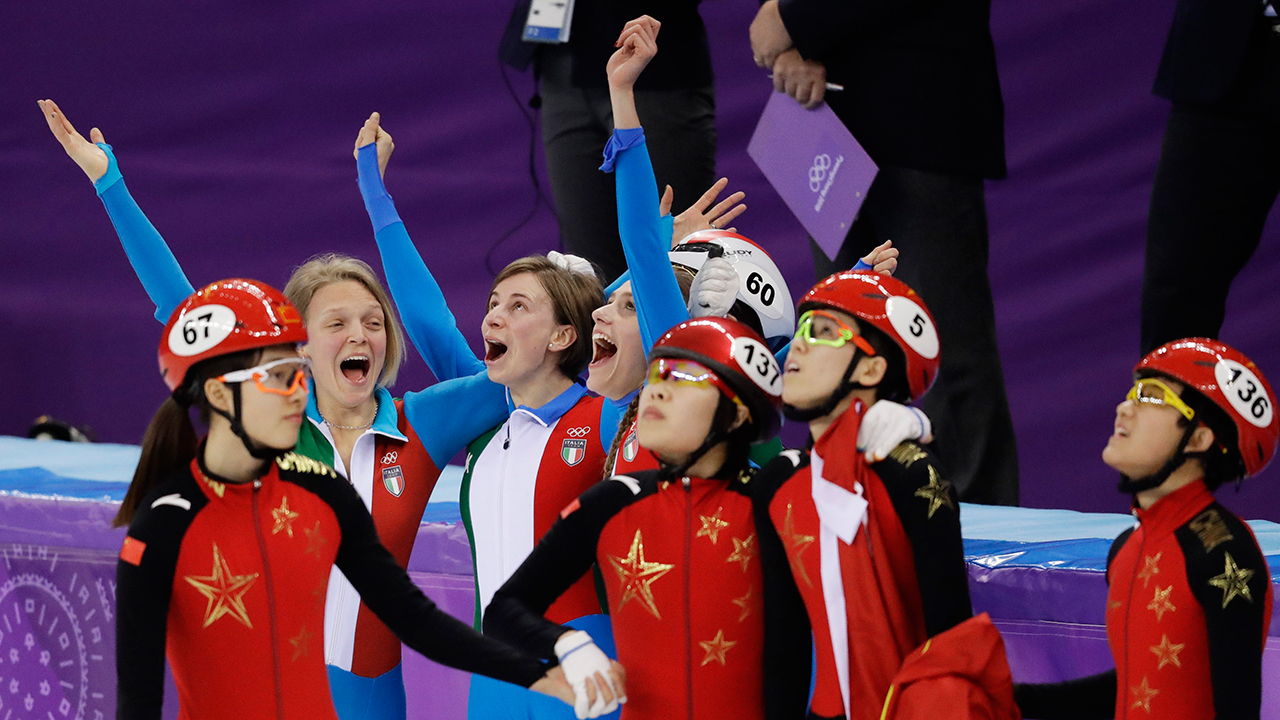 Regardless, that was enough to spoil what to that point had been a strong effort against a South Korean relay team that has dominated the World Cup, and has piled up medals at these Games. Blackburn made the point that in short-track, teams have to be prepared "to have some bad moments" but he found lots to like in the performance, if not the result.
"What we saw is we are on our game," he said. "The Koreans are so strong, they won almost all their relays this year and they were afraid of us. I was proud because my girls weren't afraid of anyone in that race. That's the most important thing for me."
How could he tell they were afraid?
"By the kind of race they skated," he replied. "They were waiting, looking, they knew we were going to be there at the end and they knew our style during the race to control the front and change the momentum of the race. They were afraid of us about it."
It wasn't to be.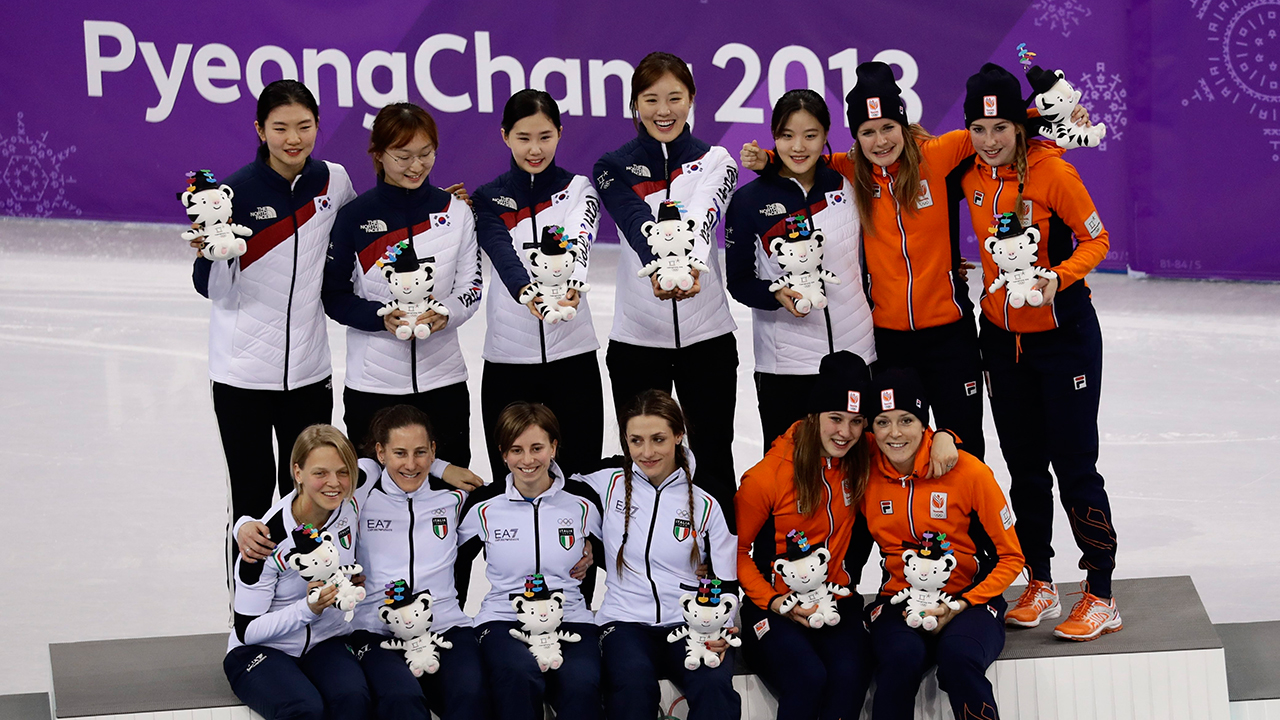 Earlier in the night, Boutin, from Sherbrooke, Que., won her 1,000-metre heat to qualify for Thursday's quarter-finals while St-Gelais, from St-Felicien, Que., and Maltais, from Saguenay, Que., each advanced second from their groups.
On the men's side, Samuel Girard of Ferland-et-Boilleau, Que., won his 500-metre heat to reach Thursday's quarters while Charles Hamelin of St-Julie, Que., continued to have a tough Olympics, getting penalized for the third time in three events.
The disorder is something skaters learn to accept and live with.
"You know what, I chose short-track for the good and the bad sides, and at the Games well, I've been having a little bad sides," said St-Gelais. "But I still enjoy my sport, enjoy short-track. The thing is we were doing an excellent race. We were first. I pushed Kass first in my second-last exchange. I was like man, I'm ready for the two laps at the end. I was like, we have to do it, I was ready. And that's the part that's pissing me off a little bit, is I'm still hungry. I didn't fight for my position, I didn't fight for my medal. I'm still enjoying my sport. That's short-track."
For better or worse, as the Canadians have demonstrated in Pyeongchang.
[relatedlinks]