GANGNEUNG, South Korea – In the morning before her final ever skate at the Olympics, and perhaps the final skate of her career, too, Meagan Duhamel felt especially at ease during practice. She and partner Eric Radford sat third in the pairs competition and knew they needed one of their best performances ever to finish on the podium in a deep field. Yet that "scarily calm" feeling persisted once she got back to her room and again at the Gangneung Ice Arena and the 32-year-old wasn't sure what to make of it.
Should she try to pump herself up, she wondered? Unable to hold it in, she turned to Radford and flat out said, "I'm feeling really calm right now." He was relieved. "Me too!" he blurted out.
"It was like a little bit of an epiphany," he said. "But we usually are on the same page. It really was right where we needed to be, and we're both just so happy everything worked out in the best way possible."
Calm in the face of a record free program by Germans Aljono Savchenko and Bruno Massot that threatened to leave them fourth, calm after her hand touched the ice on a triple Lutz, and calm in the face of the end to their skating lives, Duhamel and Radford delivered and found completion.
Landing their throw quad Salchow during a season-best free program that earned a score of 153.33 for a total of 230.15, the two-time world champions won Olympic bronze in what sure sounded like their last event. To get there, they needed a fall by Evgenia Tarasova on a throw triple Salchow during the final pair that squandered the second-best short program she and Vladimir Morozov delivered a day earlier.
The wait in the green room for the Russians' scores to pop up was agonizing – Duhamel held Radford's hand and, in need of some hope, said, "I think we did enough," to which he replied, "No, I'm not going to believe it till the marks come up." Then they flashed, 143.25 in the free to put Tarasova and Morozov in fourth at 224.93, and the Canadians screamed, the fantasy ending they dreamed of in hand.
"Holy crap," Radford later said of the moment.
"Whooo," added Duhamel.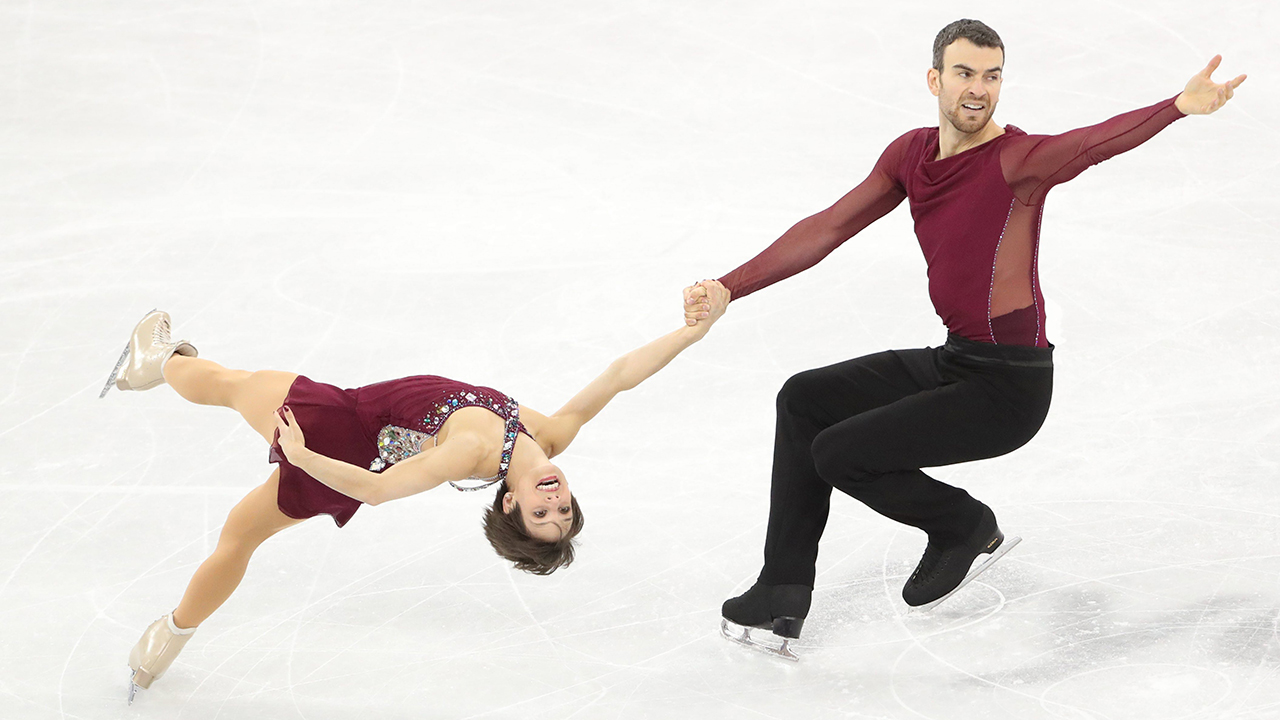 Bronze medallists Meagan Duhamel and Eric Radford of Canada. (Tatyana Zenkovich/EPA)
Savchenko and Massot won the gold at 235.90 while the Chinese duo of Sui Wenjing and Han Cong, the penultimate pair whose 153.08 in the free was lower than Duhamel and Radford but enough to bump them down thanks to a stronger short, claimed the silver.
The bronze medal in Pyeongchang was far from a certainty for the Canadians, especially after Radford suffered through back troubles at the world championships in Helsinki last year and the duo finished a startling seventh.
At that point, they were a team in crisis, and not because of concerns over Radford's injury. They had long been frustrated with their programs, their music and their choreography and the poor showing provided them with the impetus to make some changes.
In June they fired coach Richard Gauthier and replaced him with John Zimmermann to work alongside coach Bruno Marcotte, who is also Duhamel's husband. In recent weeks, they returned to the free program using Adele's Hometown Glory with which they won the 2016 world championships, bailing on a long program to music by Muse.
So much tumult heading into the final months of an Olympic leadup is far from ideal, which is why Duhamel said the bronze, "feels like gold."
"It's easy to forget the really hard times when you're in the middle of an incredible time," said Radford. "When I look at how far we've come and what we went through last season, what I find really funny is David Pelletier, I talked to him after worlds and he was like, 'You know what? Coming seventh at worlds could be the best thing to happen to you guys, because you're going to go into the Olympics under the radar, and that's when you can hit and surprise everybody.' That's exactly what happened."
Duhamel joked about how the bronze completed the set for them, to go with the team event gold they won earlier this week and the team event silver they helped win at the Sochi Olympics.
But it also filled a hole, too, as they finished seventh in 2014 and both felt dissatisfied with the performance. At practice in the morning, Radford made a point of telling Duhamel no matter what happened they should be proud of what they'd done, skating in the final group at the Olympics, and to make a point of savouring the experience.
"I remember leaving Sochi so disappointed, I remember going outside and seeing my parents and my husband and crying out of disappointment," said Duhamel. "Today I was like, 'I don't care what I do, I refuse to cry because I'm disappointed when I get off the ice.' And that was really the mission. So for me, I feel like this completes it because I got to have my Olympic moment.
"That was the only thing I felt was missing in my career."
This is the first EVER throw quad salchow in #Olympics history and it was performed by #CAN's @mhjd_85 and @Rad85E

MORE: https://t.co/DvCL7s6PUk pic.twitter.com/0Eb792zXeU

— CBC Olympics (@CBCOlympics) February 15, 2018
They both demurred when asked whether they'll skate in the world championships next month, joking that on their current high they feel it would be easy to skate a clean program again.
But for now, they plan to stop training for the rest of the Olympics, enjoy themselves and their medal win and appreciate what they accomplished.
"We don't ever have to do a throw-quad again," Duhamel beamed. "We landed the last throw-quad we tried! That makes me happy."
The feelings were mixed for Marcotte, her husband and coach, as he contemplated the day.
After Duhamel and former partner Craig Buntin failed to qualify for the Vancouver Olympics, Marcotte suggested she and Radford try skating together and then to stick with it when at first it went poorly.
Since then, they've developed a deep trust and faith in one another, her "as this extrovert, fiery, me as this quiet introvert, kind of yin yang, water, fire," in the words of Radford.
"Happy and sad," is how Marcotte encapsulated his feelings. "Extremely happy because they've worked so hard. I see the sacrifice, I live the sacrifice but it's not a sacrifice for her, she loves it … and she wanted that so badly. She was realistic coming here that she was going to have to have the skate of her life to have a chance to be on the podium. She knew that. And she did.
"So of course, I was thrilled. But at the same time, this is the end of an incredible journey, this is the end of something special."
What a way to go out.