GANGNEUNG, South Korea – Gabrielle Daleman heads into the short program at the Pyeongchang Olympics on Wednesday morning with some momentum after she edged out teammate Kaetlyn Osmond for the women's title at the Canadian national championships last month.
The 20-year-old from Newmarket, Ont., has been on quite a ride over the past 12 months, claiming bronze behind Osmond's silver at last year's worlds, undergoing surgery to remove an abdominal cyst, speaking out against bullying and preparing for her second Olympics.
She was only 16, the youngest Canadian at the Games, when she finished 17th at Sochi but already in Pyeongchang she's helped Canada win gold in the team event.
In the leadup to the Olympics, she sat down with Sportsnet to discuss her programs, her skating and why she decided to speak out about bullying.
SN: What's different about you as an athlete this season, compared to last year?
Daleman: I did a lot of mental training in the summer (with sports psychologist Judy Goss), which is actually amazing because I've never felt more mentally prepared for a season in my entire life. I run through programs in my head, what we're going to be planning on, what to expect in every day training, at Olympics, at nationals, taking things day-by-day, competition-by-competition.
SN: What kind of self-talk do you do with yourself now?
Daleman: It really depends on the day. There can be days when I'm really hungry and my training-mate Javier Fernandez will skate by me and we'll be like, there's 22 minutes and then we can eat. Or there are days where I'm like, 'OK, just don't fall, I'm too tired. Let's just do a program and don't fall.' So there are days like that. I am a very serious person but I don't really act like it on the ice. I try to have more fun, I try to just enjoy myself and at the same time, I'm very serious even though I may not look like it.
[relatedlinks]
SN: How impacted are you by your surroundings, the crowds, their reactions when you're skating?
Daleman: I'm very aware of the crowd but when I get out there and I look at the rink and I see the crowd before my six-minute warmup, I can feel the crowd's energy. But once my program comes on, once it's my time, everything just goes silent, I don't hear anything. I can hear clapping, but it's kind of like a background noise in a way. I go into my own zipper world where it's just me, no one else is there and I just get to do what I love. It's the same off the ice. I don't pay attention to anyone off the ice. I just do my own thing. I call it my little bubble."
SN: What did your performance at the world championships last year accomplish for you?
Daleman: That was the most eventful worlds. I was sick. I said to my coach, 'I just don't have the energy to do anything.' It was what I ended up needing surgery on and I just remember going into worlds and Manon Perron, I work with her, once a weekend she comes to Toronto, she said to me, 'You have to go into worlds knowing you're going to medal because I know you're going to medal.' I was like, 'No, no, no.' And she was like, 'Gabby, you have to know.' I was like, 'OK, I'm sorry, I'll believe.' So I went into that worlds so confident, even when I wasn't feeling well, my coaching team was confident, my parents and friends were confident, my training-mate Javier Fernandez was confident in me and believed in me more than I did. Before my long program, I remember him sitting there with me for two hours while I did my hair and makeup, watching me and talking to me, and just having that comfort person there really helped me. Honestly, yes it's my job to do it, but it was my coaching team, and my friends and my teammates who really helped me get where I was at worlds this year.
Tessa Virtue & Scott Moir: 'We knew we had delivered'
February 20 2018
SN: Why did you have so much doubt?
Daleman: I'm just a very hard person on myself. My old coaches were very, very hard on me. They always told me if better was possible, good isn't good enough so I never felt like I was good enough. It wasn't until a while ago when my coach reminded me that I am good enough and I'm actually better than I think I am. It just took me a while to trust myself and it was actually at nationals (in 2016) when I first trusted myself. Then I did it again at Four Continents, and then at worlds and I ended up medalling at my first international, and then at championships, so that's what really turned my mindset around, to be confident. The confidence I know I have and that I say I have, but for me to believe it and for me to trust myself and know that I'm actually good or better than I think I am, and when other people see me, really has made all the difference in the world.
SN: Why does confidence matter so much?
Daleman: It matters because if I don't believe in myself, then I'm going to do more damage than good. I don't normally watch myself skate, or necessarily watch other people figure skate, but I ended up watching myself skate and I was like, 'You are better than you think you are, you can do this. People wouldn't be saying they want to be like you or I inspire them if you weren't good.' That really opened my eyes.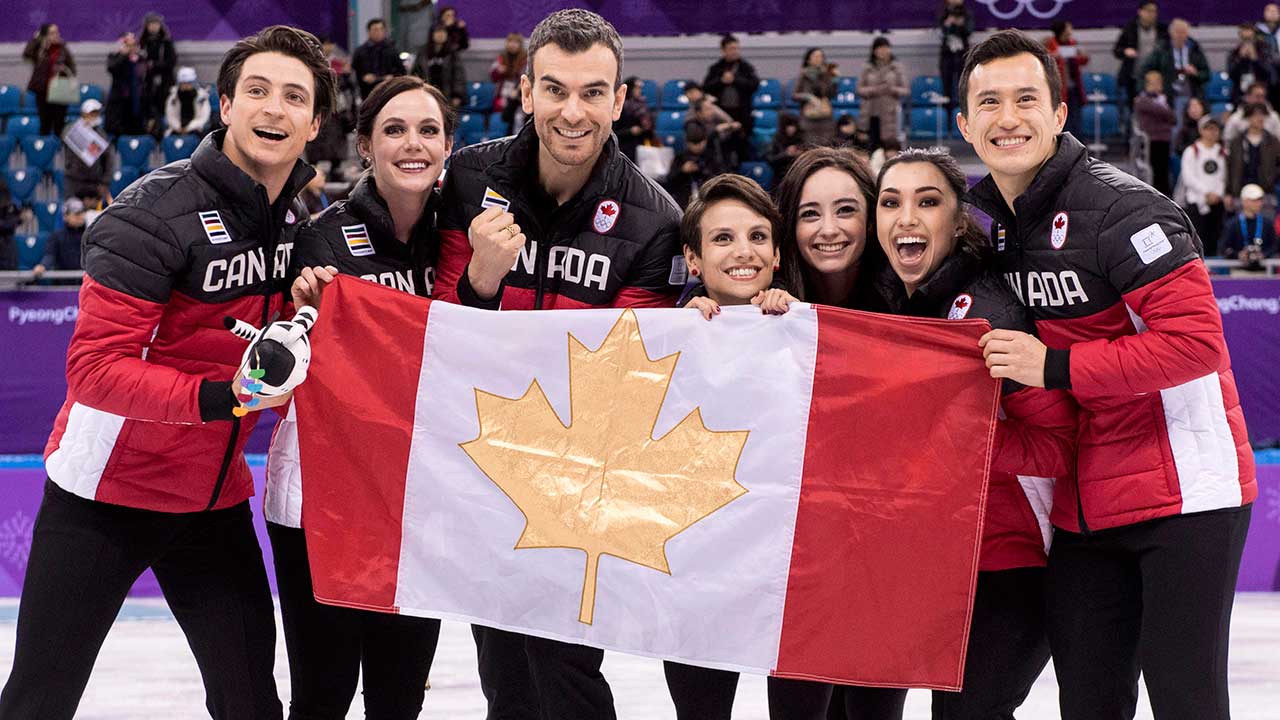 SN: What made you decide to get involved in your anti-bullying work?
Daleman: "I spoke about it because I'm so tired of people bullying other people for who they are and what they do. We're all human, we all do our own thing, why are you putting them down to bring yourself up, because it's not doing anyone any good. I did the video (with CBC) on anti-bullying and it's months later and I still can't bring myself to watch it. After that video came out, kids who were bullying me or were in my class said they were sorry and that they didn't know what they were doing. I had one girl, who I've known since I was three years old, I don't really talk to her much, she watched the video and she messaged me saying she's so sorry. I said, 'You didn't do anything, you weren't one of them,' and she's like, 'I know, I didn't help you. I was there every day in class and I didn't help.' So that message she sent me, it was like I am starting to make a difference. I went on the Stars on Ice tour and I had kids come up to me in the meet and greet saying that because they saw me speak out, that they have gone to parents, they have stood up to their bullies, they have helped friends who are being bullied. That was something I was so proud of.
SN: When did your experiences with bullying start?
Daleman: It started when I was in junior kindergarten and it started getting so much worse as I got older. I was a figure skater and a gymnast at the same time so my shoulders are broad, I'm not ashamed of them, I'm not ashamed of how strong my legs are and stuff and it kept getting worse and worse as I got older. The more I went to skating, I'd get in trouble because I have a learning disability so I'd fall even further behind, but I'm doing something I love and want to progress in. I'd get in trouble and criticized for that, getting criticized for how I look and not being pretty enough to be a skater, I'm not the way a skater should look. I've been called too fat, too muscular, like a man by kids in my class. They were the absolute worst and to this day, they made my school experience up until I went to the Olympics absolute hell. For 12 years I was miserable every day going to school because I was getting made fun of for something I can't control. I'm 11 years old, I'm not going to be wearing full-blown makeup every day, the only time I did was at competition. I see girls now that are 13 years old and they look like they're 19. Makeup is great, but don't feel like you have to wear it to impress other kids in your class, to impress a boy. Wear it if it makes you feel good but just know you are beautiful with or without makeup. To this day, I'm 20 years old, and I still struggle with it. It took me so long to realize I don't have to wear makeup around someone.
SN: That's a lot to deal with at a young age. Sports can sometimes be a haven under those circumstances. Did learning to cope with everything help you as an athlete?
Daleman: It definitely did. When I was bullied, they told me I would never go to the Olympics, I would never be a Canadian champion, I would never be on the world podium and I would never be on the Olympic podium one day. It has made me work that much harder to just prove them wrong so much every day. I work so hard every day, I know how hard I work, and you can see what happens on the ice, but nobody knows what happens behind the scenes, no one knows what happens personally, no one knows if someone is going through a hard time, if they're OK, what's going on. I saw this tweet and it really hit home for me. It said smile at the people you see because you never know if they need a smile or not. People love to bring you down, but I'm going to live my life, and it's definitely brought me to where I am today, made me a stronger person. Big time.