SEOUL, Korea, Republic Of — The Garlic Girls, South Korea's hugely popular Olympic silver medallist curlers, accused their coaches Thursday of ruining the team with abusive treatment in a dispute that has spoiled one of the year's feel-good sports stories.
The women's claims, if confirmed, suggest a familiar tale of abuse, corruption and nepotism that has regularly marred South Korea's highly hierarchical elite sports scene. Men often run South Korean sports efforts, and while the team's head coach is a woman, men in her family, including her father, a former leading figure in South Korean curling, play a prominent part in the team's accusations of abuse.
"We can no longer work with a coaching staff that is trying to divide the team," Kim Seon-yeong said in a glum news conference in Seoul. The players also accused the coaching staff of skipping training sessions, holding back prize money and trying to force a married member off the team.
"We need a coaching staff that can train and lead us properly. We want to continue our curling careers and aim for bigger goals at the Beijing Olympics," Kim said.
The news conference came a day after South Korea's Sports Ministry and National Olympic Committee announced a joint investigation into allegations that became public after the athletes sent a letter outlining their complaints to sports authorities last week.
The five-member women's curling team became an overnight sensation after their improbable silver medal run in February's Winter Olympics in Pyeongchang, South Korea. They enthralled a country that barely recognized curling before they made their run and became sought-after spokeswomen in commercials. Their nickname is a nod to the famous garlic produced in their hometown in Uiseong, in southern South Korea, where they met and began playing together as teenagers.
In their letter to the Korean Sport and Olympic Committee last week, Kim Eun-jung, Kim Seon-yeong, Kim Cho-hee, and sisters Kim Yeong-ae and Kim Yeong-mi accused former Korean Curling Federation vice-president Kim Kyung-doo of verbal abuse and team coaches of giving unreasonable orders and subjecting their lives to excessive control.
In Thursday's news conference, the curlers said coaches told them what to say in interviews and closely monitored their private lives after training hours, scolding them if they met with athletes from rival teams. Letters and presents sent by fans "were already ripped open" before they reached the curlers, Kim Seon-yeong said.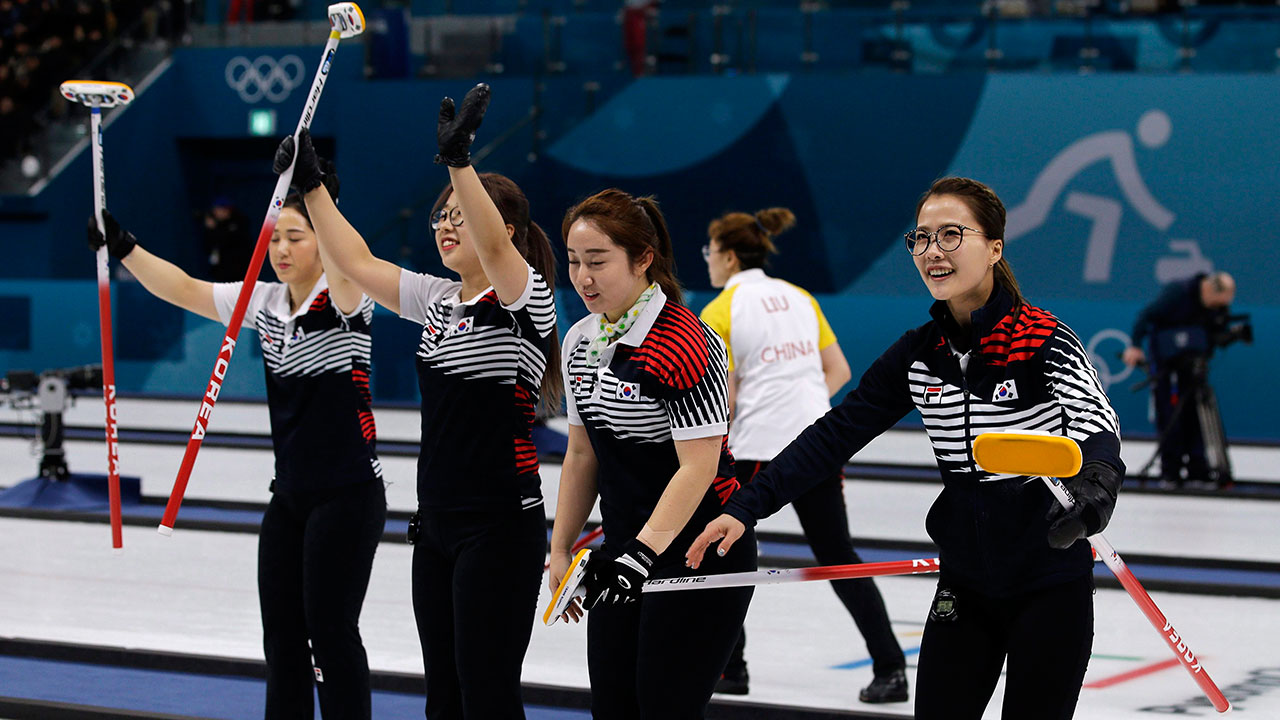 South Korea's women's curling team celebrate after beating Russian athletes during their match at the 2018 Winter Olympics in Gangneung, South Korea. (Aaron Favila/AP)
"We can't understand why the head coach had to rip open and check the presents and letters sent to individuals before they reached the athlete," she said.
The curlers said the coaches withheld prize money and tried to sideline the married captain Kim Eun-jung after learning of her plans to start a family. They said the coaches also tried to force Kim Cho-hee off the team ahead of the Olympics to open a spot for head coach Kim Min-jung to participate as an athlete. They also said they had to endure a tirade from Kim Kyung-doo after they decided to stick with their teammate.
Kim Kyung-doo and his family had extensive control over the team with his daughter, Kim Min-jung, being the head coach and his son-in-law, Jang Ban-seok, the mixed doubles coach. The curlers organized the news conference after the coaching staff publicly denied the accusations.
"We had thought we could go together with that family, but after going through the Olympics, it became clear to us they were a family that cared only about themselves," Kim Eun-jung said in the news conference. "They don't want the athletes to grow and get better. … They don't want the athletes to become bigger than the organization."
Jang denied funds were withheld from the athletes, saying the team had agreed prize money would be spent on overseas training and competitions, but Kim Eun-jung said the curlers were kept in the dark about how the money was used.
"We were already receiving (state) training funds as members of the national team, and we couldn't understand why the prize money was not being distributed to us," she said.
South Korea, which has long associated Olympic achievements with national pride, has struggled to root out abuse and corruption bred by factionalism and nepotism from its highly-competitive elite sports scene, where such problems have often been overlooked as long as the athletes produce.
But the pressure for change is increasingly coming from a younger generation of athletes, who have shown less tolerance for unjust or unreasonable treatment. The Korea Skating Union in January imposed a lifetime ban on a male coach who was later sentenced to 10 months in jail for assaulting short-star speed skater Shim Suk-hee, an incident that would more likely have been kept in-house in previous years.
[relatedlinks]