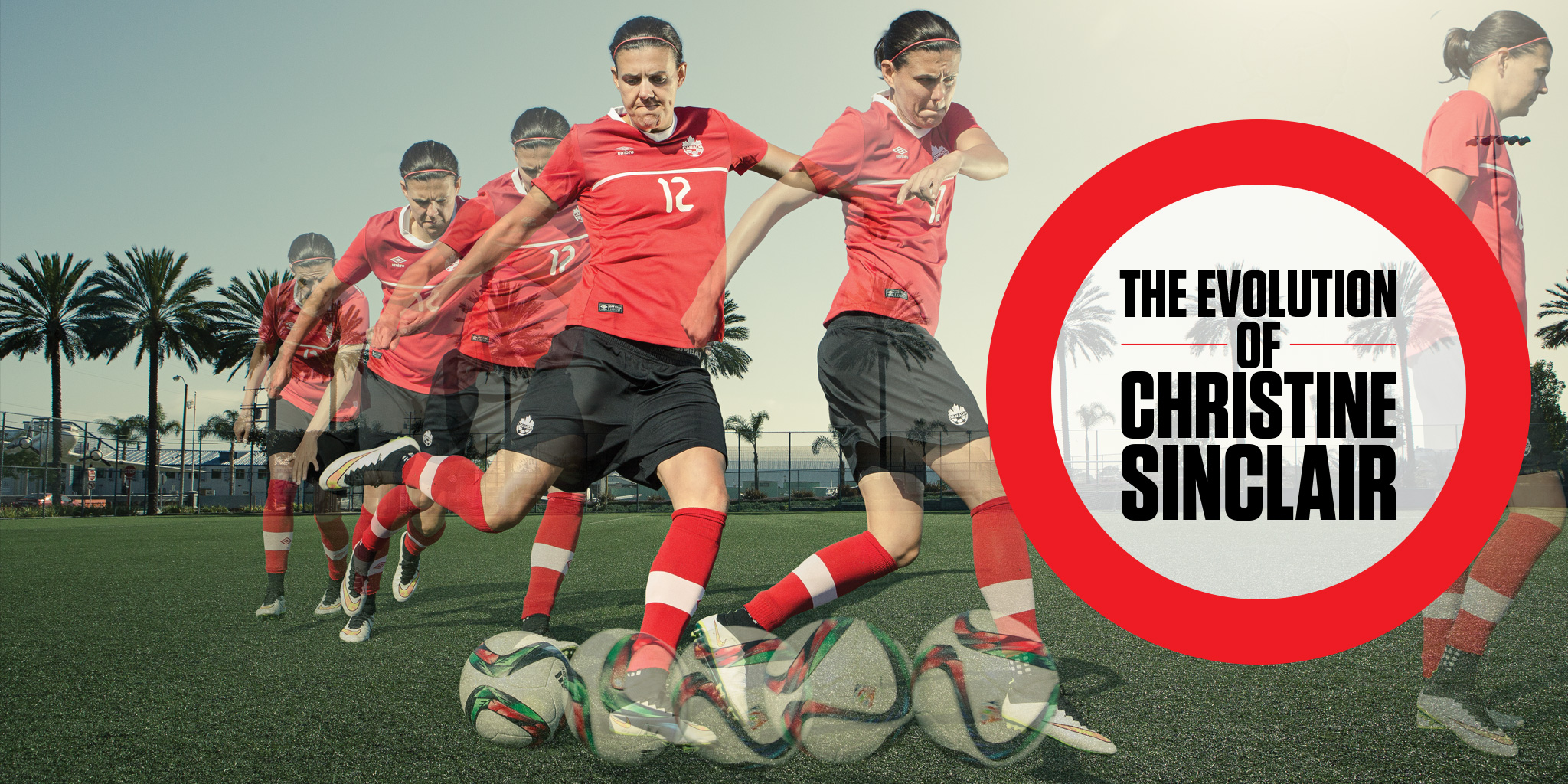 For 10 years, people have been calling her the best soccer player on Earth. Today, with an Olympic medal, more than 150 international goals and a chance to win it all on home turf, she might just believe it.
By Kristina Rutherford in Santa Monica, Calif.
Photography by KC Armstrong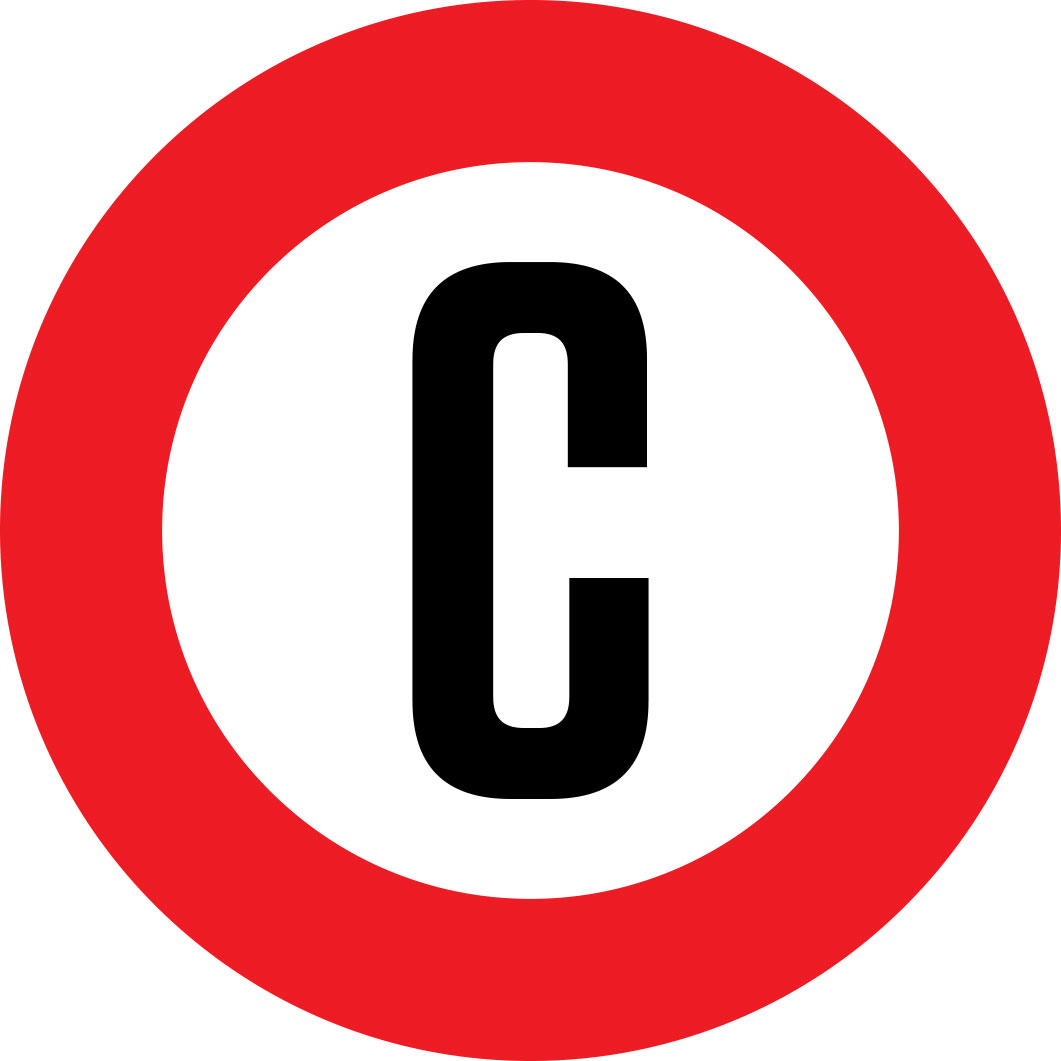 Christine Sinclair stands in the dark in her hotel bathroom in Elma, N.Y., and stares into the mirror, straight-faced—her best attempt at creepy. The bathroom door is open a crack. Seconds later, an unsuspecting Mana Shim, Sinclair's Portland Thorns teammate in the National Women's Soccer League and her roommate on this road trip, walks through the front door. Before Shim can flick the light on, she catches the reflection of Sinclair's eyes in the mirror. Shim shrieks and runs out of the room. The running and screaming continue down the hall until a laughing Sinclair emerges from her hiding place.
Sitting in an oceanside hotel in Santa Monica, Calif., Sinclair laughs as this story is recounted to her. "Yeah, we have fun," she says, smiling. Team Canada is here for a pre–World Cup training camp. Sinclair's brown hair is pulled back in a ponytail. She's wearing black Umbro shorts, purple Nike runners and a red Team Canada zip-up. There's a slight curve on the bridge of her nose, but it's her piercing blue eyes you notice first. They're startling. The 31-year-old is lankier in person than she seems on TV. Asked whether the public will ever see the other side of Canada's captain—the fun one her teammates talk about—Sinclair pauses for a second. "No," she deadpans. Then she laughs.
Sinclair started this interview a little stiff. She didn't smile when she shook hands. She didn't want to sit by the pool and chat. She looked for the closest seat so she could sit down and get this done. But 10 minutes in, her arms are moving as she talks, she's smiling and even laughing. She has relaxed a little bit, just as she has grown more comfortable in her role as Canada's greatest soccer player ever, though that took much longer. But the shy girl who kept her eyes down in the hallway in high school now knows she's one of the world's best soccer players. Talent, hard work and success have changed Christine Sinclair, allowed her to be more confident, helped her to open up—she's never been so comfortable telling us that we'll never know her life story, for example. And as she nears the final chapter of an incomparable career, ahead of this home World Cup, Sinclair is in peak form and knows more than ever the impact she can have on soccer in Canada.
Christine Sinclair's soccer career started the way many of ours did. Sometimes she chased the ball, and sometimes she took a break from the game to pick grass if the mood struck her. But similar to Wayne and Sidney and other future Canadian greats, she started out playing against kids much older and bigger than she was. At four, she joined the under-seven team with the local club in her hometown of Burnaby, B.C. Sinclair didn't like soccer much at first, but she played because her mom, Sandra, was her coach, and because hers is a soccer family: Two uncles had played for Canada. By the time she was six, all her friends from school were on her team, and Sinclair actually liked soccer.
When she wasn't in school, Sinclair was either playing some sport or taking a break from some sport, serving time in her room because she and her older brother, Mike, had gotten into a fight over who'd won. Or she'd serve time in Mike's room: One of them would always crawl out their bedroom window and in through the other's in the family's three-bedroom home so they could be grounded together. "Enemies one moment, friends the next," Sinclair says. She played everything—baseball, basketball, soccer in the living room, full-contact rollerblade lacrosse in the Sinclair basement (no window went unbroken), volleyball, golf on the road, you name it. Among the neighbourhood kids who played, Sinclair was often the youngest and the only girl. "It was a constant struggle to show that I belonged with them," she says. She played on teams with her friends, including on a boys baseball team, where she first wore No. 12 after her idol, Blue Jays second baseman, Roberto Alomar, whose poster was on her bedroom wall. It wasn't until she turned 11 that soccer started to take up more time than baseball. Sinclair made B.C.'s under-14 provincial team that year. "I knew I was good," she says, nodding. "I remember my coach told me: 'If you keep going, you'll make the national team at a very young age.'"
She was 15 when Canada's newly installed senior women's soccer coach, Even Pellerud, discovered her. "I want her," Pellerud said after watching Sinclair play in Coquitlam, B.C. The Norwegian-born coach was told Sinclair was too young. "I still want her," he said.
Sinclair was invited to a senior team training camp in January 2000. She questioned her ability in her debut for Canada at the Algarve Cup in March of that year. "Do I belong on this field with these players?" But in her second game, Sinclair scored her first goal. And she scored it on Norway's Bente Nordby, then considered the best goalie in the world. After a giveaway by Norway's centre back, Sinclair went in on a breakaway and placed it into the corner. "A typical Sinclair goal," Pellerud says.
At 16, she was Canada's only offensive weapon. "The play was based very much on getting the ball to Christine Sinclair," Pellerud says. Sinclair grins when she hears this: "He never told me that." She scored 95 goals in eight seasons with Pellerud as head coach.
Today, Pellerud coaches Norway. He has a plan, should his team meet Canada at the World Cup. "I will tie a rope around Christine," he says. "I've already packed it."
The "Best Player in the world" topic makes Christine Sinclair put her hands over her face and rub her eyes. She was 18 the first time she heard the title applied to her. Team Canada was in Portugal, and Pellerud was in the midst of a pre-game pep talk. "He said something like, 'Well, we have the best player in the world on our team,'" Sinclair says. She looks over one shoulder, then the other. "Who?" she says smiling, eyes darting around the hotel lobby. "Who?"
Sinclair didn't quite believe it then. Under Pellerud's successor, former Italian national team star Carolina Morace, she started to. "You will become the best player in the world," Morace told Sinclair in 2009, a few months into her two-year stint as Canada's coach. Sinclair smiled and said nothing. "I think I questioned it," she says now. "Like, 'Really?' Then I internalized it and took it as a challenge. If my coach believes this, she's not just saying it. She doesn't bullshit about anything."
Sinclair would never call herself the world's best. And humility aside, it's difficult to measure her against others worthy of the title, like American Abby Wambach, the only active player with more career goals (182 to Sinclair's 153). But the depth of the American team means Wambach has enjoyed a much stronger supporting cast. And last year, American goalkeeper Hope Solo called Sinclair the best player in the world. "To hear that, it gives you confidence," Sinclair says, leaning forward in her chair, hands clasped in front of her. "You feel like you can, at times, do anything out there on the field."
Asked if she wants the ball in pressure situations, she says "Absolutely," without hesitation. "It's weird, because if I think about it outside of the field, like now, it's like, 'No, I don't want the ball.' But something happens on the field. I'm a different person. 'Yeah. Give it to me.'" Teammates don't need to ask—they can tell from the Sinclair stare. "My angry face?" she asks. "I'm competitive. I wanna win. I want the best for this team and for any team I play on, whether it's national team, club or four-on-four in practice."
Back in 2009, Morace introduced physical testing to the Canadian team, and Sinclair was middle-of-the-pack. Morace re-tested the team two months later, and Sinclair was No. 1 in every category. She stayed No. 1 for Morace's tenure. "When a player is a champion, she is a champion above all in the mind, in the personality," Morace says. By the time she left Team Canada, in 2011, Morace believed Sinclair was the best in the world.
Sinclair does not act the part of a star player. She doesn't even like talking about herself. You'll get further asking about her dog, Charlie, a rescue Pomeranian ("She's like the team mascot; she's got a little deformed leg, so she can't run," Sinclair says), or her five-year-old niece Kaitlyn, with whom she shares camp-out sleepovers and secret ice cream runs. Sinclair has no star demands—no custom equipment, no special treatment. Longtime manager Maeve Glass tries to force stuff on her. "If she asks for anything at all, it's, 'I'm really sorry to bother you, but…'" Glass says, laughing.
Current Canadian head coach John Herdman, a friendly Englishman with a megawatt smile, never tires of talking about his captain. "It's my reason for being here," he says. Herdman first saw Sinclair in action in 2007, when he was leading New Zealand. After watching her score twice in a 3–0 win against his team, he looked around and thought, "If only we had a Sinclair." For the next couple of years, his game plan against Canada was built around stopping her. "If you ask what I get out of bed for," Herdman says now, "I want to see her picking up a trophy in BC Place." That, of course, is a beyond-tall order: Canada is No. 8 in the world, and it's been 14 years since they beat the U.S.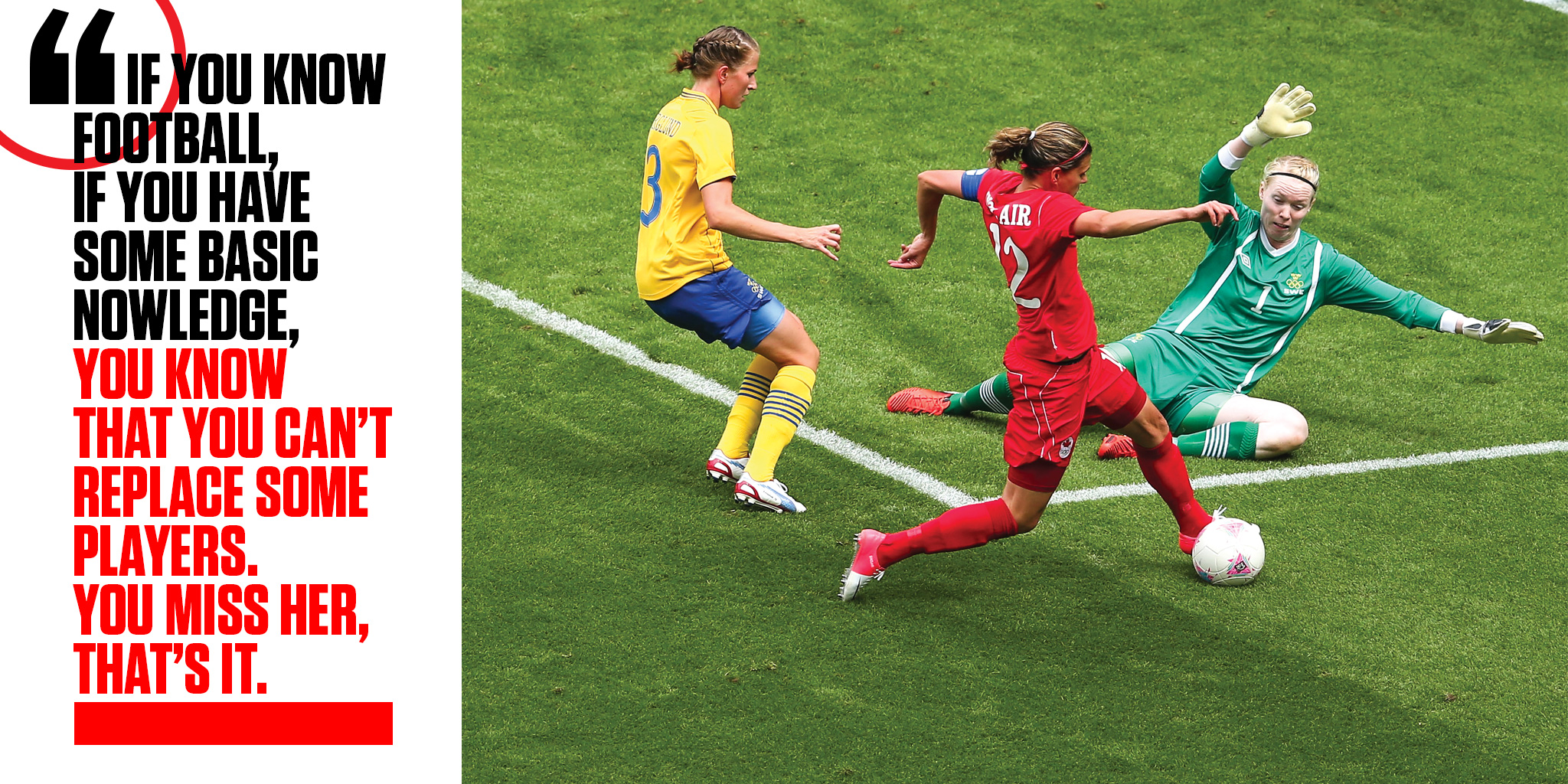 Herdman says Sinclair's a more complete player today, filling a versatile forward role that sees her rove across the field. And those around her have different responsibilities, too. "You've got to build a plan on the players around Sinclair so they can take attention away from her," Herdman says. Recently, he has been vocal about the search for the next Christine Sinclair. Jessie Fleming, a 17-year-old midfielder from London, Ont., has earned that label from some. Well-spoken and composed, she's the kind of kid you want as future ambassador for the sport, but the "next Sinclair" title scares the heck out of her. She takes a deep breath. "I mean, everyone in Canada wants to be like Christine Sinclair," Fleming says.
Sinclair stands out during a two-hour practice in the heat. There are no wasted movements when she runs. No bobbing, no flailing arms. Herdman calls her a "Rolls-Royce." She's deceptively fast and hits her top speed almost immediately in tight spaces. She challenges teammates with the ball at full pace. She gets elbowed in the face and continues on. At the end of practice, she sets up 10 balls in front of the net and nails each one into a corner.
Her focus, too, is off the charts. Alex Hodgins, the team's mental-performance manager, studies each player's neural feedback. He uses a video game–type device to measure and train focus. When he tries to throw Sinclair off, she flips right back into the task at hand "like a light switch," he says. "She's highly intelligent. I really mean that. She's got a brain that is definitely designed to be an athlete. It's a fast thinker, a fast adapter."
In other words, Christine Sinclair was born to do what she's doing.
That curve around the bridge of Christine Sinclair's nose is a relatively recent addition. In Canada's first game at the 2011 World Cup in Germany, her nose was elbowed out of joint, broken by a German defender. Teammate Kaylyn Kyle remembers watching the medical staff tend to Sinclair. "Her nose was basically on the side of her face," says Kyle. "She didn't cry. She didn't whine. She was just like, 'I'm going back out there.' And we were all like, 'What the hell?'" Sinclair ignored the medical staff's pleas that she come out of the game. She hit their hands away as they tried to treat her nose and repeatedly screamed, "I want to play!" Sinclair went back on the field and scored against the No. 1–ranked team, then blew a kiss to the sidelines. "This girl's not human," Kyle says.
That was the day Sinclair's country began to appreciate her, despite the fact the team lost 2–1. She joined the mythology of tough guys in this hockey-obsessed nation. Her nose was cracked back into place, and she was fitted for a mask with black padding. Sinclair was compared to Zorro and Chuck Norris. "Everyone loved the mask," says longtime teammate Melissa Tancredi. Well, not everyone. Sinclair hated it. She couldn't see properly. She begged not to have to wear it. "It's cool that people now see that female athletes are tough and can play through injuries. But I see pictures of that mask and it's just, ugh. It's a bad, bad time," she says. Sinclair was not 100 percent after that opening loss. In the last two games of the group stage, Canada went scoreless and lost to lower-ranked teams. Sinclair threw out the mask the second she could. After the tournament, for the first time in her career, No. 12 took a break from Team Canada and sat out two games. This had nothing to do with her nose. She wasn't over the World Cup.
Morace was asked during that tournament: What is the plan if Christine Sinclair is injured? She still can't believe this. "How a person can ask something so stupid. It's like, 'Messi is injured, what's your plan?' He is the plan, idiot. That's the player. If you know football, if you have some basic knowledge, you know that you can't replace some players. You can't. You miss her, that's it."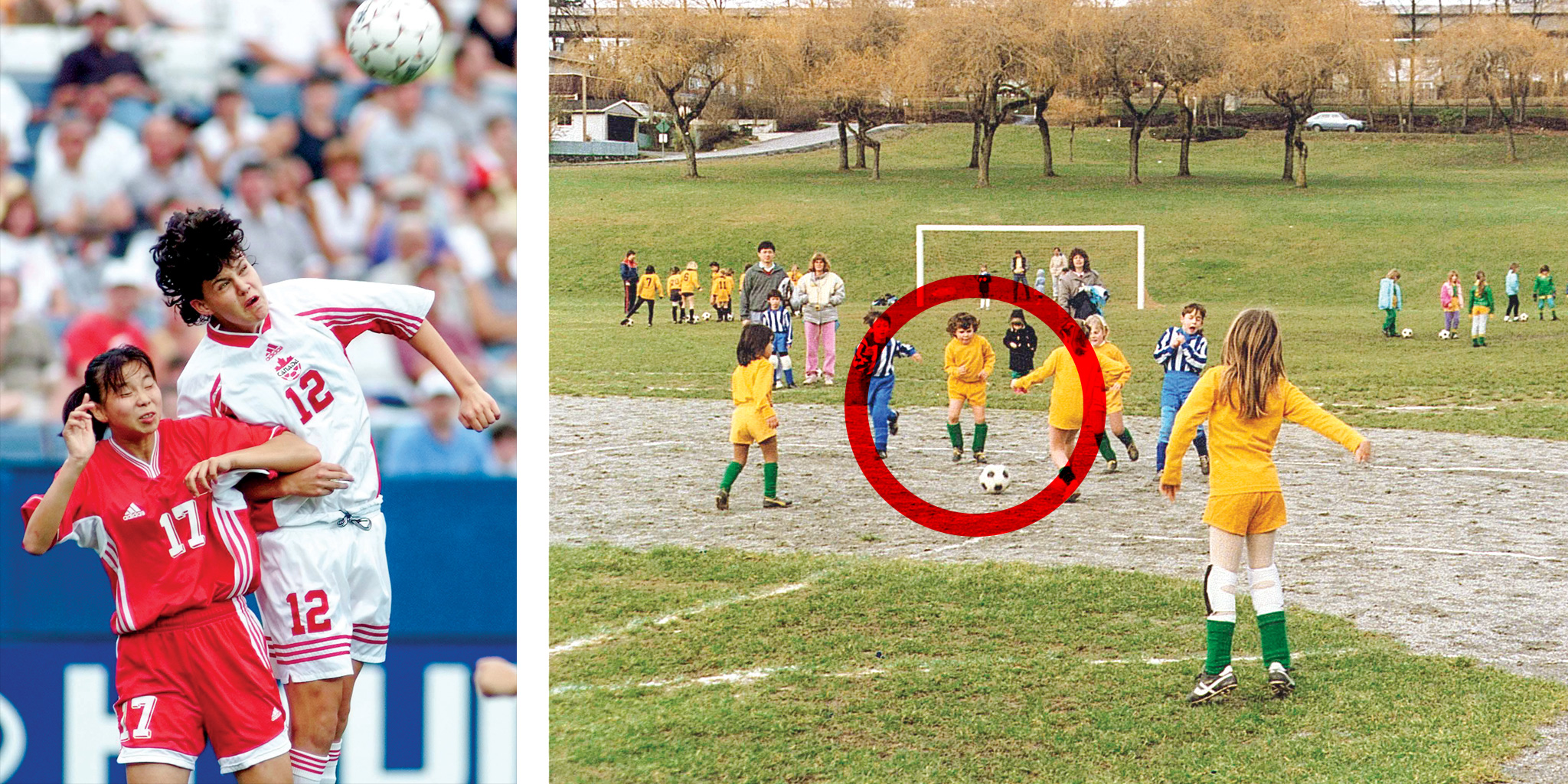 Teammates and friends and family have a lot of advice for how to get Christine Sinclair to talk: Tell jokes, smile a lot, bring up her dog, bring up the time she had a mullet and feathered bangs, bring up her nieces, give her a gin and tonic. "She doesn't say a lot of words," as Kyle puts it. But Sinclair has a way with them, even if she's sparing. It's that cliché about the quiet captain whose words resonate more than those of others who dance and yell and scream. This is true of Christine Sinclair.
That Sinclair has been through adversity is known. Her mom saw her first signs of multiple sclerosis when Sinclair was little, and is now confined to a wheelchair. While at the University of Portland, Sinclair lost her coach, Clive Charles, to cancer. She loved him dearly, and her dog Charlie is named after him.
But there's a lot we don't know. Sinclair's privacy is nearly as talked about as her play. Tancredi says they played together for at least 10 years before she and Sinclair ever had a conversation about life and love and family and the things that matter. "Sincy's a tough one to get into her circle," she says.
But during a 30-minute talk at a pre-Olympic team retreat in 2012, Sinclair opened up and brought nearly every player in the room to tears. "She finally felt comfortable and she knew that her words would be a game-changer for us," says long-time Team Canada goalie Karina LeBlanc. Herdman calls it her bravest moment. "The person who was meant to be bulletproof let people know she wasn't," he says.
This is part of the evolution of Christine Sinclair: Knowing she can have an impact beyond her play on the field. "She is starting to realize the importance of people understanding the real her," Herdman says. "She wants to maintain her privacy, because that's her personality and that's her right. But at the same time, I think she knows that sharing her story can be an inspiration."
A few weeks after that retreat, Canada looked to be making history, leading the Americans 3–2 in the Olympic semifinal. All three goals came from Sinclair. Then a referee's controversial call led to a penalty kick, which led to Wambach tying it up, which led to an overtime winner off the head of American Alex Morgan.
Sinclair entered the locker room after that game and the only sound she heard was her teammates sobbing. She threw her cleats down. "She said something like, 'Keep your heads up, I love this team, we've got a bronze medal to win, and I'm not leaving here without one,'" Tancredi says. Sinclair remembers saying this, too: "I've never been more proud to be on a field with a team." And there might've been a bit of swearing.
Herdman stood outside the locker room with the team's sports psychologist, carefully crafting the message he'd give his squad. Glass came out with a tear in her eye and told him, don't bother: "Christine said it all." "It wouldn't have mattered what I said, or anyone else," Herdman reflects. "She's got the biggest influence on this group of women." Says Tancredi: "That was the lowest moment in our careers, and to hear your captain come in, tears in her eyes, and freakin' yelling that? That's why when she speaks, you listen." Canada won the bronze medal two days later. Sinclair isn't in a lot of on-field celebration pictures because she was lying on the grass, bawling.
When people used to tell Christine Sinclair she was the greatest, she'd tell them that to be great, she had to do something great. "I think I've started," she says now, nodding. "Yeah. It's one of those things; I'm never satisfied. I'm not satisfied with a bronze medal." Her teammates know this. "We're hoping we can win this World Cup," Kyle says, "and really prove to the world that she is the best."
Practice just ended, and Sinclair stands on the field awaiting a photo shoot. Before it starts, she takes out her hair elastic, shakes out her hair and poses as goalie Karina LeBlanc snaps glamour shots. Sinclair mugs for the camera phone with a smirk on her face, her head tilted one way, then the other. You see what she means when she says, "With my friends, I'm a different person."
Tancredi calls her captain a "magician." "Really," she says. "I think Christine Sinclair goes home, puts on a cape, holds a wand, eats her cereal and then goes to bed." When told about Tancredi's theory, Sinclair smiles. "Just so you know," she says, widening those piercing eyes, "a lot of my teammates are liars."
This story originally appeared in Sportsnet magazine. Subscribe here.