There is the logical, there is illogical and then there is the 2018-19 UEFA Champions League.
For the second time in 24 hours, we witnessed another improbable comeback in the semifinals on Wednesday, except Tottenham's task was even larger than Liverpool's against Barcelona at Anfield.
Down 2-0 at halftime and 3-0 on aggregate, Lucas Moura scored three goals in the second half to lift Tottenham to a 3-2 win over Ajax and send Spurs to their first Champions League final in club history.
Here are three takeaways from another dramatic day in the Champions League.
'Spursy' no more
It was evident that Tottenham sorely missed Son Heung-min and Harry Kane in the first leg. But even with Son starting in Amsterdam for the second leg, there were large stretches of the first half where Spurs left him and Lucas Moura isolated.
This drastically improved in the second half and it led to Moura's hat trick.
Spurs started to exploit Ajax left-back Nicolas Tagliafico by hitting passes down the flank upon immediately retrieving possession.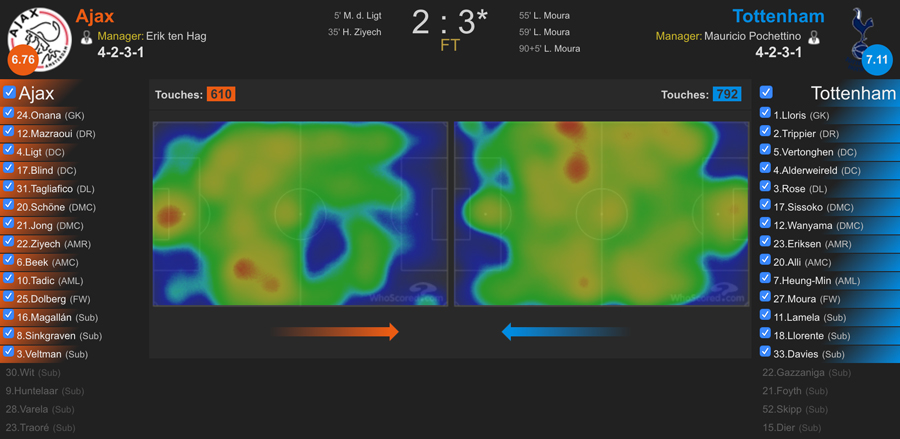 In the end, Tottenham's attack was significantly more impactful compared to the first leg. Expected goals backs up that claim, too.
xG map for Ajax – Tottenham

Spurs just battered Ajax through the entire second half and it's hard to say they didn't earn the miracle comeback pic.twitter.com/ioxsfP4qnE

— Caley Graphics (@Caley_graphics) May 8, 2019
Tottenham's mentality has been the butt of jokes for decades. But thanks to manager Mauricio Pochettino, those stereotypes are slowly evaporating.
Pochettino the tinkerer
He was woeful last week, yet Fernando Llorente's inclusion caused fits for Ajax's defence in the second half after he replaced Victor Wanyama at halftime.
Llorente won 13 of his 18 duels in the match after Spurs switched to a more direct approach, which kept Ajax centre-backs Daley Blind and Matthijs de Ligt on their toes. Because Blind and de Jong were occupied with the Spaniard, Ajax dropped even deeper into their defensive third.
Ajax were playing quite narrow throughout the game, but they were deployed further up the pitch and in stronger numbers with their pressing. Once they retreated, it was easier for Spurs to dictate the tempo.
Fantastic Frenkie
Yet again, Frenkie de Jong delivered a tireless shift for Ajax. He was tracking back to recover possession whenever Tottenham tried to counter-attack and calmly circulated the ball whenever Spurs attempted to win it straight back, as well.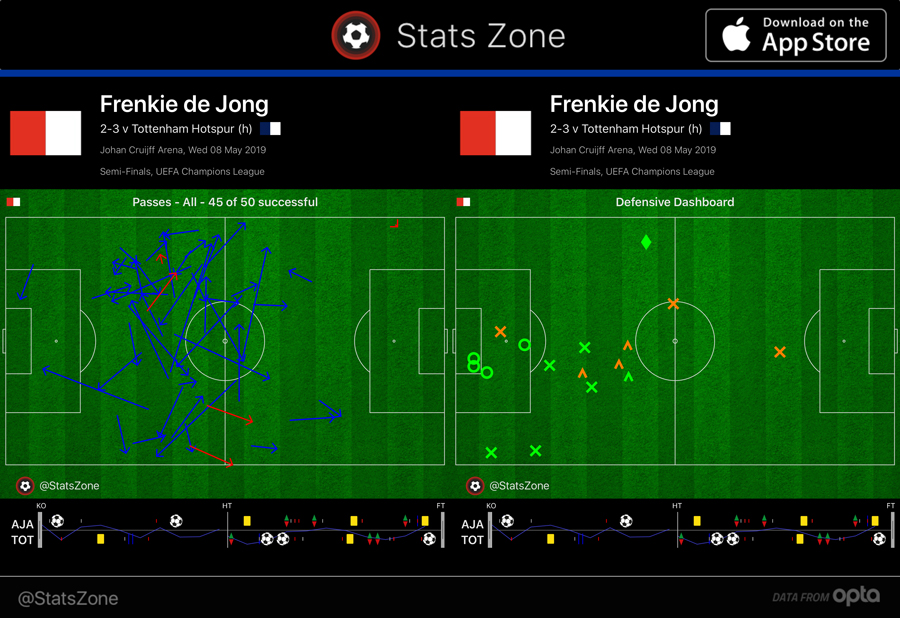 De Jong wasn't the only Ajax midfielder tracking back, either. It was relentless from start to finish. Donny van de Beek and Lasse Schone ensured there was little space to exploit centrally and Tottenham struggled to gain a rhythm, especially in the first half.
Tackles in the first 25 minutes in Amsterdam:

• Frenkie de Jong: 4
• Donny van de Beek: 4
• All Spurs players combined: 3

Ajax bossing the central midfield. pic.twitter.com/7C99Qb3d8z

— Squawka Football (@Squawka) May 8, 2019
This Ajax side is genuinely thrilling to watch. But the likes of de Jong hustling back into his defensive third to shut down the opposition's counter is a major reason why the Amsterdam outfit qualified for the semifinals in the first place.
Agony and ecstasy
Ajax would have played in their second European final in three years had they closed the deal o Wednesday. They lost to Manchester United in the 2017 Europa League final, then coach Peter Bosz joined Borussia Dortmund. However, Davinson Sanchez and Davy Klaassen were the only two major player departures in the summer.
Two years later, Ajax reached the Champions League semifinal and did so by knocking out Real Madrid and Juventus along the way, and with one of the youngest squads in Europe. Their annual wages and revenues are dwarfed by the other semifinalists. Regardless of the result, this run was nothing short of extraordinary.
But here's where modern football rears its ugly head. Many of Europe's top dogs will start rebuilds this summer. Barcelona already signed Frenkie de Jong. Matthijs de Ligt and Donny van de Beek will likely follow. Many others will be linked with moves away from Ajax, including coach Erik ten Hag. It's how football operates, but it's still unfortunate that this squad will experience a drastic overhaul.
For now, we can admire this squad for two more games in the Eredivisie before the inevitable dismantling begins.