TORONTO — From the outset of its 2-1 victory in the first leg of the Concacaf Champions League final, it was apparent that C.D. Guadalajara was much more prepared for its Canadian counterparts compared to previous opponents.
Fellow Mexican outfits Tigres U.A.N.L. and Club America were dispatched in the quarterfinals and semifinals, respectively, and they shared a common trait. Both teams allowed TFC's midfielders to dictate the game, be it in possession or on the counter without much fuss.
Guadalajara coach Matias Almeyda clearly did his homework and set up his side to hone in on Michael Bradley, Marky Delgado and Jonathan Osorio with a man-to-man press when the Reds midfielders had possession in the defensive third.
Bradley and Delgado were hounded by Rodolfo Pizarro and Michael Perez upon receiving the ball. That, in turn, forced the duo to look for the long pass, which was not very effective.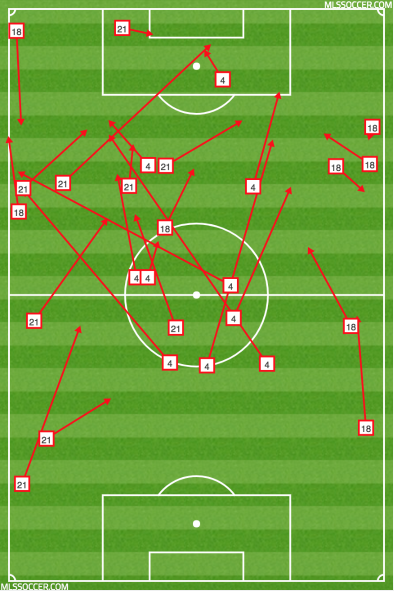 "We knew what the game was going to look like," TFC head coach Greg Vanney said in his post-match press conference. "But I guess until you really experience a straight-up man-to-man game, then you take some things away from it."
The attack didn't really suffer, as TFC mustered seven attempts on target. Sebastian Giovinco and Jozy Altidore left the Chivas defence in tatters with some of their clever one-touch passing at the top of the box, only to shoot straight at goalkeeper Miguel Jimenez.
It was when those attacks broke down that TFC had a real dilemma. With Toronto's midfield pushed up high into the final third, Pizarro, Orbelin Pineda, Alan Pulido and Jose Godinez were able to sweep forward on the counter into acres of open space.
Chivas never profited with a goal off of those counter-attacks. But the Mexican side did its job effectively. The TFC midfield was more rushed than usual and was disconnected from the forwards. That prompted Vanney to switch to a diamond with Auro Jr. bombing down the right in an advanced position against Guadalajara's inexperienced full-back Alejandro Mayorga.
It also allowed TFC to mirror Chivas' tactics.
"I thought that when we pushed Auro a little higher and played more like 4-4-2, it gave us one more guy in the attacking part of the field to press a little bit quicker," said TFC captain Michael Bradley. "It meant that we covered the width of the field in the midfield a little better and between Auro and [Osorio], they could get to their outside backs a little bit quicker and we were able to spread the press a little bit higher up the field. That part was positive."
Some of the midfield fluidity returned after Vanney's mid-game tweak. Chivas eventually retreated and let Toronto own possession in the second half. Still, whenever TFC tried to build any attack through the midfield, there was a striped shirt right on Bradley's heels.
One way to counter this in the second leg is letting the defenders build from the back. Chris Mavinga – who checked out after halftime due to cramps – is a capable ball-playing defender. Even Drew Moor had opportunities to pick out a pass.
"A lot of room in front me," said Moor. "I was able to roll balls into our forwards fairly easily. Again, when you play man-to-man like they did a lot on the field, that's going to happen. We'll look to continue to do that and maybe just bring a little more quality out of each other and see if we can build off of it and how we can break them down a little bit better in the second leg."
With Toronto down 2-1 after conceding two vital away goals, the Reds have to go on the front foot in the second leg on April 25. They won't be devoid of opportunities, as Giovinco and Altidore proved. Chivas will likely deploy a similar strategy for the return match. The MLS Cup winners just have to be more clinical in front of goal.
"They're going to be aggressive," said Bradley. "But they're going to be aggressive in a very man-to-man type way. If you can move quickly, if you can play forward, if you can move on the other side of things, then there is space. They get pulled around, they get dragged around, and I like our chances."