Here's what happened on Tuesday in the UEFA Champions League…
READ ALL ABOUT IT
• Match report: Arsenal 0, Barcelona 2
• Match report: Juventus 2, Bayern Munich 2
WHAT STOOD OUT
Barca wins, barely breaks a sweat
Barcelona will be supremely confident of reaching the quarterfinals for the ninth consecutive season ahead of the return match at the Nou Camp. Two road goals will do that, but the Catalans will also take confidence in earning a win in London without being at their best.
Sure, Barca dominated this affair (65 percent possession, 7-1 advantage in corner kicks, and twice as many attempted shots and dangerous attacks). But it took them 71 minutes to break down the Gunners—they were guilty of trying to walk the ball into the net up to that point—and were gifted a penalty following a rash challenge from Mathieu Flamini. Arsenal spurned scoring opportunities in both halves, and bunkered the longer the game went on at 0-0, making life a bit more difficult for the visitors.
At times, the Gunners were chasing shadows, unable to knick the ball off the Spaniards, and even though it took Barca more than an hour to breach Arsenal's defence, you knew a goal was coming, that it was inevitable. And so it came to pass, on an exquisite counter-attack, with Barcelona's deadly trio of Lionel Messi, Neymar and Luis Suarez combining to devastating effect.
Barca was nowhere near their best on this night, but they still cake walked to a 2-0 victory. How scary is that?
A valiant comeback by Juventus
It was over. Bayern Munich marched into Turin and dominated a team the calibre of Juventus, the reigning Serie A champions, and side that won 15 of its previous 16 domestic matches. The Bavarians completely manhandled the bianconeri with their high press and quick-passing game, and took a deserved 1-0 lead into halftime through Thomas Muller—and honestly, the damage could have been far worse.
When Arjen Robben pounced on a rare mistake by Andrea Barzagli to put Bayern up 2-0 after 55 minutes, the tie was over. The Germans totally outclassed their hosts up to that point, and one could only imagine the beat down the Bundesliga champions would have in store for the Serie A kingpins in the second leg in Munich.
This is Germany vs. Italy, though, and it's never over between these two, whether it's at club or international level. After getting his tactics horribly wrong, Juve manager Massimiliano Allegri changed things up, choosing to play the ball up and over Bayern's press, instead if trying go through them and directly into the pressure. Key substitutions were made, as Alvaro Morata and Stefano Sturaro entered the game, giving the Italians more of a presence up front in conjunction with Mario Mandzukic. Juve slowly took control and equalized through Paulo Dybala, before Morata nodded on Mandzukic's pass to fellow substitute Sturaro, who netted the equalizer in the 76th minute.
It was a stunning comeback by the Italians, who looked to be dead and buried in front of their fans. While Bayern took their foot off the pedal a bit, full credit must be given to Juventus for the valiant way they fought back to give themselves a glimmer of hope in the second leg.
---
MORE ON THE UEFA CHAMPIONS LEAGUE: Sportsnet panel's picks and predictions || PSV set to crash into Atletico Madrid fortress || Arsenal's Sanchez a man of brilliant moments || Photo gallery: 10 to watch in Champions League || Photo gallery: Round of 16 matchups || Analytics: Europa League vs. Champions League
---
BEST GOAL
The "MSN" combo struck on the counter-attack in the 71st minute. Barcelona quickly broke out from its end, with Luis Suárez finding Neymar running beyond Arsenal defender Héctor Bellerín. The Brazilian then laid off a pass for the trailing (and unmarked) Lionel Messi to slot home from inside the box.
BEST SAVE
With the score tied 0-0 early in the second half, Andres Iniesta played a lovely pass into the penalty area behind Arsenal Héctor Bellerín. Neymar ran onto it and probed it forward, only for Petr Cech to make a superb stop with his legs.
BEST MOMENT
Bayern manager Pep Guardiola finds the humour in Thomas Muller missing a sitter in the 14th minute:
BEST QUOTE
"We knew they [Arsenal] could not keep work up in second half; we found more spaces, on the counter, and that's where the first goal came from." – Lionel Messi
BEST TWEET
Arsenal's marking of Lionel Messi in the buildup to Barcelona's first goal…
SIX PACK OF STATS
• Barcelona on Tuesday failed to record a shot on target in the first half of a Champions League game for the first time since November 2013.
• Bayern Munich captain Philipp Lahm is the second German player to reach the 100 Champions League appearances after Oliver Kahn (103).
• Lionel Messi has scored eight Champions League goals vs. Arsenal – only against AC Milan (eight) has he scored as often in this competition.
• Arsenal's Mesut Ozil has now gone nine Champions League games without recording an assist.
• Juventus on Tuesday conceded four shots on target at half time for the first time this season (in all competitions).
• There were just 47 seconds between Mathieu Flamini coming on to the pitch for Arsenal and him giving away a penalty.
Stats courtesy of Opta
BURNING QUESTION

THREE STARS
1) Lionel Messi: Two more goals from the Argentine, who at times appeared to be toying with Arsenal.
2) Philipp Lahm: Brilliant in possession and in building Bayern's attack against Juventus.
3) Mario Mandzukic: He didn't score, but he was involved in the buildup for both Juve goals.
---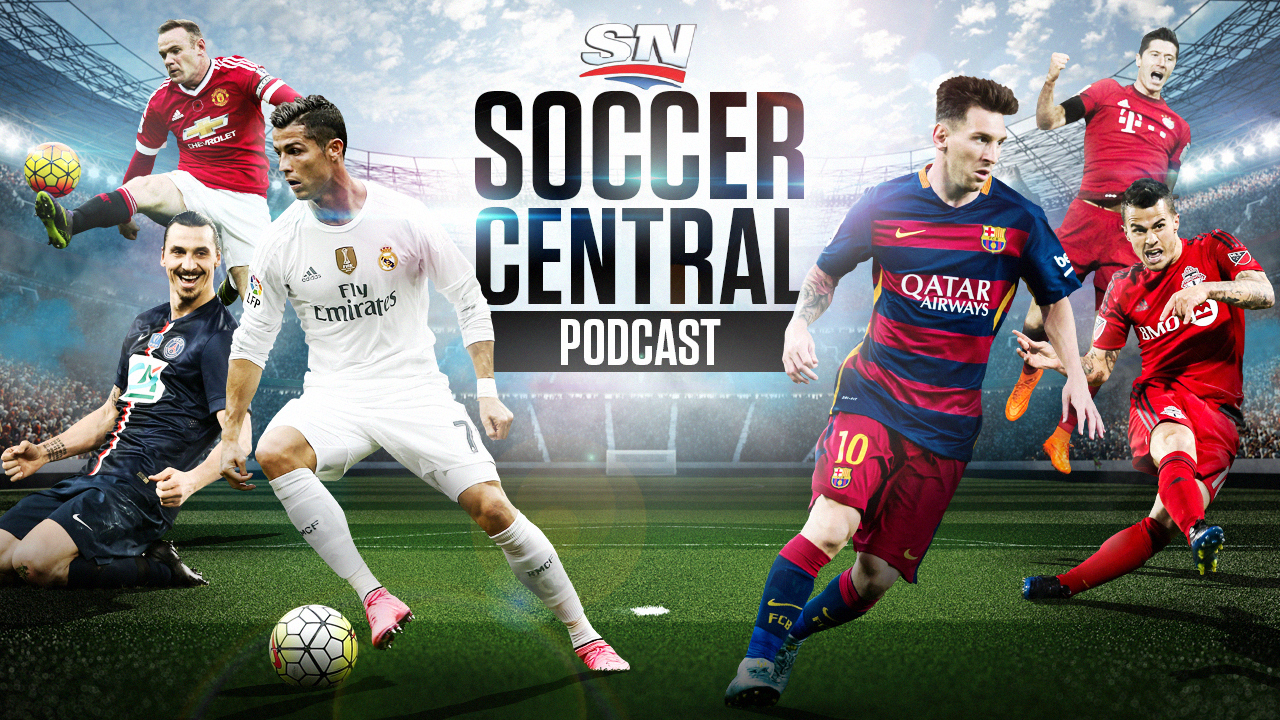 SPORTSNET.CA's Soccer Central podcast, hosted by James Sharman and John Molinaro, takes an in-depth look at the beautiful game and offers timely and thoughtful analysis on the sport's biggest issues.
Listen here | iTunes | Subscribe to the podcast
---