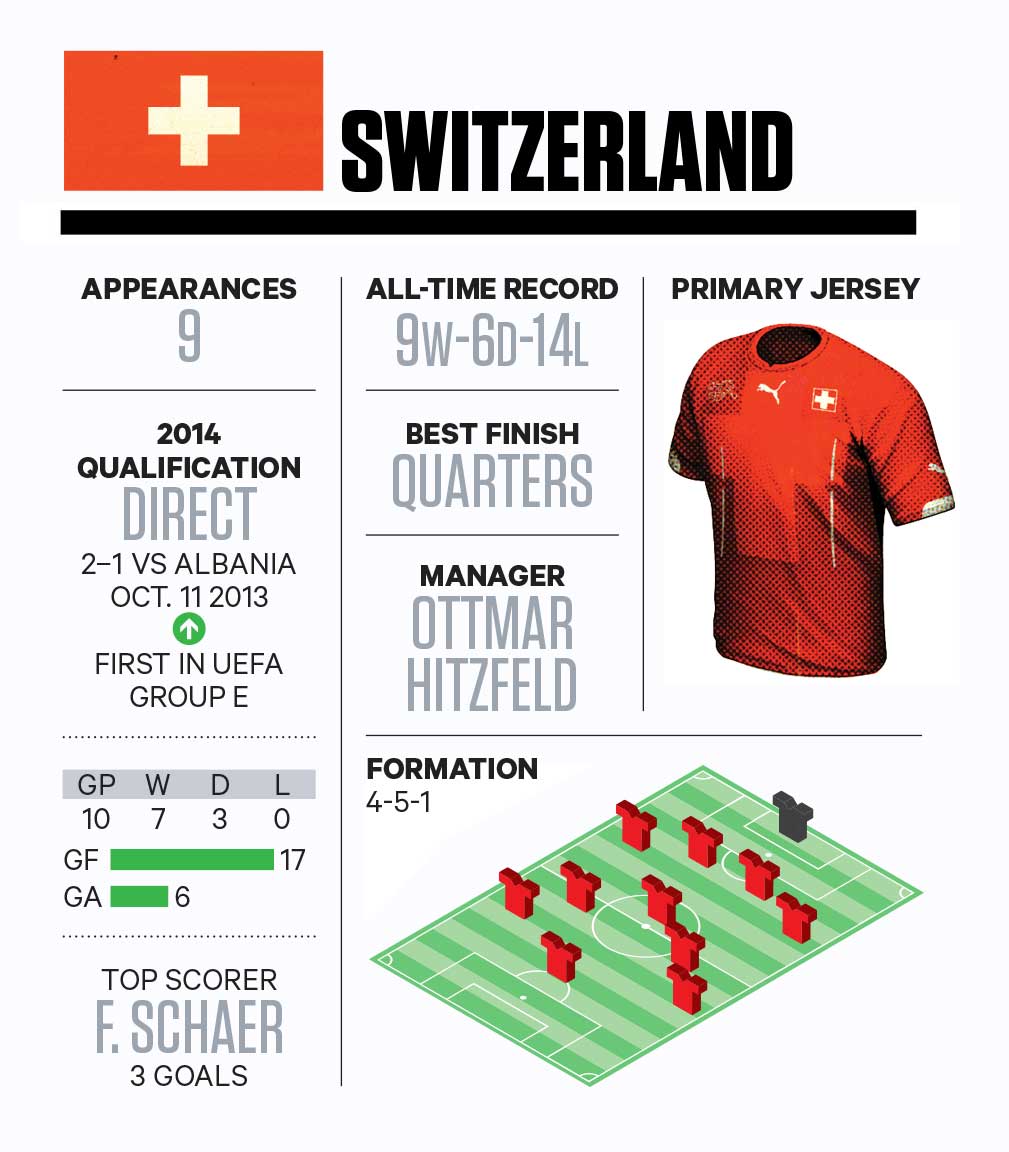 The Swiss are a lucky people. Good chocolate, beautiful mountains, secure banks—and Europe's easiest road to the World Cup. Drawn against the likes of Norway, Slovenia and Iceland, the Swiss won their group handily.
But did the easy draw do them any favours? After a decent showing in 2010—as the only team to beat eventual champs Spain—it's hard to tell how, or if, they've improved given the competition they've faced.
There are worrying signs: Their leading scorer in qualifying had just three goals. And he's a centre back. But there are also promising signs, most notably from a particularly strong midfield. Powerful winger Xherdan Shaqiri gives width, team captain Gokhan Inler offers reliable distribution and a long-range goal threat, and Tranquillo Barnetta provides creativity. The team is (as always) a very well-organized unit that gives nothing away—and it'll have to be. With a relatively weak front line (remember that leading scorer?) they'll have to be tight at the back.
But here the Swiss have been lucky again, with a manageable draw that will see them through the group stage.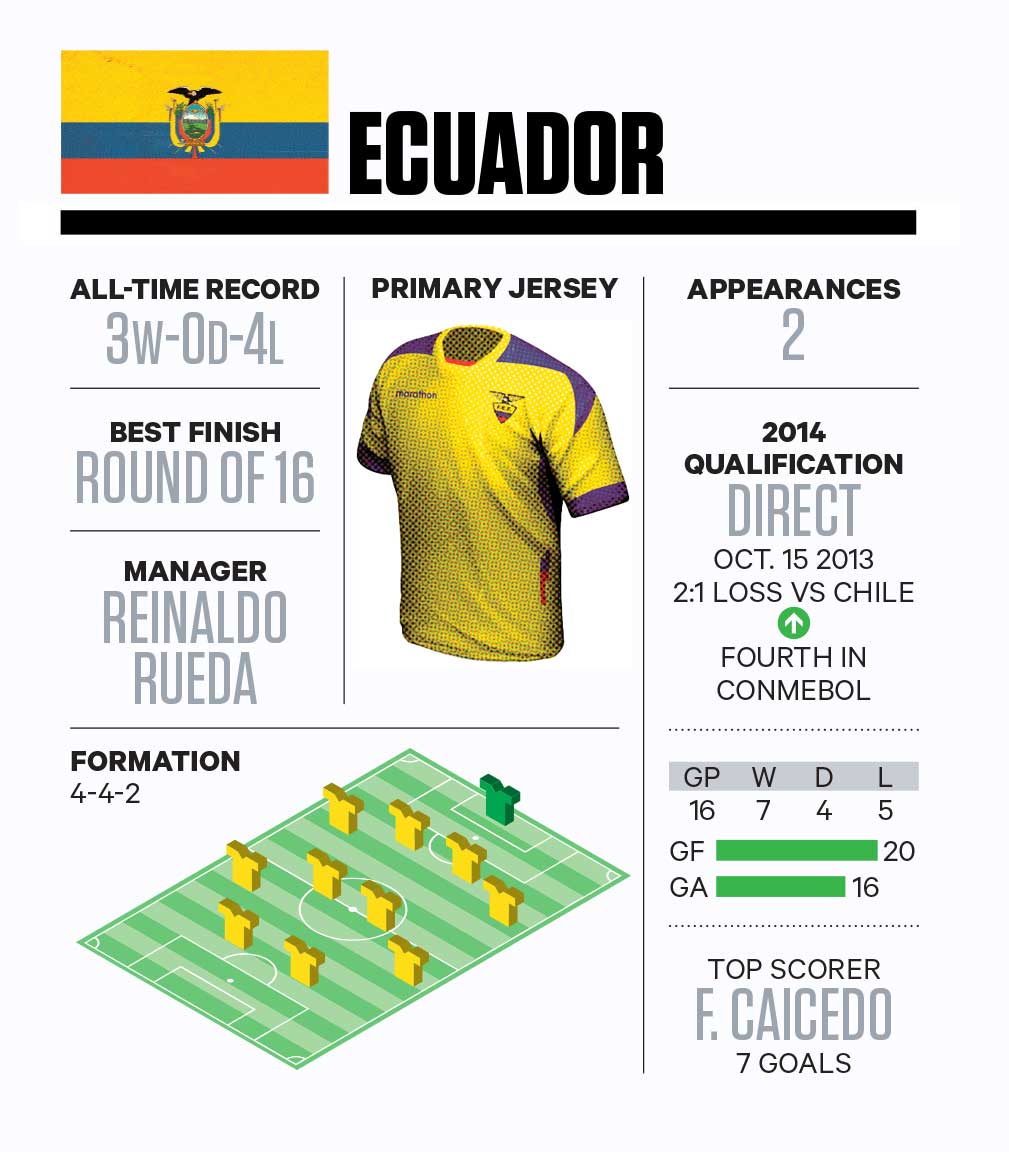 Ecuador enters the World Cup with heavy hearts and without key striker Christian Benitez, who suffered a fatal heart attack last July. A tragedy that shook the team, his loss is also a disaster on the pitch—in qualifying before Benitez's passing, La Tri averaged 1.5 goals per game; without his ability to both create and finish, that rate fell to 0.67.
The now-weightier burden of the attack falls on the talented trio of Jefferson Montero on the left and Manchester United stalwart (and team captain) Antonio Valencia on the right, both feeding striker Felipe Caicedo, a cool finisher who led Ecuador in goals through qualifying. Caicedo declined a move to La Liga's Valencia, opting for guaranteed playing time in the UAE to hone his form. Ecuador's hopes rely on Caicedo's gambit paying off, and in that key attacking trio finding its collective rhythm. If it all works out, La Tri can play spoiler should either France or Switzerland stumble.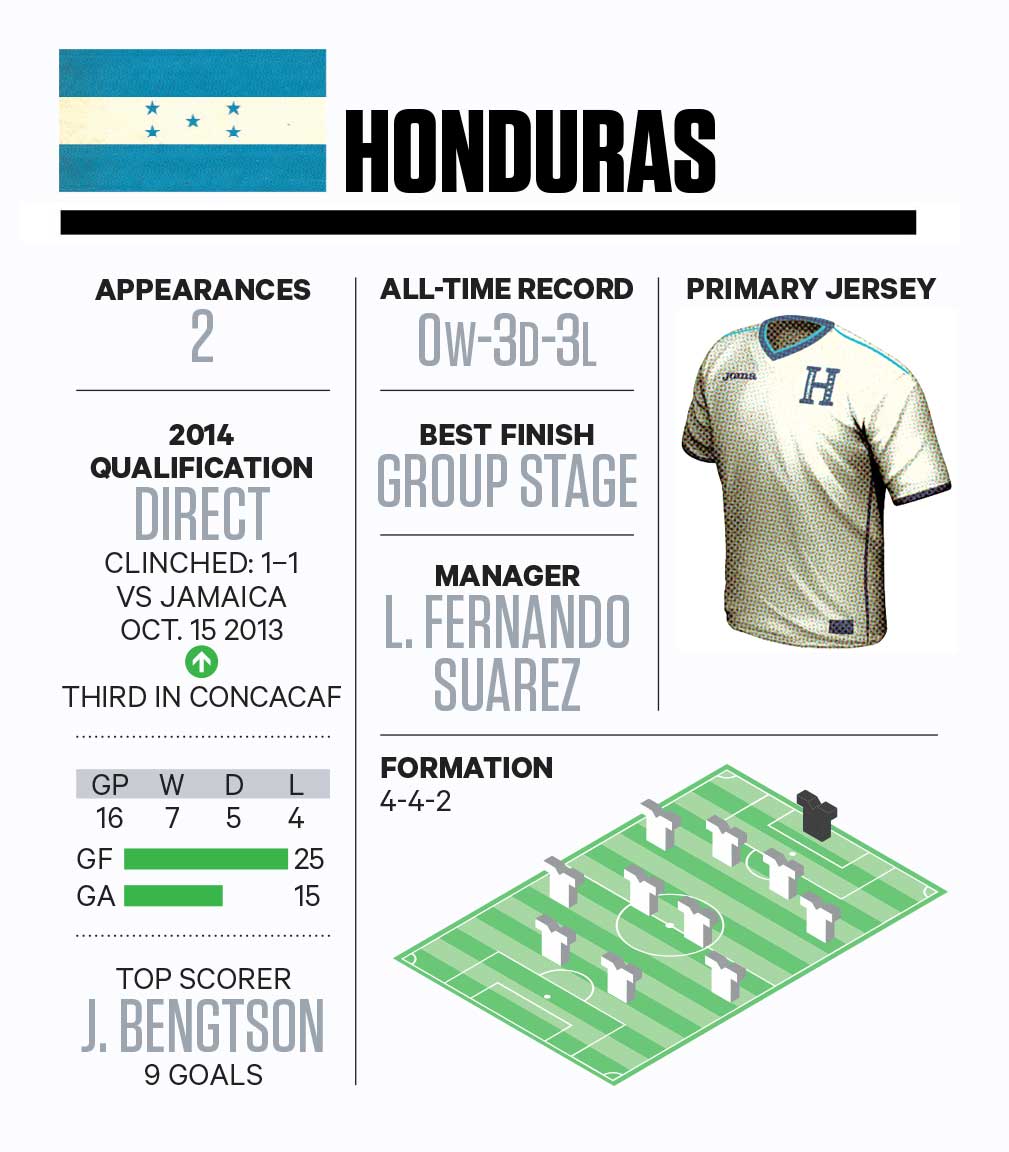 If Honduras is to make an impression in Brazil, it will be up to three British-based players to make the difference. Wilson Palacios (Stoke City), Maynor Figueroa (Hull City) and Emilio Izaguirre (Celtic) are the heart of a team playing just its third World Cup.
Izaguirre's forays down the left flank light up Celtic Park on a weekly basis. Defensively sound with a wicked left foot, the fullback brings big-game experience to an inexperienced national squad, having impressed in the Champions League.
Figueroa and Palacios are both sturdy Barclays Premier League grafters. Palacios is an able midfield destroyer, breaking up opposition play and instigating attacks. Centre back Figueroa, meanwhile, has a nose for big goals that many strikers would envy.
The knockout round is probably out of Honduras's reach, but Los Catrachos will give opponents a tough test.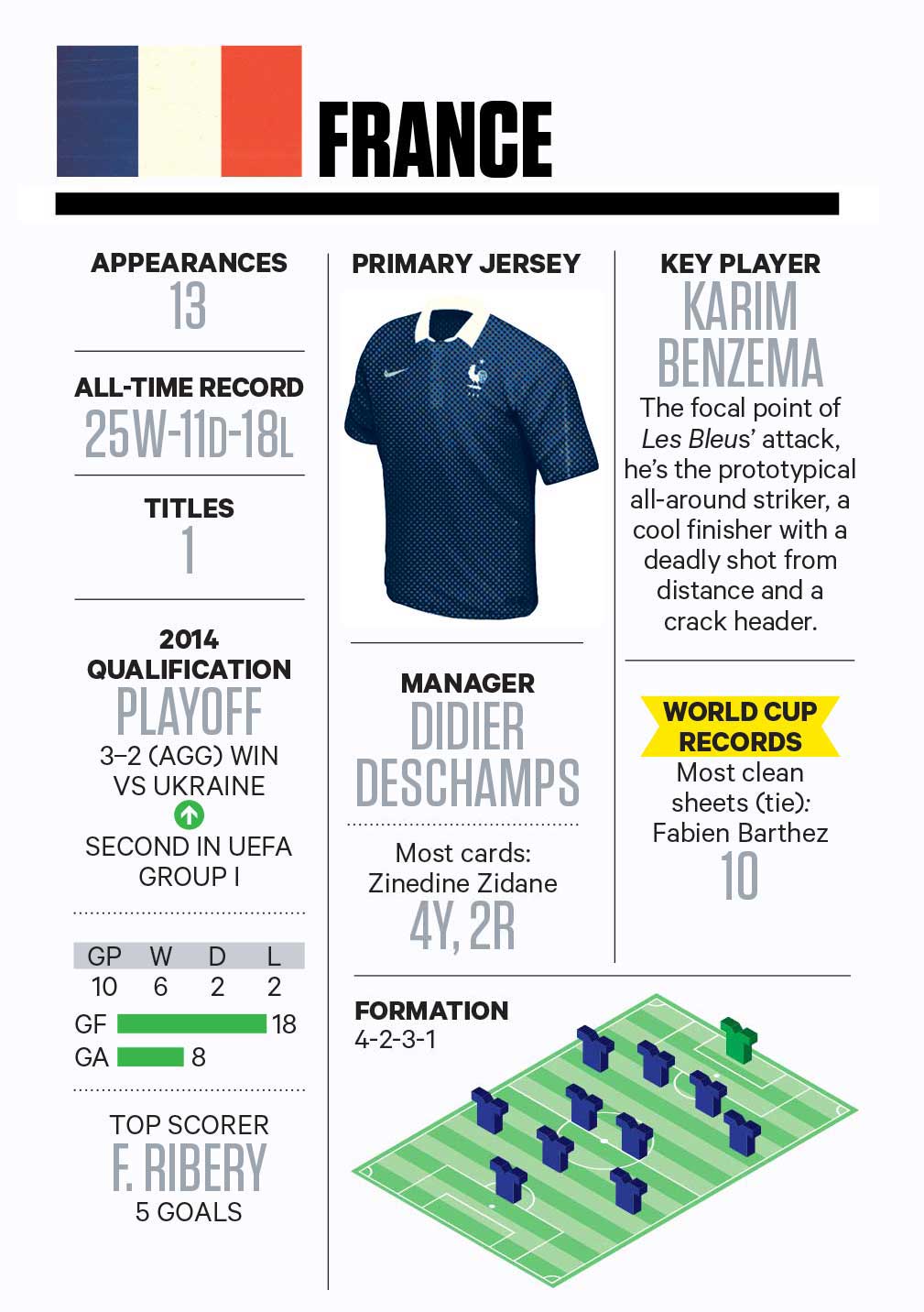 Success for France depends on the team putting the recent past behind them. It means getting past the desperation of a qualification campaign that came down to a 72nd-minute salvation strike in the second leg of a playoff against Ukraine. It means erasing the lingering memory of a disastrous 2010 tournament where a training-ground mutiny against then-manager Raymond Domenech spilled over into a dire, winless, bottom-of-the-group finish. It means healing the toxic dressing-room atmosphere. And it means recognizing the problems are in the players' heads, not on the pitch.
There are signs that France is headed in the right direction. Manager Didier Deschamps made the tough decision to leave Samir Nasri off the squad, ridding the team of a reported dressing-room problem at the expense of losing a talented player fresh off a career year with Barclays Premier League winners Manchester City.
Also encouraging is the apparent mental shift in star striker Karim Benzema. Long a prodigious goal-getter with Real Madrid, Benzema has often cut an indifferent figure for France, failing to assert his quality in big matches. Under Deschamps, however, the 26-year-old has played with renewed commitment and focus, scoring four goals in his past five outings with Les Bleus.
The key, then, is having a true leader, a player who can grab this undeniably talented team by the scruff of its collective neck and move it in the right direction. Therein lies the problem for this French team—a problem Deschamps has yet to solve. While Franck Ribery is an established, elite star who drives from midfield like a demon, he's recently come under fire for his lack of leadership, with French great Marcel Desailly citing Ribery's failure to deliver on the country's expectation that he would fill the hole left by Zinedine Zidane's retirement in 2006. After his best club season yet, now is Ribery's chance to step up.
The French have history on their side when it comes to rebounding from failure. They didn't even qualify for the 1994 tournament; at home in 1998, they won their first World Cup title. In 2002, the reigning champs failed to win a single match; in 2006 they went all the way to penalty kicks in the final. If this extreme pattern continues, the disaster in South Africa should be followed by a deep run in Brazil. In a group without another traditional powerhouse, Les Bleus' biggest worry is that they'll end up beating themselves. —JAMIE DOYLE