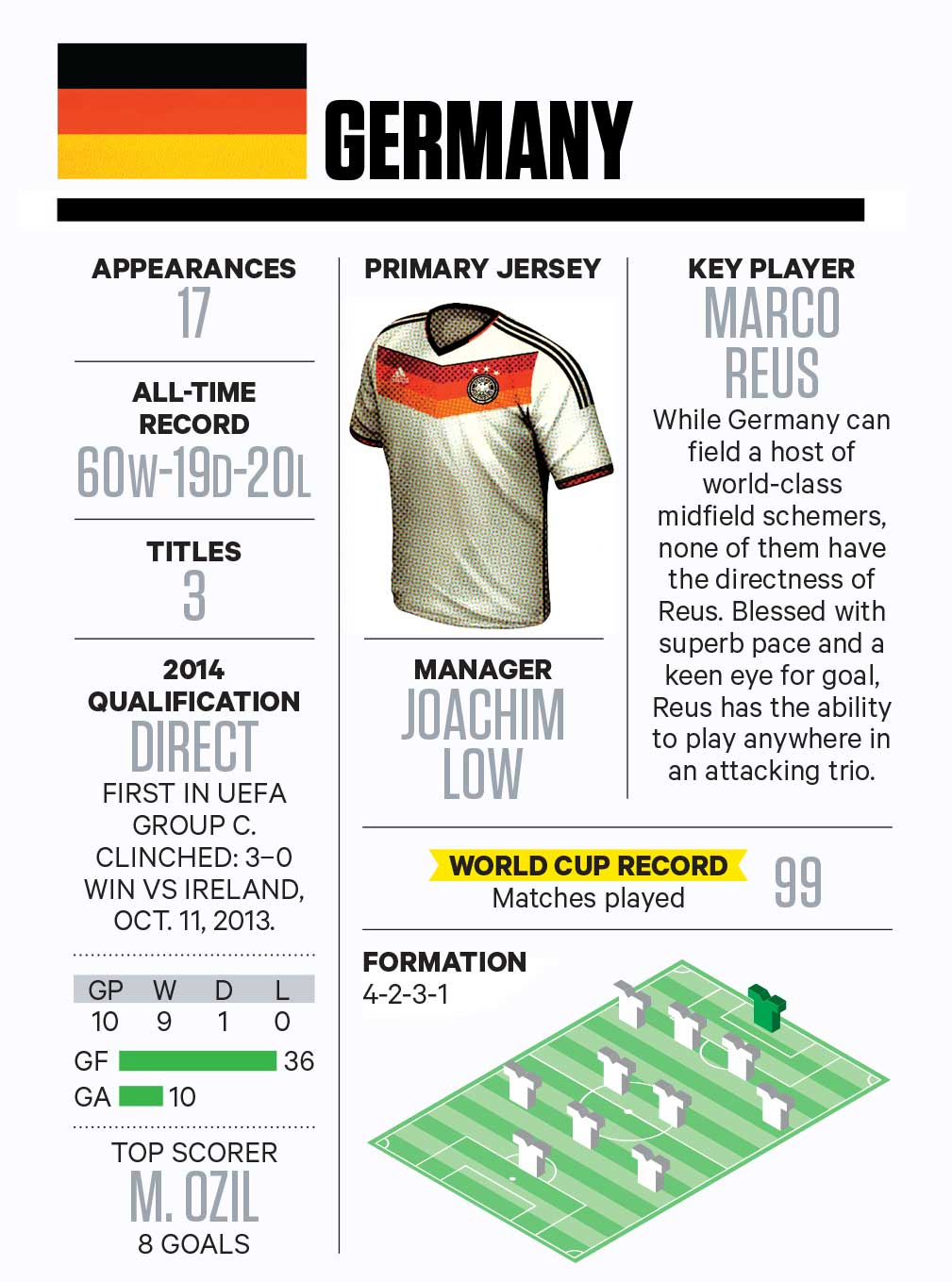 There's an old quote about the beautiful game that seems fitting heading into this World Cup: "Football is a simple game; 22 men chase a ball for 90 minutes, and at the end the Germans win." Maybe it simplifies things a bit—it doesn't account for injury time, after all—but the result is accurate: Germany wins. And it's never been more accurate than now, with the Germans the odds-on favourite among the European teams.
They went undefeated through qualifying, only drawing one of their 10 matches and finishing with a whopping plus-26 goal differential. Friendlies included, they've lost just twice since Euro 2012, one of those being a 4–3 defeat to the U.S. in which they fielded a B squad.
Historical precedent says the Germans are bound for the final—they missed out on the past two, and haven't gone three tournaments without a final appearance since they won their first title in 1954.
And their recent history backs that up, too. After failing to win the 2006 World Cup at home, the German program underwent something of an overhaul, ousting manager Jurgen Klinsmann and doing more to bring Germany's immigrant community into the fold.
By 2010, the team's new manager Joachim Low was fielding Germany's most ethnically diverse World Cup squad ever, with Mesut Ozil, Sami Khedira, Dennis Aogo, Cacau and Jerome Boateng all either foreign-born or descended from immigrants to Germany.
The best of those players now form the core of a team that has been forged through the 2010 World Cup and Euro 2012, making semifinal appearances in each. Now, with much of the squad hitting its mid-to-late-20s prime, they have their best shot at a World Cup title.
The pressure is on for them to take it. With such promise in the side and no trophies to show for it—Germany hasn't claimed a major title since Euro 1996—there are signs that this is Low's last chance to win a World Cup. Former German captain Michael Ballack has gone so far as to call for Low to be sacked after the tournament regardless of the outcome.
There's every reason to believe that outcome should be a good one for the Germans, though. The sheer quality of their team is all but irresistible. Low's squad boasts arguably the strongest midfield in the world—with the likes of playmaker Ozil, destroyer Bastian Schweinsteiger and the dynamic attacking threats of Toni Kroos, Thomas Muller, Marco Reus and Mario Gotze to choose from, it's no wonder Low only called two strikers into his preliminary squad for Brazil. Who needs a strike force when you can get 30 goals in qualifying from midfielders?
Drawn into a group of death, Germany should still be the most lethal. If their seasoned defenders can smother Ronaldo, they'll overcome Portugal; if their attack from midfield lives up to its potential, they'll overrun the inexperienced American back line.
Don't be surprised if the saying rings true. The World Cup is a simple tournament: 203 countries chase a dream for four years, and at the end the Germans may well win it all. —JAMIE DOYLE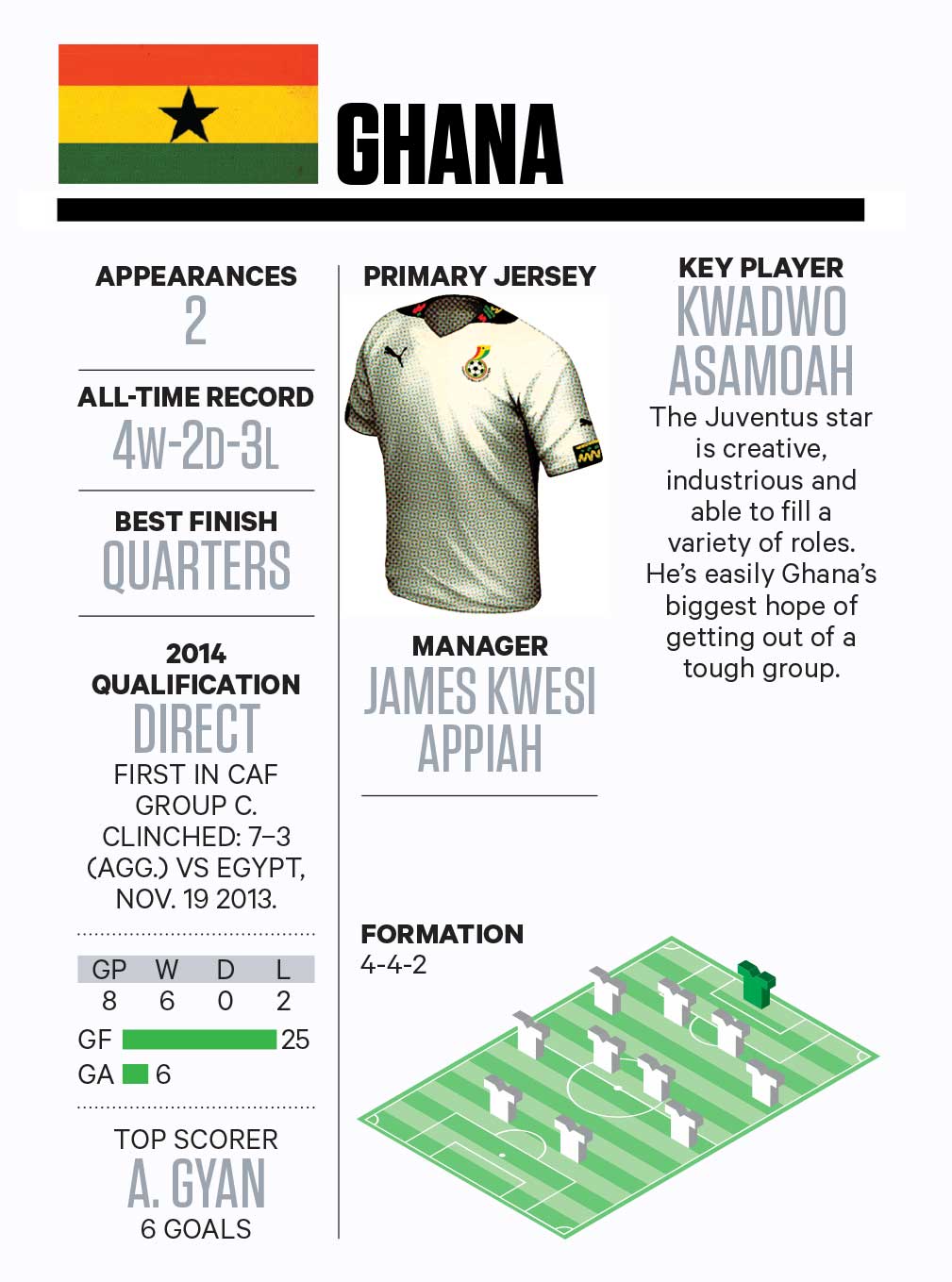 with a draw like this, it's hard to think Ghana will be able to repeat, let alone improve on, its 2010 performance, where the team missed out on the semifinals thanks to the creative efforts (read: cheating) of Uruguay's Luis Suarez.
They have quality, sure—a slew of Serie A–based talent headed by Kwadwo Asamoah and Sulley Muntari, and the mercurial Kevin-Prince Boateng—but will it be enough to overcome their opponents? The Americans have improved considerably since the Black Stars knocked them out of the round of 16 last time out. While Ghana's midfield is strong, their defence doesn't seem strong enough to handle Portugal's Ronaldo-led attack. As for Germany? Suffice it to say after their clash in Fortaleza on June 21st, Kevin-Prince will likely envy his German half-brother, defender Jerome Boateng.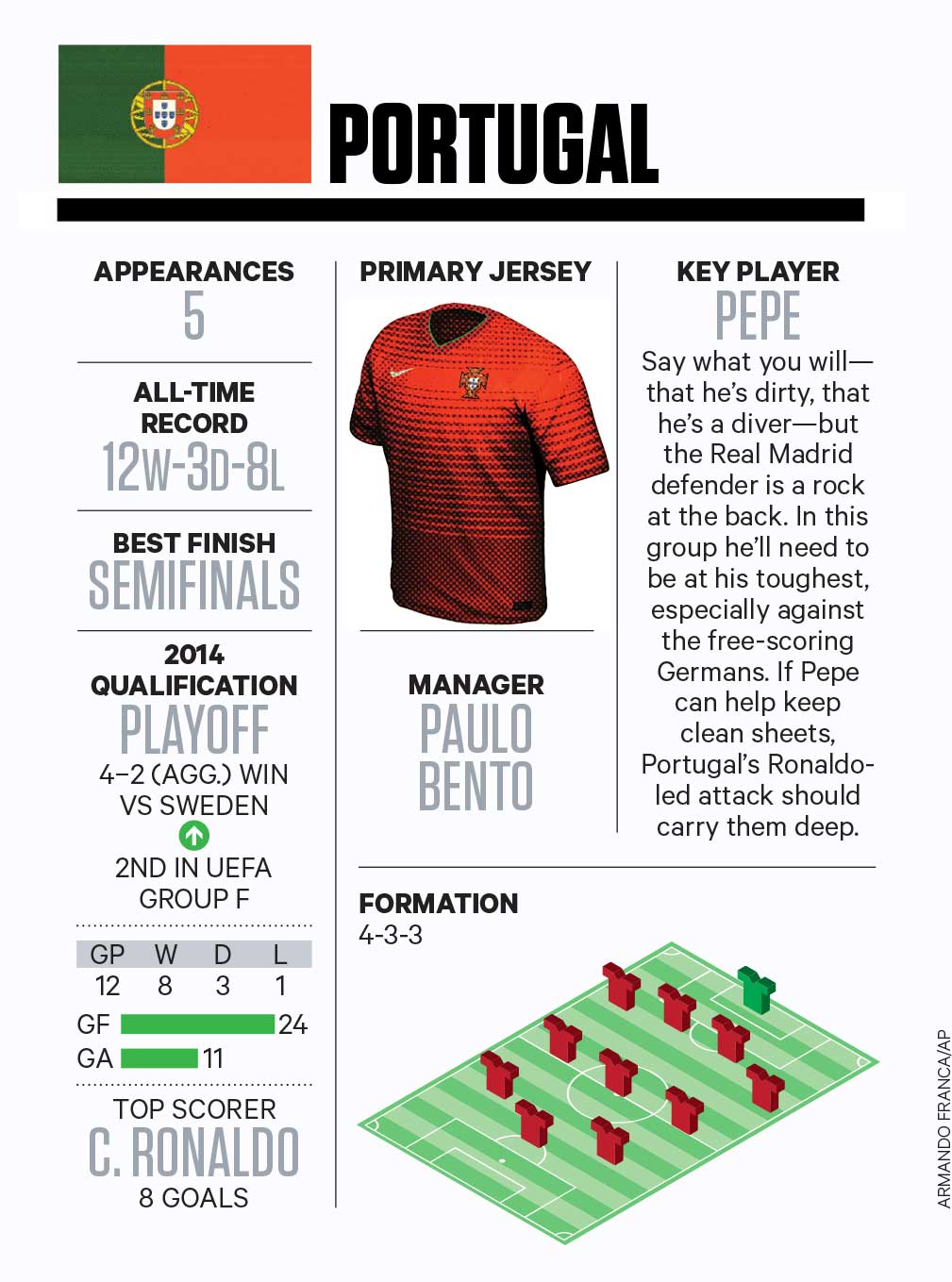 when you talk about Portugal these days, you talk about Cristiano Ronaldo. And all you need to know about him was on display in the home-and-away playoff against Sweden. It was the kind of stage that suits Ronaldo, a high-pressure, do-or-die setting with glory on the line. What's more, it was the kind of competition he thrives on: a head-to-head showdown with rival superstar Zlatan Ibrahimovic. Maybe it was an admirable rising to the occasion, maybe it was an ego-driven performance, but Ronaldo scored all of Portugal's four goals in the two games, including a hat-trick in the second leg to counter Ibra's lightning-fast brace.
If the need to outshine a rival star is what drives Ronaldo, Portugal is in luck. Drawn into a tough group with superstar-packed Germany, the U.S., and 2010 quarterfinalists Ghana, there will be plenty of big names lining up against him.
That said, Ronaldo could very well feast in the group stage, up against the relatively weak back lines of Ghana and the U.S.
The key to Ronaldo's production will be his supply. While Raul Meireles has a creative side, the task falls mainly to Joao Moutinho, whose incisive, slide-rule passing has proven key to putting CR7 in on goal. If they link up well, Group G beware. —JAMIE DOYLE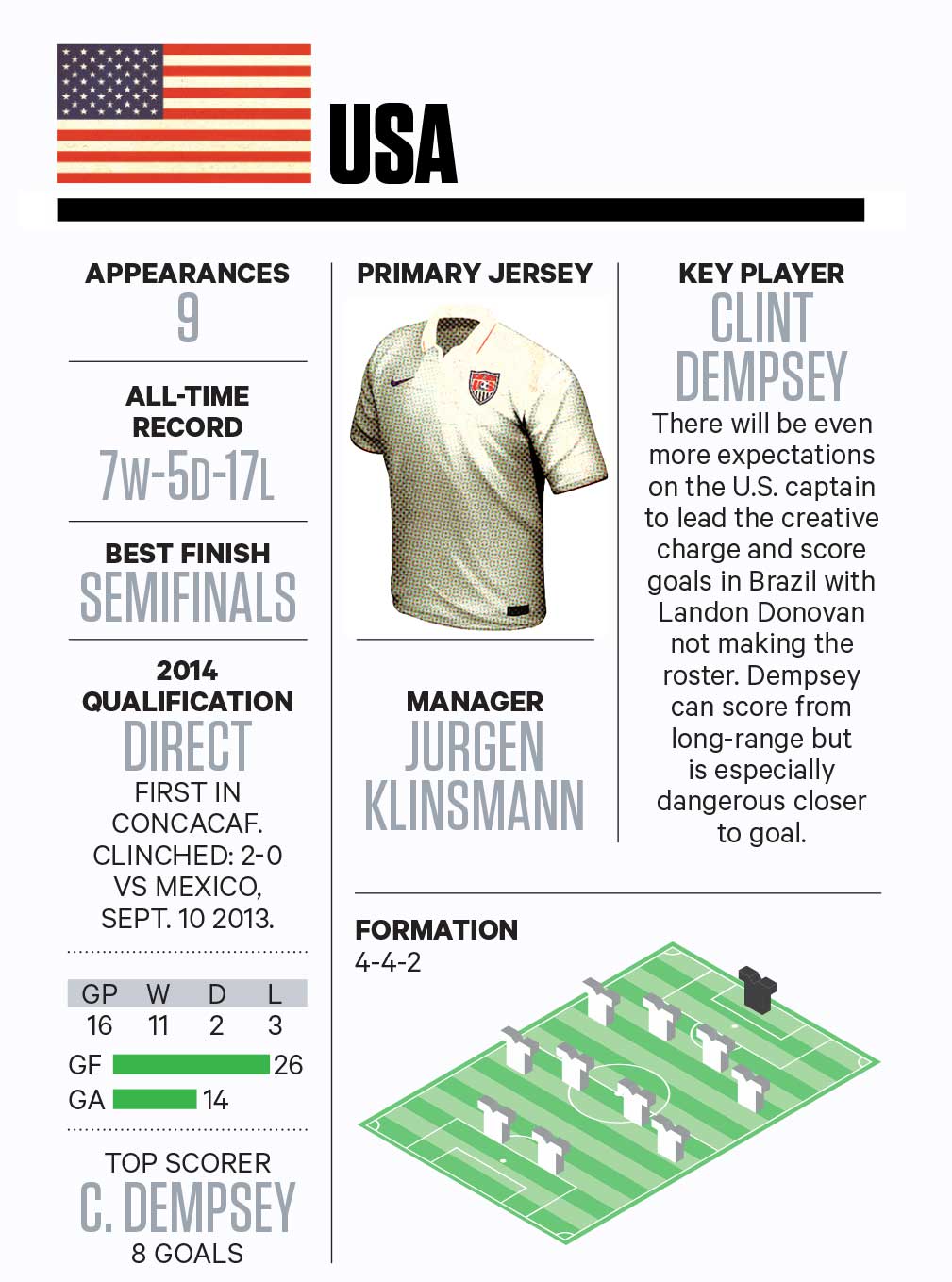 Would it surprise you to learn that the United States is one of the most consistent World Cup participants? It shouldn't.
After a 40-year absence, the Americans came out of the World Cup wilderness when they qualified for Italia '90. The U.S. hasn't failed to qualify for the tournament since. And the Americans haven't been mere spectators either, reaching the round of 16 twice and the quarterfinals in 2002.
Whereas opposing nations used to scoff at the U.S.—as England did in 1950 when the Americans pulled off the greatest upset in World Cup history, beating them 1–0 in a group match—nobody takes them for granted any longer.
With more American-born players playing for top European clubs than ever before and Major League Soccer growing into a respectable league, the U.S. national team continues to be a rising force in the international game.
Manager Jurgen Klinsmann's side has a very solid spine. Everton's Tim Howard is one of the best goalkeepers in the Barclays Premier League. Omar Gonzalez of the LA Galaxy is a combative central defender who would not look out of place on a European club's roster. Toronto FC's Michael Bradley is an absolute workhorse—a solid two-way player who provides defensive cover and can launch an attack with his sublime passing skills. Forwards Clint Dempsey, formerly of Tottenham, and Sunderland's Jozy Altidore have combined for more than 50 goals for their country, forming a lethal one-two scoring combination.
But there are several factors working against the U.S. at this summer's tournament, not least of which are its first-round opponents.
The U.S. face their easiest test right out of the gate against Ghana. Klinsmann will consider that a must-win—as will players who remain from the 2010 team that Ghana eliminated in the round of 16. Getting anything less than three points from that opener would leave the Americans with their backs to the wall against Ronaldo and a talented Portuguese team. The worst scenario would be needing a win against Germany—one of the tournament favourites—to move on.
Another major issue for the U.S. is Klinsmann's peculiar decision to overlook Landon Donovan, the team's all-time leading scorer with 57 goals in 156 appearances. Donovan has been the public face of American soccer for the past decade, but he did himself few favours when he took a four-month sabbatical from the game at the end of the 2012 MLS season.
Klinsmann told Donovan, MLS's all-time leading scorer, he'd have to earn his roster spot back and the coach evidently didn't think Donovan had done that. But even though Donovan, 32, has lost a step, he has a wealth of experience that would have been invaluable to this rather young American squad, to say nothing of the fact that he remains one of the best players in the country. Will Klinsmann regret his bold choice? We'll soon find out. —JOHN MOLINARO