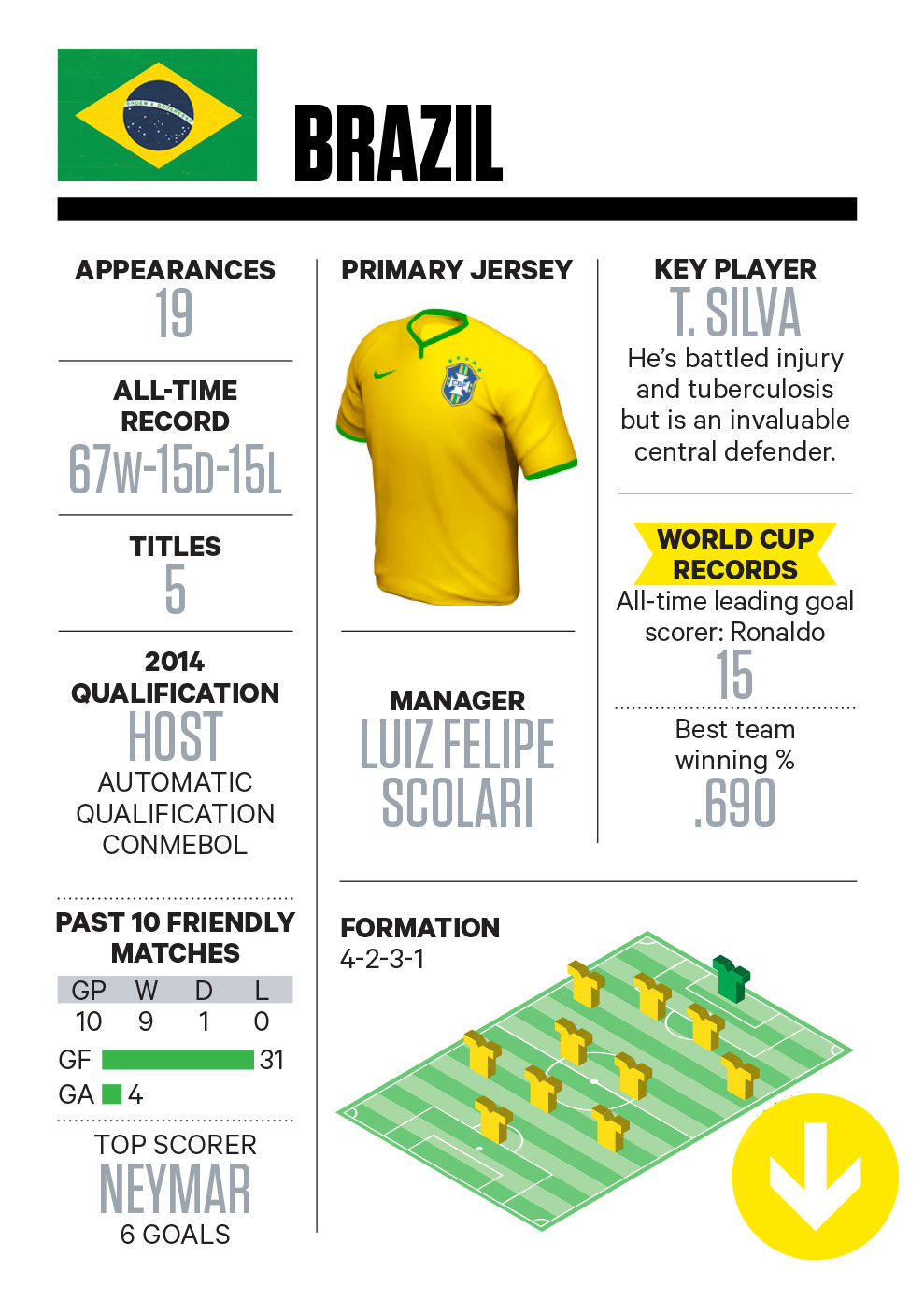 Hosts of any World Cup face added pressure, but anything less than a sixth star on the famous Selecao kit will be considered a failure. Much will depend on how well Neymar's supporting cast plays—he simply can't do it all on his own.
Luiz Felipe Scolari's side is decidedly less flashy than in years past, but fitter and sturdier, so better suited to a long run. Thiago Silva is the best central defender in the world, while Dani Alves and Marcelo combine width and defensive solidity. Fernandinho, Ramires, Paulinho and Luiz Gustavo ensure Brazil won't be dominated in midfield, but it's pint-sized playmaker Oscar who could be the difference. He likes to ghost into the left channel, which dovetails perfectly with Neymar cutting inside on his right foot for better looks at goal. Willian and Hulk are wide threats, while Fred is a rare player who looks better in international play than at club level. This is clearly a capable bunch. One that will deliver.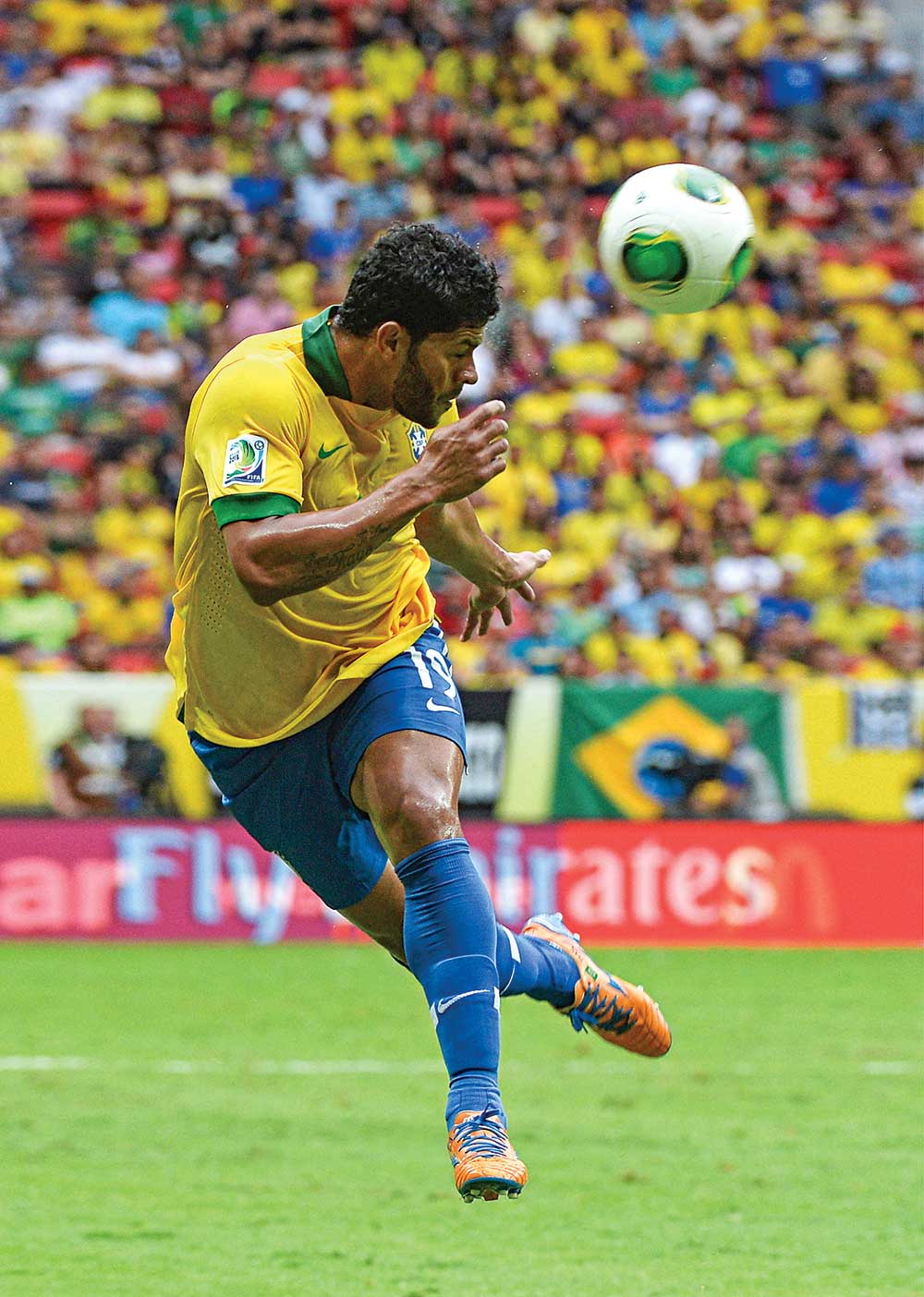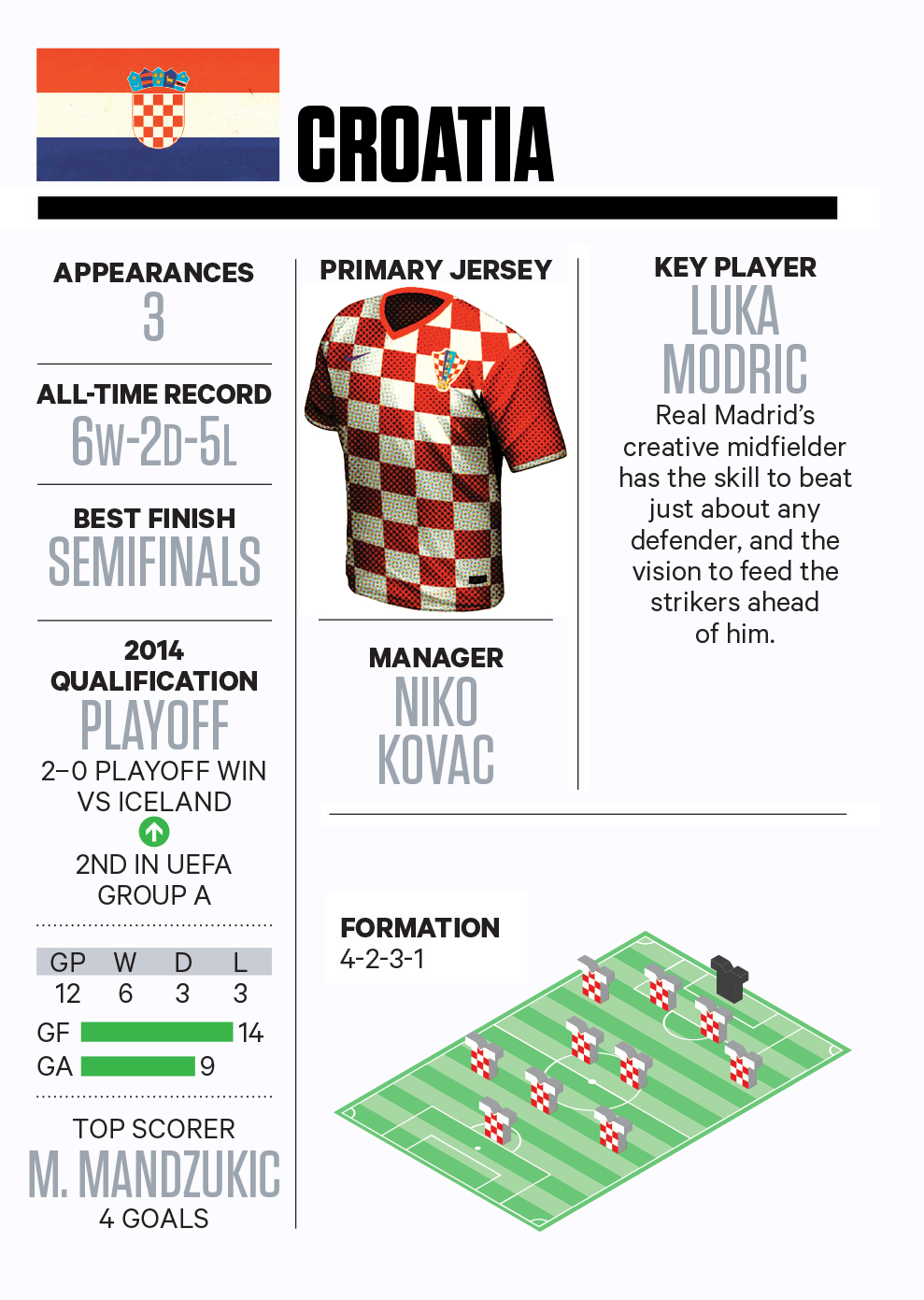 It's been a long time since Croatia placed third at the 1998 tournament. It was their first World Cup as an independent nation, and it's still their best ever finish. Two group stage exits and, most recently, a failure to qualify have marked the program's decline—but there is legitimate hope to reverse that slide. This is a solid, mature side that relies on seasoned veterans Darijo Srna, Vedran Corluka and Danijel Pranjic at the back, the playmaking guile of Real Madrid trickster Luka Modric, and reliable finishing from Eduardo da Silva and Bayern Munich's Mario Mandzukic (who will miss the opening game due to suspension). Top spot in Group A will go to Brazil, but with a generation of stars facing their final shot at the knockout round, second place is Croatia's to lose.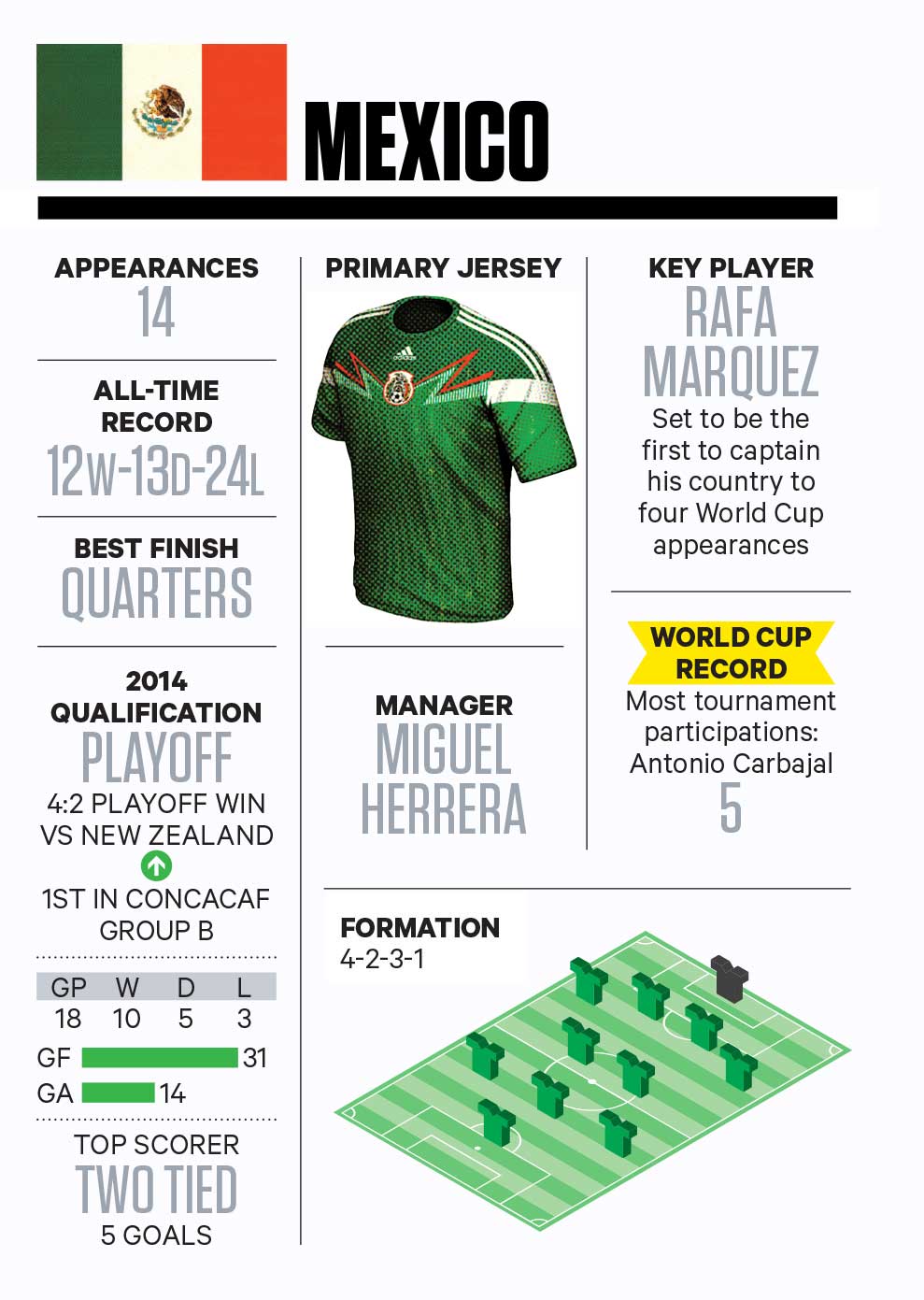 The Mexicans are lucky to be here. After a shambles of a qualifying campaign that saw El Tri run through four managers, they secured a spot in Brazil in the most embarrassing way: with help from the U.S.—their most hated rival. When Graham Zusi scored to beat Panama in a final qualifying game that was meaningless for the Americans, it lifted Mexico over the Panamanians and into CONCACAF's playoff spot and all but guaranteed a home-and-away win against New Zealand (Mexico won 9–3 on aggregate). The backwardness of their qualification not only elevated Zusi to sainted status south of the border, it also refocused a Mexican squad that hasn't lost in its past six games and—crucially—has rediscovered how to score.
But not all is well with El Tri. Holes remain in the lineup, especially in a midfield that has an average age of just 24 and no players with more than 15 senior caps.
At the back, the problem is just the opposite, with Mexico still worryingly reliant on aging defenders Francisco Javier Rodriguez (32), Carlos Salcido (34) and Rafa Marquez (35). They offer a confident presence and World Cup experience to help counter the youth in midfield, but for everyone in this veteran backline, their best days are behind them.
Oddly, given the team's exhausting inability to score in CONCACAF qualifying—they averaged just over half a goal per game at home in the final group stage—it's up front where they look the best on paper. Led by Manchester United striker Javier Hernandez and bolstered by Valencia's Giovani dos Santos, who can play up front or behind the striker, Mexico has a flexible forward line. Add in Oribe Peralta, who tied Hernandez as leading scorer in qualifying, and El Tri have got considerable offensive power.
Despite their relative strength in attack, Miguel Herrera will rue not having Carlos Vela in the team. The 25-year-old just finished a career season with Real Sociedad in Spain, but after a dispute with a former coach, he made it clear he won't return from his self-imposed exile for this World Cup. Depending on how things go for a fallible team, Vela may yet prove lucky not to be in Brazil. —JAMIE DOYLE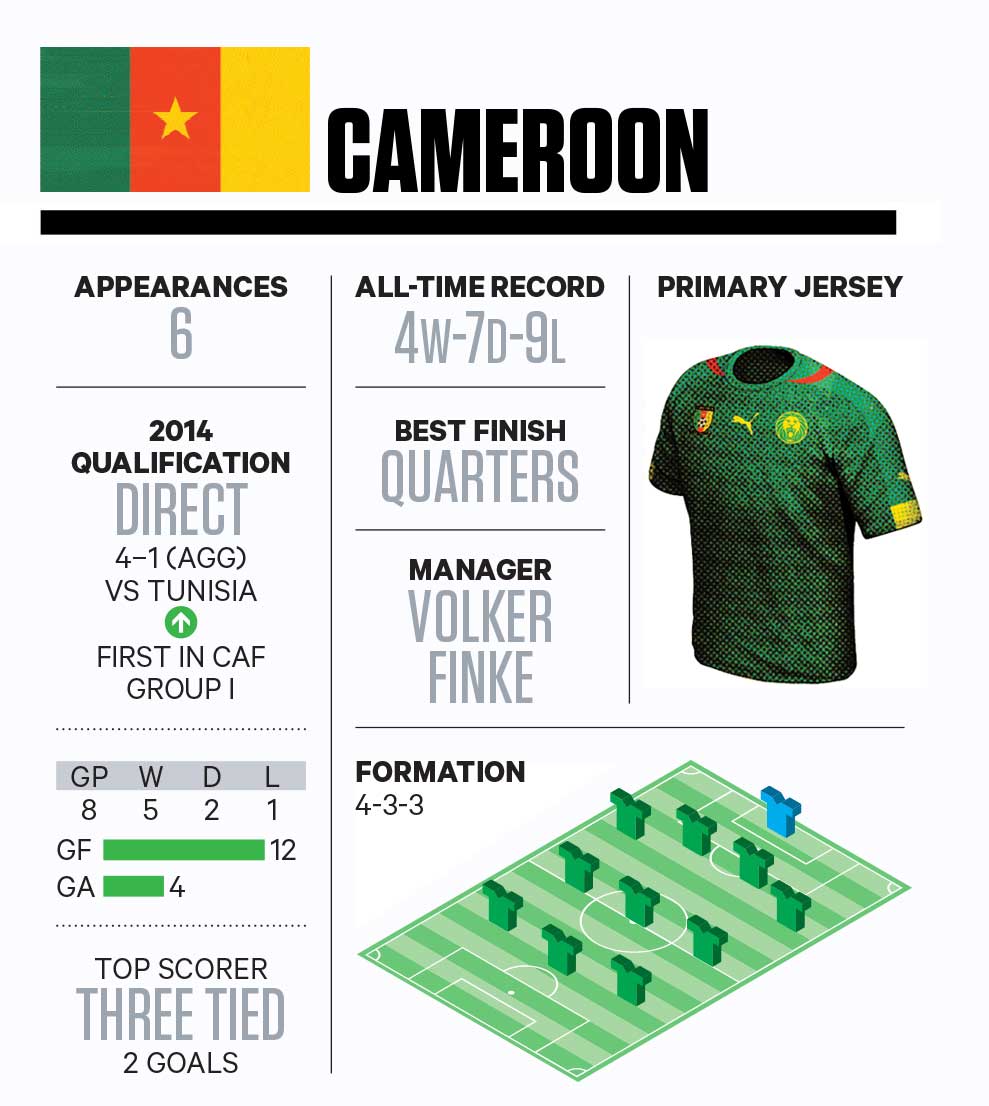 Cameroon's Indomitable Lions haven't been indomitable for quite some time.
The nation's historic quarterfinal run at the 1990 World Cup is now just a faint memory. Group-stage exits have been the order of the day ever since, and it's hard to see that changing in Brazil—especially with games against the host nation, Croatia and Mexico looming.
On paper, Cameroon has a decent back line, and its midfield is solid, with Stéphane Mbia providing muscle and Alex Song pulling the strings.
Unfortunately, this is a team blighted by infighting behind the scenes. Veteran striker Samuel Eto'o, 33, is a divisive figure following a nasty dispute with the leadership of the country's soccer federation and a much-publicized feud with Song. That's a problem, as Eto'o is Cameroon's only proven goal scorer at the highest level, and the team's chances for success rest on his shoulders. It won't go well.