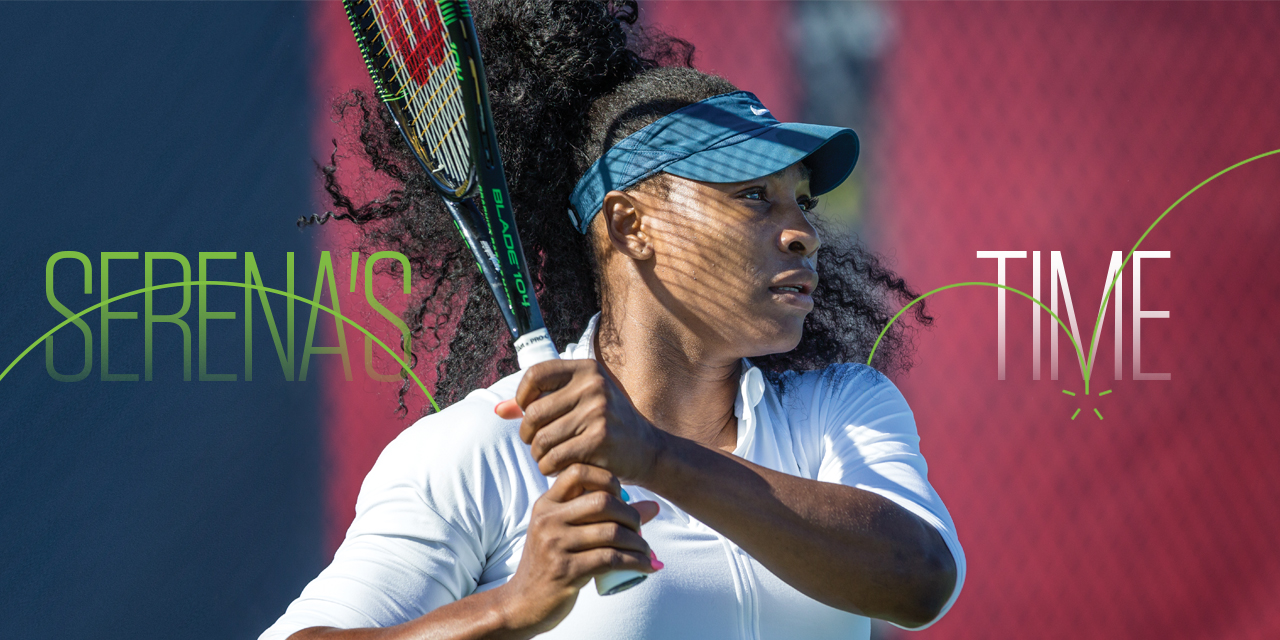 She's frequently been called the most dominant athlete in her sport.
It's just that now she's the most dominant athlete, period.
By Brett Popplewell in Toronto
Photography by Christopher Wahl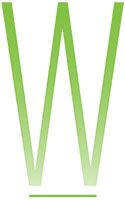 hen it's played properly, tennis is a game that's won or lost in the mind, in those brief moments when the ball is travelling 190 km/h over the net, leaving the brain to execute the countless split-second decisions that are so often mistaken for basic reflexes. But more than that, it's determined in those long and drawn-out periods of time between rallies when the players psych themselves up for a shot that's yet to occur; or try, as best they can, to forget all that's happened up to that point in the game. It's in these moments that the mind becomes the driving force behind what we refer to as momentum. And in tennis, there's nothing more important than being the one with the momentum.
Serena Williams stands out like a matador in the sun—pacing the court in a green neon top, headband and black shoes with orange laces. She moves slowly between rallies, with a confident swagger, deliberately bouncing the ball five times before each first serve, twice before the second. She leaps into the air and sends the ball into play. Then comes the return, followed by squeaks and thunder as she darts across the baseline. Now the matador becomes the bull. Berating her racket, looking as if she might smash it to pieces. She's 12 minutes and already four aces into one of the most dominant matches in one of the most dominant seasons in all of sport. And yet she is angry.
She just sent a cross-court forehand into the net and now she's smacking her racket against her leg and gesturing to a non-existent person by her side, shouting the question: "WHAT WAS THAT?"
This is the Serena Williams who can only be fully appreciated in the flesh. Conversing with some omnipotent being during a match. Screaming at the ball to "COME ON!" and "GOOOOOOOOOOOOO!!!" as it careens out of bounds. Looking as unhappy with the good shots as she does with the bad ones and spending intense moments alone in her head, staring at her shadow between rallies, searching for whatever it is she must harness in order to be her best.
It's already difficult to remember tennis as it was before Serena. Not only because she's changed the game, but because she's come to define it. And years from now, this season may be the one that will have defined her. Walking onto a court this month at Flushing Meadows, 16 years after having won her first US Open there, she will try to become the oldest human and fourth female singles player to complete the Grand Slam. If she wins, she will match Steffi Graf, whose 22 singles Slams in the Open era have, until now, seemed untouchable. Nearly four years older than Graf was when she retired, Serena, just a few weeks shy of her 34th birthday, has been the oldest No. 1 on record every week since regaining the top spot on Feb. 18, 2013. And though she's now roughly 10 years older than the average age of her fellow top-20 players, her win percentage (173 wins in 187 matches) over the past three seasons has left her opponents and her fans unable to see her as anything but the woman who's rewriting history.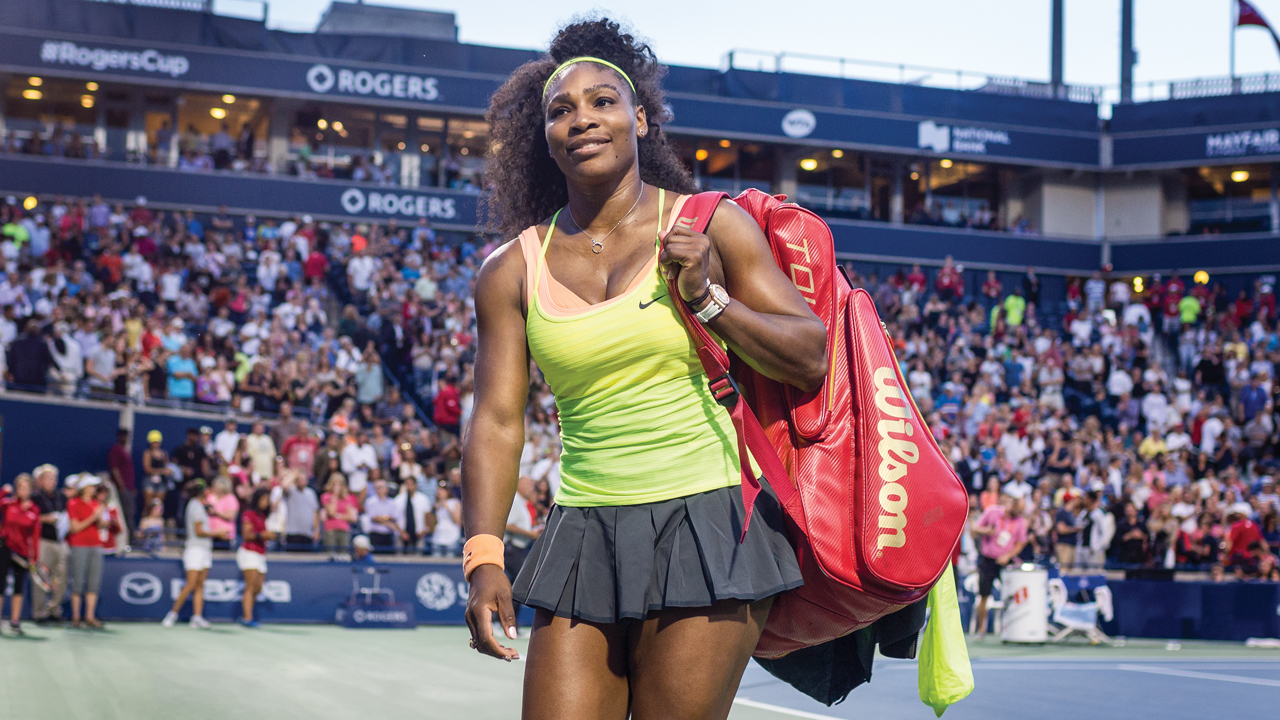 For 20 years, we've been familiarizing ourselves with her legend, granting her mononymity, first out of convenience but now out of deference. She is Serena—the girl from the concrete courts of Compton, Calif., raised to be tough, unfazed by anything, even gunfire. The younger sister and only foil to the reign of Venus. Taking it to the world with a tennis racket.
She was just 14 when she turned pro on a court in Quebec City, exploding into the public consciousness four years later, winning the 1999 US Open in straight sets against Martina Hingis. Then came the "Serena Slam," when she supplanted her sister at No. 1 and beat her in the finals of each of the four Slams, beginning with the 2002 French Open and spanning through to Australia in January 2003. She showed so much promise that the greats of yesteryear decreed that soon she would usurp them all. Then came the trials that took away her momentum—her parents' divorce and her half-sister's murder, the time she stepped on a bottle and then developed blood clots and nearly died—a long and painful stretch when Serena looked so plagued by injury and lack of interest in the game that she seemed destined to end her career as someone who could have been the all-time greatest but wound up instead just being one of the best. That's how it was when she got knocked out of the 2012 French Open in the first round by the 111th-best player in the world. We can trace her renaissance to a moment days after that defeat, when she reached out to a Parisian tennis coach, in search of a quiet court on which to calm her nerves. She's been working with that coach, Patrick Mouratoglou, ever since, picking up eight Slams and two Olympic golds in the past three years, erasing everyone's memory of things like the time she lost a match at the US Open by threatening to shove a tennis ball down a lineswoman's throat. Yes, all of this seems to have been forgotten by the typically conservative tennis fans who find her belated dominance so magnificent that they come out here on Sunday morning to watch her practise, all the while debating the most unanswerable question of all: How is it that the 33-year-old Serena currently marching her way into history seems an even stronger player than the one that excited them all those years ago?
Ten o'clock, Sunday morning, on a tennis court in the suburbs of north Toronto devoid of grandstands, ball boys and umpires. Serena Williams sits on a shaded bench by the net, next to a brown-and-grey Yorkie that just crawled out from her purse and nestled against her thigh. The dog's name is Chip, and he is a fixture on the WTA tour. She pats the head of her teacup-sized cuddle toy and looks to her hitting partner, Robbye Poole, the former pro and one-time All-American.
The 50 or so seats next to this court are overrun with tennis fans of all ethnicities and ages. Some congregate by a chain fence to stare at Serena while others hold iPads, cameras and cellphones to capture this moment, and a few leaf frantically through their wallets and purses in search of anything, a business card or even a grocery receipt, that Serena might sign.
"Aren't we lucky?" asks an elderly English woman seated near the court. White-haired, sporting Velcro walking shoes and a sleeveless blouse, the skin on her arms as delicate as paper, she speaks with the privileged tongue of the old tennis elite. "Isn't she marvellous?" she says. "I absolutely had to be here today. I had to see Serena."
The woman's eyes are fixed on Serena, 10 feet away, as she stretches out her arms, her biceps flexing beneath the sleeves of her white workout shirt. Then Serena takes to the baseline and begins a quick and dirty rally that lasts just a few seconds before she drives the ball into the net. Poole starts the rally anew and back and forth they go until again she flubs her return. Another rally, another flub, and suddenly Serena Williams is just standing there, looking beaten by everything—the balls, the net, the racket, the heat, the morning.
"I don't understand what's going on," says the old woman. "She doesn't look right. Does she look right to you?"
Soon, Mouratoglou leans into her ear, whispers something inaudible, and again Serena signals for Poole to fire to her forehand. Minutes later, after she's flubbed a few more shots into the net, she complains to Mouratoglou of the 22-degree weather. "It's so hot," she says, exuding misery, exhaustion or maybe just malaise as she ends her practice and packs her dog back into her purse and departs the court.
It's not until later that Mouratoglou makes sense of this by explaining that she "needs to be angry to play well. I don't think she's good when she's not angry. She finds a way, most of the time, when she doesn't play well, to get angry. She doesn't do it consciously, but rather subconsciously. There isn't much I can do to create that mood. She does it all by herself."
You might as well call it the "Serena Switch." It's as intangible as it is indescribable. No one knows where it's located or exactly how she hits it, but when she does, you can hear it in her screams and grunts, and you can see it in her fist pumps, in the timid ways her opponents seem to react and on the radar screen as her serves start to climb above 200 km/h. And if you're fortunate enough to be in her presence, you can actually feel it, too. The air around her changes, and suddenly it feels as though it's about to storm.
Two days after looking tranquilized in that morning practice, Serena arrives on court in the second round of the Rogers Cup and quickly finds herself down a set against Flavia Pennetta, ranked 26th in the world. Docile and quiet through the first 40 minutes of play, it's not until she smashes her racket and begins screaming at herself that she turns it around, winning 11 of the next 12 games.
After the match and looking calm again, she smiles and explains, when asked what happened, that she got really frustrated and angry and then she started talking to herself and just sort of played better. It's the kind of oversimplified and somewhat guarded explanation she's learned to deliver over the years in order to avoid saying the sorts of things that used to make her seem so controversial.
There are those who might compare Serena's current form to that of her opponents and wonder if maybe those opponents have just gone soft. Perhaps the reason she's so dominant is because the depth of the WTA just isn't what it used to be. And yet there are more former No. 1s—six—competing on tour than at any point during Graf's reign. And though three of her greatest challengers over the years—Hingis, Kim Clijsters and Justine Henin—have all retired from singles, none were ever able to challenge her in quite the same way as her sister. Venus is still out there, of course, but—weakened by an autoimmune disease—she has only beaten Serena once in the past five years.
And though Hingis, who never seemed the same after losing to Serena at the 1999 US Open, is back on tour, competing in doubles, relegated to the secondary courts, a veritable sideshow to Serena's main event, she is, nonetheless, still considered one of the all-time greats. And yet she declines requests to recall what it was like to be her rival all those years ago, saying she's tired of talking about Serena.
Despite her current popularity among fans, there remains an image of Serena as a woman who's so intimidating that she seems to terrorize her opponents. And though her closest rivals admit they don't have confidence that they can actually beat her, it is anything but fair to present her as the villain of the WTA locker room. She's delayed en route to a five-minute interview by an unforeseen need to stop in the corridors under the grandstands of the tennis court and record a video message on Ana Ivanovic's cellphone. This, shortly after dancing for one TV camera and engaging with her closest friend, Caroline Wozniacki, in an improvised press briefing. ("So, Serena," Wozniacki began. "What were you up to last night?" Answer: She ate Japanese food.)
This is the Serena Williams we rarely see on the court. The one who responds affably to reporters' questions about her past, present and future with answers like "Sure" and "Yeah, I guess you can say that." Who refers to her opponents as "sweet" and "nice" and who quotes Nelson Mandela to explain her peace and reconciliation with the fans who once lobbed racial slurs upon her 19-year-old self at Indian Wells. The one who can still pump herself up for a tennis match but who seems to have given up on fighting with the world.
When finally she arrives for her one-on-one interview, she puts her purse-slash-Yorkie-kennel by her feet and readies for another batch of questions about her legacy and her greatness, and about what will happen when she retires from the sport. She says the secret to her longevity is that she's always had fun, which is a most intriguing response from a woman who always looks so miserable when the game is on. She doesn't say how long she thinks she can keep this going, though it's apparent from having spoken to her coach that she's motivated to at least surpass Graf if not also Margaret Court, whose 24 Slams (13 from before the Open Era) would be the next most obvious accomplishment. She says she hasn't spoken to Graf, though she acknowledges that this might make for an interesting phone call. She hints that at this point in her career, she is thinking of the life she will eventually have to live beyond the game. She's a fashion designer, but she's also in pre-med at the University of Massachusetts, with a view to maybe becoming a doctor. "I'm starting classes again in September. But it's fun. I took the summer off but now I'm getting back into it. I had an exam during [the Madrid Open] and I got really stressed out. I just really panicked. I didn't do well in that exam but I did pass the course."
There's not enough time while she's sitting stationary to get her to expound upon what her career really means. On all the ways she's changed the game. On how it used to be that tennis was a sport dominated by teenaged stars, how she brought about an era of female power hitters, aging the game along with her and forcing her opponents to become stronger. And there's no time to get into the nitty-gritty stats about how right now she's not just sidling up to Graf's Open-era record, but also on the verge of doing what even Graf couldn't do after the age of 19: win all four Slams in the same season.
But there is time enough to give her pause. Of all the things she's asked, the most difficult seems to be the one that touches on her own awareness of her greatness.
She stares at the question, in silence, as if trying to decide how it will sound if she answers truthfully. "I don't know," she says, but finally concedes: "I definitely think I have been dominant in my sport… I never thought I'd be the greatest ever. It's all just as exciting for me as it is for everyone else."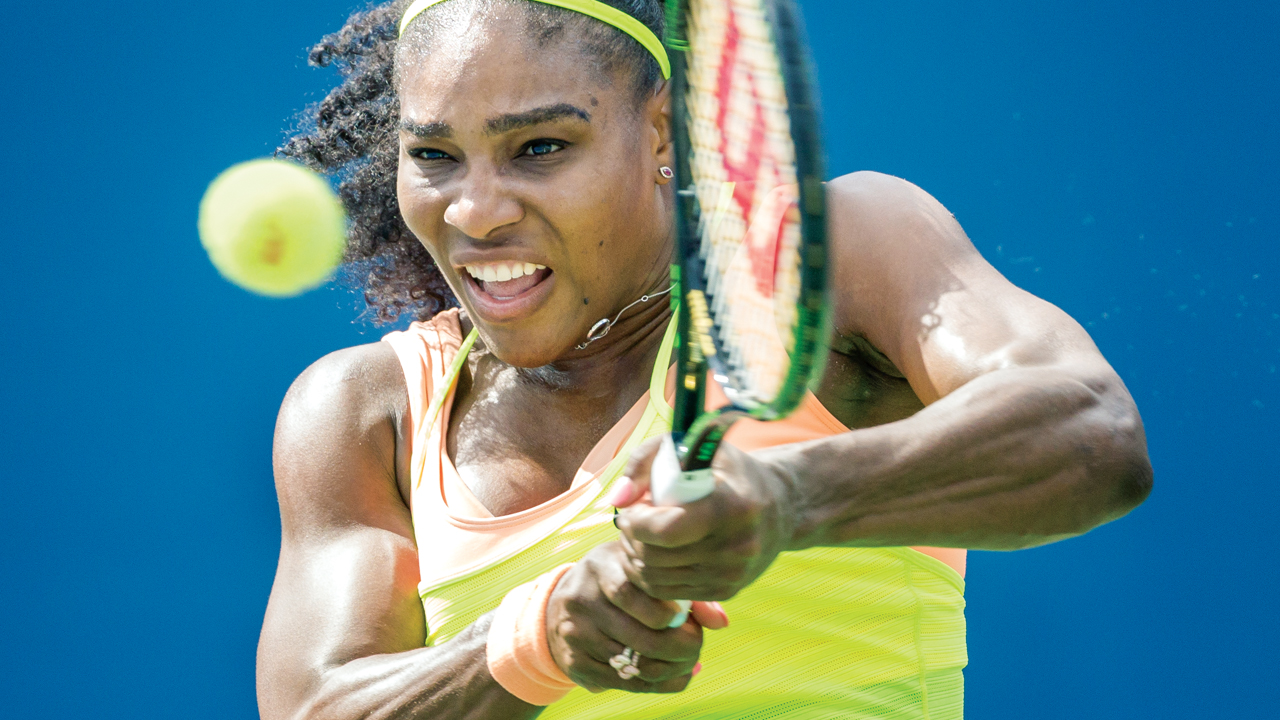 It is the unavoidable human tragedy of every star in every sport that they reach a point where they can no longer compete against those with youthful knees, ankles, wrists and elbows, who slowly supplant them both in the game and in our consciousness. It's why so many greats spend the latter stages of their careers humbled by their inability to repeat the glories of their pasts. It's why our final glimpse of Air Jordan was as a grounded man with ice packs strapped to his knees; why Muhammad Ali ended up bruised, battered and unable to defend himself in the days leading up to his 40th birthday; why, at 34, Roger Federer is no longer the best player in the world. And it's why Serena is so uniquely special. Because despite all her matches, all her glories, all her years, she remains as dominant today as she ever was.
Three weeks before the US Open, there are moments in the first set of Serena's 849th professional match when, facing Switzerland's Belinda Bencic, who was two years old when Serena won her first Slam, it looks like maybe her mastery of this whole tennis thing has become so easy that it's not even interesting to her anymore.
Like when she breaks the young woman's serve in the fourth game then opens the next with a 195 km/h ace that her coach, who's seated courtside next to Drake and Chip and the rest of her entourage, doesn't see because he's preoccupied looking at his phone. Serena wins the first set handily, despite 14 unforced errors.
But then something happens. Something so loud and intense that everyone begins to cringe as Serena comes sprinting toward the net, misfires on a cross-court volley and shrieks like a pinched child before bowing her head onto her racket and standing there, hunched over the ground while the crowd reacts, suddenly cheering for the Swiss girl they never knew they liked.
Then, with all eyes on her racket as Serena smashes it against the ground until it's good and mangled, the world's most dominant athlete looks to have truly lost it. The crowd, infinitely more comfortable with watching her win than lose, rallies back to her corner after she loses the second set. A voice rings out from above: "Come on Serena! You're still No.1 for a reason!" And now, with Serena down 5–1 in the final set, she starts talking to herself and screaming at the ball and nailing shot after shot until suddenly it's 5–4 and she looks again to be completely unstoppable. Until, in the final moment of the match, Serena Williams reminds the crowd of the one thing they've been trying to forget: that for all her strength and momentum, she too is vulnerable. That even though she is the greatest, she's human. She finds herself caught on the wrong end of the baseline as the ball bounces past her. And before the crowd has fully registered the extent of what's just happened, Bencic is doubled over in the middle of the court, crying into her hands and looking like she's just won Wimbledon when in fact she's done something more significant. She's beaten Serena Williams.
In this most strange and unfamiliar moment, while fireworks explode into the night, and as Bencic drapes a towel over her face to mop up her tears, we find ourselves looking for guidance from the idol currently exiting the court with that slow-moving swagger.
And as she holds her hand in the air, she raises her index finger, giving context where it is so greatly needed and reminding us that even in defeat, she's still No. 1.
This story originally appeared in Sportsnet magazine.