With the Vanier Cup turning 50 this week, Sportsnet looks back on a half century of sporting tradition by honouring some of the best players in CIS football history.
While there is no definitive list, we recruited some top CIS football experts to help select the Top 50 players in the Vanier Cup era.

Jon Ryan | Punter | Regina 2000-03
It's rare that a punter is considered an MVP-type player, but Jon Ryan is a rare athlete. The Rams' all-time leader in yards per punt (42.6) was named team MVP in 2003. The local product was also in charge of placekicking duties and served as an occasional receiver. He finished his CIS career with 863 receiving yards and five touchdown receptions, including a record 109-yard TD in 2001. He never won a Vanier Cup, but went on to have a solid pro career with the Winnipeg Blue Bombers in the CFL, and with the Green Bay Packers and Seattle Seahawks in the NFL. Earlier this year, he became the first Saskatchewan-born player to win a Super Bowl.
---

Benoit Groulx | Quarterback | Laval 2005-09
There is accurate, and then there's Benoit Groulx. The former Laval Rouge et Or quarterback completed 75.2 percent of his passes in 2008, good for the highest mark in CIS history. The next year, Groulx connected on 73.2 percent of his tosses, which just happens to be the second-best mark ever posted. In all, the '08 Hec Crighton winner threw 66 career touchdowns, more than all but six pivots in CIS history. Though not blessed with the obvious athletic frame and ability some boast, Groulx's pinpoint passing and mind for the game elevated him to a level few can match.
---

Mike Morreale | Wide Receiver | McMaster 1991-94
A Hamilton-born wide receiver who'd go on to win two Grey Cups — one with the Toronto Argonauts, one with the Hamilton Tiger-Cats — Morreale starred at McMaster before the Marauders football program was the juggernaut it is today. Morreale helped put it on the map, recording a then school record of 16 touchdowns between 1991-94 (the season was seven games long back then). "I don't have great stories of going to the Vanier Cup or winning championships, but I played at a time when there was great competition in the OUA," Morreale says. "Some of my favourite memories are from late in the game, I would be able to haul in a pass over the middle that seemingly looked uncatchable, and bring it down for the first down and make the big play. It wasn't the touchdowns, it was the ones I caught they didn't think I'd catch that I remember the most."
---

Stefan Ptaszek | Wide Receiver | Wilfrid Laurier 1990-94
When he returned to the Wilfrid Laurier Golden Hawks for his fifth season, Ptaszek had already put together a legendary career. The Hawks won the Vanier Cup when he was a sophomore, but Ptaszek missed half the season with a leg injury. Surging towards another shot at the Vanier in that final season in 1994, Ptaszek capped off national records with 186 career receptions and 3,126 reception yards. The Hawks fell short in the Yates Cup final that year, but Ptaszek would eventually help lead the Hawks to a Vanier Cup in 2005 as the team's offensive coordinator. He also won it again in 2011 as head coach of the McMaster Marauders.
---

Mathieu Bertrand | Quarterback | Laval 1998-99 / 2001-03
Bertrand was one of the top prospects in Quebec at the end of the 1997 CEGEP college season. At his last career CEGEP game, at least five or six universities were present to recruit him. Laval head coach Glen Constantin was at the back of the pack and waited his turn, but Mathieu winked at him as if almost to say, "Don't worry." In an attempt to close the deal, Constantin offered Mathieu a visit to the Laval campus and football facilities, but it wasn't necessary as there was never a doubt in Bertrand's mind that he would suit up for Laval. "I'd love to visit Quebec City, but it would be to find an apartment." Bertrand went on to have a stellar career, leading Laval to two Vanier Cup titles: in 1999 (the school's first-ever national championship) and again in 2003.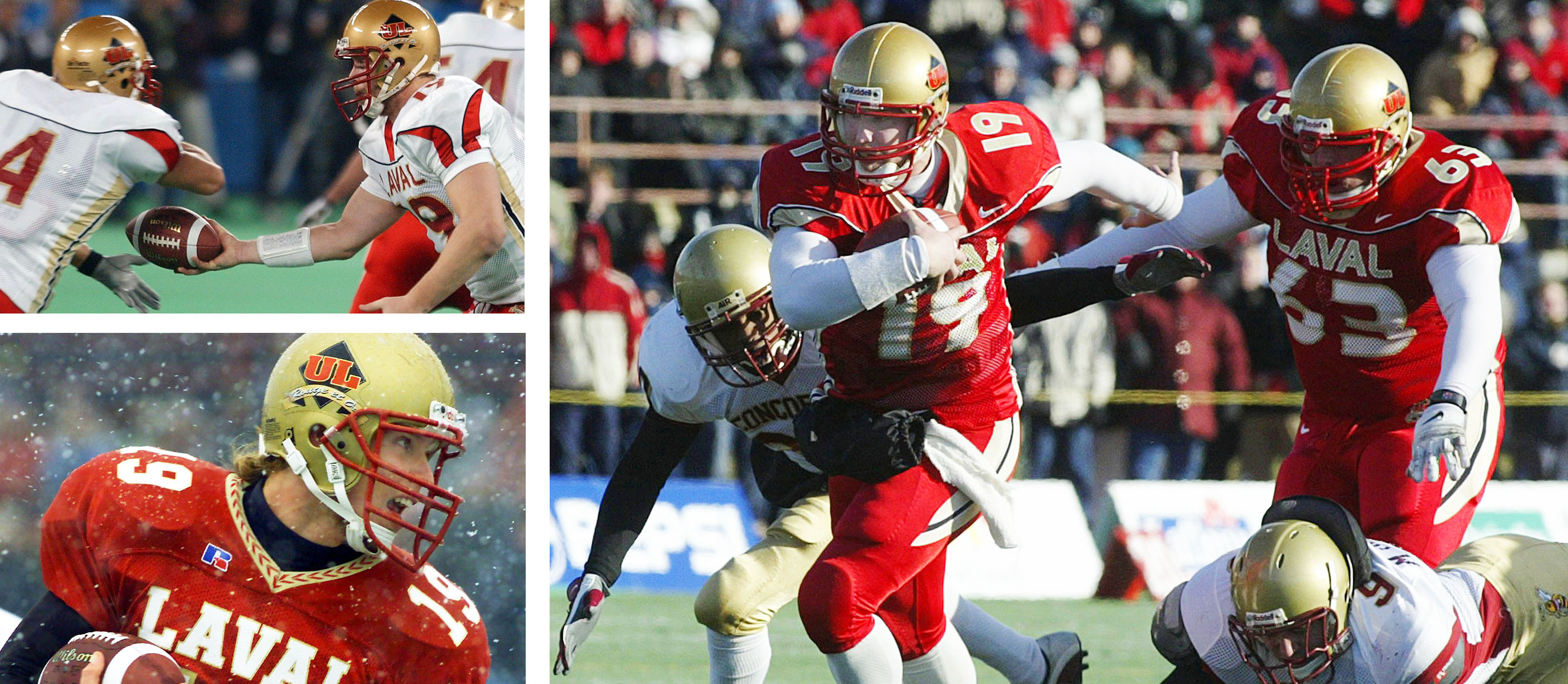 Mike O'Shea | Linebacker | Guelph 1989-92
When you think of Guelph football, you think of Mike O'Shea — tough, resilient and daring on special teams. When you look at his body of work at both levels of the Canadian game, you could make a compelling argument that he is the greatest Canadian defender of all-time. O'Shea still holds the team record for career sacks with 19 and ranks fourth in total career tackles with 310. His final season at Guelph (1992) might be the best year from a CIS defender — his accolades that season included First-Team OUAA All-Star, CIAU All-Canadian and OUAA Defensive Player of the Year, and he led the Gryphs to a Yates Cup. He would go on to play 271 regular season CFL games and win three Grey Cups along the way. Pat Tracey, O'Shea's defensive coordinator at Guelph, said: "He led the team in QB sacks but also had the speed and range to drop into coverage and play on the top running backs"
---

Mark Norman | Defensive Back | UBC 1983-86
Norman was always around the ball. The UBC Thunderbirds defensive back had a unique ability to make game-changing plays from the secondary. The two-time All Canadian still holds the CIS single-season record for interceptions after picking off 12 passes in a dominant 1986 season that will forever live in UBC folklore. That year, Norman was a critical component to UBC's undefeated season and second-ever Vanier Cup. Norman's play earned him league-wide recognition. He won the Presidents' Trophy as the most outstanding defensive player in the nation and was a finalist for the Hec Crighton Trophy. What more could you ask for from a defensive back?
---

Gary Ross | Wide Receiver | Mount Allison 2006-10
Unless you live out East, it's safe to say that Ross is the most exciting athlete you've never seen play. In his four years starring for the Mt. Allison Mounties in Sackville, NB, Ross was a do-it-all offensive force and a consummate leader on and off the gridiron. Boasting a level of skill and athleticism rarely seen in the CIS, the five-foot-six receiver/returner dealt with constant double teams and still managed to etch his name all over the CIS/AUS record books, graduating in 2010 as the AUS's all-time leader in receptions (third in CIS), receiving yards and all-purpose yards. Though his teams weren't defined by winning titles, Ross — a relentless worker and all-academic family man — helped lay the foundation for a Mounties program that posted the country's lone undefeated campaign this season.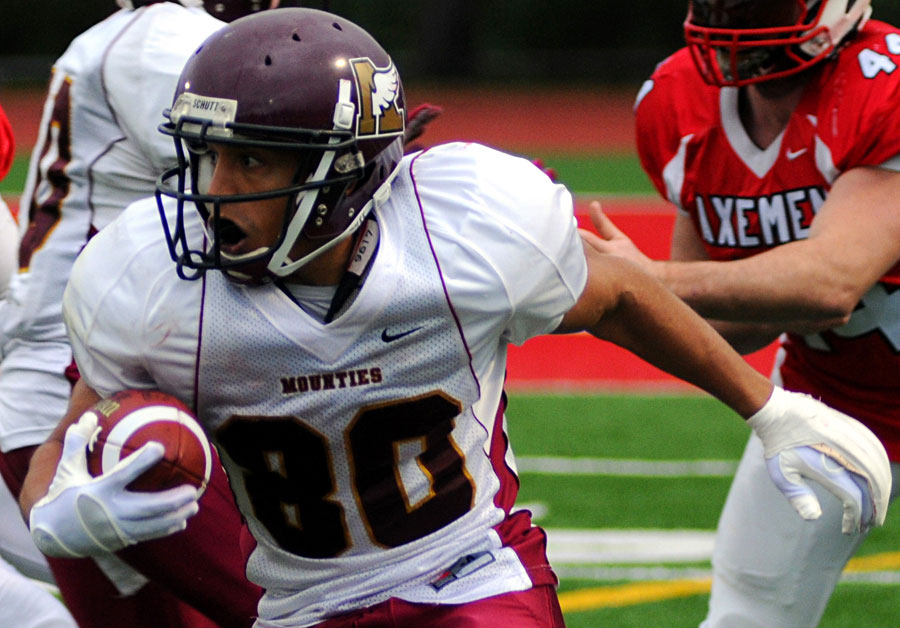 ---

Phil Scarfone | Quarterback | McMaster 1981-84
Scarfone was one of the most promising Canadian football prospects of the early 1980s. But he was also a gifted lacrosse star. After turning his back on a scholarship to play lacrosse for the University of Maryland, the Hamilton-native returned home and picked up the pigskin for McMaster, eventually becoming one of the school's all-time greats. Scarfone still holds the record for most passing yardage, completions and touchdown passes in Marauders' history. His biggest year: 1984. That's when he led McMaster to a 7-0 record and won the Hec Crighton Trophy. Now married with three children, portraits of his playing career still line the Marauders' locker room.
---

Patrick Donovan | Linebacker | Concordia 2002-07
Donovan is one of only two players in CIS history to win the Presidents' Trophy in back-to-back seasons as the best defender in the nation. By the time he finished his collegiate career, he was arguably the most imposing run-stopping linebacker in the game. During his final season, Concordia gave up only 11.8 points and 55.8 yards rushing per game with Donovan in the line-up. That year, the team only surrendered three touchdowns, all of which were through the air. Concordia has a reputation for producing great linebackers — the program has won five Presidents' trophies — but Donovan may be the best of the bunch. His brother and fellow Stinger alum, Mickey Donovan, recants Patrick's value in defending the run: "He is one of the only players I know that played both ways as a LB and RB. Patrick is the most powerful and hard-hitting football players I have ever seen."
---

Bob Kraemer | Quarterback | Manitoba 1968-70
At the CIS level, it's rare for quarterbacks to call all of the team's offensive plays. Usually that job is reserved for the offensive coordinator, but Kraemer was far from your typical QB. He first joined the Manitoba Bisons as a receiver, but they saw enough talent in Kraemer to convert him to the team's starting pivot. And man, did that decision pay off. Kraemer became one of the most decorated players in his school's history. From 1968 to 1970, he posted a 24-3 record, winning two consecutive Vanier Cups and the 1969 Teddy Morris Trophy, awarded to the Vanier Cup MVP.
---
Rocky DiPietro | Wide Receiver | Ottawa 1975-77
For DiPietro, football was about one thing: hard work. DiPietro wasn't the kind of guy you were going to spot from 50 feet away and think, "There goes an athlete." But on the field, the slot back did everything in his power to get open, catch the ball and make it as difficult as possible for defenders to bring him down. DiPietro was a member of the 1975 Gee-Gees squad, which became the first team to win the Vanier Cup without losing a game in the regular season. A lunch-pail player through and through, it was only fitting that DiPietro spent the CFL portion of his career nabbing passes in front of the Hamilton Tiger-Cats' blue-collar fans.
---

Scott Flory | Offensive Lineman | Saskatchewan 1994-98
Flory is a Saskatchewan Huskies player through and through. The Regina native was the leader on an offensive line that helped the team win two Vanier Cups — in 1996 and 1998. He was a three-time Canada West all-star and two-time CIS All-Canadian. Flory's time with the Huskies forged his impressive skill set, one that led to a 15-year CFL career with the Montreal Alouettes, where he won three Grey Cups and two Most Outstanding Offensive Lineman awards. In August, Flory returned to his roots and joined the University of Saskatchewan coaching staff.
---
Bob Stracina | Wide Receiver / Kicker | Acadia 1975-76
When Robert "Bob" Stracina wasn't scoring points with his feet as Acadia's kicker in the mid-to-late 1970s, he was making plays with his hands as the team's top wide receiver. As a sophomore in 1976, Stracina became the youngest player to ever win the Hec Crighton Trophy after a standout season that included a 12-catch, 221-yard performance in a loss against Western in the Vanier Cup, then known as the Canadian College Bowl. Stracina's career culminated perfectly in 1979 when he helped the Axemen to their first College Bowl championship in school history.
---

Larry Uteck | Defensive Back | Wilfrid Laurier 1973-74
Uteck played just one season of CIS football with the Wilfrid Laurier Golden Hawks, but the speedy defensive back with the mop of dark hair left an indelible mark. A high school football standout who also ran the 200-metres, Uteck played his final year of university football with the Golden Hawks before becoming a three-time conference all-star in the CFL, suiting up for the Argos, Lions, Rough Riders and Alouettes. But post-retirement, Uteck returned to the CIS, where he coached the Saint Mary's Huskies from 1983-97, and three times guided them to the Vanier Cup. A two-time CIAU coach of the year, Uteck died at age 50 of ALS. But his name lives on: In his memory the CIS now awards the Uteck Bowl to the semifinal champions.


Al Charuk | Wide Receiver | Acadia 1972-74
Charuk is still regarded as one of the most versatile football players — and perhaps finest athletes – to strap on a helmet and take to a New Brunswick gridiron. There was a time when East Coast sportswriters referred to the talented wide receiver as "Mr. Everything" because he also excelled as a punt and kick-off return man, tailback and safety. Charuk established a number of league records between 1972-1974 and is remembered by his alma mater as both "a gentleman" and "a 60-minute performer who was the Atlantic Conference's first winner of the Hec Crighton Trophy." After leaving Acadia, the 185-pound Moncton native went on to play eight seasons in the CFL with the Toronto Argos and BC Lions, catching for 3,661 yards.
---

Brent Schneider | Quarterback | Saskatchewan 1992-96
Schneider first reached our national consciousness as sports fans in 1994, for his starring role in one of the greatest Vanier Cup games ever played. The Saskatchewan Huskies quarterback threw for 227 yards in the fourth quarter on the CIS's biggest stage to erase a 17-point deficit and force the game into overtime. Though the Huskies' would ultimately lose that game, Schneider was named MVP for his efforts (and a Vanier record of 528 passing yards). Two years later, he'd get his day in the sun, winning the big game in '96, giving his school its second championship and earning himself another MVP honour. Just your run-of-the-mill two-time Vanier Cup MVP. No big deal.
---

Vaughn Martin | Defensive Lineman | Western 2007-08
Martin played only two seasons in the CIS, entering the NFL Draft as an underclassman after his sophomore year at Western. To put that bold decision into perspective: CIS & NCAA players aren't even eligible for the CFL Draft until their senior season because it's considered to be too big a jump. His place in CIS history is polarizing. The Jamaican-born Martin was never better than a second team OUA all-star, yet he won two Yates Cups in his only two collegiate seasons and was dominant as a defensive nose guard, defensive tackle and defensive end. His playing style, like his career, was a blur of dominance and destruction leaving you wanting to see more. Despite being six-foot-four and almost 300 pounds, he could use his speed (40 yards in 4.7 seconds) to "beat blockers in the first two steps off ball," said former Western coach Larry Haylor.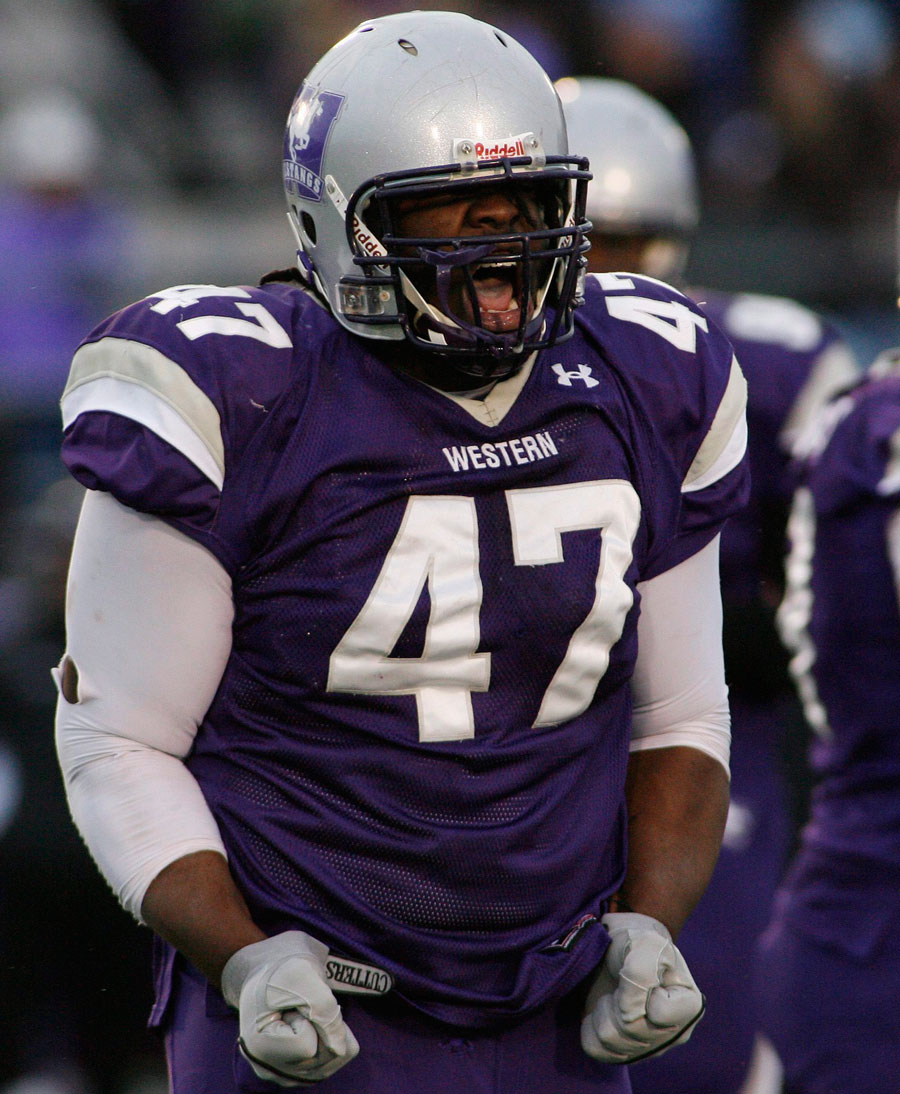 ---

Jim Reid | Running Back | Wilfrid Laurier 1975-78
Reid was built like a barn, mostly because he worked most of his young life inside one — pitchfork in hand. Without ever lifting a weight, Reid was six-foot-three and 240 pounds of farm-built muscle by the time he'd become the Laurier Golden Hawk's star fullback. As a sophomore, he scored 16 touchdowns, including six in a single game. Reid went on to set a single-season rushing record with 1,078 yards in 1977. That broke Neil Lumsden's Ontario single-season touchdown record and turned the humble farm boy into one of the most memorable rushers in the history of Canadian university football.
---

Jim Young | Running Back | Queen's 1962-65
Nicknamed Dirty 30, Young attended the same high school as Russ Jackson (Westdale SS in Hamilton, ON) before going on to a prolific career with the Gaels. He was a three-time OQIFC All-Star and was named All-Canadian in 1963. Young was drafted in the first round by the Argos in 1965, but signed with the Minnesota Vikings upon graduation. He stayed with the Vikings under head coach Bud Grant for two seasons, before becoming one of only a few players to ever be traded by an NFL team to a CFL team. The Vikings dealt Young to the B.C. Lions for quarterback Joe Kapp in 1966.
---

Miles Gorrell | Defensive Lineman | Ottawa 1975-77
A mountain of a man, Gorrell was another integral part of the Gee-Gees 1975 Vanier Cup championship team. "A young man of that largeness shouldn't be able to move like that, plus he had a mean streak. He was a big man that could move like a cat with quick feet and passion for the game. Miles was a game-changer," teammate and Canadian Football Hall of Fame running back Neil Lumsden said. Gorrell was named an All-Canadian in 1976 and 1977 and won Ottawa's team MVP award in 1977, which speaks to his value to the Gee-Gees during his time with the program.
---

Dave Sapunjis | Slotback | Western 1986-89
About the only thing Sapunjis didn't have going for him was good timing. "He played for us when we threw, at most, 18 to 20 passes a game," said former Western Mustangs coach Larry Haylor. "In today's game, he would catch 10 to 15 (passes) a game." Despite the fact he played in a run-first system, Sapunjis still managed to rack up 1,112 receiving yards during his four seasons at Western. While the slotback benefited from great athletic ability, what really separated Sapunjis was the way he could fixate on the ball. If that pigskin was thrown anywhere in his direction, it found its way to his hands. "David could close to the ball like none other," Haylor said.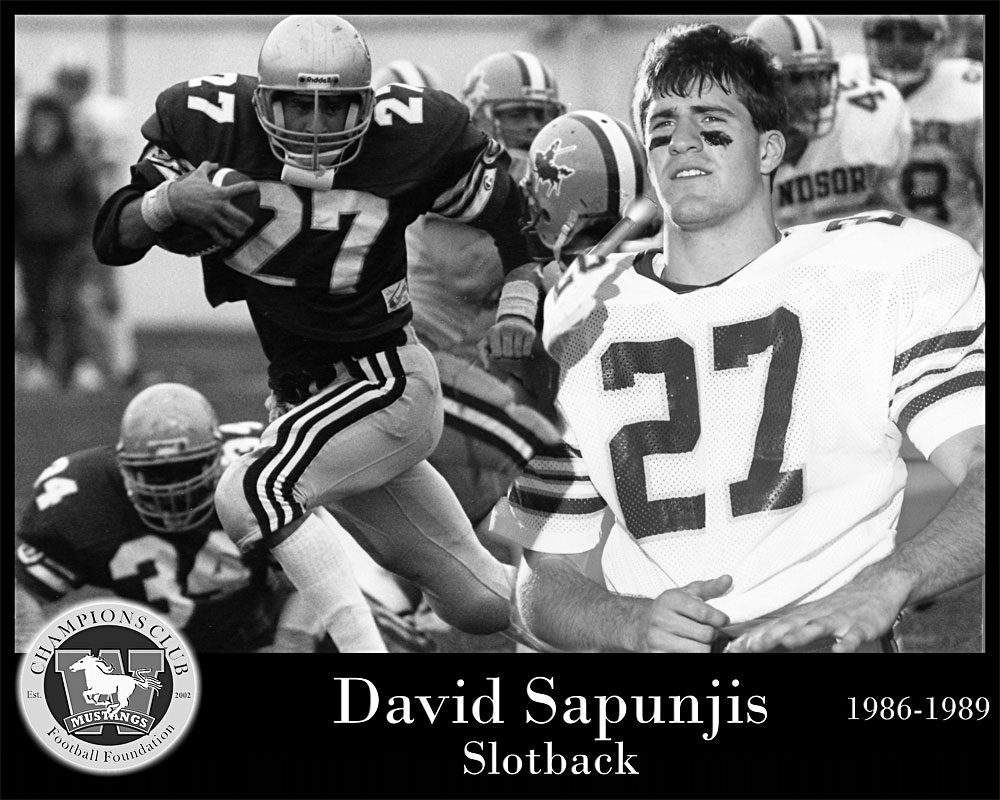 ---

Bob Cameron | Quarterback / Punter | Acadia 1974-77
A quarterback from Hamilton, Ontario who happened to hold a wicked boot as well, Cameron threw passes and kicked punts for the Acadia Axemen during the school's dominance of Canadian college football on the East Coast in the 1970s. Cameron's teams won three straight conference championships and made back-to-back Vanier Cup appearances in 1976 and '77. Cameron was selected to the all-conference team four times, won the 1977 Hec Crighton Trophy and eventually played 23 seasons in the CFL with the Winnipeg Blue Bombers as a punter, winning three Grey Cups.
---

Pierre Vercheval | Offensive Lineman | Western 1984-87
Thank goodness Pierre Vercheval's parents let him switch high schools — otherwise, he would never have starred for Western, or have gone on to a 14-year CFL career. As a Grade 11 student, Vercheval was inspired by CFL and NFL games he watched on TV, but attending a school in Quebec City that didn't have a football program. And so, Vercheval transferred to Trois Rivieres to play with the Diablos. And it was while watching Western play UBC in the 1982 Vanier Cup with his Diablos that the big offensive lineman knew he wanted to be a Mustang. Vercheval starred on the field, a six-foot-two, 272-pound lineman who played at Western from 1984-87, and won the J.P Metras Trophy as the top lineman in Canadian university football his final season. At Western, the future Canadian football Hall of Famer and two-time Grey Cup champion also learned to speak English.
---
Leroy Blugh | Defenisve Lineman | Bishop's 1985-88
A Grey Cup winner who played 15 years in the CFL, Blugh (current defensive line coach for the Ottawa Redblacks) first got noticed as a defensive lineman with Bishop's back in the late 1980s. Born in Saint Vincent and the Grenadines, he grew up in Napanee, ON before moving to Sherbrooke, QC for school. The six-foot-two, 232-pound lineman is still remembered for his outstanding 1988 season with the Gaiters, in which he tallied 63 tackles and 12 quarterback sacks. Still regarded by many as the greatest Gaiter of all time, Blugh returned to Bishop's in 2005, serving as head coach of the football team until 2010.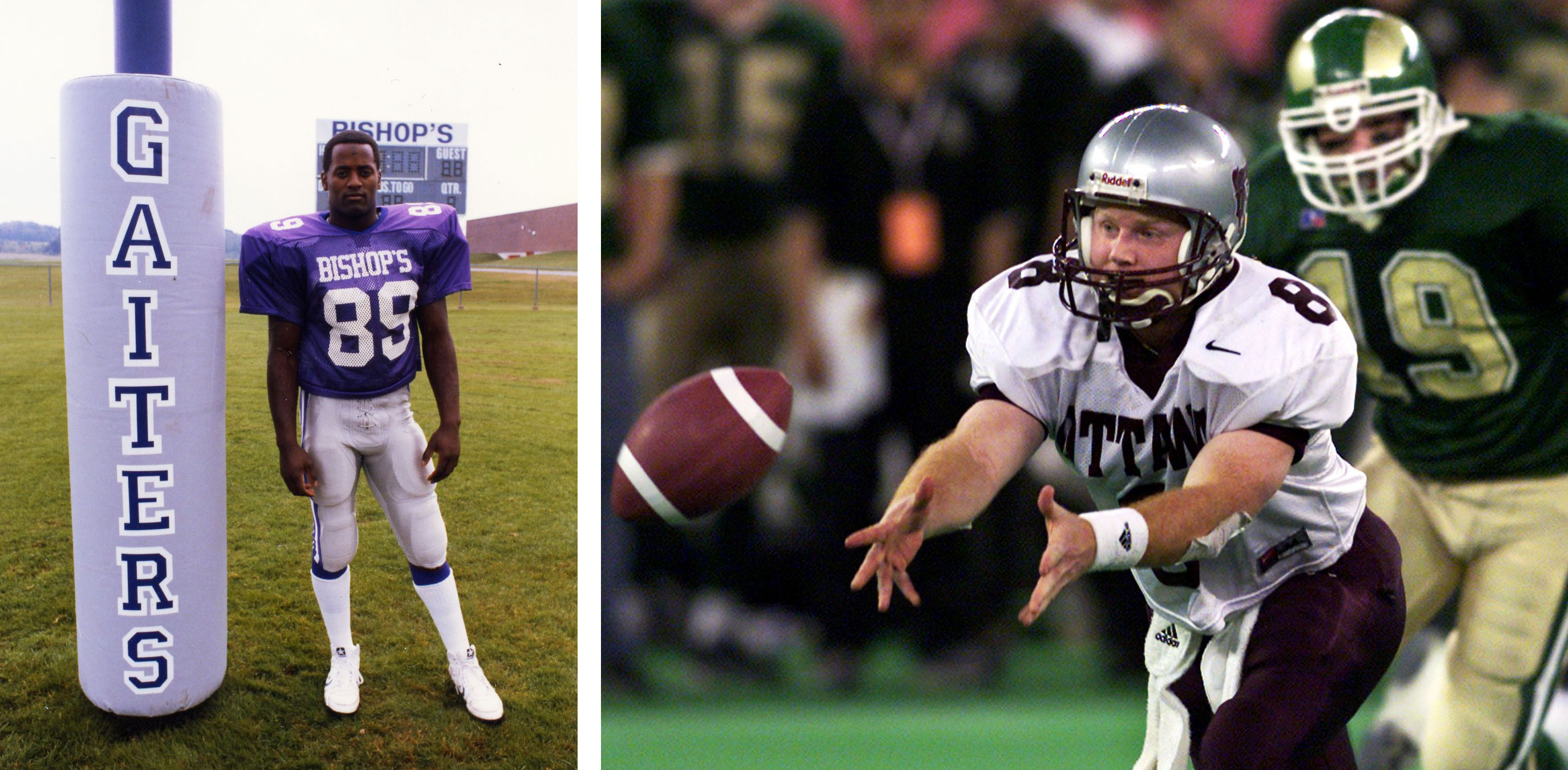 Phil Cote | Quarterback | Ottawa 1996-2000
If you want to know what kind of a legacy Phil Cote left, look no further than his CIS swan song at the 2000 Vanier Cup in front of nearly 20,000 at Toronto's SkyDome. The Ottawa Gee-Gees quarterback was already playing on a bum ankle, but still managed to post a near-90% completion rate en route to three passing touchdowns, two rushing touchdowns, and, most importantly, his firs Vanier Cup title, avenging a loss in the '97 championship game. The Gee-Gee's program had carved a legacy off the great '80s teams featuring legends like Neil Lumsdun and Rocky DiPietro. But behind his heroics, Cote and the program established a new identity, solidifying their own lasting legacy of Gee-Gee's football.
---
Mike Emery | Linebacker | UBC 1979-82
The 1982 UBC Thunderbirds were dominant in every sense of the word. They went undefeated (12-0) — often obliterating their competition — en route to a 39-14 Vanier Cup victory. Emery's steady-but-standout play at linebacker was a fundamental element of a historic squad that saw five players drafted into the first round of the CFL. Emery was one of them, selected third overall by Saskatchewan. His standout college career included two consecutive Presidents' Trophy honours (for top defensive player in the country), making him one of only two CIS players to accomplish the incredible feat.
---

Linden Gaydosh | Defensive Lineman | Calgary 2009-12
Gaydosh is a physical player, even by defensive lineman standards, with the ability to consistently overpower opponents. His six-foot-four, 300-pound frame made him a run-stopping force with the Calgary Dinos. The 2009 CIS Rookie of the Year has said the most memorable moment of his university career was losing to Queen's in the 2009 Vanier Cup because it motivated him to improve. Gaydosh did just that, as he played like a man possessed over the next three seasons and the Peace River, Alta., native was drafted first overall in the 2013 CFL Draft by the Hamilton Tiger-Cats. Before signing with the Ticats, he had a brief stint in the NFL with the Carolina Panthers and is now back with the Ticats and will suit up for the 102nd Grey Cup.
---

Dan Feraday | Quarterback | U of Toronto 1978-81
Dan Feraday grew up just down the street from Varsity Stadium in Toronto, and his connection to home was so strong that he ignored recruitment from the likes of Stanford and Notre Dame to play pivot for the Blue and White. That decision turned him into a legend at U of T, where he broke every provincial passing record at the time. His national record of 41 pass competitions in a single game stood until earlier this year, when the Blues' own Simon Nassar broke it with 49. Feraday never won a championship, but capped his legacy off by becoming the first Canadian university football player to be drafted to the NFL, when the Cincinnati Bengals selected him in 1982.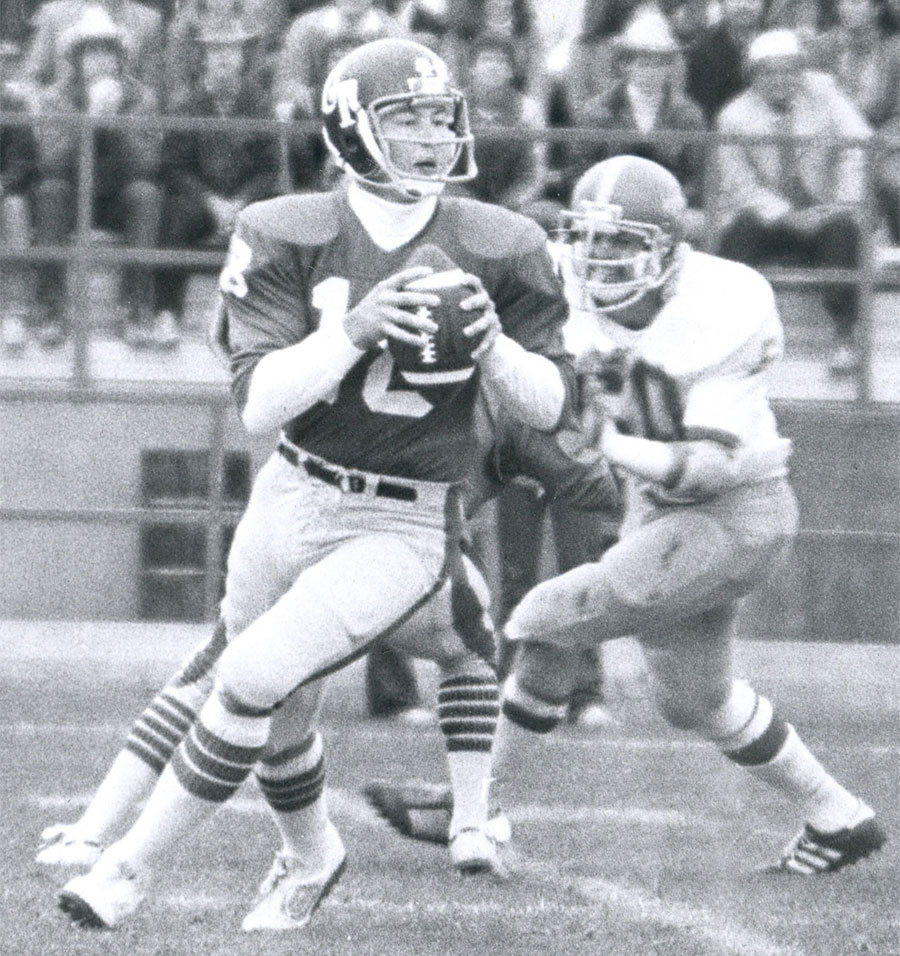 ---
Blake Marshall | Running Back | Western 1984-87
The Marshall family has contributed a lot to Western football, as Blake's brother Greg and three nephews (Donnie, Brian and Tommy) all starred for the program, but Blake may be the best athlete of the bunch. Blake's CFL career was actually more decorated than his collegiate one, but his Hec Crighton season in 1986 was one of the best ever. And his most dominant single-game performance was one for the ages: On Sept. 20, 1985, he piled up 30 points (five touchdowns) against U of Toronto. Blake wasn't just a dominant rusher, though; his well-rounded approach to the game was touted by former Mustangs coach Larry Haylor, who described him as the "best blocking full back in CIS history." Haylor continued: "No one was more punishing. (He) frightened every opposing team, intimidating players as a runner, blocker and receiver. (He had) great quickness for a big man — could make you miss, could run over you, or run away from you."
---

Israel Idonije | Defensive End | Manitoba 2000-02
There haven't been many CIS players like Idonije. The Nigerian-born defensive end was a special talent from the moment he stepped on the field for the Bisons in 2000. A physical specimen with a knack for getting to the quarterback, Idonije came into his own during the 2002 season in which his nine sacks and 31 tackles resulted in team MVP honours, a CIS first-team All-Canadian selection and the J.P. Metras Trophy as top lineman in Canada. What made his success at Manitoba all the more remarkable was the fact he didn't start playing football until his senior year of high school. This past summer, Idonije was awarded an Honorary Doctorate of Laws from his alma mater for being "an inspiring, selfless role model." Idonije would go on to play 10 seasons in the NFL, mostly with the Chicago Bears before spending one season with the Detroit Lions.
---
Arnaud Gascon-Nadon | Defensive Lineman | Laval 2009-12
Gascon-Nadon was a key figure on Laval Rouge et Or teams that won the 2010 and '12 Vanier Cups. The defensive lineman actually spent one successful season playing Division-1 NCAA football for Texas-based Rice University, but returned home to Quebec because he felt being part of the Rouge et Or family afforded him a better chance to carve out a long-term career in the game. In four seasons with Laval, Gascon-Nadon registered 20.5 sacks and earned First Team All-Canadian status on two occasions.
---

Greg Marshall | Running Back | Western 1978-1981
His accomplishments as a coach, one of the most successful in CIS history at that, are likely the first things that come to mind when talking about Greg Marshall. Two Vanier Cups, and an unbelievable 16 Yates Cup wins will do that. But after 30 years on the sidelines (including two at the helm of the Hamilton Tiger-Cats), it's safe to say Marshall doesn't get enough due for what he accomplished on the field for the Western Mustangs. A fullback to begin the 1978 season, Marshall was moved to running back where he would flourish, helping the Mustangs to two straight Yates Cup wins and earning the 1980 Hec Crighton Trophy as CIS Player of the Year. Today, he's one of only two people to have earned both Player and Coach of the Year honours in CIS football. It's hard to imagine a more, well, accomplished player in the CIS.
---

Tommy Denison | Queen's | Quarterback 2001-03
Back near the turn of the century, Denison had almost mythical status at Queen's University. The Golden Gaels were once again the talk of the Canadian university football scene, and their quarterback was passing his way into the record books. Football games at Richardson Stadium were wild, can't-miss events on campus. In 2002, he became the first CIS quarterback to pass for more than 3,000 yards in a single season. He holds the OUA record for single season touchdown passes with 24. Denison only played three seasons, but twice won the Hec Crighton Trophy as the nation's top player. It was a good time to be a Gaels fan.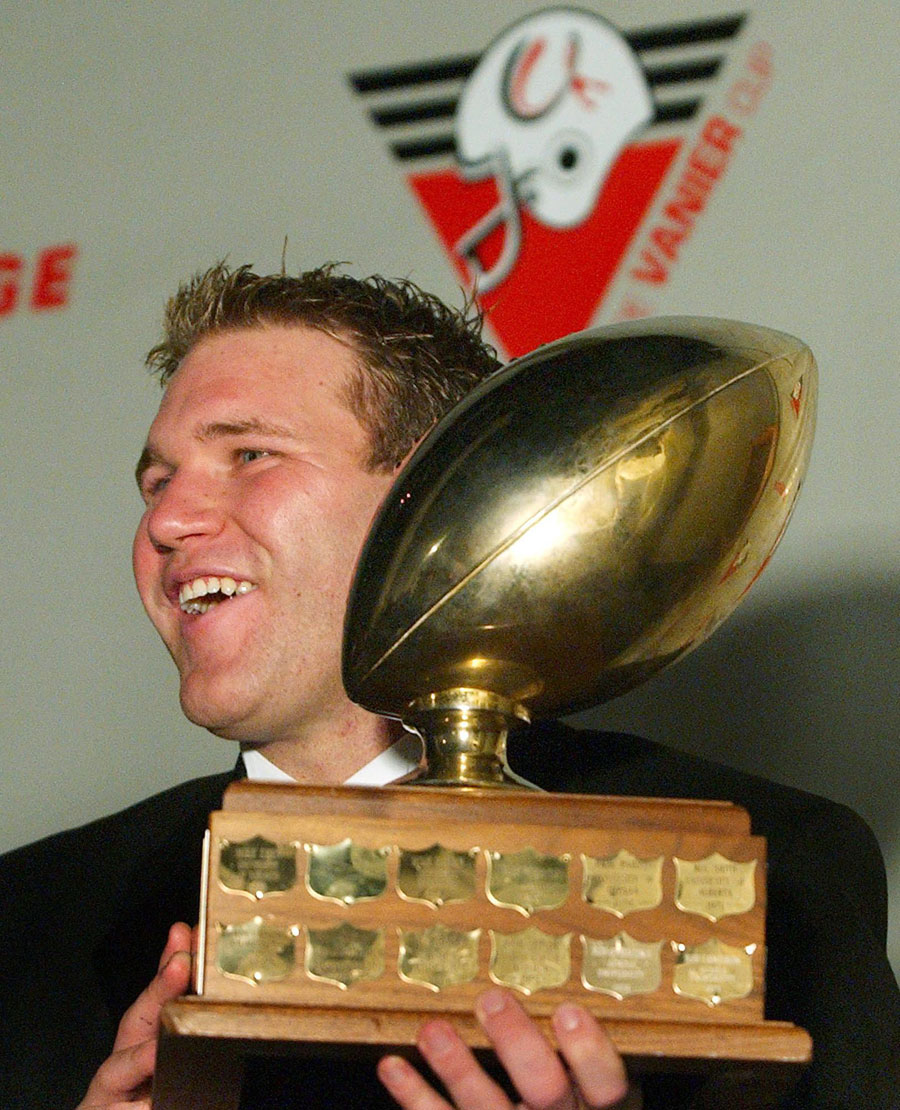 ---
Michael Faulds | Quarterback | Western 2005-09
The all-time leading passer in CIS history (10,811 total yards), Faulds broke the game's most prestigious record at a traditional running school with a former running back in Greg Marshall as a play caller. On his way to back-to-back Yates Cup victories and MVPs, Faulds threw for over 2,200 yards in three straight seasons, with his final one totaling 3,033. Donnovan Bennett, his high school and university backfield mate, depicted what made Faulds great: "Football is a game played with your heart and your brain. I've never seen a player who was further ahead of his contemporaries in those categories than Faulds."
Faulds threw for 550 yards in his final regular season game vs Toronto on Oct. 24, 2009, but it was his last-ever CIS game — one of the greatest Canadian football games ever played — that he'll forever be remembered for. During the 2009 Yates Cup, Faulds was playing with multiple torn ligaments in one knee. He threw for 509 yards before his knee locked up on the final drive of the game, with Western down four points. On third down with the game on the line, he limped on to the field to attempt one last pass that fell just short as he evaded incoming defenders. For a man who has completed more passing yards than anyone in the CIS, it was an incomplete pass that affirmed his legacy. After the loss, Marshall said: "I am so proud of the gutsy effort of Faulds. He'll be remembered as one of the finest in this game."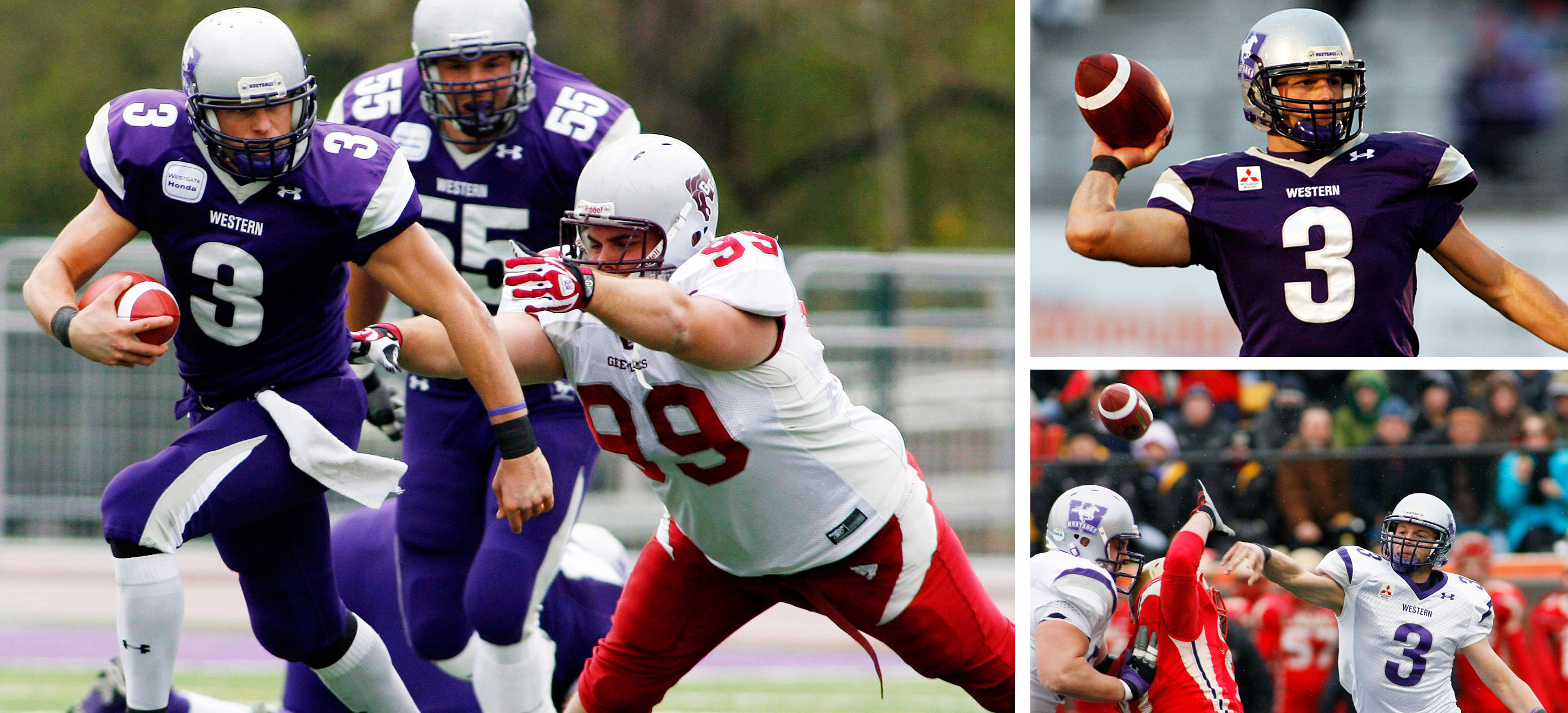 Mike Schad | Offensive Lineman | Queen's 1982-85
The only CIS player to go in the first round of the NFL draft, Schad reflects on the highlight of his career at Queen's: "I was an O-lineman in the NFL all those years, but playing linebacker at Queen's was a lot of fun. We had a good group of guys. The highlight was going to the Vanier Cup my sophomore year, but I ended up hurting my knee the game before, and I went to the game in a wheelchair. We didn't win. A kid from Calgary ran for like 250 yards right up the middle. I was the middle linebacker so I would've been his counterpart. Never got a chance to play that game; I was hoping maybe that would've been a game-changer, but the football gods didn't want it. But that was the highlight, there. It was an enjoyable time at Queen's. Football was fun."
---

Tyrone Williams | Wide Receiver | Western 1988-91
Williams saved his best performance for the biggest game. At the 1989 Vanier Cup, Williams' 157 yards receiving — including one touchdown — helped spark the Western Mustangs to a 35-10 victory over the Saskatchewan Huskies. For his efforts, Williams was given the Ted Morris Memorial Trophy as the game's MVP. A rangy receiver with great hands, Williams was at his peak when his competitive fires were stoked. "He played best in the big games against the best opponents," said former Mustangs coach Larry Haylor. By the time Williams left Western, he'd basically re-written the wide receiver chapter of the team record book.
---

Erik Glavic | Quarterback | Saint Mary's 2005-08 / Calgary 2009-10
The dual-threat quarterback is the only player in CIS history to win the Hec Crighton award with two different schools, Saint Mary's in 2007 and Calgary in 2009. Blake Nill recruited Glavic to the Huskies program and later the two were reunited in Dinos colours. "He is without doubt the most dynamic player I have ever coached. His playing escapades are legendary at both Saint Mary's and the University of Calgary. I think back to the 2007 Uteck Bowl win over Laval (I was then at UC) and in the 2009 Calgary victory in Saskatoon at the Hardy Cup Final — in both games, Erik single-handedly beat the opposition with unbelievable effort both as a runner and passer. Without doubt one of the most dominant players in CIS football history."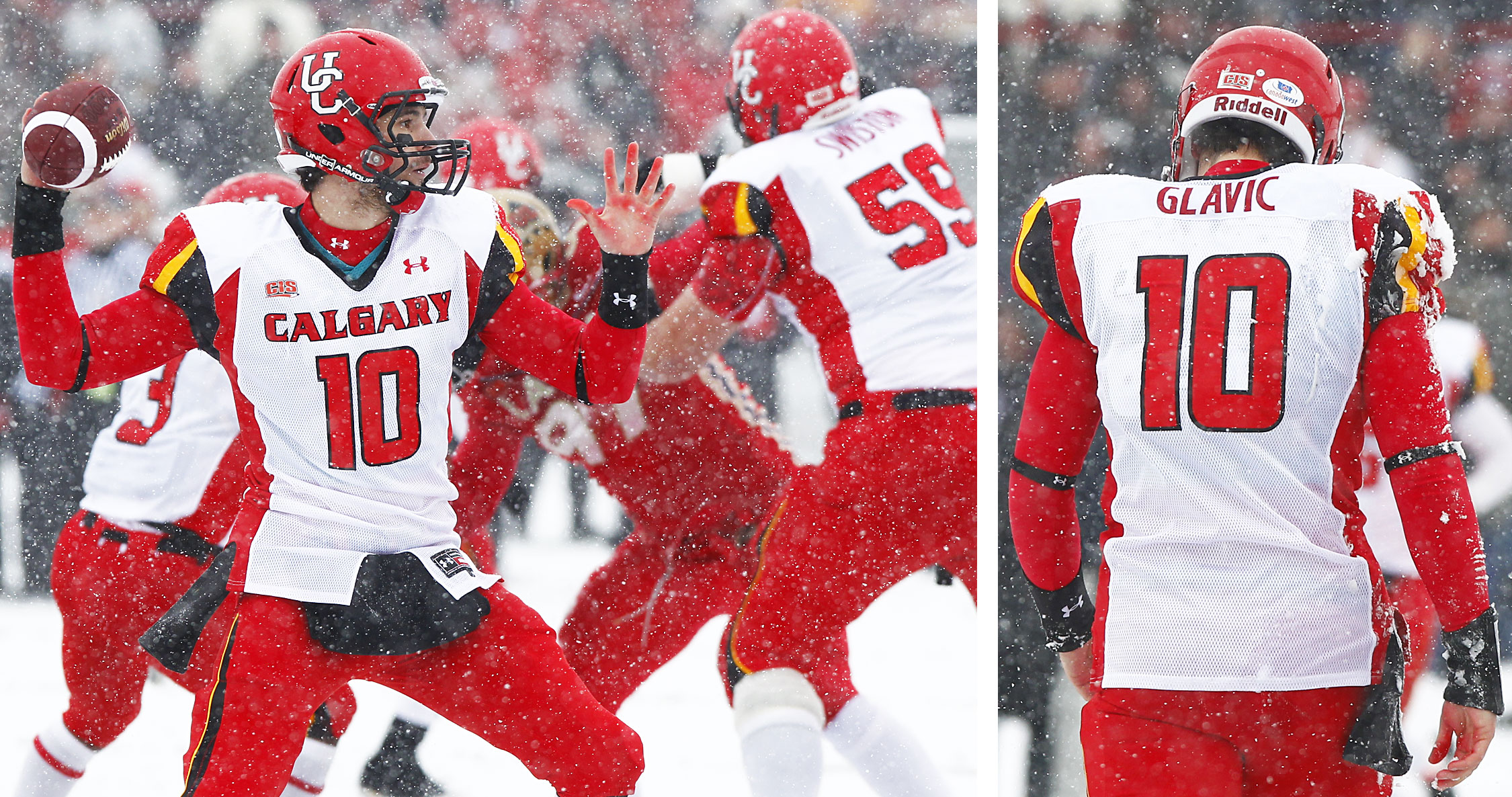 Jamie Bone | Quarterback | Western 1975-78
Bone was a standout quarterback in his three years as a Western Mustang, leading the team to back-to-back Vanier Cups in 1976 and 1977. His 80 percent pass completion and four touchdown passes helped win that second cup. The next year he was named the CIS's Most Valuable Player. His stellar collegiate career complete, he tried out for the Hamilton Tiger-Cats but went undrafted. Then he signed with the Dallas Cowboys. He later returned to London to serve as the Mustangs longstanding quarterback coach. His son, Stevenson, now plays for the school.
---

Don Blair | Wide Receiver | Calgary 1992-94
Every great athlete wants to go out on top. John Elway and Ray Lewis retired as champions, but Don Blair took it to a whole new level. The legendary Calgary Dinos receiver went out in style. After setting the CIS record books on fire with back-to-back seasons of 1,000 receiving yards, the all-Canadian receiver saved his best performance for last. Blair flat-out dominated the 1995 Vanier Cup against the Western Mustangs with a four-touchdown performance, becoming the first player in CIS history to win the Hec Crighton Trophy, Vanier Cup, and Ted Morris Memorial Trophy all in the same year. "It was nice to be kind of a trailblazer in that area for other CIS players," Blair said.
---
Here are five players who didn't crack our final list but deserve to be mentioned in the same breath with these other CIS greats of the Vanier Cup era.
Kyle Quinlan | Quarterback | McMaster 2008-12
Dan Brannagan | Quarterback | Queen's 2005-09
Mike Eben | Wide Receiver | U of Toronto 1964-67
Ben Chapdelaine | Quarterback | McMaster 1997-01
Brad Sinopoli | Quarterback | Ottawa 2007-10
And now we reveal our Top 10 …
---

Tim Tindale | Running Back | Western 1990-94
Tindale was the kind of rugged running back who gave defensive players pause before tackling him. "Opponents were afraid of Tim," former Western Mustangs coach Larry Haylor said. "His body control, feet and ability to gain leverage made him a destructive blocker. He could destroy the best athletic defender in the open field." In 1991, Tindale registered 17 touchdowns, a single-season mark bested by only six players in the history of the CIS. The 1991 and '93 Hec Crighton winner likely would have added a third MVP trophy to his shelf in '92 had he not broken his leg while executing a blocking assignment. "As a runner he could run over you, around you, or away from you," Haylor said. "Unbelievable competitor. The best of the best."
---

Greg Vavra | Quarterback | Calgary 1979-83
Vavra became Calgary's starting quarterback just halfway through his freshman season and it didn't take him long to leave an enduring mark on the program. He was a conference all-star every year from 1980 through 1983 and was named Canada West Player of the year twice. In 1983, his final season, he made school history when he won Calgary's first-ever Hec Crighton Trophy and quarterbacked the Dinos to their first Vanier Cup championship in a 31-21 triumph over Queen's. Shortly after that final game, the Dinos retired Vavra's No. 17, making him the only player in school history to receive the honour. He still holds many school and CIS records, like the time he threw for 627 yards in a game, and remains Calgary's all-time leading passer. And if you're looking for Vavra now, you can still find him on the Dinos sideline, where he's served as Calgary's offensive coordinator since 2006.
---

Andre Durie | Running Back | York 2003-05
Although his York Lions didn't have much playoff success during his CIS career, Durie was a man amongst boys when on the field. He debuted in 2003 and it didn't take long for him to make an historic impact. His agility, speed and versatility helped him set an OUA record for rushing yards in a single game with 349 against Ottawa. He finished that season by setting school records for 1,367 rushing yards and 15 rushing touchdowns. In 2004, he became just the third player in CIS history to record six rushing TDs in a game when he torched Waterloo. His CIS accomplishments were overshadowed by what Jesse Lumsden was doing at Western at the same time, but when Durie had the ball he was the most dangerous playmaker in Canadian university ball. Durie suffered a serious knee injury that cut his 2005 season short and caused him to miss his entire senior year, but he was able to transition to a successful pro career with the Toronto Argonauts, the team he grew up cheering for.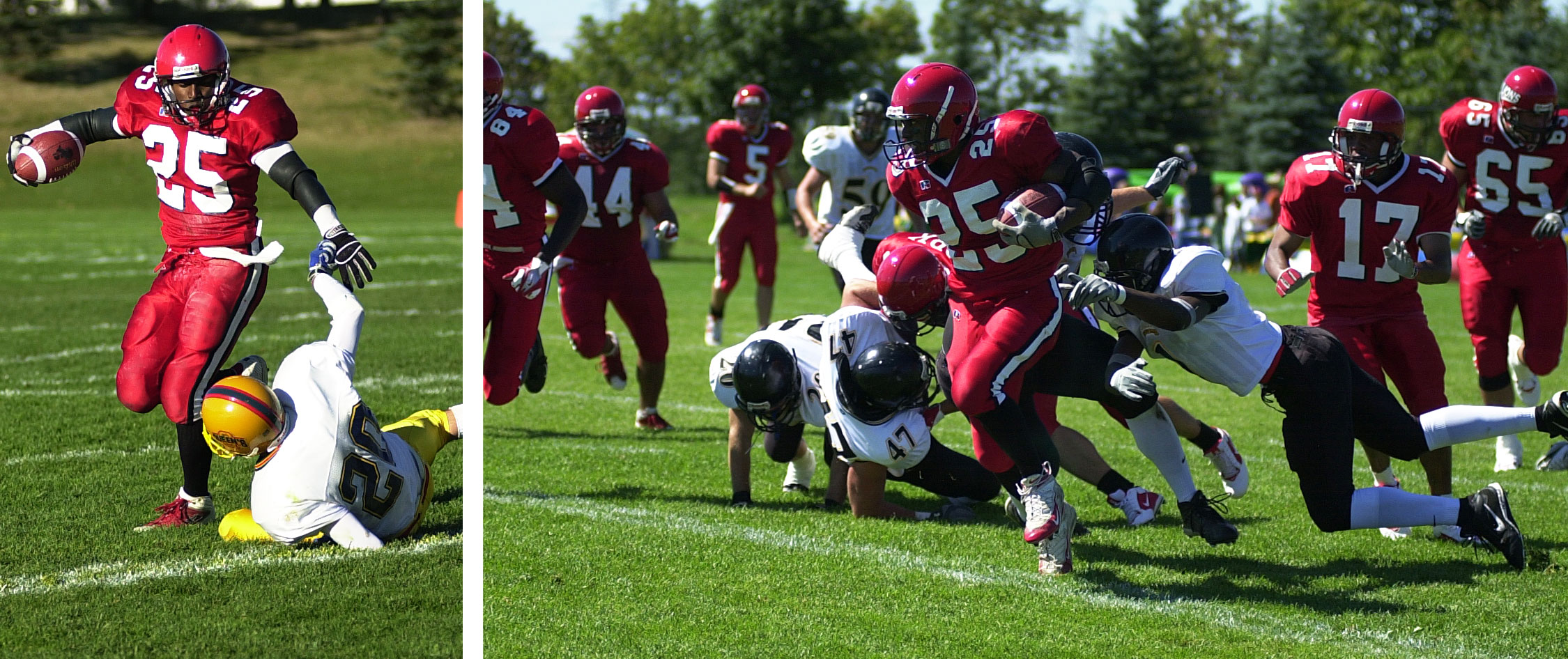 Jesse Lumsden | Running Back | McMaster 2001-05
Though he has since become a Canadian Olympic bobsleigh competitor, Jesse Lumsden is still remembered in Hamilton for the years he spent storming up and down the gridiron as one of the fastest Marauders to ever play the game. The son of Neil Lumsden, a CFL-fullback who won three Grey Cups, Jesse was already a well-rounded player when he first suited up for McMaster in 2001, running for 426 yards. He won the Hec Crighton Trophy in 2004, and posted his best numbers the following year when he ran for 1,816 yards. He left McMaster as OUA's all-time leading rusher and was expected to take the CFL by storm, but his professional career was scuttled by injuries. After six years bouncing around both the CFL and NFL, he joined the Canadian bobsleigh team.
---

Brian Fryer | Wide Receiver | Alberta 1972-75
Before Fryer became a five-time Grey Cup champion with Edmonton Eskimos, he was a standout wide receiver with the University of Alberta Golden Bears, dominating the Canadian collegiate game. The Golden Bears won the Vanier Cup in Fryer's first season with the team, but it was the years that followed that made him into a legend and turned him into a Washington Redskins draft pick. In 1973, he scored five touchdowns in a game — and the legend started to grow. In 1974, Fryer set national single season record in receptions (58), yards receiving (1068), and receiving touchdowns (14) – all records that have since been surpassed. A year later, Fryer won the Hec Crighton Trophy as the nation's top player. He finished with the Golden Bears holding records for most receiving yards and most receptions in a season and over a career. And then came the NFL draft — and five Grey Cup rings — and Fryer's legend was complete.
---

Paul Brule | Running Back | St. Francis Xavier 1964-67
It's too bad fantasy football didn't exist back in the 1960s, because Brule would have been the ultimate selection. The St. Francis Xavier star broke more CIS national scoring records than any other player in the history of Canadian university football. He was a complete player in the truest sense: lining up on both sides at the ball at fullback and defensive halfback. But most impressive was his ability to find the end zone. No one in the history of the CIS scored touchdowns at the rate of Brule. From 1964-67, he scored a total of 49 rushing touchdowns. In Nova Scotia, X-Men diehards still reminisce about the time Brule scored eight touchdowns in a single game, seven of those coming on the ground and one as a punt return. Brule still holds CIS records for total points in a game (48) and season (150), and for all-purpose touchdowns in a single season (25). His legacy lives on as the "Paul Brule scoring bell" is rung every time the X-Men or X-Women score a football touchdown, a rugby try or a soccer goal.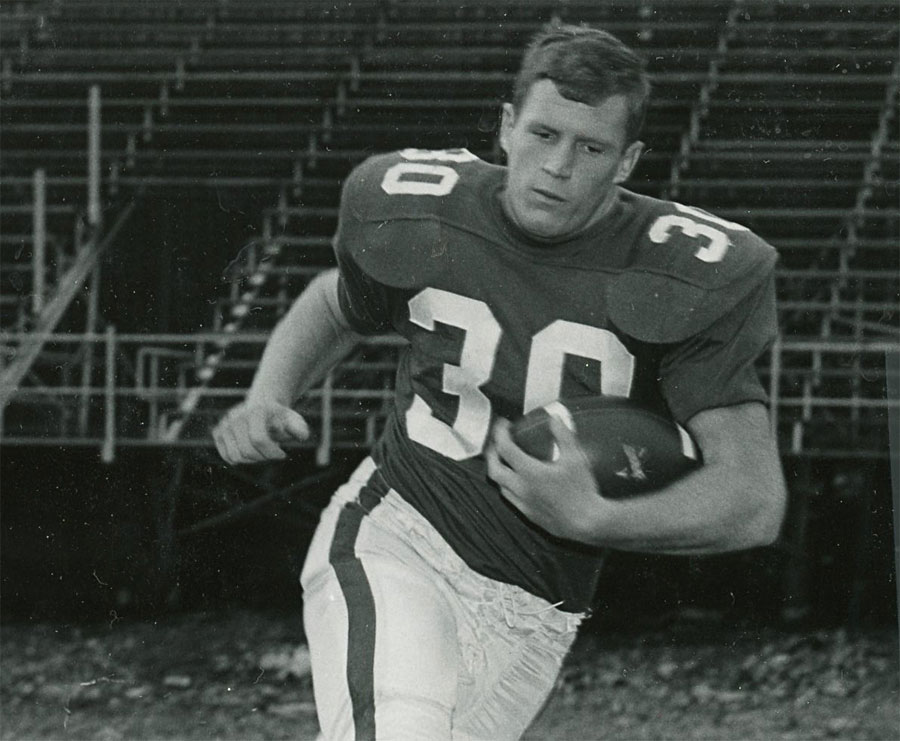 ---

Andy Fantuz | Wide Receiver | Western 2002-05
During his CIS career, Fantuz obliterated the record book. He holds CIS records for receiving yards in a single season (1,300) and career (4,123), as well as total receiving touchdowns in a career (41). He was so well respected by Larry Haylor that the former Marauders head coach would consult Fantuz on play-calling preferences as a freshman. Haylor remembers Fantuz as "one of the best ever in Canadian football — amateur or pro." Haylor continued: "He's the best at-the-ball receiver I know; huge, quick hands; fearless over the middle; smart (and) he never makes the same mistake twice."
In big games, Fantuz played on both sides of the ball, stepping in to Western's dime defence as a safety. In a game with playoff implications at Ottawa on Oct. 15, 2005, he had three interceptions in eight defensive snaps and was named CIS defensive player of the week. Although he won the Hec Creighton Trophy in 2005, his best season may have been as the CIS Rookie of the Year in 2002, when he set the single-season record for receiving yards to go along with his nine touchdowns. The four-time CIS All-Canadian was picked third overall in 2006 CFL Draft, and he would go one to be named the Most Valuable Canadian in the 2007 Grey Cup and Most Outstanding Canadian in 2010. Nowadays, when projecting how a modern-day CIS skill position player can translate at the pro level, Fantuz is used as the measuring stick.
---

Eric Lapointe | Running Back | Mount Allison 1995-98
Born in Brossard, Que., Eric Lapointe eventually made his way to Sackville, N.B., where not only did he record one of the most memorable CIS careers imaginable, but also made a massive and lasting impact on a community. In his first season as a Mountie, Lapointe earned Canadian Rookie of the Year honours, and he never looked back. Over the next three seasons he was named All-Canadian three times, and in both 1996 and '98 earned the Hec Crighton Trophy — one of only five players to win the CIS's top honour twice. While his 4,666 yards in four seasons with Mt. Allison fell short of the all-time Canadian record (he did set the AUS mark, however, and is just one of two CIS players to record at least three 1,000-yard rushing seasons), Lapointe's legacy isn't defined by the stats alone. He led the Mounties, not a traditional powerhouse to say the least, to two Vanier Cups, cementing his status as the most celebrated athlete in the program's 60-year history.
"(Lapointe) had the rare combination of speed and strength that allowed him to dismantle defences designed to stop him," current Mount Allison head coach Kelley Jeffrey told mta.ca in 2013, at a ceremony in which Lapointe's iconic No. 5 jersey was retired. "Eric single handedly elevated Mount Allison University onto the national stage." At the event on homecoming weekend, you'd have thought Elvis returned from the dead and showed up in Sackville. Everyone knew Lapointe; kids who hadn't even been born when Lapointe was dominating the gridiron came up to meet the local hero.
After an outstanding CFL career, he became only the second CIS player inducted into the Canadian Football Hall of Fame. And in a national fan poll in 2005 asking who the best Canadian university football player of all-time was, the people overwhelmingly voted Eric Lapointe. That says it all, doesn't it?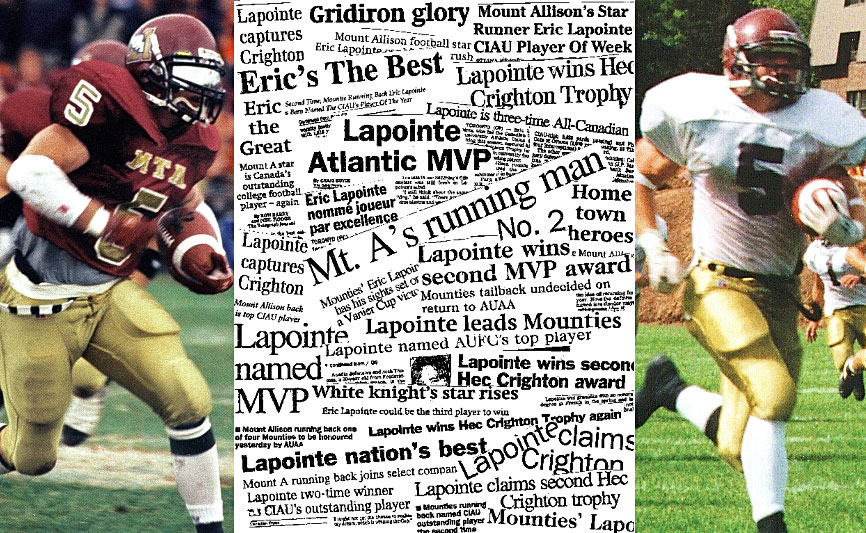 ---
Neil Lumsden | Running Back | Ottawa 1972-75
Lumsden was the most talented player on the first-ever team in Vanier Cup history to go undefeated on the way to a Canadian university championship. That's saying a lot, considering that a record 12 players from that 1975 Gee-Gees squad went on to play in the CFL.
"An honest six-foot-two, 220-pound, smart, strong, athletic running back, Neil was the total package. He could do it all: run, block, catch, punt, kick extra points and field goals — a generational player," said Don Gilbert, Lumsden's head coach with Ottawa. "Neil was a winner that had the respect of all who played with and against him."
Offensive lineman Miles Gorrell, Lumsden's teammate in Ottawa, shared his former coach's praise. "We always knew that we had a chance to win if we just gave Neil the ball."
Hugh Campbell, who coached Lumsden with the Edmonton Eskimos before moving on to the NFL as head coach of the Houston Oilers, paid his former running back probably the highest compliment. When asked about Lumsden's ability to play in the NFL at the time, Campbell replied: "He would be my backfield starter."
---

Chris Flynn | Quarterback | Saint Mary's 1987-90
In three seasons from 1988 to 1990, the Saint Mary's Huskies lost three games. Three games! There's a reason that's known as the Chris Flynn era. The QB from Buckingham, Que., was the CIAU's biggest star during that run with the Huskies, which saw the team play in two Vanier Cup games.
Perry Marchese is the Huskies head coach, and he grew up watching Flynn on TV. "Chris's impact on CIS football and sports for that matter continues today. He's still a legend. His impact, he really brought CIS football into the limelight. Every game was a highlight film for him. He looked like a man among boys, like a dad playing on the field with his kids. Nobody could touch him. His highlight tapes are incredible, I still show them to my guys, and it's gotta be 20 years later. When it came time to play, there was nobody else in the country you'd rather have the ball in their hands."
Flynn is the only player to win the national MVP Hec Crighton Trophy three times. "Everything that we've built at Saint Mary's, it sounds crazy to put that on one person, but he really put Saint Mary's on the map," coach Marchese said. "He was the precursor to the Vanier Cup teams. People know who and what Saint Mary's is, and the biggest reason for that is Chris Flynn."