TORONTO – Kevin Pillar has had hot starts before, and yet he has never sustained that production over the entirety of a six month season.
As the opening month of the 2018 campaign comes to an end, Pillar's batting .310/.358/.560 with four home runs. While the Blue Jays won't count on that level of production from the 29-year-old centre fielder going forward, he believes he can build on these results thanks to some adjustments he made to his plate approach before the season even began.
"I take my at-bats in spring training very seriously," Pillar said Sunday. "There are certain things that I do, whether it's sitting on pitches or sitting on location, or purposely trying to get to two strikes all in order to prepare myself for the season."
Generally speaking, batters are pitcher-level inept at the plate once they have two strikes; the league as a whole hits .172/.248/.269 in two-strike counts. Pillar's spring training experiment appears to be paying off, though, as he's batting .300/.348/.550 with two strikes.
"When the heart starts beating fast, when you've got two strikes, you tend to try to do too much and start expanding," he said. "I'm really focused on getting good pitches to hit and if they don't show up, then I don't swing."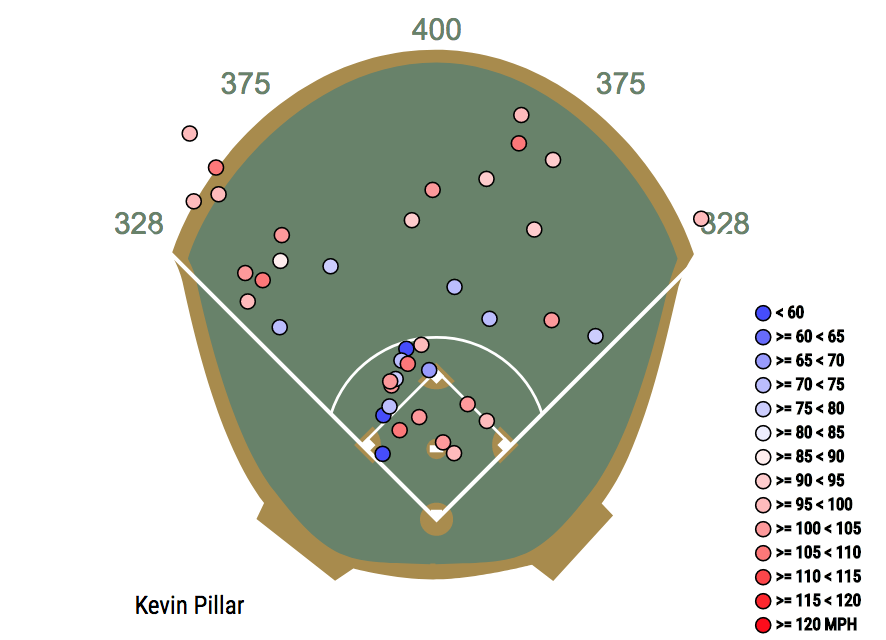 Kevin Pillar results with two strikes, 2018. Source: Baseball Savant
Realistically, Pillar can't sustain this type of two-strike production. Even Tony Gwynn hit 'only' .302/.340/.401 with two strikes, after all.
That said, there's still reason for the Blue Jays to be optimistic that some of what Pillar's doing can be sustained. While his plate discipline numbers are in line with his career norms, he's making harder contact when he connects.
Pillar's average exit velocity has risen to 89.6 m.p.h., up from 85.5 a year ago (his xwOBA has climbed to .373 from .310). His line drive rate has also risen to 28.8 per cent, and he now ranks 13th in baseball in that department, right behind Jose Altuve. If Pillar can come close to sustaining that quality of contact, the production at the plate will continue.
Plus, the way the Blue Jays are assembled, they won't be relying on any one player to drive their offence. With Josh Donaldson sidelined in recent weeks, Teoscar Hernandez has stepped into the second spot in the batting order and posted a 1.092 OPS. Even Lourdes Gurriel Jr. showed impressive power Saturday with a homer against Bartolo Colon.
"It's been exciting," Pillar said. "I think that's what's allowed us to get off to a good start. In years past we were really reliant on certain guys in our lineup to come up with the big hit or come up with the big home run to get us back in the game. We've seen contributions up and down this lineup from guys that weren't even here at the beginning of the season. That's the recipe for being successful in this league.
"We talk about it in spring training. It's going to take more than 25 guys and we've seen that already."
Livestream the Toronto Blue Jays on the most popular devices. Plus, get over 150 marquee MLB matchups, the Home Run Derby, All-Star Game and Postseason.
Of course Gurriel wouldn't have the starting second base job unless the Blue Jays had optioned Devon Travis to triple-A Sunday, but team decision makers determined that the move was necessary given the need for relief help at the MLB level. For Pillar, it was initially dispiriting to see his longtime teammate demoted.
"The friendship side of it's extremely tough," Pillar said. "We've been through a lot together. He's one of my closer friends in (the clubhouse). He's been through a lot personally, but I try to look at it through a business or organizational side."
Most players get optioned at some point, and Travis hadn't been sent down since he made the Blue Jays' opening day roster in 2015. It could be a short trip based on what manager John Gibbons said Sunday, and in Pillar's experience, some time away from the big-leagues can actually help scuffling players.
"The attitude you've got to have is just go down there and work," he said. "Sometimes stepping away from the lights and big-league field can be really good for you to reset mentally and reset physically. I expect to see him back here when his 10 days are up."
When Travis does return, pitchers will have had more time to adjust to a newly balanced Blue Jays lineup, Pillar included. Can he build on an impressive opening month?
"I'd like to think so," he said.