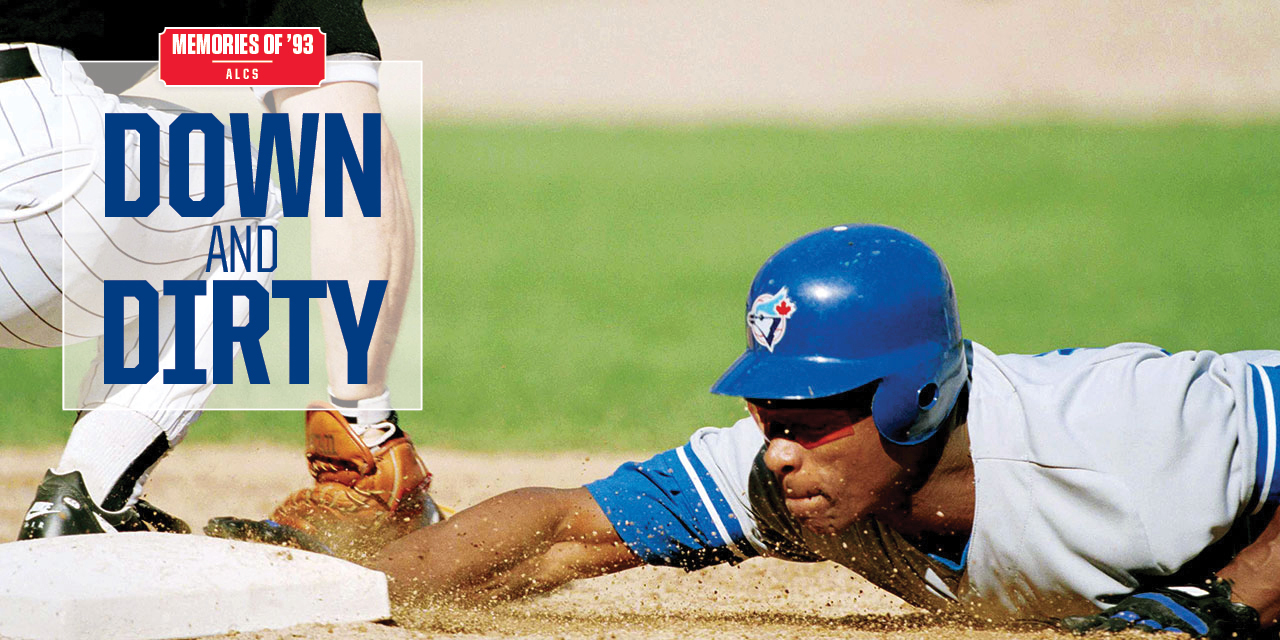 With the prelude out of the way, the Jays were ready for their real season to start
The Blue Jays had managed the first giant step toward defending their World Series championship: winning the AL East to return to the Championship Series for the fourth time in five years. To get to the World Series, though, they would have to dispense with a 94-win Chicago White Sox team that featured Silver Slugger first baseman and AL MVP Frank Thomas, and 22-game winner Jack McDowell. Toronto boasted the better regular-season record but the teams had split the season series with six wins apiece, and entering the ALCS, neither was willing to give any ground.
Jack Morris SP
It's almost like we were just buying time to get to the post-season. Once that happened we had another gear and we could just turn it up.
Tim Raines white sox LF
We were a solid team. We were solid defensively. Pitching-wise, too, we had a young staff, but a good staff. So going into the playoffs we actually felt like we had a legitimate chance of beating [the Blue Jays].
Chicago owned home-field advantage and though game one would see Toronto square off against McDowell-—the AL Cy Young winner—the Jays seemed especially confident in their ability to score runs on the road at Comiskey Park.
Roberto Alomar 2B
I always hit good against Jack McDowell. I felt comfortable at the plate. Sometimes when you have a pitcher on the mound that you feel comfortable with, you perform better. At that time, I knew he was pitching and in my mind, I was already concentrating that I was going to have a good game.
Pat Hentgen SP
We knew that we did well against McDowell—just historically, we hit him well.
Joe Carter RF
We'd had a lot of success in their ballpark against Jack McDowell. We beat him up pretty bad. We knew that it was going to be a good series, but we knew we had the upper hand.
Bob Elliott journalist
It wasn't in the championship series, but one of the longest home runs I ever saw was off McDowell; Mark Whiten hit it. McDowell dusted him next time up, so Whiten charged the mound. It was a Sunday, a getaway day, and the White Sox were going to the coast. We're watching the Roy Firestone show and here's McDowell on it and he's got these big sunglasses. Finally, Firestone asks him, "Can you take the glasses off?" And he had a shiner—I don't think I've seen a better shiner than that.
Roberto Alomar
Mainly he threw me fastballs and splitters. He didn't throw me anything else, so I was just mostly looking fastball. I had an idea of how he liked to pitch me, so sometimes I sat on the change-up. I was looking for certain pitches.
On the mound, the Jays responded with Juan Guzman, whose .824 regular-season winning percentage (14-3) was the best in baseball. Though the game remained scoreless through three innings, what looked on paper to be a top-shelf battle of the aces didn't exactly live up to that billing. McDowell was fairly steady, giving up a walk to Roberto Alomar in the top of the first and hits to John Olerud and Sprague in the top of the second before retiring the side with two strikeouts in the third. Guzman got off to a shakier start.
jack Morris
[Guzman] had electric stuff, but the first couple innings were sometimes about getting a feel for the mound versus the bullpen mound. A lot of pitchers have been that way. It's not just Juan. If you look at some of the greatest pitchers who ever pitched, usually when you got them it was early in the game. Once they got dialed in, you weren't going to get them. His breaking ball would start dropping off, his 98-mile-an-hour fastball would start blowing people away and it's like, "Ah, heck, he's having a little fun now."
Toronto struck first when Ed Sprague slapped a triple into deep right that plated Olerud and Paul Molitor. The lead was short-lived as the wheels really came off for Guzman in the bottom of the fourth, an inning in which the White Sox batted through their entire lineup and scored three runs.
pat Hentgen
They were really stacked in the middle with the three, four, five and we were really conscious to keep the one, two and seven, eight, nine off the bases. Let's just really make sure we don't walk these types of hitters—let's go after these guys and make them hit their way on because the big boys are gonna do their damage and hopefully nobody's on base when they do. That was our pitchers' mentality.
Guzman's fourth-inning hiccup had little effect on the Jays' offence, which hung three runs on McDowell in the top of the fifth. A two-run shot from Molitor in the seventh stretched the Toronto lead to 7–3. The Jays bullpen took over in the bottom of the seventh and kept the White Sox off the scoreboard to give Guzman his fourth-straight post-season victory dating back to the year before and Toronto a 1-0 series lead. That Chicago slugger Frank Thomas walked four times in the game may have given the White Sox some insight into a central part of the Jays' defensive game plan.
Duane Ward RP
Frank was willing to take a walk, God bless him, because it took the bat out of his hands.
Bob Elliott
Wayne Morgan and Bill Byckowski were the two Toronto advance scouts on the White Sox. There was a mishmash of guys hitting behind Frank Thomas. [Pitching coach] Galen Cisco told me [the scouts] said that Thomas would not expand the strike zone. They said to just try and get him to chase, and if they had success with whoever was hitting after Thomas, they could do that.
Pat Gillick GM
Usually it comes down to pitching and defence in the playoffs instead of hitting. So the advance scouts are very important on the knowledge that they give the manager. And Cito did a very good job as far as following the game plan that the scouts laid out.
Todd Stottlemyre SP
Pitchers do themselves a lot of good talking to hitters or hitting coaches. If you can understand how a hitting coach or a manager prepares his hitters to go against a pitcher you can start to know how other clubs are preparing [for you]. Cito was so good at talking, especially with me, about what a hitter's gonna look for or, "How do you make that guy uncomfortable?" He was incredible with that.
pat Hentgen
Frank was a tough, tough out back then. He was really strong and powerful, and he knew the strike zone as well as any hitter. You had to really throw the ball out over the white for him to swing, and he seemed to really work the count in his favour.
Duane Ward
The biggest thing with Frank was, I wasn't going to let him extend his arms. He was a big ol' boy and if he got his arms extended, he could do some damage. If I did let him extend, it was going to be on a ball out of the zone.
The Toronto decision to pitch around Thomas was effective. Though the "Big Hurt" hit .353 in the series and walked 10 times, he drove in just three runs and only once tagged a Jays pitcher for a home run—taking Todd Stottlemyre deep in game four.
Game two got off to a quicker start, with Dave Stewart and his 6-0 career ALCS record taking on Chicago's Alex Fernandez. Toronto struck first when Rickey Henderson scored on a fielder's choice, and added two more runs in the bottom of the third. Stewart uncorked a wild pitch in the bottom of the first that allowed Tim Raines to score from third, but that would be it for the game as he went six innings allowing just four hits. The White Sox had dropped their second straight at home to open the series, but the real drama wouldn't happen until both teams had made the trip to Toronto to prepare for game three.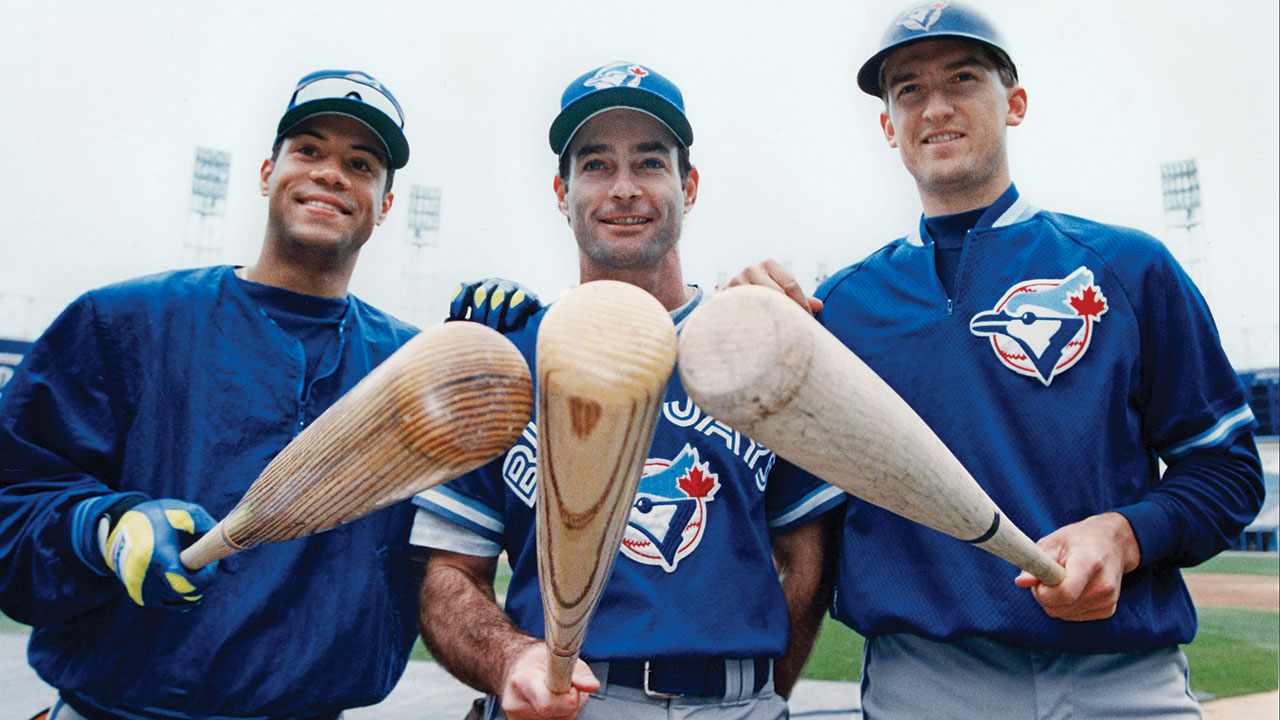 bob Elliott
All we read leading into the series was how the White Sox were kind of a boring team. And [Chicago manager] Gene Lamont was a boring guy, nice man, but boring. They came back to Toronto for the workout day and I asked George Bell, "Are you DHing?" And he says, "No, I'm not DHing. If I don't DH, I'll never play again for this man Lamont." And he ripped his ass, he says, "I should be DHing, I'm better than Bo Jackson." So I wrote it and man did the shit hit the fan. [Dan] Shaughnessy, who's a wiseass from Boston, he writes: "The team's not boring, the media covering the White Sox are boring." So then all those guys in Chicago got pissed off at the guys in Boston and, oh man, it was a pissing match.
George Bell didn't get his way, failing to record a single at-bat in the series, but he did make good on his promise: He retired after the '93 season and never again played for Gene Lamont. As Thomas shifted to first for game three, Bo Jackson got the start at DH. Though Jackson went 0-for-4 at the plate, Chicago managed to turn things around on the arm of Wilson Alvarez, who held the Jays to a single run over nine innings of work.
Tim Raines
Starting staff is key to getting through a playoff series. Wilson Alvarez was a young up-and-coming star after beginning with Texas and not doing too well. We picked him up and he went from not getting anyone out to throwing a no-hitter in his first start with the White Sox.
Toronto's starter, 24-year-old 19-game winner Pat Hentgen, wasn't so lucky. After making it through two-and-two-thirds innings without incident, Hentgen got manhandled with two out in the third, giving up a pair of singles to Raines and second baseman Joey Cora to bring Thomas to the plate with runners to cash.
pat Hentgen
I caught a bad break. It was a really hard-hit ball by Frank and it went off the glove. If I get that play made, we get out of the inning.
The play didn't get made, though, and Hentgen went on to give up five runs in the third. That was all the Sox needed, though they'd add one more off reliever Danny Cox in the fourth.
pat Hentgen
I lost over 100 games in the big leagues. You just get used to it, I guess. It's the toughest part about baseball, learning how to fail and how to deal with it. A lot of players, they never become big leaguers because of it. I truly believe that. They just can't let it go. I remember David Cone told me you've gotta have a good memory and you've gotta have a bad memory, and there's a lot of truth to that in baseball.
Game four would see the trend of teams losing at home continue as the White Sox hammered the Jays 7–4 despite Toronto's best—and on one occasion its least sportsmanlike—efforts.
Tim Raines
I hit a double to the gap [to lead off the top of the third]. There was a play at second and I was safe, and Tony [Fernandez] picked my leg up and the umpire called me out. They rang me up and I got into a big argument with the umpire, you know, "He took one foot off the bag." "I didn't come off the bag. He pulled my foot off it," to no avail. I wouldn't say that it turned the whole series around, but it was a big play at second base.
Game five's Guzman-McDowell rematch saw a much deadlier Guzman take the mound as he retired the side in each of the first four innings, notching four strikeouts along the way. The same couldn't be said of McDowell, who was hit early and often, starting with a leadoff double by Henderson in the first. After striking out Devon White, McDowell walked Alomar and then gave up the game's first run with an errant throw to second that allowed Alomar to advance and Henderson to come all the way around to score.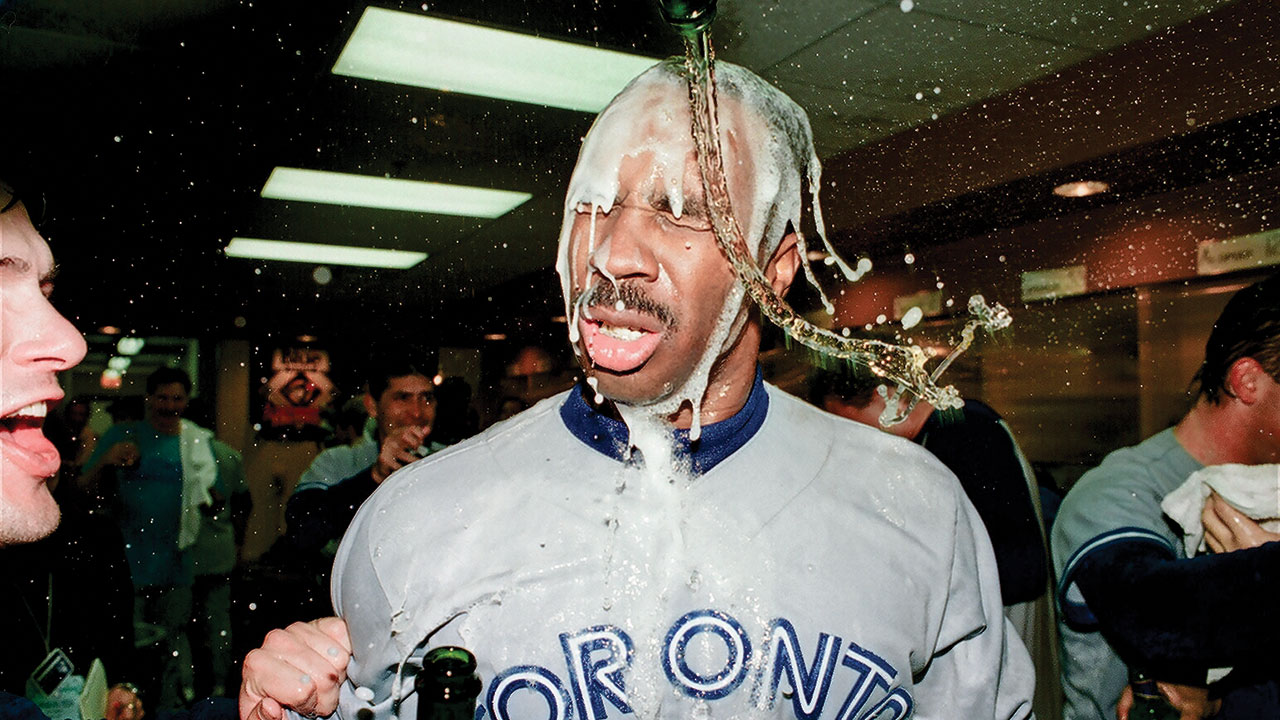 Jerry Howarth radio
Rickey was at second base and he's dancing off the bag. McDowell throws to pick him off, throws it into centre field and sets up an instant run. That's what Rickey did. People would say, "Well, Rickey hit only .220 in August and September." And maybe he hit around that area in the playoffs. But when he got on with walks, which didn't factor into his average, and with the hits that he did get, he just created havoc on the basepaths.
The Jays continued to pick away at McDowell and the White Sox, scoring a single run in each of the first three innings and continuing the trend when Lamont brought in reliever Jose DeLeon in the fourth. Chicago got one back when Ellis Burks took Guzman deep for the White Sox' only hit in the first five innings, but it wasn't enough. Even with Duane Ward generously handing out a two-run homer to Robin Ventura in the bottom of the ninth, the Jays took the game 5–3. ALCS monster Stewart would start game six looking to close out the series in Chicago. The off-day between games five and six was Thanksgiving Monday in Canada and Stewart opted to miss the workout day in Chicago to stay behind in Toronto and reach out to some of the city's less fortunate.
Bob Elliott
Stewart was delivering turkeys. The Americans couldn't fathom the fact that a guy would miss the workout. Workout days are not like getting in the hotel the night before an NFL playoff game or something.
pat Gillick
It was a day off. He probably wasn't going to have any on-field activity. He wasn't going to throw or anything of that nature. He made this commitment with a homeless shelter or a food bank. We went out and did that and then flew to Chicago that night and he pitched the next day. It might've been a different situation if it was Hentgen or somebody like that. But this was a veteran guy who'd been around for a long time and pitched a number of years in the big leagues and wasn't going to have any activity that day at all on the field, so I know we didn't have any problem with it.
Contrary to the beliefs of the American press, handing out a couple hundred turkeys had no adverse effects on Stewart's pitching. Allowing just four hits and two runs in seven-and-a-third innings of work, Stewart handed the ball to Ward with the Jays up 3–2 in the eighth. The performance, combined with that of game two, earned Stewart the ALCS MVP.
Pat Hentgen
Dave Stewart and Rickey Henderson—there was some good badgering going on between the two of them in the locker room that always kept things light. I remember one time in Baltimore in the clubhouse they were talking trash about who's gonna get MVP of the ALCS: "Oh, I'm gonna get it, I'm gonna get it!" It's pretty tough to beat Rickey in trash-talking. I'm a young player, just going, "Holy cow, that's Rickey Henderson and Dave Stewart!" Obviously, Dave got the MVP, but it was just kind of cool to hear these two guys talk, how at ease they were in their careers. They'd seen it all and done it all. The playoffs with the Blue Jays was just another ride they were on.
After the Jays added three insurance runs in the top of the ninth, Ward kicked off the bottom of the inning by giving up a solo shot to Warren Newson. But with Toronto still sporting a 6–3 lead, Ward put the clamps on, forcing Raines to pop out to right to end the game and the series.
Duane Ward
I didn't think he got enough of it to get it out of the ballpark, but I had to look at Joe real quick to see if he was underneath it. It was one of those things where I see Joe camping under it and… OK, we just advanced to the World Series.
joe Carter
For some reason, the ball finds my glove for the last out, again. Those things just seem to happen to me.
Roberto Alomar
I still can see that moment. It was a fly ball to Joe and here we go. Start jumping, the Jumping Joe again.
Pat Hentgen
When I look back on winning in game six, that was probably a blessing because Alvarez was scheduled to pitch game seven. We didn't see him very well that year. I don't think a lot of teams saw him very well that year.
joe Carter
We really got a chance to celebrate and enjoy getting back to the World Series. The year before it was all business, so it was kind of a subdued celebration. But in the clubhouse in Chicago, we had a great time.

PART ONE: "Going for Two"
Long before the playoffs, the Jays laid the groundwork for a second championship
PART TWO: "Down and Dirty"
With the prelude out of the way, the Jays were ready for their real season to start
PART THREE: "Never Say Die"
Against a tough-as-nails Phillies team, the Jays showed the hearts of champions
PART FOUR: "Touch 'em All, Joe"
Game six, bottom of the ninth, two on. Up steps Joe Carter. History ensues.
This story originally appeared in Sportsnet magazine.