TORONTO – There's a photo of young Kacy Clemens decked out in Toronto Blue Jays garb walking alongside his dad Roger that for years has hung in their home, and is suddenly much more poignant.
Kacy's selection by the Blue Jays in the eighth round of the baseball draft triggered all kinds of nostalgia for the family, with The Rocket digging into his closet and strapping on some of his old jerseys. For the 22-year-old first baseman, his selection and imminent signing with one of his father's former teams brought the moment encapsulated in the photo, which he posted to his Twitter account, full circle.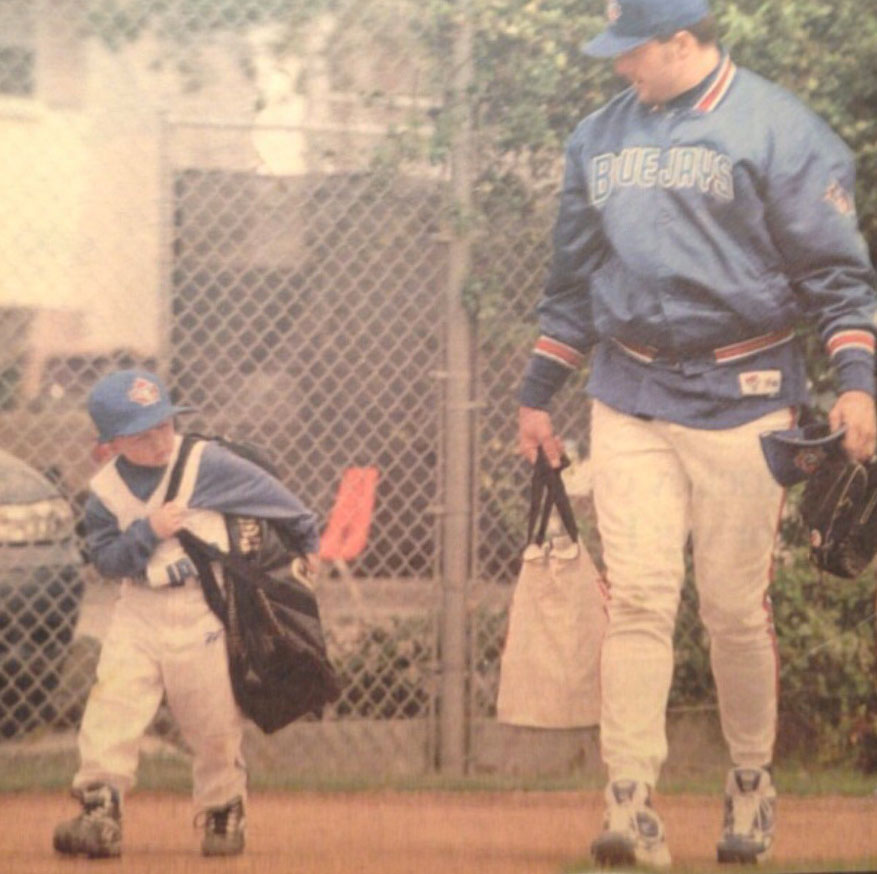 Blue Jays prospect Kacy Clemens (left) with his dad, former Blue Jays starter Roger Clemens. (@KCLemens21/ Twitter)
"I was about three or four years old, and I remember my dad saying that I was upset that he made me carry the equipment bag that's about the same size as me in that picture," Clemens says with a laugh over the phone from Houston. "It's crazy. I remember taking groundballs on those backfields (in Dunedin, Fla.) with my dad when he was playing there.
"It's pretty cool to call myself a Toronto Blue Jay now and get to put the uniform on for real."
The Blue Jays are the first team Clemens, the third of four brothers, can remember his dad playing for, even though there are pictures of him in Boston Red Sox gear too. He has memories of going to what was then called the SkyDome and hitting whiffle balls in centre field off what was used to be Windows restaurant.
Now he has an opportunity to make another mark at Rogers Centre.
"He was fired up I got picked up, but he definitely liked seeing the Blue Jays give me a chance," Clemens said of his father's reaction. "He loved being there, he won two Cy Young Awards there, some of his best friends played on those teams, so it's pretty cool."
Clemens grew up playing third base and pitching and moved over to first base as a sophomore in high school. As his draft year in 2013 approached, his mechanics on the mound drew comparisons to those of his father, but a torn labrum in his senior year scared teams away, the Houston Astros selecting him in the 35th round just in case he chose to sign.
Instead, Clemens went to the University of Texas, where he was relegated to taking groundballs during the fall of his freshman year, helping him become a strong defender at first. During his sophomore year, he started a throwing a program, his coaches said they wanted to see him on the mound and he ended up pitching in 10 games, nine of them starts. But near the season's end, when the Longhorns had a need at first base, he switched back and closed out the year as a position player.
"In my junior year, I said, 'Listen coach, I want to have a full fall and full spring to see if I can hit. Just give me the fall and the spring to work on it, I don't want to be tossing back and forth,'" said Clemens. "That fall is definitely when I started developing my swing, I worked really hard with the coaching staff and I had a great junior year. I honestly expected to get drafted after that. I got calls later in the draft I turned down because I wanted to go back to school and play with my brother (Kody, an infielder) and here I am now, after a full other year of hitting."
Intense and fiery on the field, he posted a slash line of .305/.414/.532 with 12 homers, 49 RBIs, 40 walks and 67 hits this season for the Longhorns, and games were often family affairs, with his brother on the field and father in the stands.
"My dad always jokes around that you have to have Dr. Phil on speed dial because if one of us goes 4-for-4 and the other goes 0-for-4, when we go to dinner how is he going to talk to us because one is extremely happy and one is pissed off," Clemens laughs. "When my dad comes to games, his mind is racing, he's so focused on my at-bat, knowing the count, the part of the game, who's on base and he really understands the game well so after games I can talk to him and really get a sense of how teams are approaching me."
Blue Jays area scout Brian Johnston developed a strong relationship and Clemens' sense was they were legitimately interested, although they cut off contact with him the past two months. That's a common tactic teams employ to try and hide their interest in a certain player.
Clemens said he received calls from four or five other teams with offers he wasn't interested in before the Blue Jays picked him 249th overall, which has a slot value of $152,100. College seniors typically have no leverage in contract talks but Clemens and the Blue Jays won't need to do much negotiating.
"I will be getting started very soon enough," he said. "I'll be signing the contract in the next few days, I believe.
"I thought the senior year was pretty special because everything worked out perfectly now that I got picked in the eighth round by the Toronto Blue Jays. I got to spend one more year with my best friends in Austin and play another year with my brother."
Ben Nicholson-Smith is Sportsnet's baseball editor. Arden Zwelling is a senior writer. Together, they bring you the most in-depth Blue Jays podcast in the league, covering off all the latest news with opinion and analysis, as well as interviews with other insiders and team members.
Notes: The Blue Jays selected two of the 20 Canadians chosen during the three-day draft, taking lightning-quick outfielder Tanner Kirwer of Sherwood Park, Alta., in the 20th round from Niagara University and high school outfielder Cooper Davis of Mississauga, Ont., in the 25th round. Kirwer is expected to sign shortly but Davis is committed to Vanderbilt and will have to be bought out of college. … Of the 41 players selected by the Blue Jays, 22 are pitcher and only 10 are high-schoolers. One of those prep players is right-hander Daniel Ritcheson, ranked 131st by MLB.com and 187th by Baseball America but taken in the 23rd round, 699th overall. At 6-foot-4 and 210 pounds, he features a 92-95 mph fastball with feel for a plus breaking ball but didn't handle adversity on the mound well, according to BA's scouting report. He has a commitment to San Diego State.