Despite social media speculation to the contrary, Vladimir Guerrero Jr. is a member of the New Hampshire Fisher Cats. He plays third base. Through his fist 31 games of the season, he hit .397/.447/.645 with more walks (13) than strikeouts (12). For any player, those numbers are very, very good. But considering the 19-year-old Guerrero is the youngest player currently in double-A, they're downright extraordinary.
While the Blue Jays were off Monday night, Guerrero and the Fisher Cats were not. They played nine innings against the Hartford Yard Goats, the double-A affiliate of the Colorado Rockies. As they often do, New Hampshire won, 10-5. Here are some things we saw.
Vlad Jr. doing Vlad Jr. things
Well, it didn't take Guerrero long to make an impression in this one. He stepped to the plate with two out in the first inning, fouled a pitch off, and then drove the next offering over the wall in right-centre for his sixth home run of the season.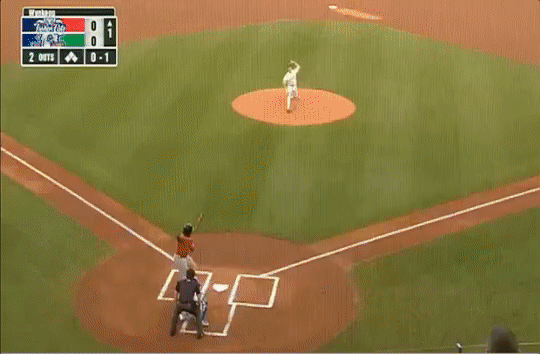 It's 350 feet to the right-centre field wall at Dunkin' Donuts Park in Hartford, and while it's difficult to judge exactly where the ball fell from the video, there's good reason to believe it wasn't a wall-scraper. Hartford's right-fielder stops tracking the ball at the warning track and doesn't make any attempt at a leaping grab. And Guerrero wasn't exactly hustling around first base as the ball flew.
Regardless of how far it actually went, if Guerrero's going to be hitting the ball more than 350 feet to the opposite field as a 19-year-old, it portends extremely well for his future power development. At this point in his life, he's only getting stronger, and only gaining more and more understanding of how to get the most out of his swing.
And he just went off from there. By the fourth inning, he was already 3-for-3 with a pair driven in. Sure, he was facing Jack Wynkoop, an unheralded 24-year-old repeating double-A. But it's hard to ask for much else.
But you could have asked for more later in the game when, after some challenging moments defensively (more on that in a bit), Guerrero made a poor effort at the plate his fourth time up and struck out on four pitches in his fifth.
That last plate appearance was a rare one in which Guerrero looked uncomfortable. Standing in with the bases loaded and no one out, he took a first-pitch change-up for a strike, laid off a heater away, swung awkwardly at a 95-m.p.h. fastball that jammed him inside, and chased a slider for strike three.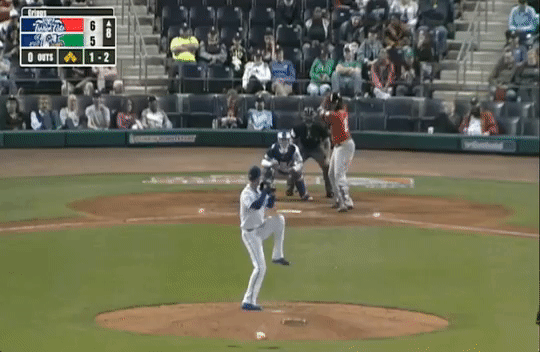 The next batter, Dominican first baseman Juan Kelly, hit a grand slam. That's got to be demoralizing for a pitcher — to get through the best hitter in the minors, and then get burned by a guy who came into the night hitting .208. But that's baseball.
And although Guerrero didn't look great in his final two plate appearances, they were more exception than rule. The strikeout was his first in more than a week, a span of 34 plate appearances. He's now struck out three times in 51 plate appearances this month. He's hit more home runs (four) over that span. There's no way around it — that's absolutely insane.
Checking in on the defence
There's little doubt that Guerrero's bat is good enough to play in the majors. But the continued development of his play at third is one of the biggest factors keeping him in the minors, so let's take a look at how things went in the field Monday.
He got his first opportunity in the second inning, fielding a tough hop on a hard grounder and firing to first. His throw was a little off line, but it was at least to the right side of the bag, giving his first baseman, Gunnar Heidt, an opportunity to tag the runner.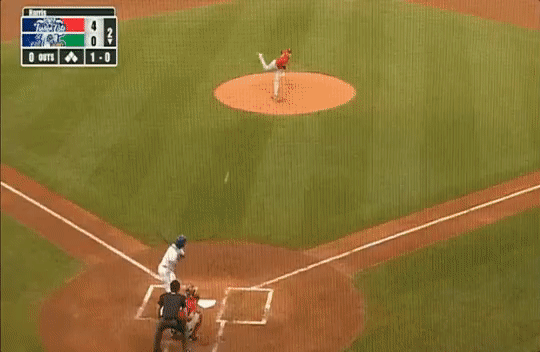 Then things got interesting. Guerrero had back-to-back defensive opportunities on tough grounders in the fourth, the first being this rocket that he could only knock down and scramble after.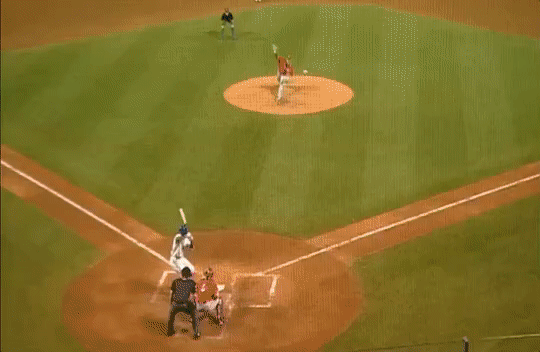 Guerrero has a strong arm, but Hartford's Wes Rogers is a burner (he stole 70 bases last year) and got up the line in a hurry to beat the throw. If it's a slower runner, Guerrero likely makes the play.
The very next batter hit a much softer ground ball towards third, which Guerrero ran in on and threw on the run.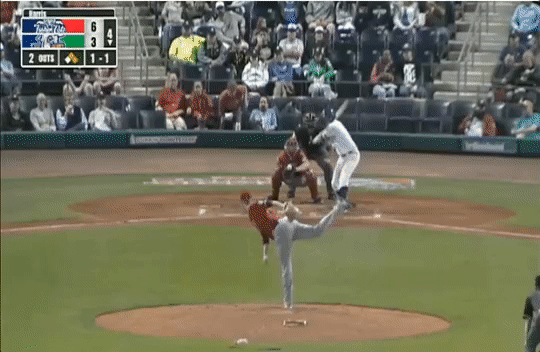 Heidt gives Guerrero some help here, making a terrific scoop on a dying throw. But Guerrero still did very well to run this ball down and execute his throw quickly.
Then, there's this play from the fifth — something that can't happen if Guerrero's going to play third base at a higher level.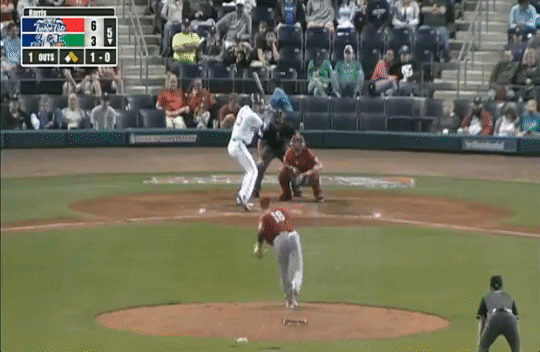 It's a routine double-play ball and Guerrero just whips it into right field. It's hard to say how far off the throw was from the angle, but he definitely appears to rush himself instead of taking the time to set his feet and make an accurate throw. It could have been an inning-ending double play. Instead, it allowed a run to score and cut New Hampshire's lead to two.
What's worse is Guerrero led off the next inning and practically gave his plate appearance away, expanding the zone and chasing the second pitch he saw, popping it up foul.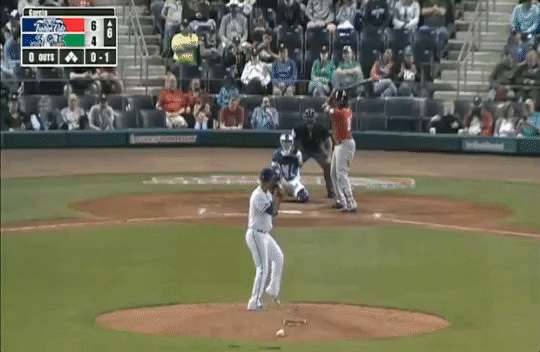 If you're a Blue Jays evaluator, you don't want to see that. You want to see a consistent, patient approach in every plate appearance, regardless of what happened defensively the inning prior.
Look, this is just one game. Take a microscope to any player on any particular night and they could look very good or very bad. What's more important is the bigger picture.
On the season, Guerrero has only five errors in just over 250 innings. By most accounts, his defence is vastly improved from where it was when he started playing third base in rookie ball. But, like most young players, he's still working on his mental approach.
And he's far from a finished product defensively. He's still being drilled every day by Blue Jays coaches on his first-step quickness, reactions, decision-making, footwork, and every other element of playing a high-calibre third base. It's coming along. But the Blue Jays are going to want to see his defending and mental approach continue to improve and become more consistent before he's progressed.
Bo breaks out
Well, here's your quintessential Bo Bichette plate appearance. In the fourth, the 20-year-old came up with one out and took a pair of violent cuts at the first two pitches he saw, fouling them both back.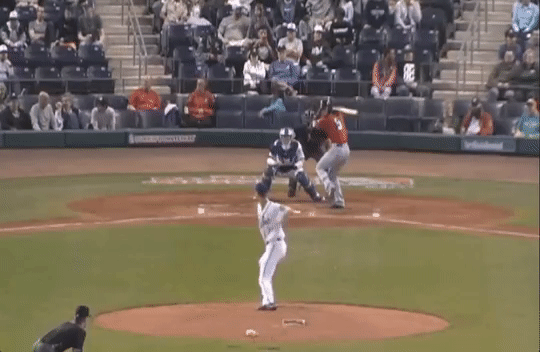 After he collected himself, Bichette took a little walk to the edge of the home plate cut out before stepping back in and deploying the advanced two-strike approach that truly separates him as a hitter.
Gone is the big leg kick; gone are the uber-aggressive cuts. When he's down to his final strike — and sometimes earlier in the count, if he's facing a particularly challenging pitcher — Bichette's much more contained, leaving his front foot down as he shortens his swing and tracks the ball for a split second longer.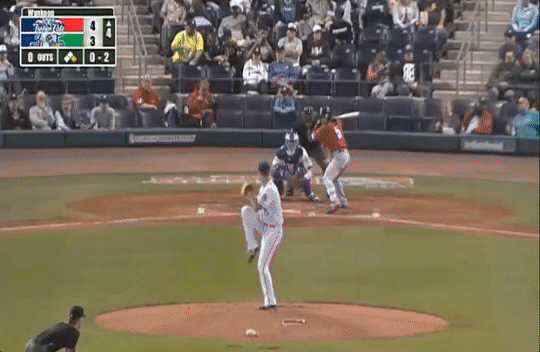 And it worked perfectly later, as Bichette was able to go way down in the zone and golf a low pitch all the way to the top of the wall in left-centre. He cruised into second base with a double, his second hit of the night. He'd finish with three, and, considering how things have been going for Bichette this month, that's a very encouraging sign.
Bichette's been in a bit of a funk of late, coming into the game batting .200/.304/.300 over his first 11 games of May with six walks and 12 strikeouts. It's not an epic slump by any means — only by the insanely high standards Bichette's set for himself. Remember, last year, in his first full season as a professional, he hit .362/.423/.565 with nearly three times as many multi-hit games (51) as hitless games (19).
And Bichette was rolling right along to begin his second season, finishing April batting .289/.360/.422 in exactly 100 plate appearances. But May has been much more of a struggle. Maybe pitchers are starting to adjust to him. Maybe he was trying to do too much. Maybe it's just a little rut. Whatever the case, Bichette showed strong signs of snapping out of it Monday.
Meanwhile, it wasn't a particularly busy night at shortstop for Bichette. He didn't have to do anything too challenging and made all the plays he should have. Here's a strong play from early in the game that displays what a fluid defender Bichette can be.
The other-other son of a big leaguer
Do you ever think about what it's like to be Cavan Biggio right now? Like Guerrero and Bichette, he's a Blue Jays prospect currently playing for New Hampshire. Like Guerrero and Bichette, he's the son of a very good big-leaguer. And like Guerrero and Bichette, he's putting up massive numbers against his first taste of double-A pitching, hitting .291/.397/.689 with 10 home runs through 30 games.
But no one talks about him. He isn't on the cover of Baseball America. MLB Network doesn't send a camera crew to New Hampshire to watch him hit balls off a tee. Biggio just goes about his business in the shadow of the two top prospects he happens to be on a team with.
"If you take away a certain number three hitter that we have, and [Biggio] is (hitting) .300 with seven (home runs) and 20 (RBI), you go, 'Wow, that's a great start to a year,'" Fisher Cats manager John Schneider said last week on At the Letters, hinting at how Biggio's strong play gets overshadowed by the teenage prodigy hitting in front of him. "His strike zone command is one of the best I've ever seen."
That was on full display Monday, as Biggio walked three times in his first four trips. And his other plate appearance resulted in a line-drive single that drove in a run.
Unfortunately, Biggio was shaken up in a collision with Hartford's second baseman during a headfirst slide on a stolen base attempt and left the game.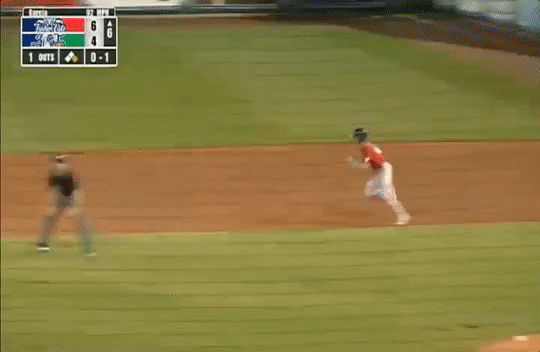 Considering what a strong season he's enjoying, hopefully Biggio doesn't miss any time. After reaching base safely in all four of his trips Monday, he's now boasting a huge on-base percentage of .415.