Exactly a quarter century has passed, but Pat Hentgen vividly remembers the meeting he had with manager Cito Gaston hours before the 1993 all-star game.
The American League skipper, also Hentgen's bench boss with the Toronto Blue Jays, summoned the right-hander, along with fellow 24-year-old Mike Mussina, into his office at Camden Yards and delivered a sombre message.
"'You guys are young. You're going to come back to another all-star game,'" Hentgen recalls. "'I'm not going to pitch either one of you today. I'm going to hold you guys off and see if we go extra innings.'"
Mussina, a starting pitcher for the hometown Baltimore Orioles, made his first all-star appearance the previous year, pitching an inning of scoreless relief. But this was Hentgen's first trip to the Midsummer Classic.
"I remember leaving his office and saying to myself, 'Come back to another one. Have you lost your mind?'" Hentgen remembers with a laugh.
However, there wasn't much humour to be found in what occurred later that night. With the AL up 9-3 to start the ninth, Gaston brought Blue Jays closer Duane Ward in to close out the game. Just as planned, Hentgen and Mussina remained stashed in the bullpen. Mussina, though, on his own accord, had begun to throw warmup pitches in the eighth inning and continued to do so in the ninth.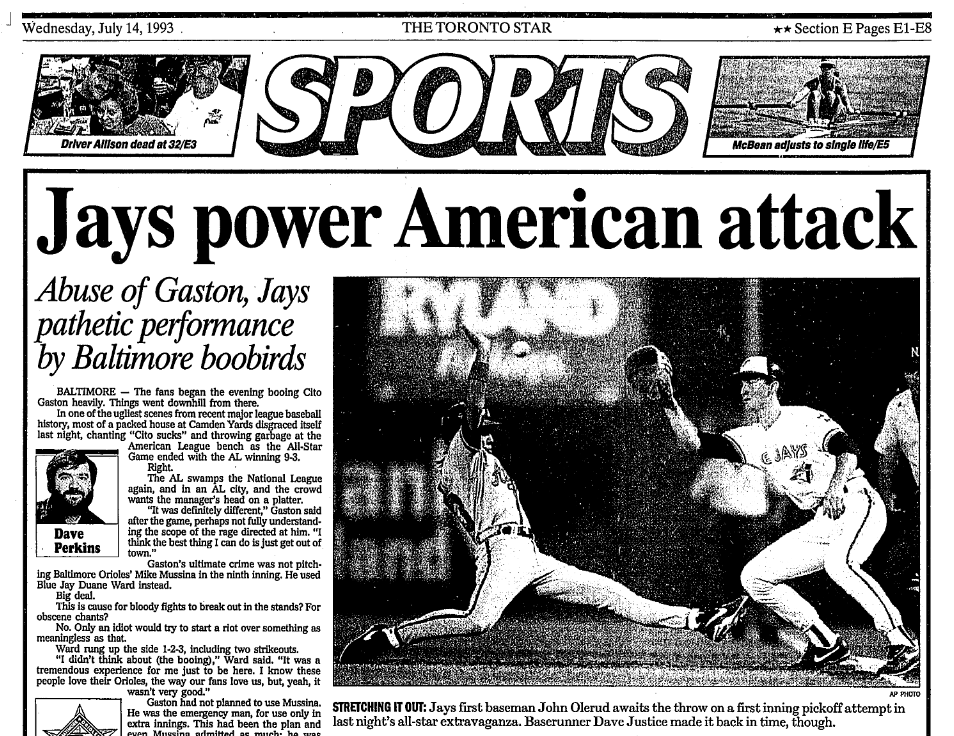 Courtesy, The Toronto Star
The move elicited excited anticipation from the Baltimore faithful. When it became apparent Gaston wasn't going to bring in Mussina, boos and chants of "We want Mike" and "Cito sucks" were raining down as the game ultimately ended without Mussina pitching.
The incident, among the more controversial in all-star game lore, followed Gaston and Mussina for years. Hentgen, from his spot next to Mussina in the AL bullpen, was a front-row witness.
"We were sitting in the bullpen, he got up to start throwing and he said he wanted to throw a side session," says Hentgen. "Looking back, I'm not so sure. Was he trying to just throw a side, or was he trying to send a subliminal message to Cito, saying, 'Hey man, how come you're not going to pitch me in my home park?' I'm not really sure.
"He chose the ninth inning in his home ballpark — I think it was bad timing on his part."
The positioning of the left centre-field bullpen ensured fans were relatively close to the relief corps. Hentgen couldn't hear what they were specifically yelling, because any words were drowned out by a low, steady roar that escalated once Mussina began throwing.
"At first I didn't think much of it," Hentgen says. "And then the crowd reacts and now you realize, 'Oh boy, the crowd's chanting, going crazy to get him in the game. … You sit there and try to absorb it all in and you go, 'Man, was he doing it on purpose, or did he not think anything of it?'"
Gaston's pitching plan wasn't communicated to the public. So naturally, fans, writers and even television broadcasters all expected to see Mussina appease the home crowd. CBS announcer Sean McDonough and analyst Tim McCarver criticized Gaston during the telecast, with McDonough even saying, "there is no defending this decision."
It didn't help that cameras showed Gaston sitting in the dugout shaking his head while boos reigned down. [Forward to the 3:28:00 mark of this YouTube video to see the ninth inning]
When the game ended and the jeering reached its peak, Hentgen and Mussina walked in from the outfield to join the rest of their AL teammates. There was no atypical reaction from the manager or the pitcher, recalls Hentgen. Gaston later revealed to media that he hadn't planned to use Mussina, while the right-hander said he was simply getting his mound work in.
Dave Perkins, a longtime journalist with the Toronto Star who covered the '93 game, says Gaston took the ordeal personally. The manager was already being criticized for the fact that seven players, or 25 per cent, of the AL roster were Blue Jays and this only piled on.
"Cito was astounded at the reaction, at how sour everybody was," Perkins says. "People were throwing stuff at him. Cito was a little more astounded that people weren't happy that the American League won big. He never had a soft spot for Baltimore again."
Perkins recalls later that year when the Blue Jays visited Baltimore, some Orioles fans were wearing a T-shirt that portrayed Gaston as cartoon character Butt-Head from the popular '90s TV show Beavis and Butt-Head.
"Cito said to me, 'Can you get me one of those shirts?'" remembers Perkins, who managed to find one on a street corner near the stadium. "I never saw him wear it. I think it was just more like another souvenir. Cito didn't care about it. He was used to people hating the opposition. But it got pretty personal, as long as he was in Baltimore the rest of his career. Cito was pretty defiant about stuff."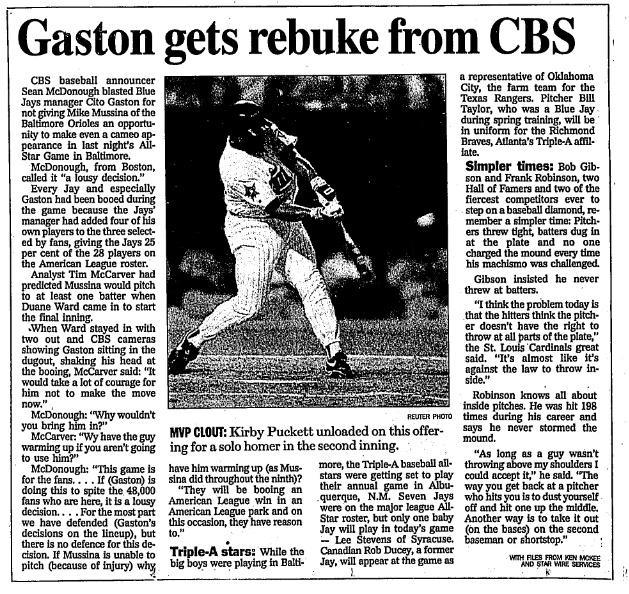 Courtesy, The Toronto Star
Perkins, who covered Gaston for several years, says he wasn't surprised at how the situation played out during the 1993 all-star game, noting the manager had a well-known tendency to lean more on veterans than young players.
"He did what he thought was right in the ballgame," says Perkins. "If he had said, 'You're the young guy, you're the extra-inning guy,' that's what he thought was the right thing. I guess if he looked at it the other way, yeah, probably he should have got Mussina in, but he made up his mind and that's how he did things. That's how he managed."
Any disappointment that Hentgen felt at not appearing in the contest was tapered by the happiness he shared with Ward, who was making the only all-star appearance of his nine-year MLB career. As it turned out, just like Gaston predicted, Hentgen made the all-star team again the following year.
"Sure enough, he was right. I went back to a couple more," says Hentgen, who also appeared in the 1997 contest. "It was no big deal. Guys that were veterans in their eighth, ninth, 10th year in the league, it could very well be their last all-star game. For some of them it was. Cito was good at seeing the big picture as opposed to me being a 24-year-old starting pitcher at the all-star game.
"It was tough for me to perceive things the way he did at his age with his maturity, wisdom and experience, versus what I was: Young and just excited to be there."