TORONTO – Marco Estrada faced 21 batters on Friday night and walked a career-high seven of them. A 33 per cent walk rate isn't particularly conducive to a good start or a long one, and his outing against the Boston Red Sox was neither. By virtue of allowing only two hits, both coming in the fifth inning, he managed to bob and weave around dodgy command to surrender only two runs in 4.1 innings.
Given that Estrada has now walked 15 batters in his last 15 innings over three starts, a miserable end to a miserable 9.10-ERA June for the right-hander, there's good reason to wonder what's going on with the 2016 all-star.
"I can't explain it, it really sucks," said Estrada. "But I'm going to show up early (Saturday) and work on all this because I'm tired of it."
Once Estrada left, things only got messier for the Blue Jays in a tedious, patience-eviscerating 7-4, 11-inning loss to the Red Sox that only went to extra innings at 10:55 p.m., featured 20 walks and 445 pitches, and lasted four hours, 44 minutes before a crowd of 41,357.
Justin Smoak's three-run homer in the first inning – a line-drive laser over the wall in left-centre off Doug Fister – staked the Blue Jays to a 3-0 lead the Red Sox erased on Dustin Pedroia's two-run double in the fifth, a drive that ended Estrada's night, before a Deven Marrero RBI single and Andrew Benintendi run-scoring double in the sixth.
Troy Tulowitzki's solo shot to open the bottom of the sixth against Heath Hembree knotted things up 4-4 and things stayed there until the 11th. Aaron Loup gave up a leadoff double to Hanley Ramirez, Jackie Bradley Jr. followed with a single and an out later, Christian Vazquez punched a go-ahead single to right field.
Rule 5 pick Glenn Sparkman, activated from the disabled list earlier in the day as his rehab expired, took over and allowed a two-run single to Marrero before eventually escaping the frame.
Compounding issues in the inning was a wild pitch, a double steal and a dropped ball, sloppiness that in combination with Ezequiel Carrera losing a Bradley fly ball in the sixth to set up the tying run, made for an ugly ending to an ugly night. At 37-42, the Blue Jays also fell five games under .500 for the first time since they were 21-26 on May 24, and are 1-3 so far in this measuring-stick stretch leading into the all-star break.
"We know it's an important time," said Estrada. "I wish we would have pulled this one out and if I had pitched better, we would have. Plain and simple I wasn't very good tonight, I let the team down and it sucks."
Climbing up the list of concerns is Estrada, who allowed 28 earned runs in 27.2 innings during six June starts, and his command was off right out of the gate Friday.
He walked a pair in the first, and after a three-up, three-down second, he walked the bases loaded on 14 pitches to open the third. Somehow, he recovered to pop up Benintendi and Pedroia before striking out Mitch Moreland to maintain the 3-0 lead.
Eventually, though, the steady run of deep counts and grinding through at-bats caught up with him, and manager John Gibbons decided he could extend him no longer after the Pedroia double in the fifth.
[relatedlinks]
"You need to get as many innings as you can out of your starter because that takes its toll on your 'pen," explained Gibbons. "He's been the Houdini since he's gotten here, too, he's got that knack for working out of jams, he worked out that bases-loaded, no-out jam, so I've seen him do it many times, and I've got confidence that he can. He may give up something, but he normally limits the damage."
Curiously, Estrada hardly used his bread-and-butter change-up, throwing it a season-low 19.1 per cent of the time, compared to an overall usage of 35.3 per cent, the highest rate in the majors.
"It doesn't matter, I was throwing everything for balls," said Estrada.
Instead, he relied heavily on his four-seam fastball, spraying 66 of them up and down the zone.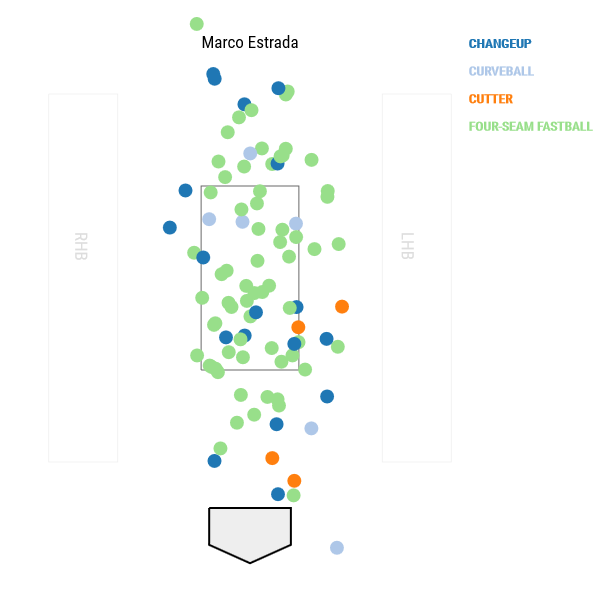 "It got to a point where if I went to the corners, it wasn't getting called and I really didn't have a good feel for anything, so it's no one's fault but mine," said Estrada. "I was wild, plain and simple, and at a certain point, I really didn't have any clue where the ball was going so I said, 'just throw it down the middle and hopefully it goes to either side, or where you're trying to go,' because I was lost with every pitch out there.
"I don't understand why it happened. Obviously I've been struggling, but I've had feel for the ball and today I just didn't really have any feel for it."
Estrada delivered seven innings of three-run ball at Kansas City in his last outing — his longest since May 1 — featuring a season-high 117 pitches, suggesting a corner had been turned. Instead, the search for answers continues, both for Estrada and the Blue Jays.
"Every pitch sucked," he said. "It's hard to take right now because we lost. I'm mad myself for not going deep into this game. We had it, we had a great chance to win, the boys put up some runs early and I let it get away.
"Walking seven guys? That's unacceptable."