Predicting the results of the MLB off-season is just about impossible, but you can always count on a steady stream of potentially confusing jargon.
Here's an explanation of MLB hot-stove terms, followed by a calendar of events:
OFF-SEASON GLOSSARY
Qualifying offer
The qualifying offer wasn't all that straightforward to begin with. Now it's even more complex. Under the latest collective bargaining agreement, the QO changed and it now connects to revenue sharing, the competitive balance tax and international bonus pools.
First, let's back up. MLB implemented the qualifying offer under the 2012-16 CBA, ostensibly to foster competitive balance by providing teams with draft picks when they lose elite free agents. For the MLB teams looking to keep costs down, it had the added bonus of reducing the market value of some free agents by linking them to highly-valued draft picks. That's our starting point.
In general, the principle remains the same. Lose a top free agent and you can get a pick. Sign a top free agent and you pay a penalty.
But this off-season, as new rules take effect for the first time, specifics have changed considerably. As ever, MLB determines the value of the qualifying offer by averaging the salaries of the best-paid 125 players. This year that's $17.4 million. Players still must spend the entire season with one team to be eligible for a qualifying offer, and as of this off-season they cannot receive a QO if they obtained one earlier in their careers.
Players who obtain the offers have 10 days to accept or decline, and they can talk contract with other teams during that period. Those who accept are under contract for $17.4 million. Those who decline hit free agency but by this point teams interested in making a deal have to be prepared to make concessions like forfeiting draft picks and surrendering international bonus money.
Meanwhile, teams are only eligible to receive compensation if players sign major-league deals before the following year's amateur draft. The signing teams are no longer in danger of losing their highest pick, but otherwise anything's on the table, including picks later in the first round. Here's how a guide to what teams stand to gain and lose as qualifying offer free agents change addresses…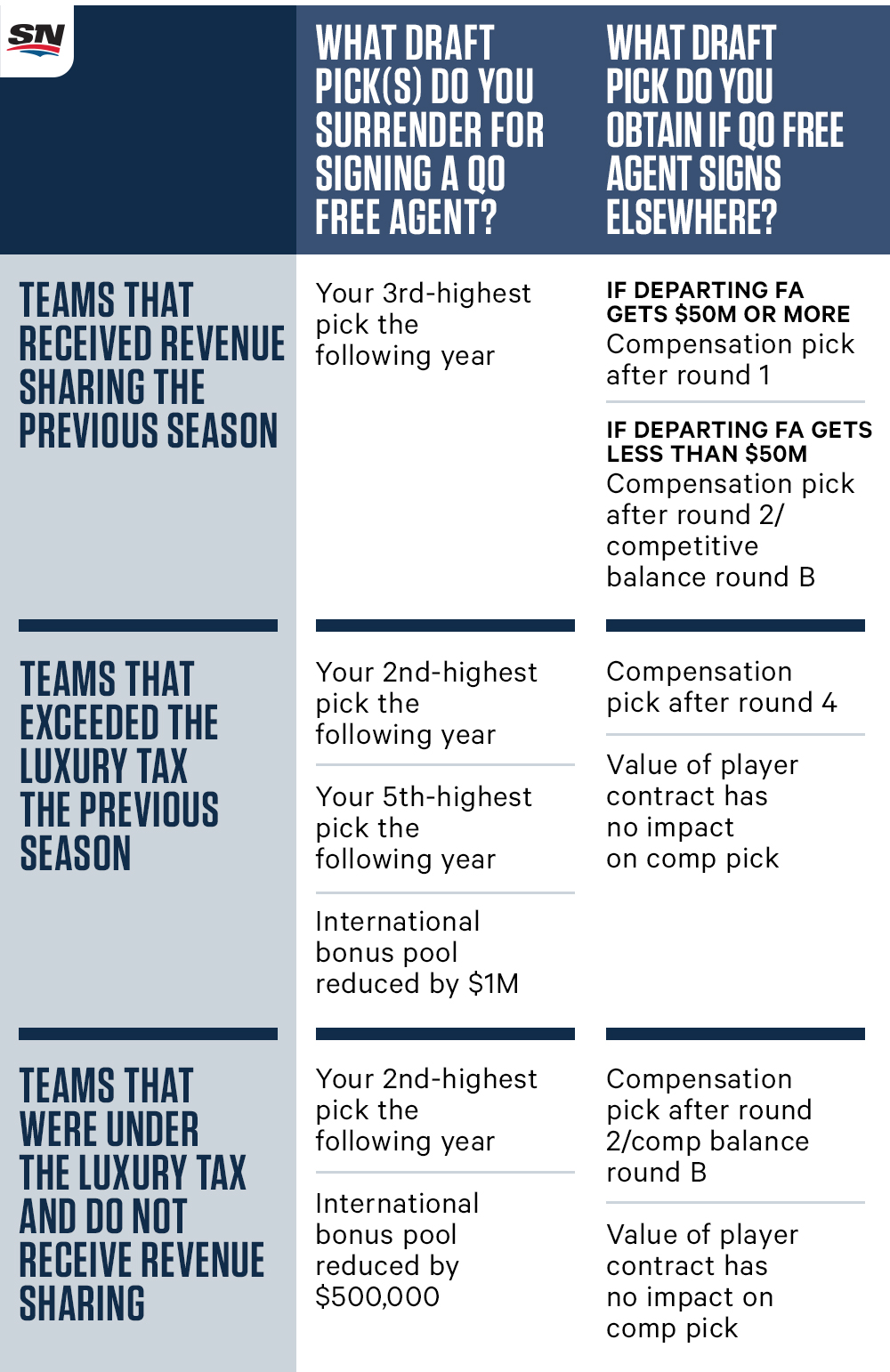 Arbitration
Players with between three and six years of MLB service time are arbitration eligible along with a selection of players with two to three years of service time (called Super Two players). As players gain experience they see their salaries increase through the arbitration system, which was initially established by MLBPA Executive Director Marvin Miller in 1974.
Since the process was established before the rise of sabermetrics, it includes old-school statistics such as wins and RBI. Some modern metrics have made their way to arbitration hearings, but above all players are compensated in proportion to their playing time.
Sometimes players become uncomfortably expensive, at which point they can become non-tender candidates. On those occasions, teams will release a player early instead of tendering him a contract offer through the arbitration process and reserving a roster spot for him.
Teams and players exchange filing numbers for unresolved arbitration cases in January, with the player almost always submitting a higher figure than the team. If the sides don't negotiate an agreement after exchanging figures, they go to an arbitration hearing the following month. A panel of arbitrators (people who aren't necessarily well-versed in baseball) then hear arguments from both sides before selecting one side's submission.
After a player accrues six years of MLB service, he's eligible for free agency, assuming he hasn't already signed a long-term contract extension.
Non-tender
A non-tender occurs when a team releases a player instead of committing cash and roster space to him through the arbitration process. Non-tenders often occur when under-performing players get expensive through the arbitration process and are no longer worth the salaries they're projected to earn.
The free-agent market always expands following the non-tender deadline in early December, and there are often bargains to be found among non-tendered players. For example Russell Martin and Edwin Encarnacion were once non-tendered.
Rule 5 draft
The Rule 5 draft takes place on the final day of the Winter Meetings every December. Designed to create opportunities for players who would otherwise remain buried in the minor leagues, the draft features players who are left off of their teams' 40-man rosters after playing for four to five seasons as a professional (depending on the date of their signing and their age at the time).
Each Rule 5 draft pick costs $100,000 and must remain on the active 25-man roster for the entirety of the following season, or be offered back to their former organization for $50,000. The teams can also work out a trade.
Teams must protect Rule 5-eligible players by November 20.
Roberto Clemente and Johan Santana are among the most successful Rule 5 draft selections of all time, though the rules regarding player eligibility have changed since those players were chosen. George Bell and Kelly Gruber are two key Rule 5 picks by the Toronto Blue Jays and more recently Joe Biagini joined the Blue Jays as a Rule 5 pick following the 2015 season.
Contract option
Player contracts often include options for future seasons. Sometimes the player controls the option (player option), sometimes the team controls it (team option) and sometimes both sides must exercise the option for it to take effect (mutual option). Mutual options are rarely exercised, but they allow teams to structure a buyout into the deal and defer some money.
Competitive Balance Tax
Often referred to as the luxury tax, baseball's competitive balance tax penalizes teams for spending above certain thresholds.
2017: $195 million
2018: $197 million
2019: $206 million
2020: $208 million
2021: $210 million
Teams are taxed depending on how much they exceed the thresholds and according to how many times they've paid the tax in the past. In some cases, those taxes can get extremely expensive. For example, a third-time payor that exceeds the tax by more than $40 million would pay a 95 per cent tax rate on dollars spent over that threshold. As such, the tax discourages the sport's wealthiest teams from spending as aggressively as they otherwise might and slows the rate of salary growth across the game.
OFF-SEASON CALENDAR
Nov. 2
• Eligible players become free agents at 9:00 a.m. ET
Nov. 6
• Teams have until 5 p.m. ET to extend qualifying offers
• Last date to reinstate players from the 60-day DL
• Free agents can sign with any team at 5:00 p.m. ET
• Eligible minor-league players become free agents at 5:00 p.m. ET
Nov. 13–15
• GM Meetings, Orlando, Fla.
Nov. 16
• 5 p.m. ET deadline for players to accept qualifying offers
Nov. 20
• Day to protect players from Rule 5 draft
Dec. 1
• 8 p.m. ET deadline for teams to tender contracts to arbitration-eligible players
Dec. 10–14
• Winter Meetings, Orlando, Fla.
Dec. 14
• Rule 5 Draft
Jan.
• Teams and players exchange arbitration filing numbers
Feb.
• Arbitration hearings take place
A version of this article was originally published on October 31, 2013.